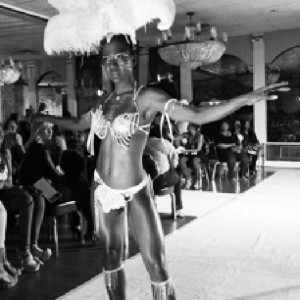 Costume modeled by Crystal Strachan
It's carnival season once again! This year I opted to be the usual by stander and volunteered/worked with Sesame Flyers International organization behind the scenes and got a taste of what goes into planning and producing carnival on "di parkway". Definitely an experience! From long nights spent in the mas camps, dealing with masqueraders from 8 months old to 60 years of age, I got a taste of it all! All leading up to the ever-anticipated day "on the road"! Just a few tips on what to expect for carnival season in NY: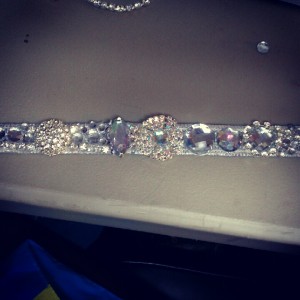 Blinging out my headpiece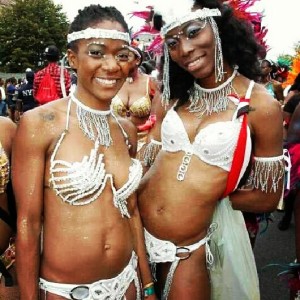 Me and my friend on the parkway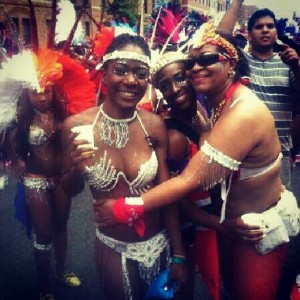 Friends on the parkway
Costumes range from 300.00 to 600.00 depending on taste, expectations, experience etc.
Expect long hours/waiting time for costume pick-up (however this can depend on the band you play with) but this inconvenience is mostly due to hiccups with designers, registration, management etc. Just be clear with what you want and hold on to your receipts!!
There is no food/drinking on the road! Most bands do not provide food items or alcoholic beverages, however any adult knows there are ways around this *cough cough*. However refreshments are offered in the form of water, juice sodas provided by the band.
Do not forget your flag or a camera!! Though, me and my crew were pulled in for many photo ops by "press", always ask for a card or link as to where you can find the photos to cherish your memories "on the road".
Wear comfortable shoes!!! Hours on the road can result in blistering feet unless you're superwoman and can walk in heels all day!!
That's it for my tips for NY Labor Day Parade. I had a blast but was exhausted in the end. More to come with pics and tips for Miami Carnival and Trinidad Carnival within the year
Til next time,