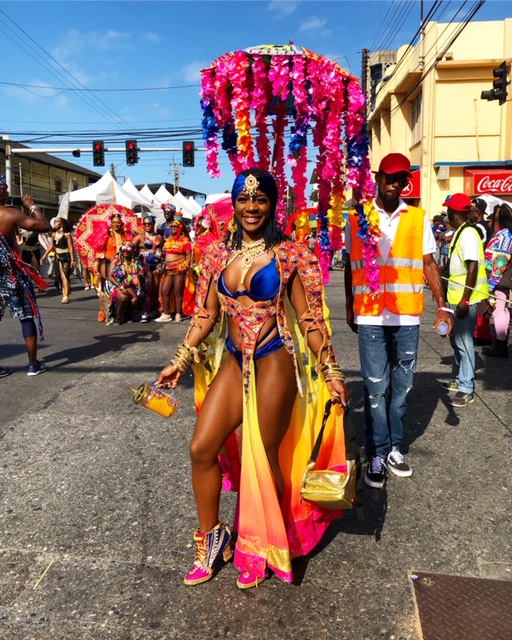 When I had decided that I wanted to do Trinidad carnival this year, I had made up my mind to do it differently. I want a smoother experience, the least amount of stress and just generally good vibes as well as a better picture of the actual culture that Trinidad & Tobago Carnival offers.
So I opted to jump in Lost Tribe Carnival for Trinidad Carnival 2019.
BAND LAUNCH
I had already seen some of the other Trinidad bands and although I love a feathered backpack; I really wanted something completely different than I had seen before or worn before. Lost Tribe Carnival launched their theme Taj (aka Taj Mahal) and while every section was equally as beautiful- Mumtaaz was just the ONE.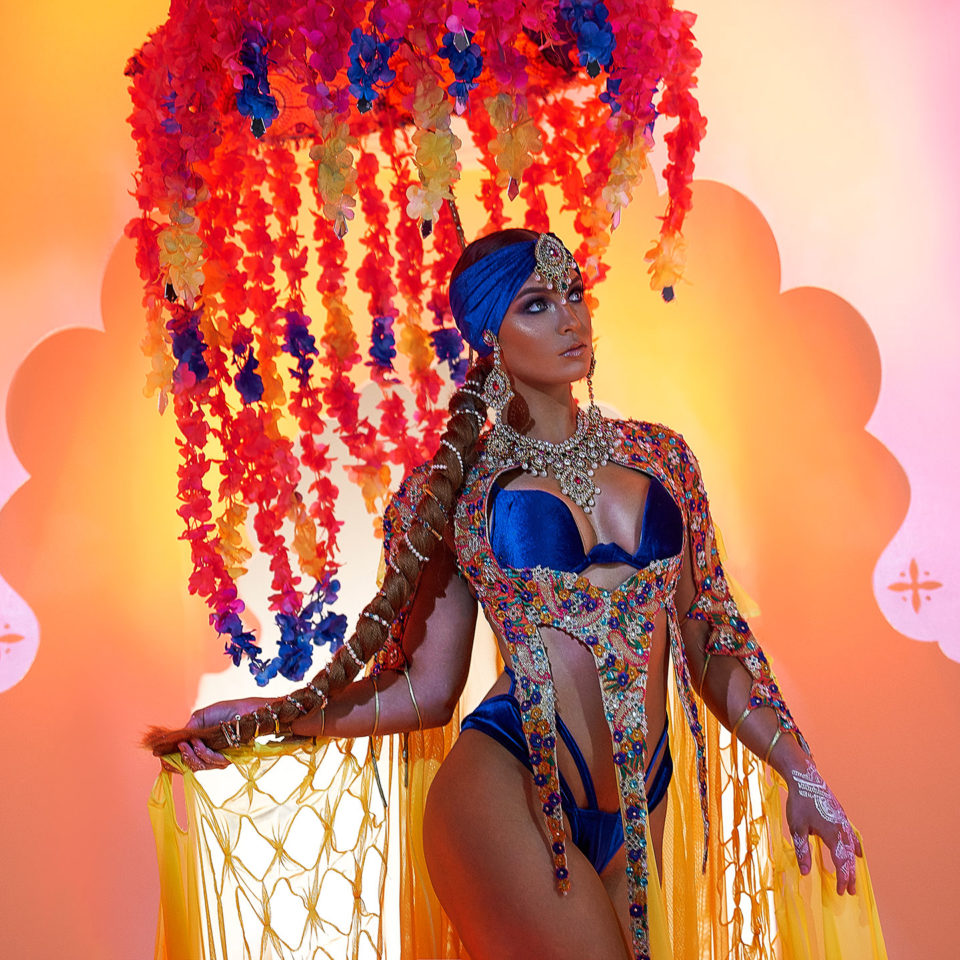 REGISTRATION
So, I've been through the ropes of "committee" registration knowing sometimes you don't get your first pick or knowing the hoops that have to be jumped through to get into certain sections. So with a slight bit of dread I messaged a Lost Tribe Carnival rep on Twitter and she made the process so easy and seamless. She sent me up close photos and videos of the costumes in the Lost Tribe Carnival camp and this was unlike any registration process I experienced before for Trinidad Carnival – so automatically I was sold.  I registered in the month of August just FYI.
PAYMENT
Now y'all already know (and if you didn't); playing mas in Trinidad is not cheap. My costume cost in total $7070 TTD ($1,131.20 USD) which is 1 USD : 6.25 TTD.  The base costume was about $900 USD but I opted for the umbrella backpack and the cross body bag for an additional cost.
The deposit requirement was about $1800 TTD ($288 USD) or $2000 TTD ($320 USD) in two payments. I submitted my name, email address and was given a profile on ultimatemas.com where I could securely make payments. Just FYI if you're based in the US; let your bank know that you will be making payments so to avoid any issues with declining.
COMMUNICATION
Email communication became more frequent as the weeks went by and my excitement really started building. Lost Tribe Carnival was super present on social media as well and the website was extremely well done. I just wish there had been more varied photos of the actual costume on the site.
DISTRIBUTION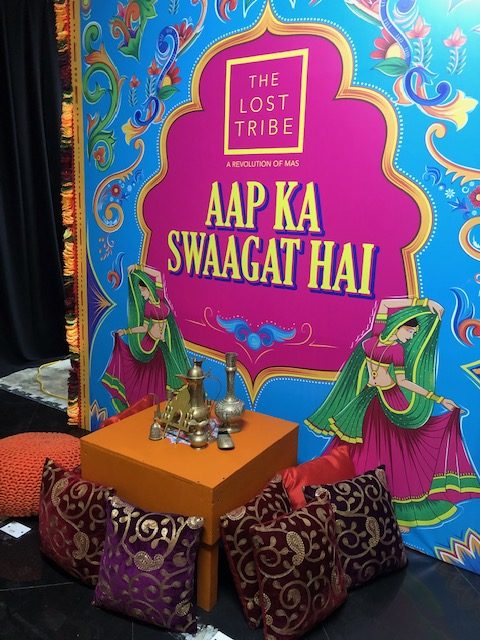 Today was the day. I was excited and a bit nervous as I didn't know what to expect but I was pleasantly surprised to see how organized Lost Tribe Carnival as an entity was. First off, I made a mistake and ended up in the alterations DEPARTMENT- a whole room dedicated to altering the costumes – WOW. After asking a few questions, I was directed to the actual distribution area/room and given a ticket number.
The wait was less than 30 minutes. I have to give it up to Lost Tribe Carnival for even executing their theme in their mas camp with decor, photos of the costumes. The staff were very nice and extremely thorough. I paid off my costume prior to arriving to T&T to avoid any last minute hang ups. After receiving my paid off receipt, I stood on the line then was directed to one of the Lost Tribe Carnival reps that went through my entire costume package, sizing, details of costume, goodie BACKPACK. It honestly felt like a show room – my cape was handed to me on a branded hanger and I was directed to the back tables to pick up my flip flops, extra goodies (Vodka) as well as my wrist band and information on where the band was meeting for the road, food and drinks etc.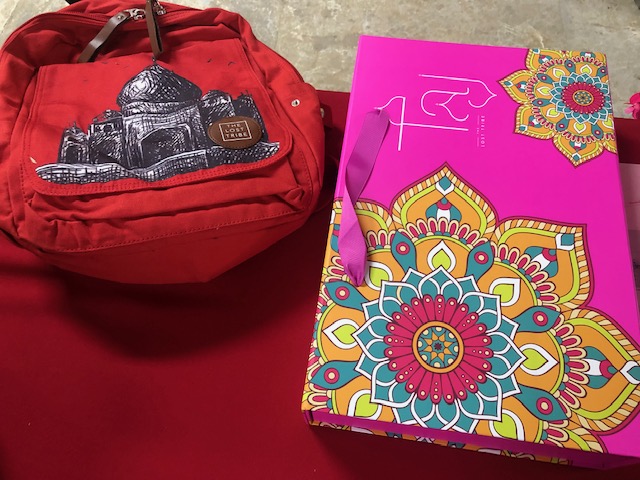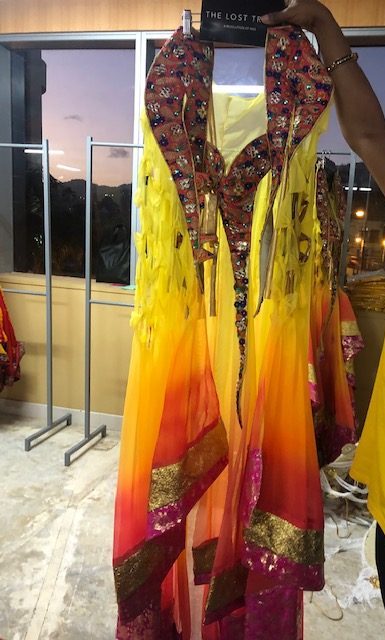 Also here's a little look into the Goodie BACKPACK…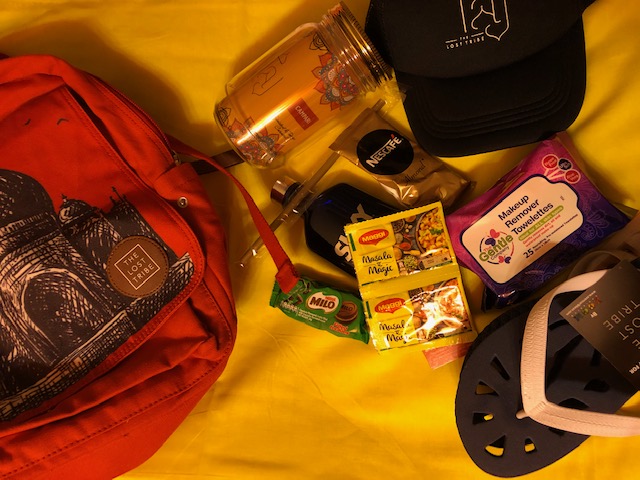 ON THE ROAD
Carnival Monday
I felt like Monday I was still acclimating myself (plus I got their late-Monday started at 10am) and was watching everyone in their Monday wear and while still sexy- the ladies and men in the Lost Tribe do a great job of getting into character from head wraps, henna, ornate make up, hair styles. You really have a chance to be super creative with your Monday Wear costume. And the Lost Tribe Carnival crowd is definitely more on the creative, artsy side.
Lost Tribe went with a color theme (yellow/gold) for Carnival Monday and provided masqueraders with yellow shawls of fabric to literally do the MOST with!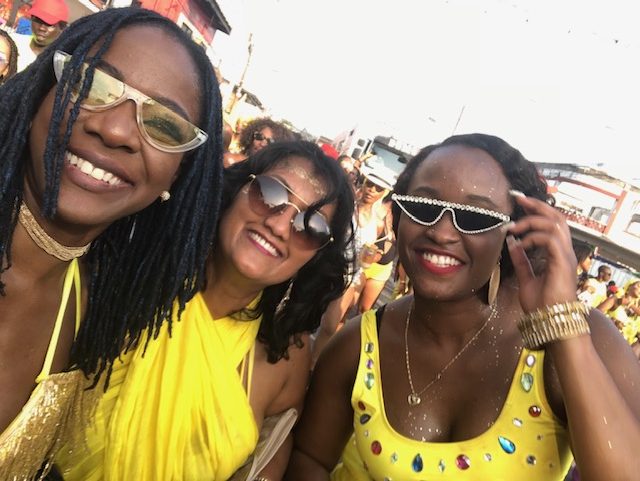 Carnival Tuesday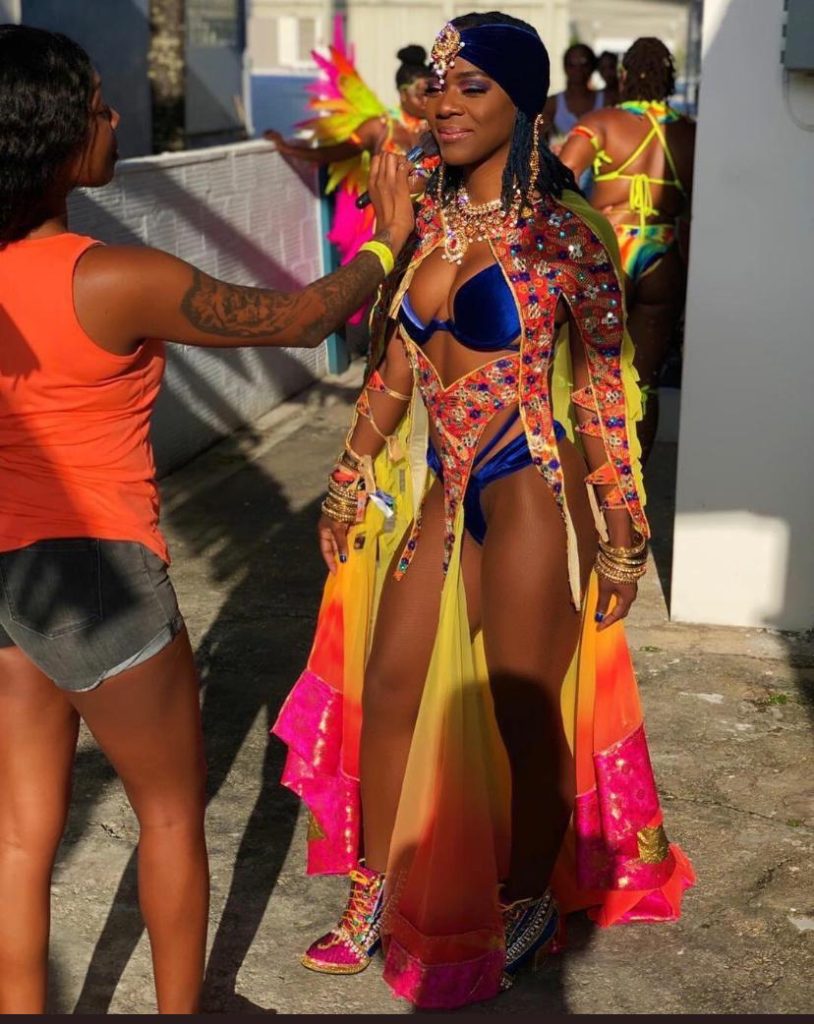 I personally enjoyed Carnival Tuesday a little bit more than Monday. Just FYI Carnival Tuesday started at 7am! When I tell you Lost Tribe Carnival is a Stage Band, be prepared to cross the stage. Naturally, they are competing against other bands so it was a bit of a "culture shock" for me coming from the bikini and beads mas bands (i.e. Yuma, Tribe) that don't compete to a band that was seriously gunning for the number one spot and bragging rights.
We crossed the stage, got into our sections LITERALLY 4 times throughout the day. There were several points where (if you weren't used to it); it felt a bit cumbersome. For instance, we waited to cross the Savannah stage for what felt like forever but then getting to the stage was totally worth it and to experience that euphoria 4x during the day; I didn't even need to go to Las Lap.
Amenities On The Road
Now this is an absolute strength of Lost Tribe Carnival – the amenities. I was very satisfied with the service at distribution; I had prayed that it carried over on to the road and it was just that and more. First of all, there were varied drink services like ice cones/icees, wine/champagne on the road which was readily available I observed during most of the day. Getting a drink from the drinks truck only proved difficult when the trucks were moving; other than that it took several minutes maximum. My only issue was that they didn't have Gin on the Carnival Monday but plenty of it on Carnival Tuesday.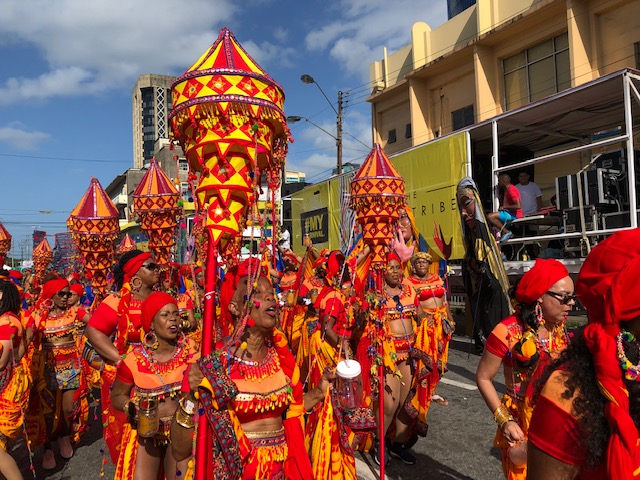 There was also an air conditioned mobile bathroom at the back of the band with personnel- listen I was so relieved I didn't have to sweat to death in a moving porta-potty.
They had monogrammed bicycle trolleys chauffeuring masqueraders throughout the band as well as a snack/breakfast truck that had several types of goodies (i.e. doubles, some potato pastry that I can't remember the name of). So food was readily available. We received two lunch chits and a snack and breakfast chit on our wrist bands.
The lunch stop for Lost Tribe Carnival was adequate; although I thought the women's bathroom area could have had better bathrooms, more mirrors, and a more detailed vanity/makeup station etc ESPECIALLY because this band seemed to be teeming with artsy, creative and detailed folk. Plus I couldn't understand how there was an air-conditioned bathroom on the road and then we had to deal with the sweaty death traps called portapotties at the lunch stop but it was still adequate.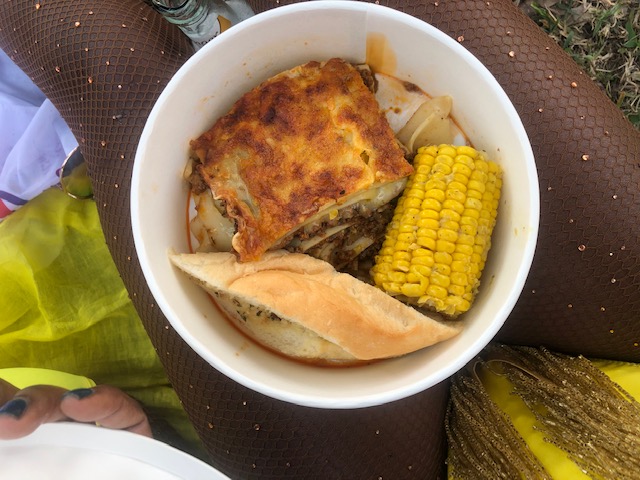 Getting food was not an issue; I had lasagna on the Carnival Monday and then opted for a Creole Fish with peas and rice on Carnival Tuesday. My only regret is not taking a picture with the large LOST TRIBE sign but your girl was so tired I took several naps (ha!).
One thing that I think that needs to be worked on is the DJ's and music selection. While I definitely heard a few 2019 faves- there was just so much more music released in 2019 that I did not hear at all and at one point I felt like one of the DJ's was just pulling from every year of soca there was without rhyme or reason.
Another thing, there was a point after the lunch stop on Tuesday where the trucks left US. And I mean like left left us – we literally walked for a mile or so confused as to where the trucks were headed but caught up before crossing the SocaDrome.
FINAL THOUGHTS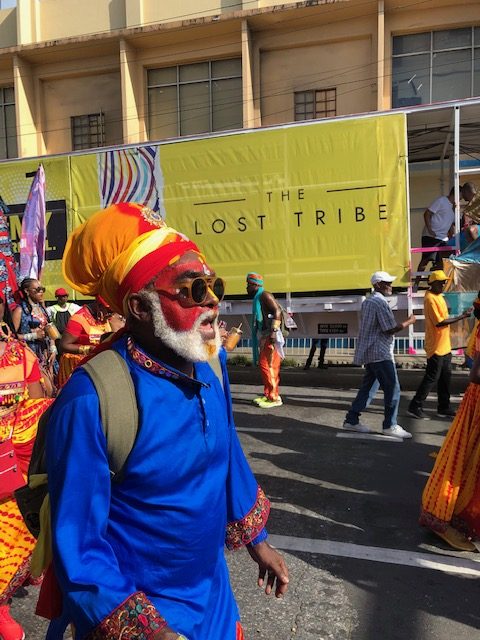 How was Lost Tribe in terms of vibes on the road?
VIBES are based on people's perspectives but I'll definitely say I had way more fun on Carnival Tuesday. I stayed behind truck number 2 and had such a good time dancing, meeting new people. EVERYONE is friendly in Lost Tribe Carnival. I think what people also have to remember is there are many different age groups in the Lost Tribe Carnival. So you will see waist pelting on the ground, the wall and then you will see persons chipping the whole day – so it was a mixture of vibes.
Did your costume hold up?
It held up pretty well with the exception of the cape tearing at the back but for crossing 4 stages, that was the only mishap that actually happened with the costume.
Did your band give you A1 customer service? Did you have any issues in regards to costume?
Yes I have no complaints AT ALL about customer service. One of my biggest issues was wishing that the costume came with an instruction manual. It literally took me over 30 minutes to put it on and I wasn't sure if I was tying things correctly. A lady from Tribe helped me after my makeup appointment and I glanced into her personal costume box which came with an instruction manual.  I was able to meet up with my crew and we did some quick maneuvering and fixing to the costumes so that we were all comfortable to go on the road.
Lost Tribe via your other band experiences as I plan my Carnival 2020 schedule.
I would say Lost Tribe is a solid choice for costume, vibes, amenities, service, ease of registration compared to the other T&T bands I've played with. I got the costume of my choice and I had a good time. I do think the music needs to be worked on in terms of vibes; its a different feel compared to Yuma, Tribe, Rogue. Overall, I think it's a good choice.
How was the road in the costume? Did you keep the back piece on the full time?
It wasn't heavy; it (the umbrella backpack) just rocked a lot with the wind. We (the ladies in Mumtaaz) ended up bustling the back of the capes because it was a bit too long for most of us. I ended up taking it (the umbrella) off after the Savannah Stage and giving it away.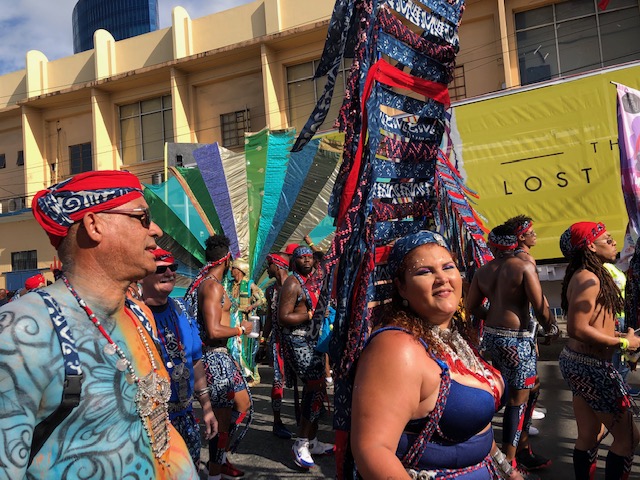 OTHER'S THOUGHTS
"I played with Lost Tribe this year and thoroughly enjoyed both days. The service was impeccable and my costume for the price (Mehtab Bagh) was amazing. I played with Bliss last year which was stush and dry and the band was filled with young people. There were some mature women in Lost Tribe pelting waist more than I did. 🙂 I definitely will play with Lost Tribe again. Re: costume selection – The only way I played with Bliss is because I had a friend from Trinidad who knew a committee member but I could only play in a certain section which was not the costume I wanted but settled for just to play mas. But with Lost Tribe all I did was email them and tell them the section I wanted and I got what I wanted. That should be the process with all bands." – Nadia Cumberbatch (IG: islandgirl1943)
Lost Tribe Carnival was definitely good to me. If you're reading this, I'm happy to announce that they won band of the year for the first time since being established so congratulations to the Lost Tribe Carnival and can't wait to see their presentation for Trinidad Carnival 2020.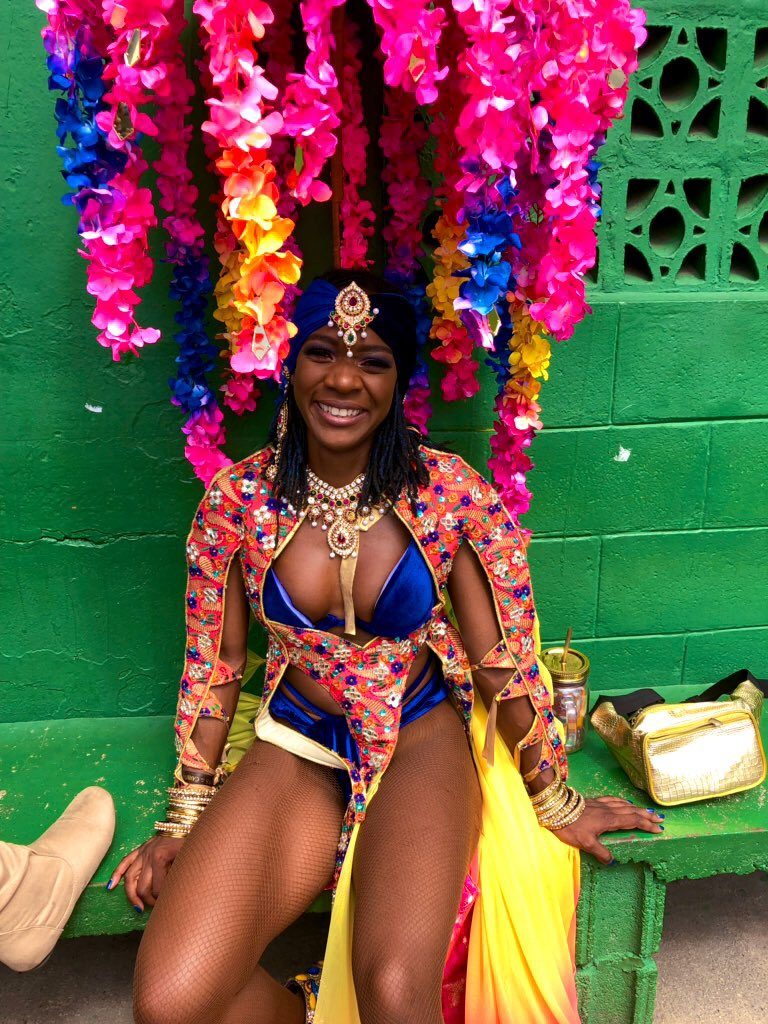 Planning on Trinidad Carnival 2020? Here's more of my 2019 carnival experience here and a few tips for planning.
Til the next pump,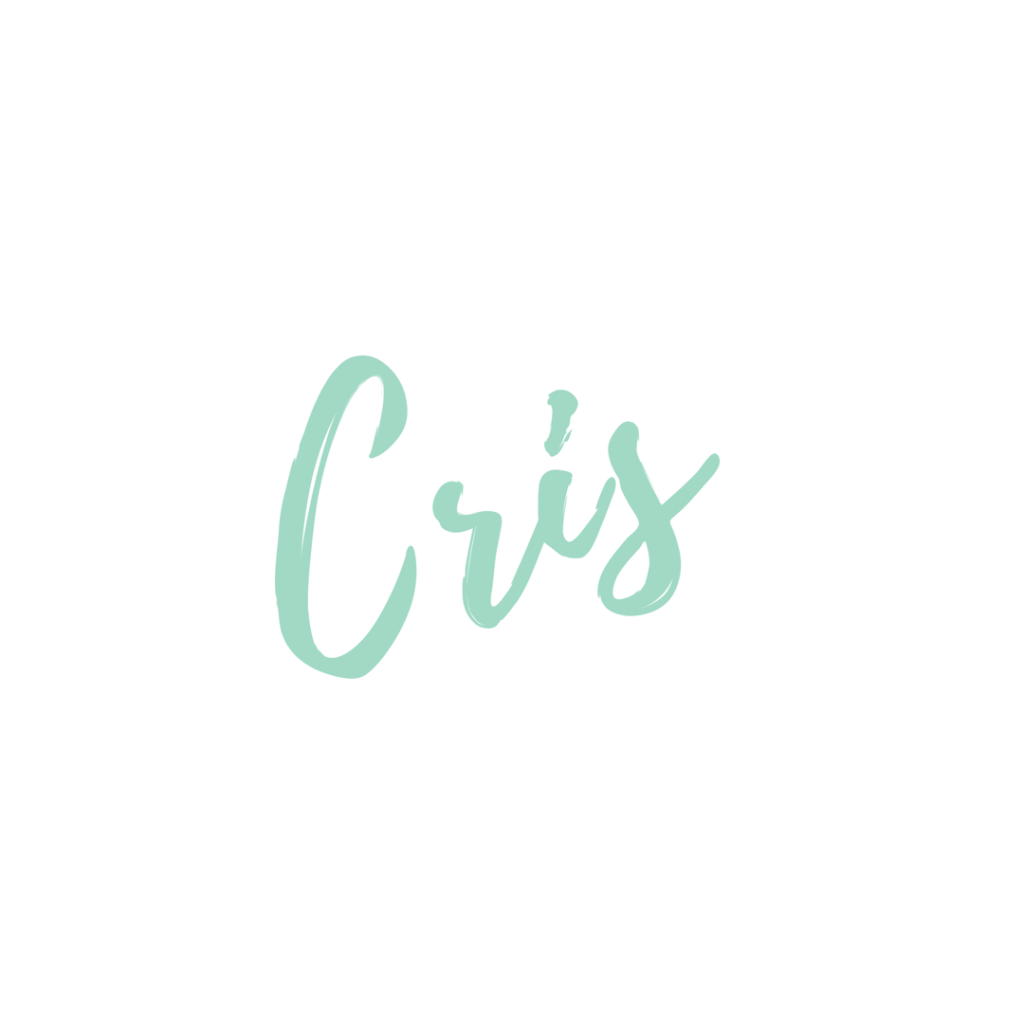 Til next time,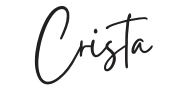 lost tribe carnival
lost tribe carnival 2019
trinidad carnival 2019
trinidad carnival 2020
Trinidad carnival reviews