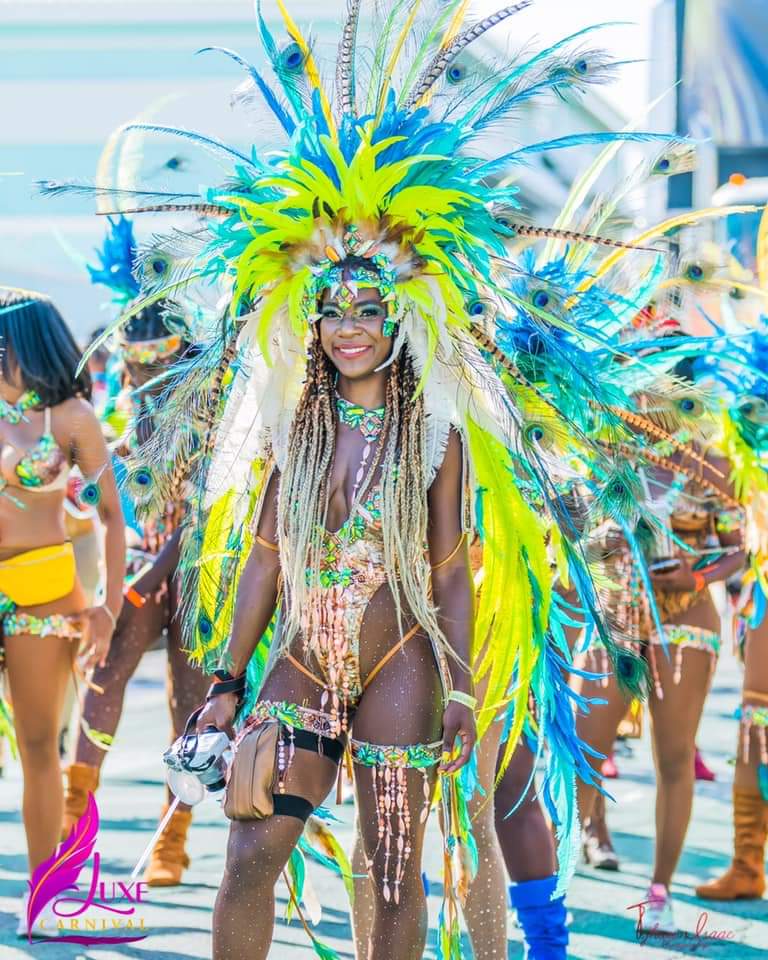 Someone on Tiktok had asked me "Can you do a carnival essentials list?"
Absolutely!  I remember packing for my first carnival -literally going crazy anticipating what could happen and what items I would need.  Keep reading for a comprehensive list of items you can sort through as you get ready to attend a Caribbean carnival whether in the US or Caribbean.
Packing List For Carnival
There are a lot of important things you should pack for carnival including your travel documents, personal items, clothing, accessories like jewelry (statement rings) and intimates/underwear. A lot of the time, if you're new to carnival, there are some things a lot people don't think of to pack when going to a Caribbean carnival.  TIP: Photocopy and print out items like your passport, identification cards (i.e green card, work authorization card, driver's license) as well as costume registration receipts/emails, fete tickets, accommodation receipts etc or even directions to get to costume pick up, accommodations. I also think walking with a written or printed list of emergency numbers is a great safety measure just in case.
ITEMS ESSENTIAL TO CARNIVAL
*Note- I have linked all my favorite items that I use not only during carnival but on a day to day basis with affiliate links from my favorite stores with no extra cost to you. However, I do earn a commission on any item you choose to purchase from this list. :)*
Fete outfits/accessories
Carnival Stockings (use BAHAMIANISTA2021 for 10% off your purchase)
Pouch/Bag (use BAHAMIANISTA2021 for 10% off your purchase)
Disposable Masks / Multi Use Masks

TOILETRIES/GROOMING AIDES
Sunscreen (for body/face) – check out this list from Global Carnivalist
Poopouri or fragrant toilet spray (great for sharing accommodations)
Soap/Body Wash
Deodorant
Body Spray (regular and/or travel size)
Perfume/ Scented Oils
Facial Products
Hair Products
Shower caps (regular and/or xlarge)
Extra Rolls of Toilet Paper (for large groups)
Pantiliners, Tampons, Sanitary Pads
Vaseline
Compact mirror
Makeup

ELECTRONICS/ACCESSORIES

For international carnivals/travel, if you have an unlocked phone or an older phone out of use (I have two); you can use that as a means to insert a sim-card and as a main means of contact. Over the years, I've learned that using my main mobile device can be a bit risky if there's water damage or it gets lost or stolen.
HEALTH
Small First Aid Kit
Health aides (asthma pump, allergy medication)
Benadryl
Medical ID bracelet (if you have allergies or pre-existing condition)
Headache/migraine/cramps medication
Vitamins (B-12 complex)
Tums
All methods of birth control

MISCELLANEOUS/AS NEEDED
Garment Bag (to carry large feathered backpack home)
Gel insoles
Ball of foot cushions (heeled boots)
Sealable Plastic Bags
Trash Bags (for j'ouvert)
Plastic Shopping Bags
Exfoliating Glove (post J'ouvert/carnival)
Detergent and/or dishwashing liquid (to get rid of oil from J'ouvert)

Carnival Essentials You Need In A Fete
Just think about it, you will be outside for an extended period of time. So its your skin/body against the elements. Personally, for me I don't go to a fete unless I have my portable charger, wipes, someway to keep cool because sweat is inevitable and I definitely bring body spray to freshen up.
Mini Sunscreen
Portable Fan
Portable Charger
Camera or Phone
Sunglasses
Hat (if necessary)
Wipes
Body Spray
Medical bracelet if necessary

Carnival Essentials For The Road
Depending on the type of J'ouvert you may need all of the following listed but the essentials are definitely baby oil to prep the skin so you can remove the  paint/powder/oil/mud/clay a lot easier after J'ouvert; and a water proof case so your phone won't get wet as well as a mask & sunglasses to avoid powder or paint in your eyes or mouth. You'll definitely need to cover your hair as well. Personally for me, I wear long braids or I'll wear my natural hair (medium length locs) so I need either an xlarge shower cap  or something else to cover my hair before wrapping it. I've also used large t-shirts and grocery store plastic bags as well prior to wrapping my hair or putting a hat on.  Its recommended to cover your hair but if you're not worried and can wash out the elements in an adequate amount of time, often a dad hat will work. TIP: To clean oil off the body, I've used dish washing soap like Dawn or even opted for cheap detergent (however this can depend on your skin type so I recommend Dawn) and an exfoliating glove works wonders.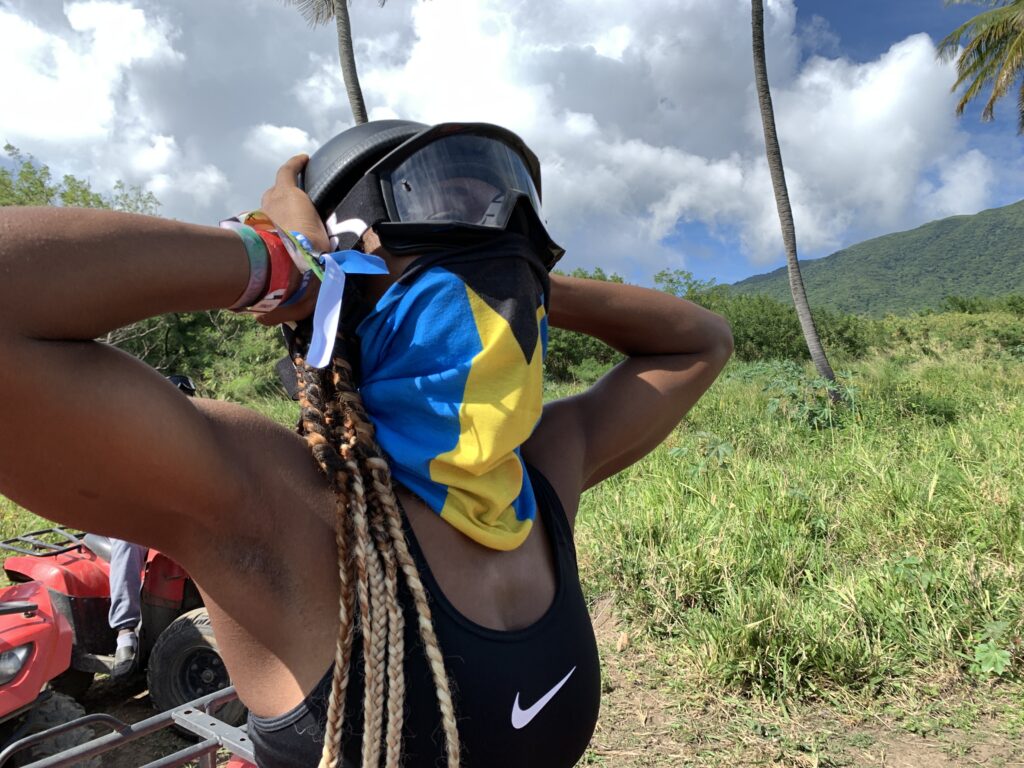 J'OUVERT
Baby Oil
Vaseline
Waterproof Case
Go Pro
Dish washing liquid or detergent (to break up oil)
Fanny Pack or Pouch
Wipes
Medical bracelet (if necessary)
Emergency money
Sunglasses
Dad hat or hat of choice

ON THE ROAD FOR CARNIVAL

On carnival day (which is typically an all day affair), you should have your wristband, costume, stockings, carnival shoes, carnival essentials that can fit in your carnival bag or pouch. Personally, I will not go on the road without feminine wipes, my portable charger/regular charger, emergency money, body spray, sunglasses, a plastic bag of a few clorox wipes, keys, and lipgloss etc.
Carnival bag/pouch
Phone charger
Portable charger
Waterproof case
Sunglasses
Disposable Masks
Hand sanitizer or sanitizing wipes
Keys (car, hotel/Airbnb)
Emergency money
Extra mask (s)
Tampons/pantiliners/pads
Benadryl
Tums
Body Spray
Headache medication
Medical ID bracelet (if you have allergies)
List of emergency contacts (written)
Compact mirror
Lipgloss/lipstick
Makeup sponge
Blotting paper
Small rag
Portable fan

TIP: Put emergency list of numbers in a pocket or attach to your costume or shoes just in case you lose your bag.
Places I Shop For Carnival Essentials
So here are my go-to stores for carnival essentials, let me know in the comments where you all shop and if you have any specific things you take with you on the road.
carnival2021
carnivalessentials
planningforcarnival