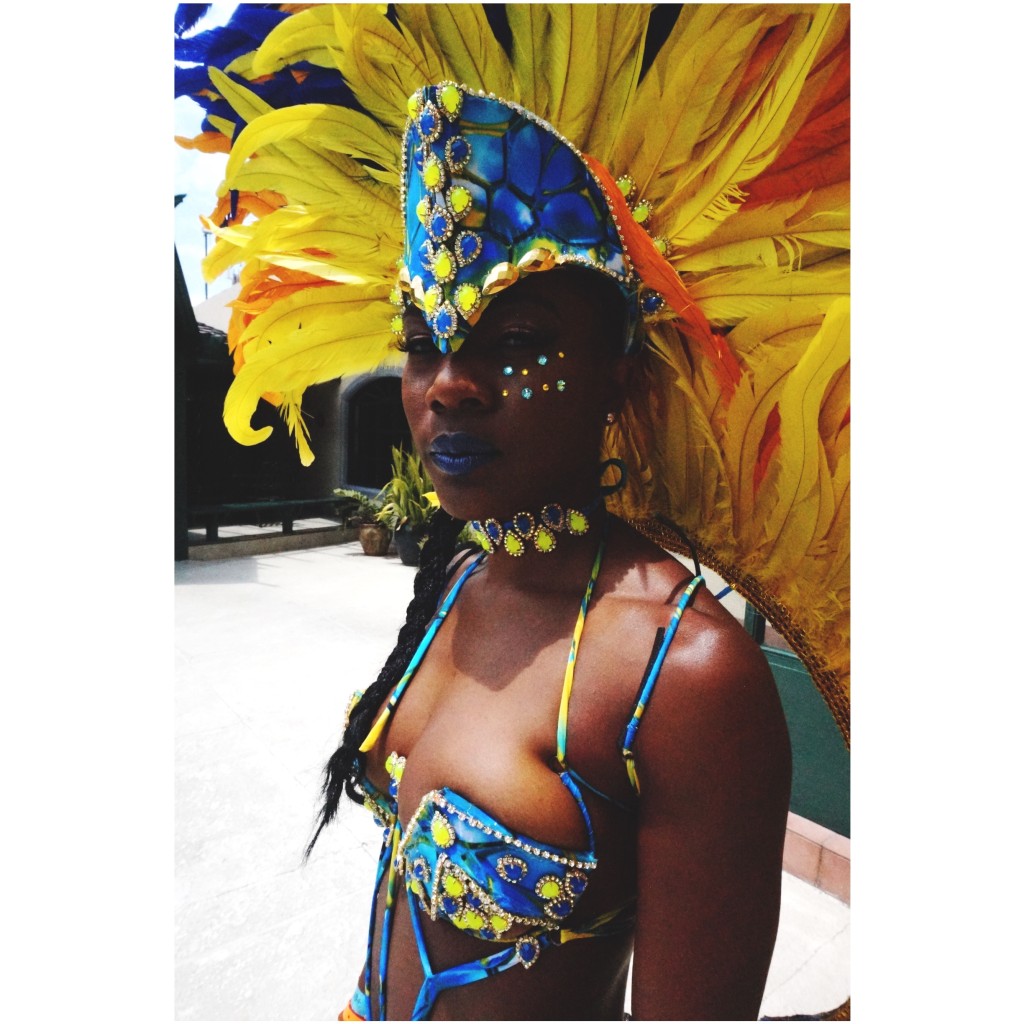 Jamaica….one word – SWEET!
I'm not going to lie. I had no expectations for this carnival experience especially coming off another EPIC Trinidad Carnival experience and currently (as you read) going crazy trying to plan my year and vacation time clearing my carnival bucket list.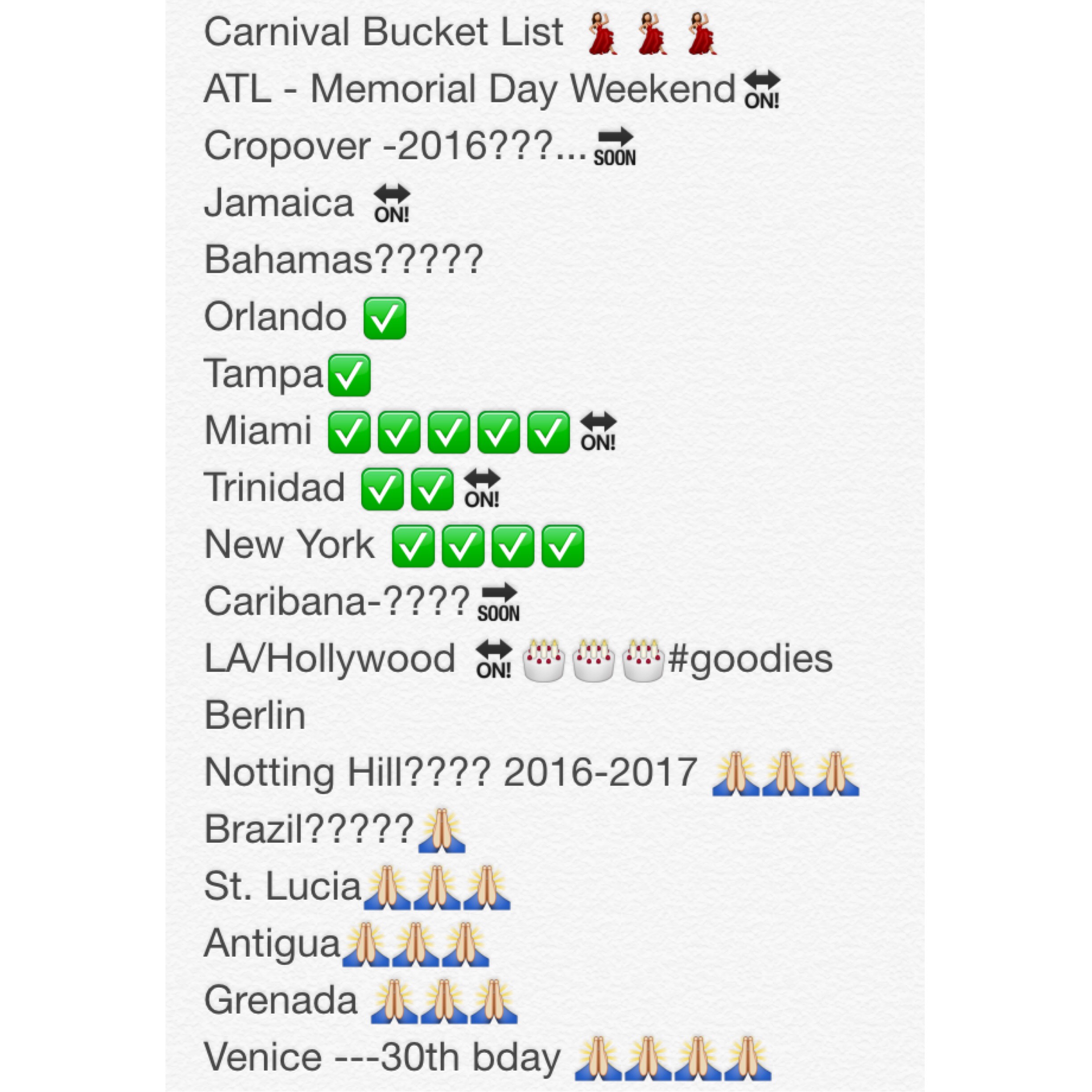 "Doing the double" (definition-conquering the feat of partaking in both Trinidad and Jamaica carnival for the year) had one sole purpose to take away the lingering angst and growing curiosity about a carnival based in the reggae and dancehall nation of the world. Could it cure my tabanca? Would it live up to be as vibesy as the bigger more celebrated carnivals? There was only one way to find out.
TOUCHDOWN IN JAMDOWN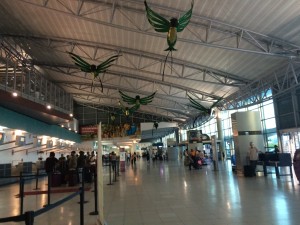 I'm not big on flying but it was a smooth and quick flight to Norman Manley International which I might add is a pinnacle of modern art and photography showcasing some of Jamaica's biggest icons (i.e Tessanne Chin, Usain Bolt); a solid 10 minute walk to customs that literally immerses you into Jamaican history and culture. The time In Jamaica is an hour behind Standard Eastern time which put me in an even better mood seeing as I had a whole extra hour to enjoy the ensuing bacchanal.
Airport pickup organized by Karnival by Kandi was timely. I even got an impromptu tour from my very hospitable taxi driver amongst the Obama madness of the very picturesque landscape of beautiful Jamaica.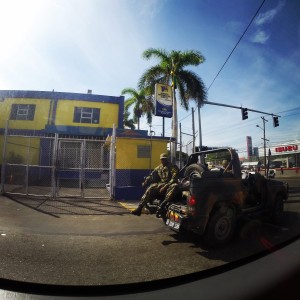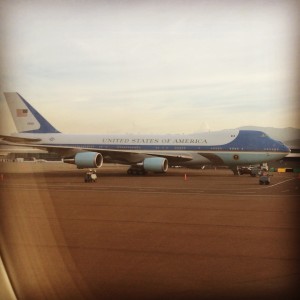 Now for those unfamiliar with Obama's visit to Jamaica; the president made a short visit to Kingston, Jamaica in efforts to strengthen ties with the Caribbean nation.
Read http://www.msnbc.com/rachel-maddow-show/why-obama-went-jamaica for a more in-depth conversation of the U.S. Government making rounds to build international ties.
Despite the road blocks and the 3-4 hours I spent "touring" the semi-accessible city of New Kingston; I was already taken by the vibes and energy of city life.
Hotel check in….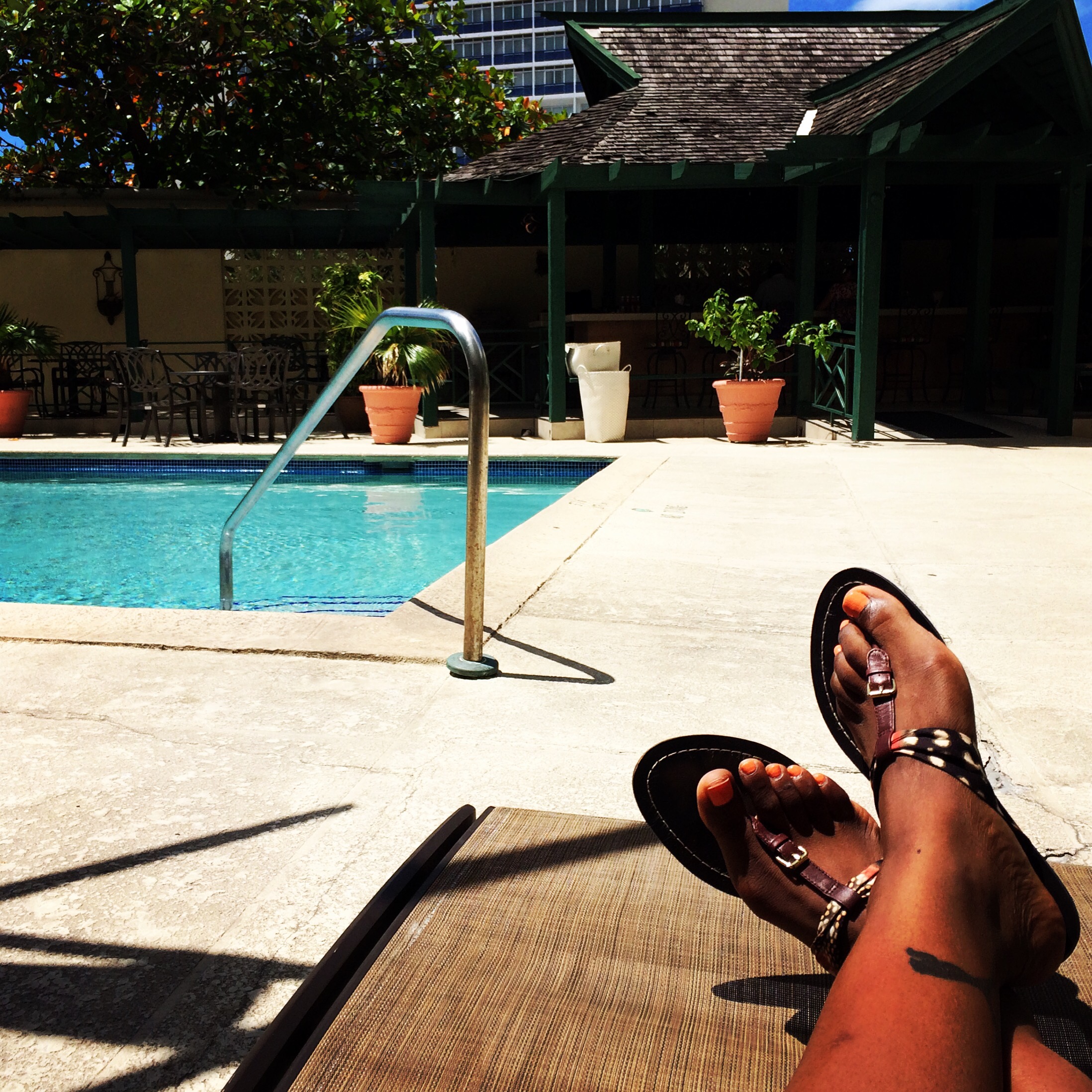 Seamless. Stayed at the Courtleigh Hotel and Suites that seemed to be in the middle of everything including right next door to the Obama madness. Met up with my sister and the some of the crew; settled in and got prepped for what I can account as one of the best carnivals I've ever experienced.
Vale Vibe 
Started off with a nice event featuring back 2 basics, DJ Private Ryan, the Duchess and many more DJs that set the pace for an epic weekend; small appetizers were available as well as a cash bar. Although most of the patrons seemed to be on a stush sort of "vibe"; I partied it up with MOA (Ministry of Appreciation) members –the crew most likely to start the fete and will never leave even if the "Party Dun"!
"It's only madness in here…this ah di fete of di year". This concoction of a cooler fete x pool party was genius; arguably the BEST cooler fete I've been to in my entire life. Cash bar, although most opted to BYOB. Tasty grilled jerk chicken was on sale for about 5 USD; Monk Montano apparel was on sale for the Machel fanatics. If anyone knows how to throw a fete over a pool with a stage that I was 85% sure was about to collapse—it's Scorch! I must admit I was on the fence about the event intially having attended some-not-so-hype Scorch fetes; but this one was besssssss! Good enough for my tiny butt to jump in the vacant pool all but TWO times!
….What AM Bush in Trinidad should have felt like! Less is soooo much more. We cabbed to a central meetup location where there were props set up for picture "opps" pre-the paint and powdered bacchanal!   Shuttled to what seemed like a farm road fenced in on both sides with media and press taking crew and group pics while everyone made their way to the trucks for their drink of choice. I decided that I would be Katniss "Girl On Fire" with my fierce bow & arrows while my sistren donned a SuperGirl cape to follow with the Super Roman/hero theme. I think—no I know! — the only thing I would change about Am bush is the start time. The fete started around 2am and took a while for patrons to roll in from the shuttles which in turn kept the party from pumping until maybe an hour later. I think a GREAT idea would be for everyone to pre party 12am-2am, warm up and get vibesy to ensure full AM BUSH Jouvert madness! We were rushed out of the fete upon sunrise to head to Sunrise Breakfast Fete but not before I got my much needed playtime in on the mini "water world" slides and obstacle course.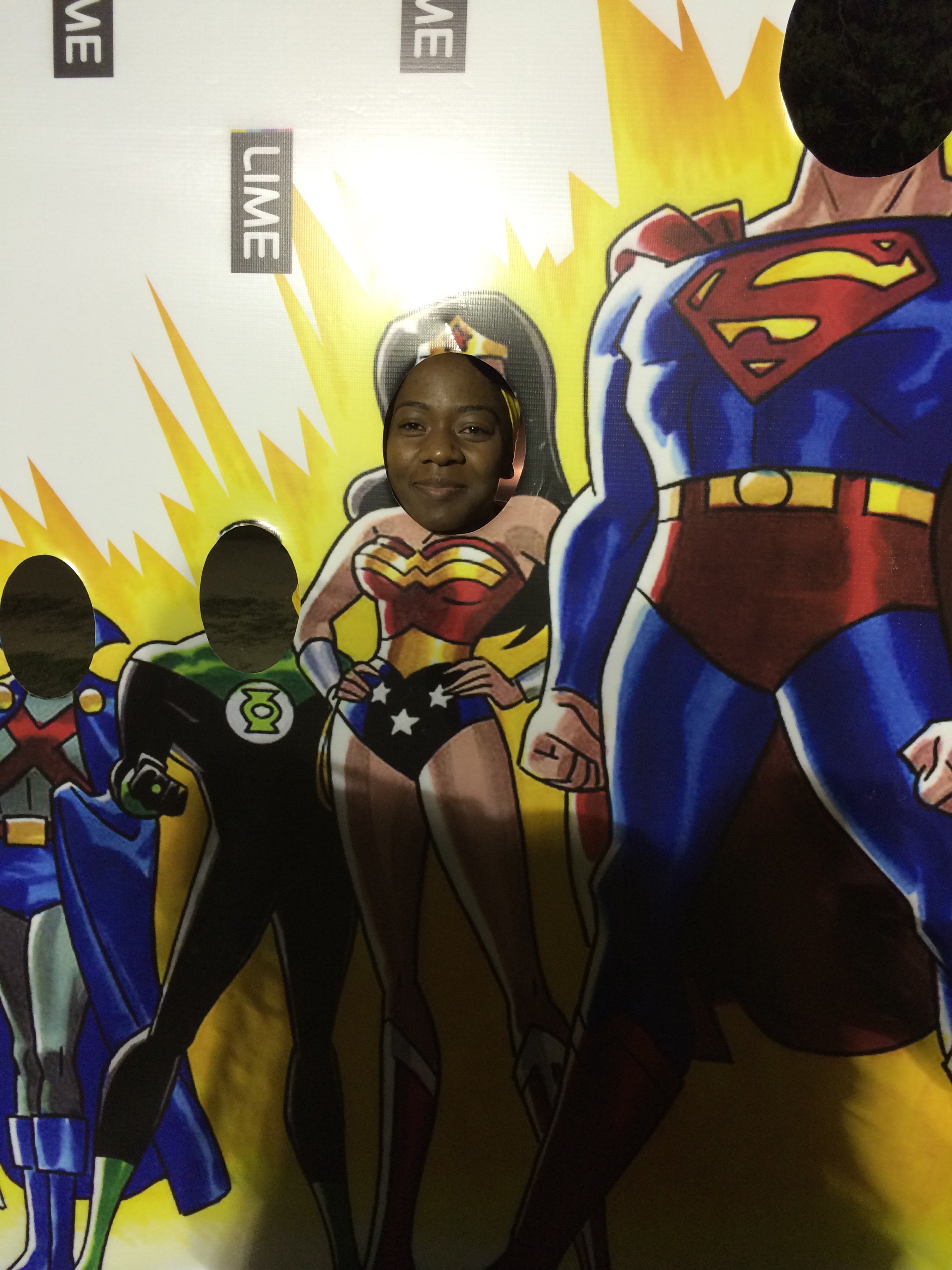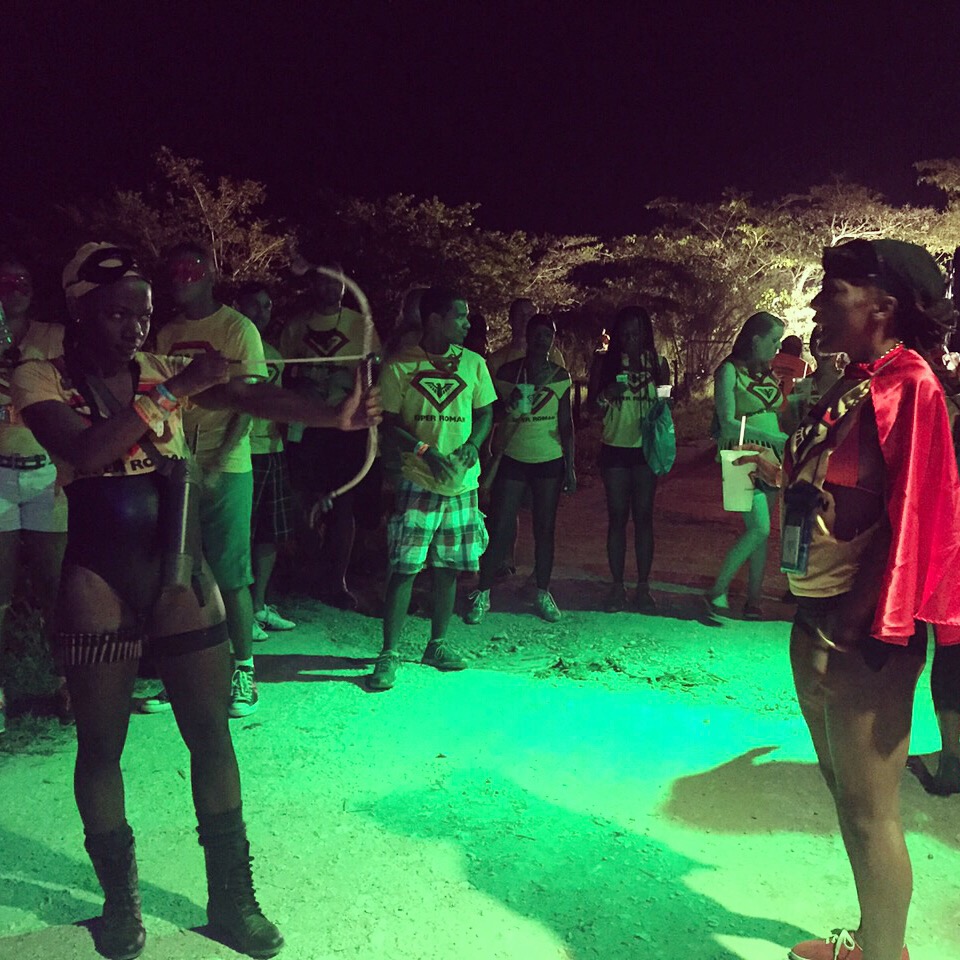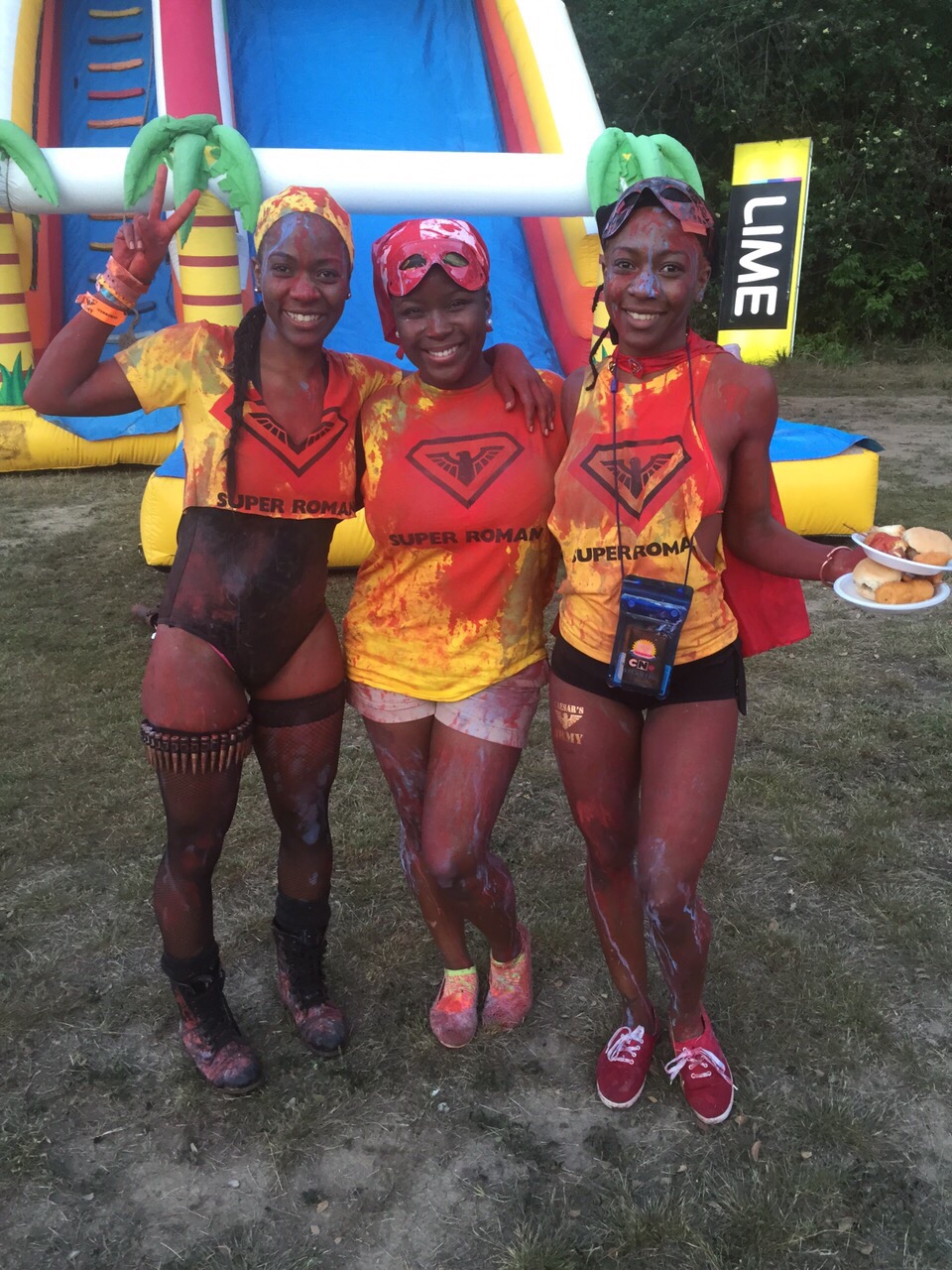 Sunnation Breakfast Party
My blood was pumping as we made it back to the hotel showered, changed and awaited our taxi for Sunrise Breakfast Fete. Karnival by Kandi runs a tight ship! They kept us on our toes with a 30-45 minute "bathe and change" time between fetes. Made it on time to the gorgeous HOPE gardens…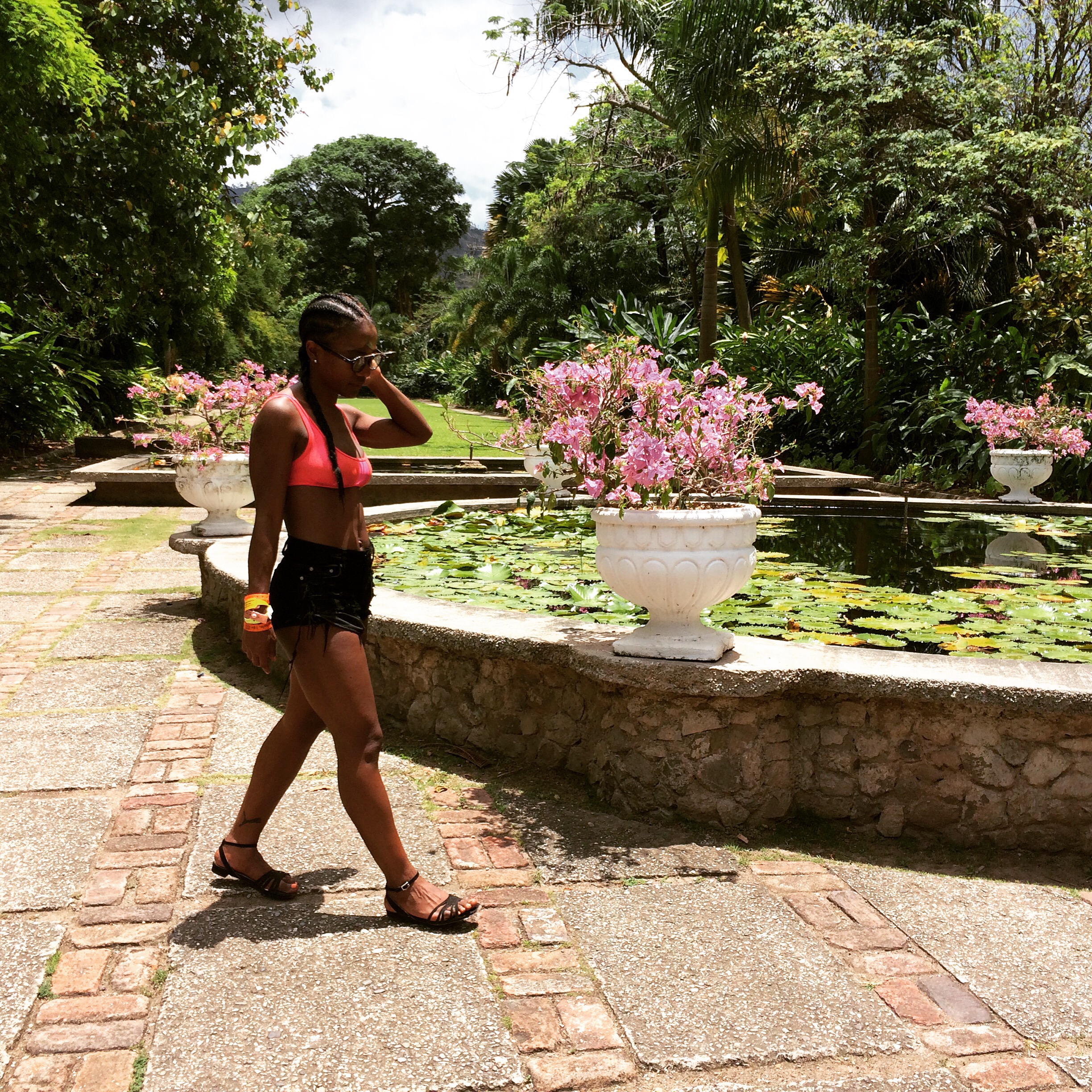 …and  I had to take a few chips back to take in the splendor and amount of PEOPLE that were in this fete!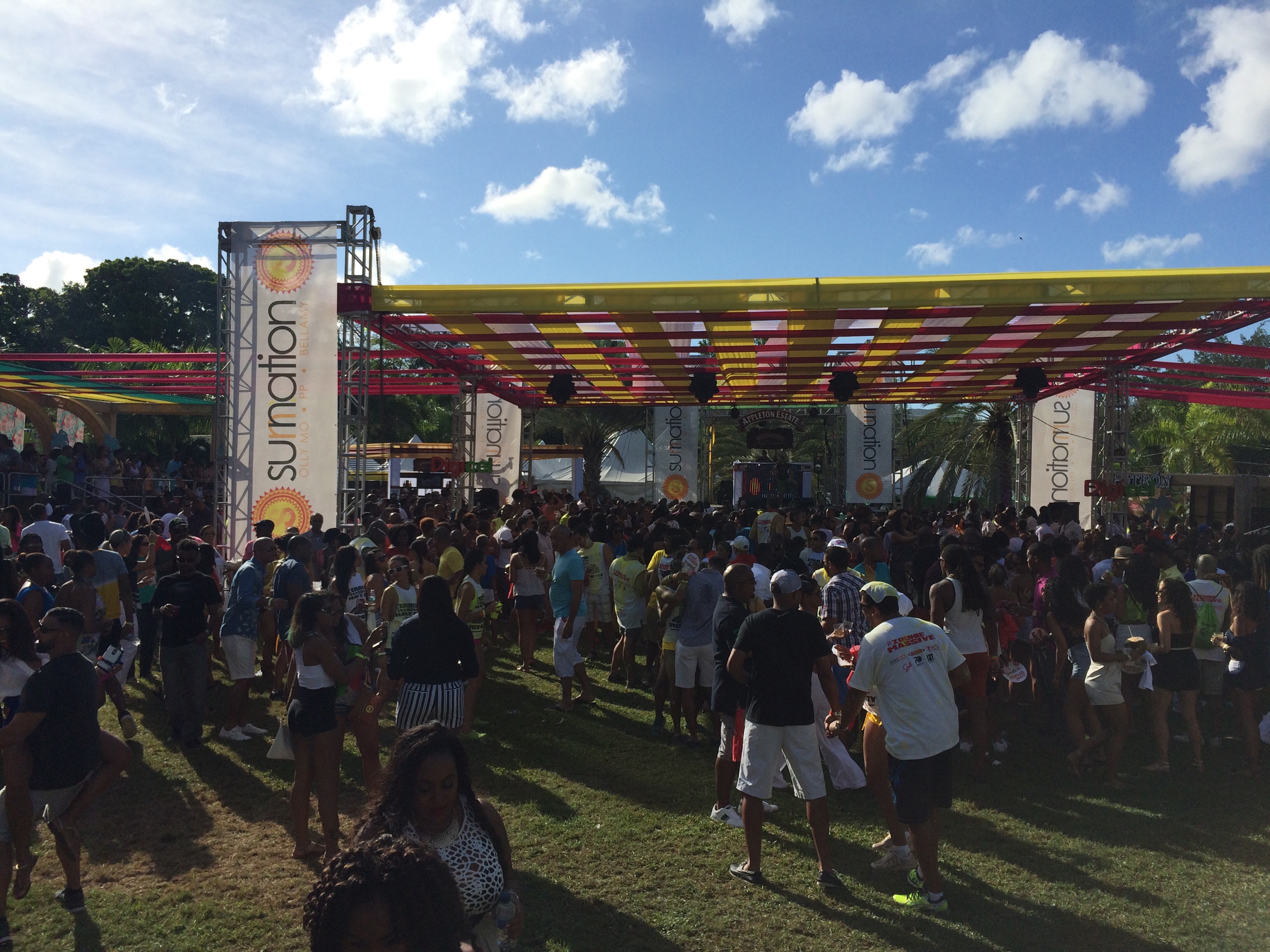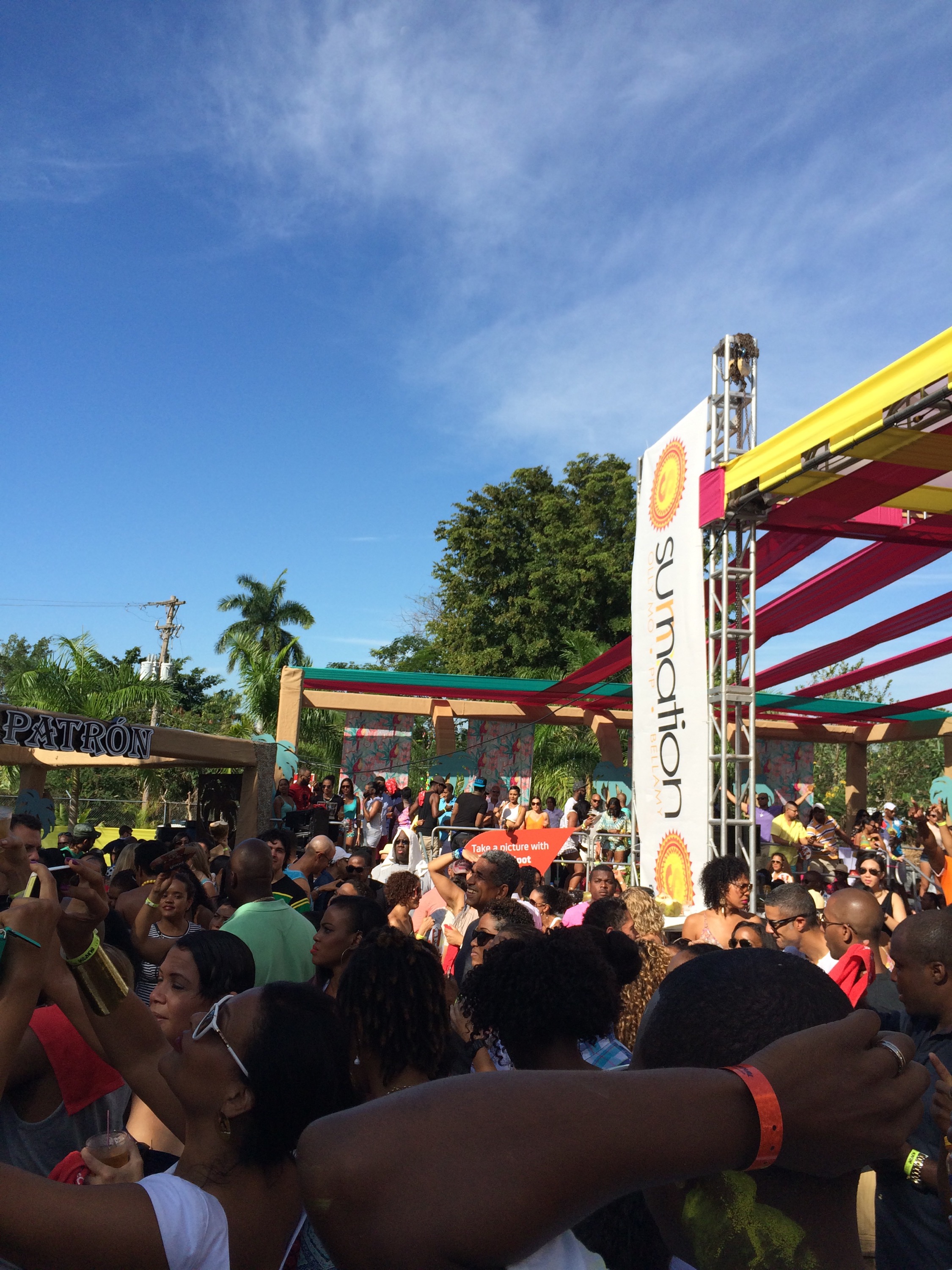 And no it did not feel overcrowded; the food COURT was conveniently placed in an area that was easily accessible. Breakfast on deck! Eggs Benedict, Ackee and salt fish, stew chicken, fresh fruit…. I could continue but I'll just get vex about all the food I didn't try. My sis and I grabbed a quick bite and headed to the left side and front of the stage (as MOA standard) to take in the vibes of live performances by Blaxx, Machel, Angela Hunte… Etc. Honestly, I am not a concert person but I thoroughly enjoyed my time and the live performances at this fete.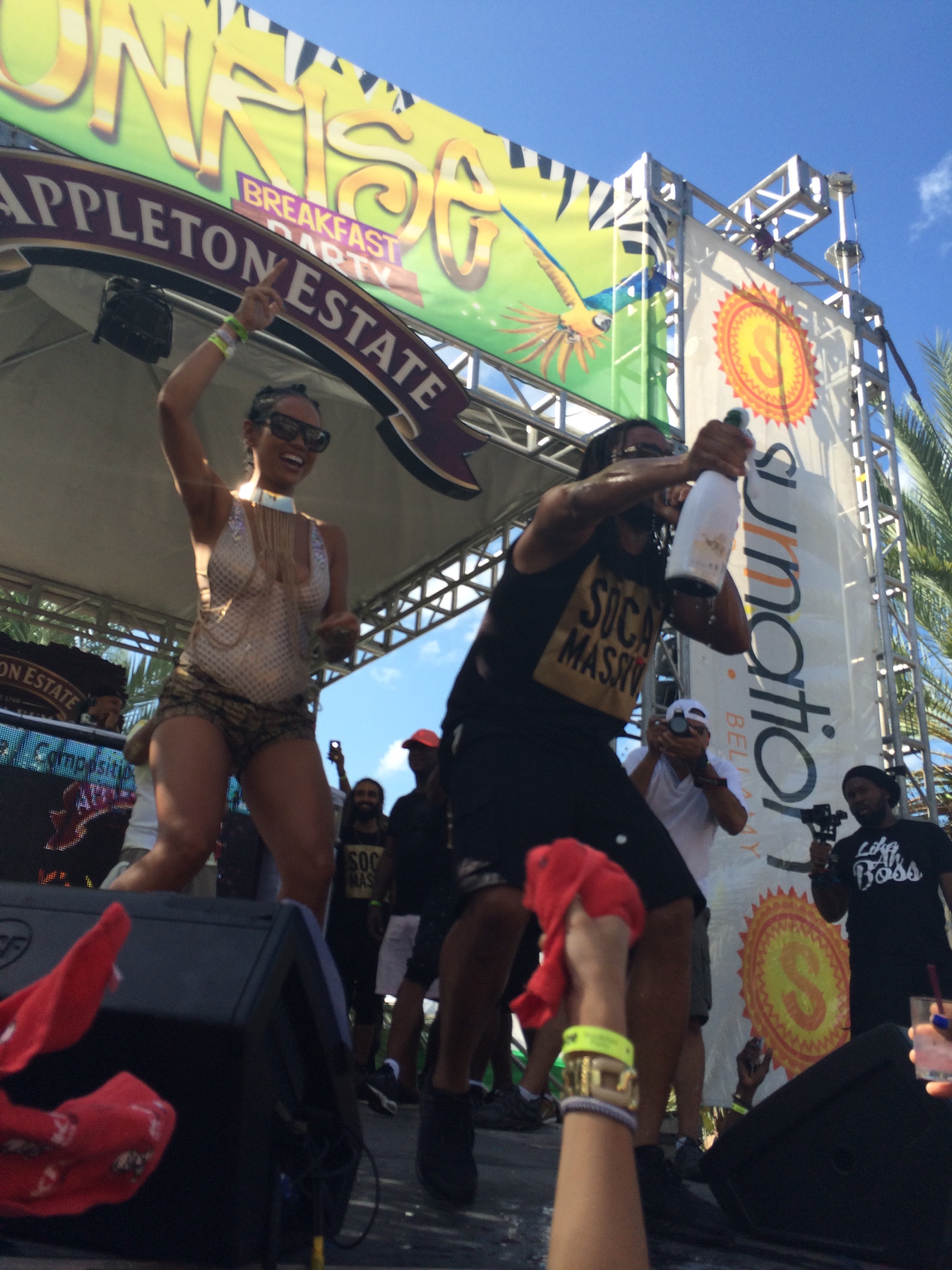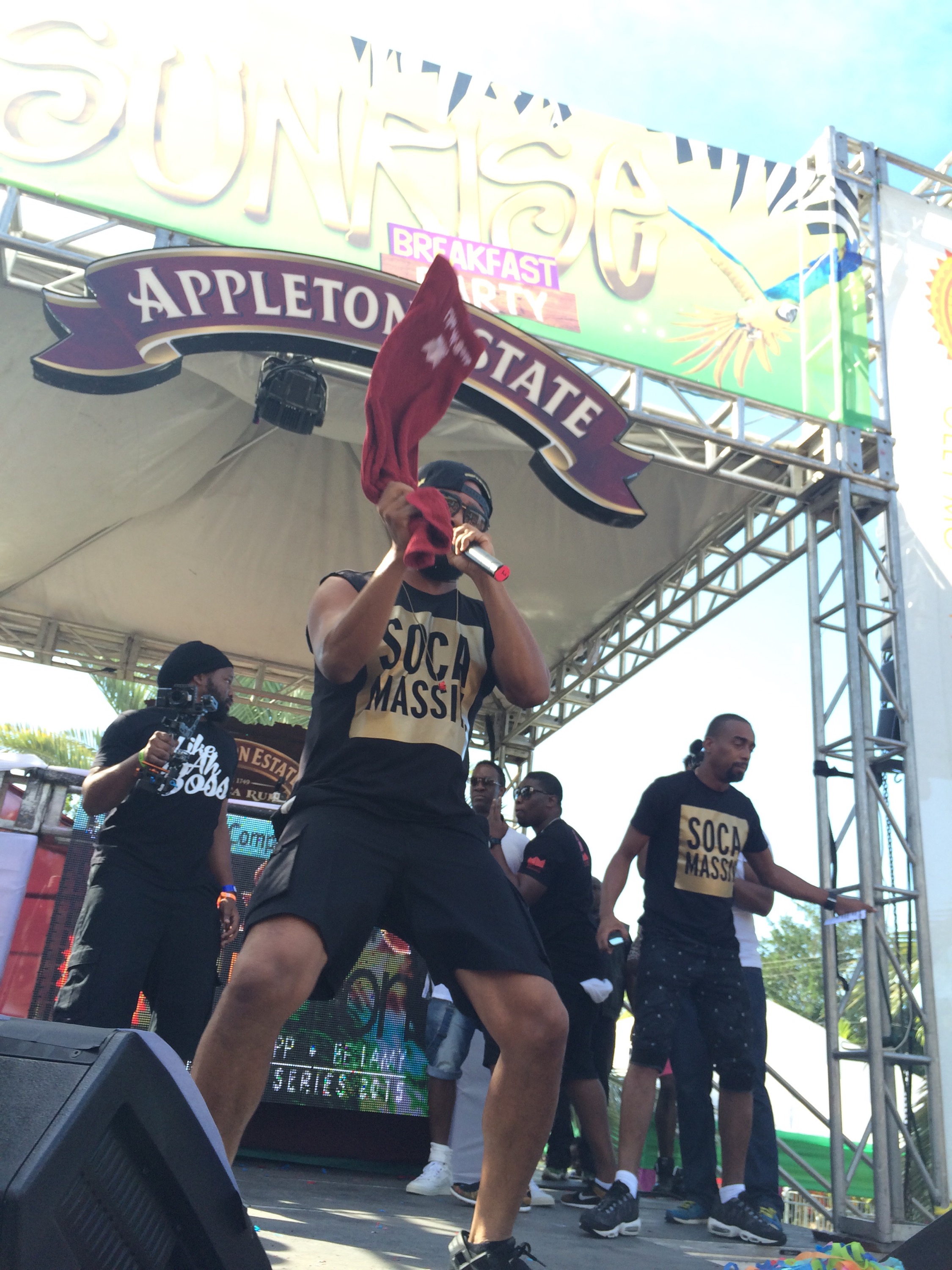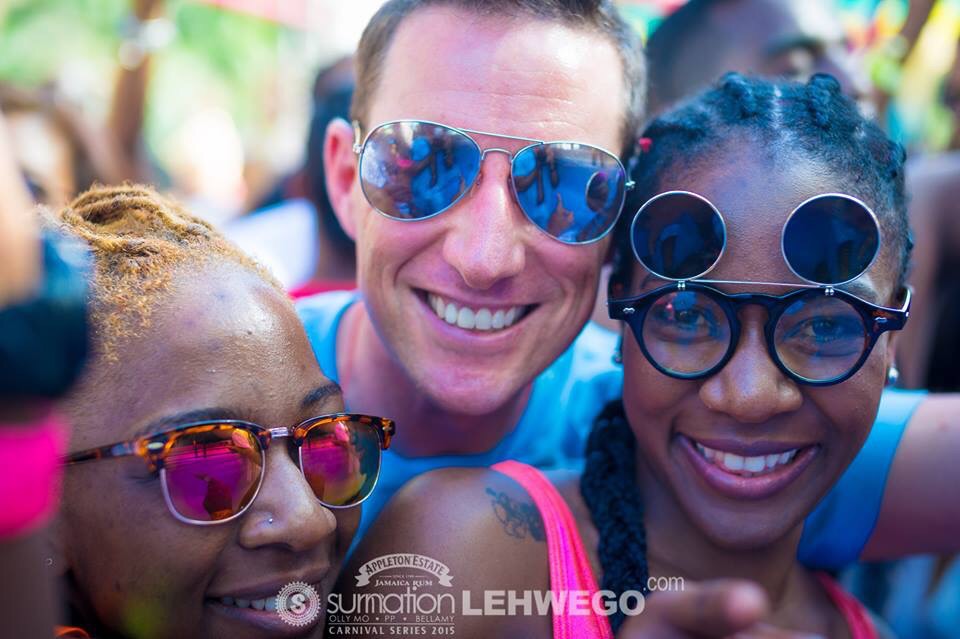 Even when the sun bore down on my back; I was delightfully enlightened by the sweet surprise of outdoor sprinklers that kept everyone cool and hydrated. There were Patron ice cones provided along with multiple bars set up along the venue. After all the artists' pumped up the crowds and left for their next gig; DJs carried on something wicked with a sweet mix of soca and dancehall that I absolutely loved especially with the varying cultures of wineage and dancehall moves. After a fete like that I was ready to stay in Jamaica …for good! Haha just kidding…
READY FOR THE ROAD
Up at 5am, I made my way over to Terry's Cosmetics for my makeup appointment with BeatBarbyMKR! Follow her on Instagram @beatbarbymkr ! Absolutely loved my face-beat, package perks inclusive of a light breakfast and adored how attentive my MUA was! Absolutely in love with my blue lips that matched my costume to a tee!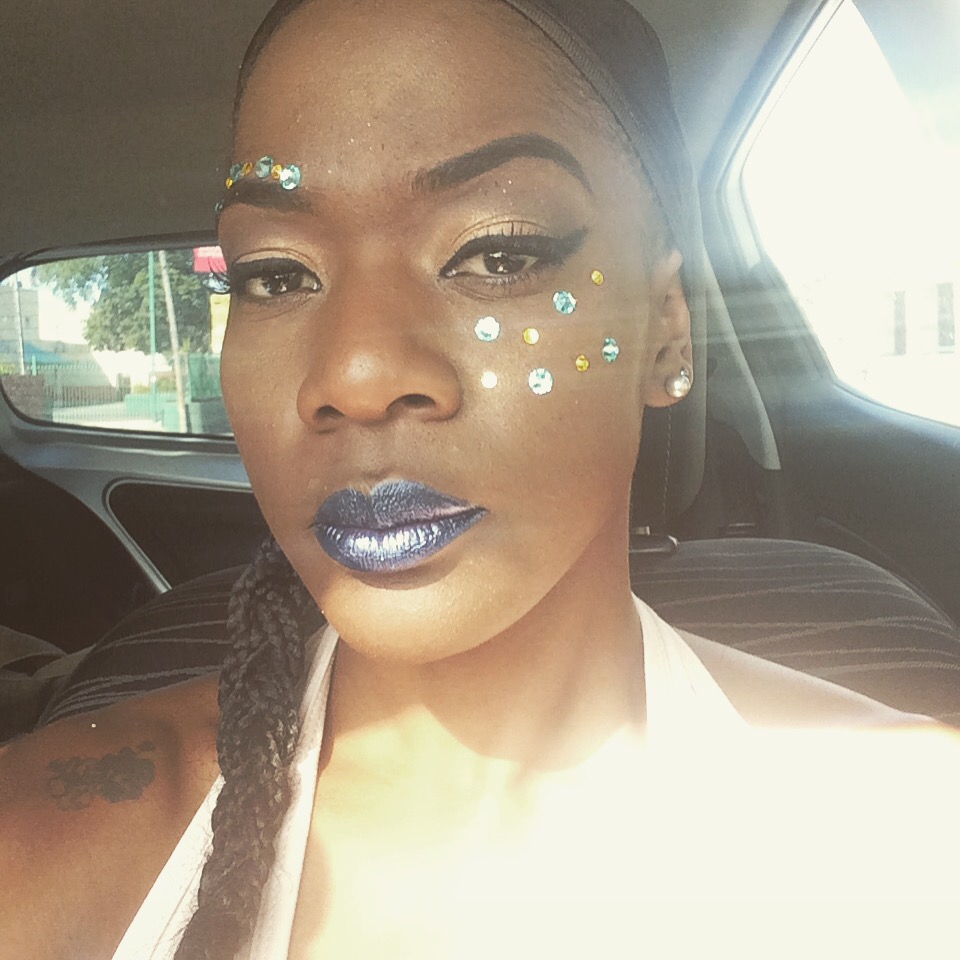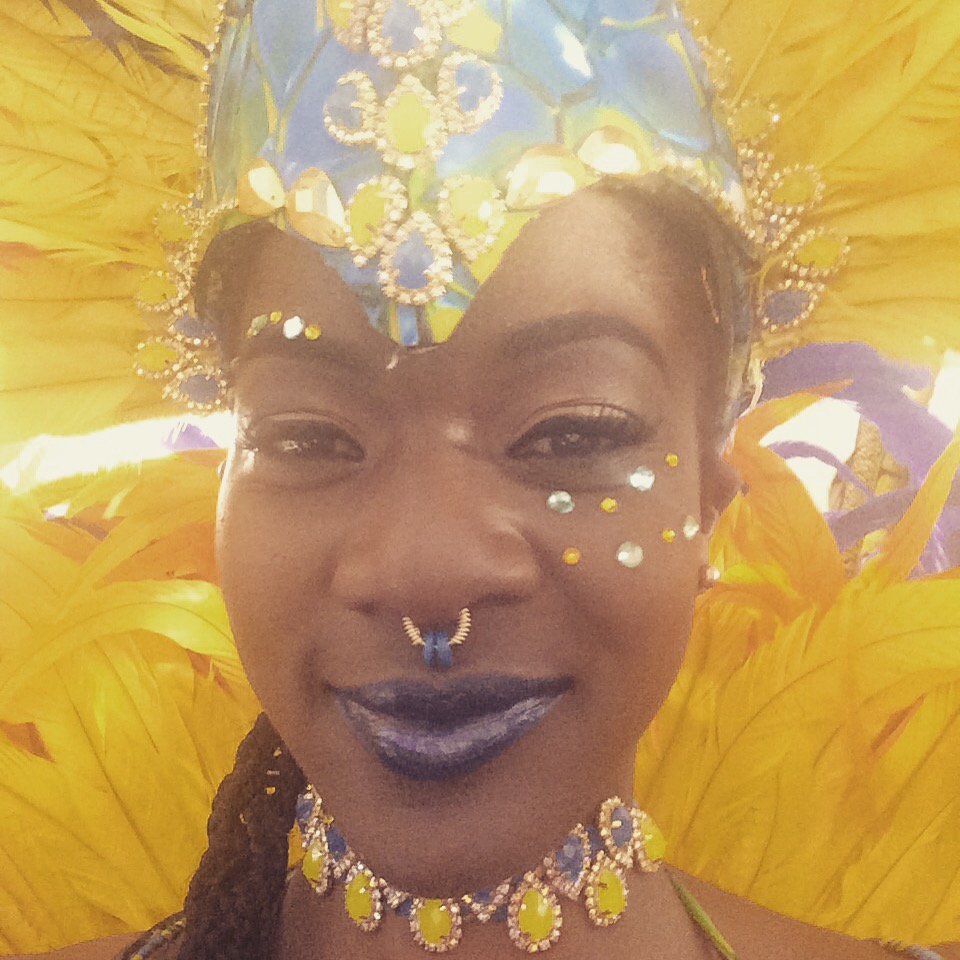 Got back to the hotel with plenty of time to spare to get ready. Costume was picked up the night before with a few hiccups that is expectant of any carnival. Thank Goodness for the iWillDesigns team working around the clock to revamp the size and style of my wire bra for full coverage on the road!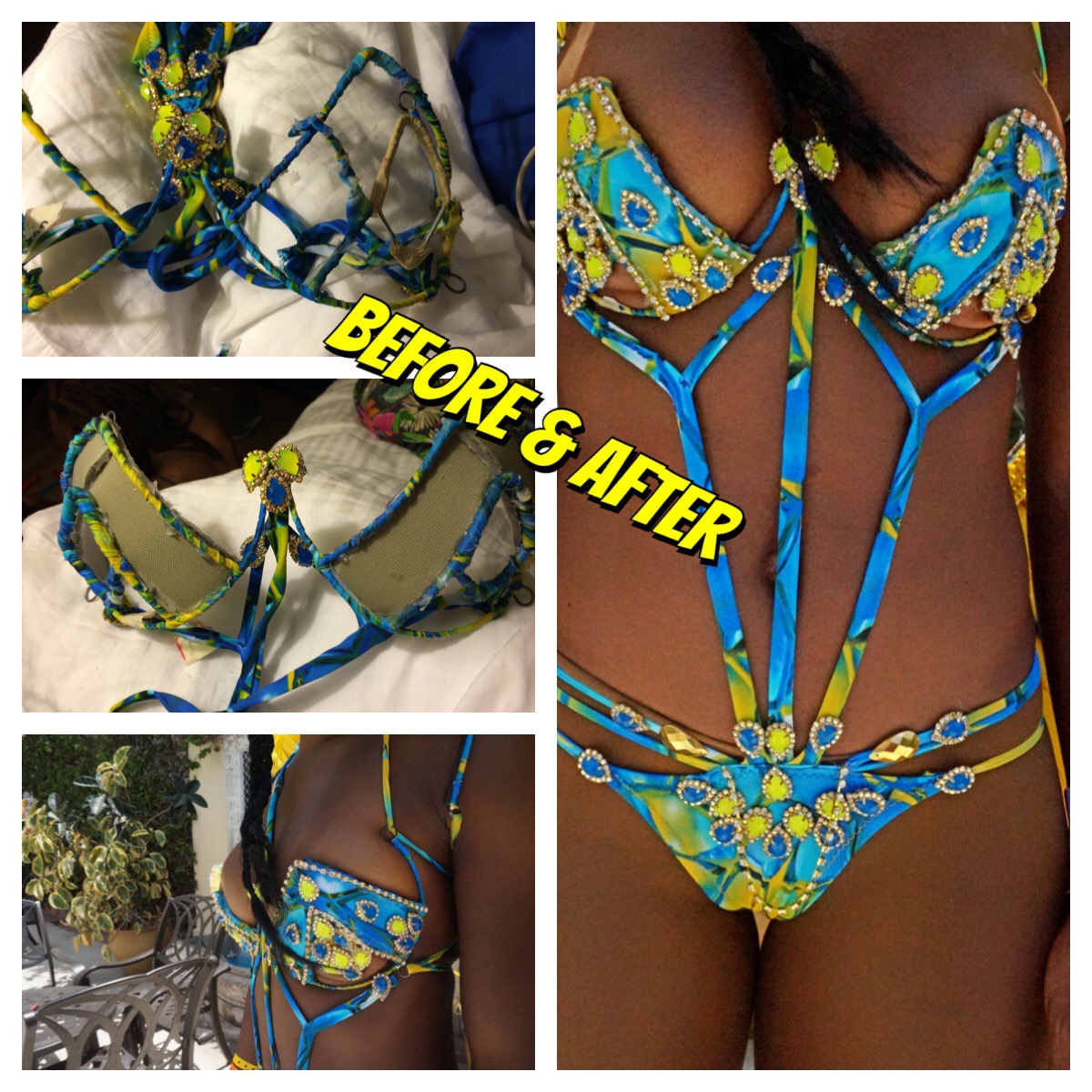 Mini Photo shoot time…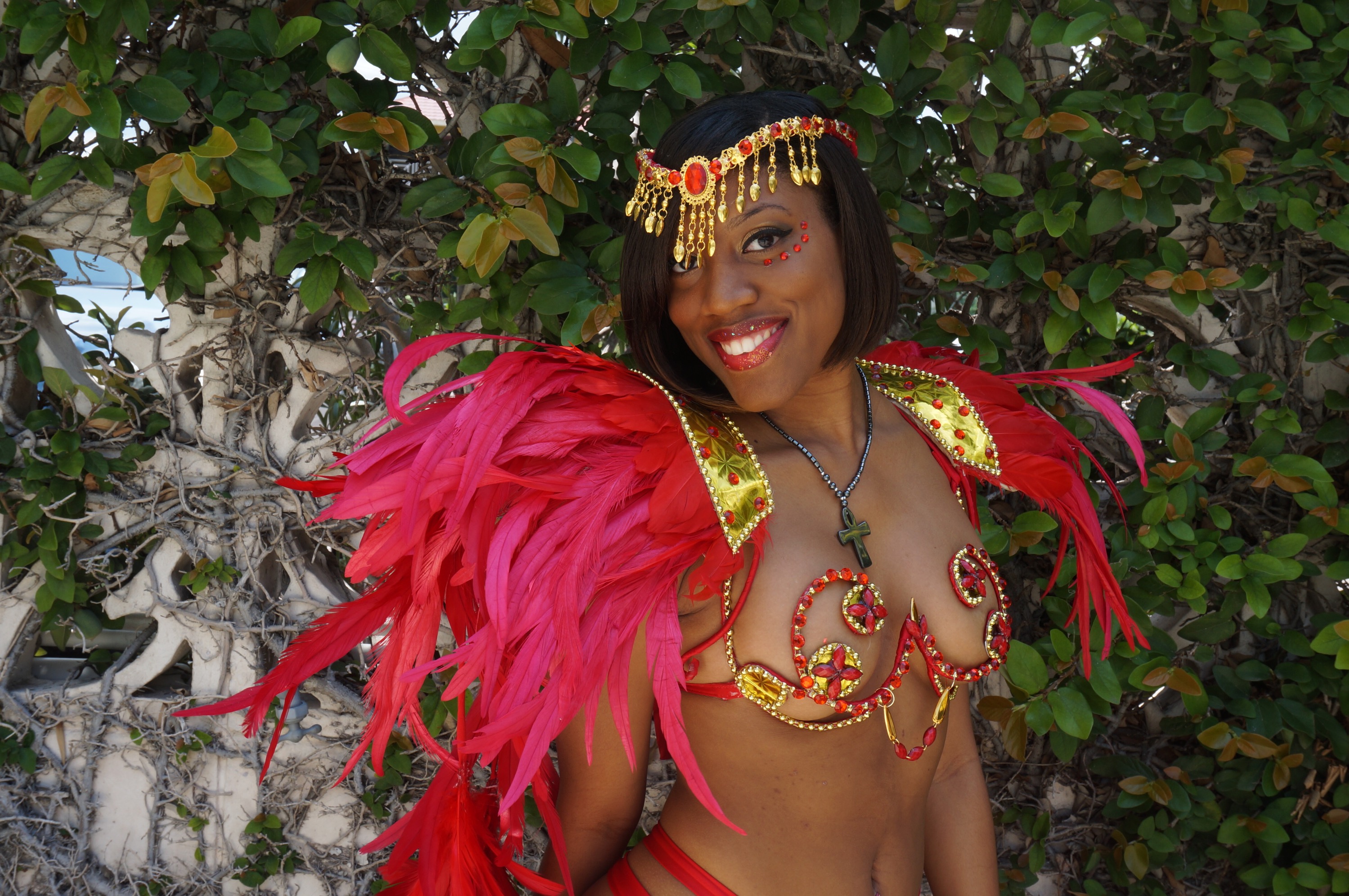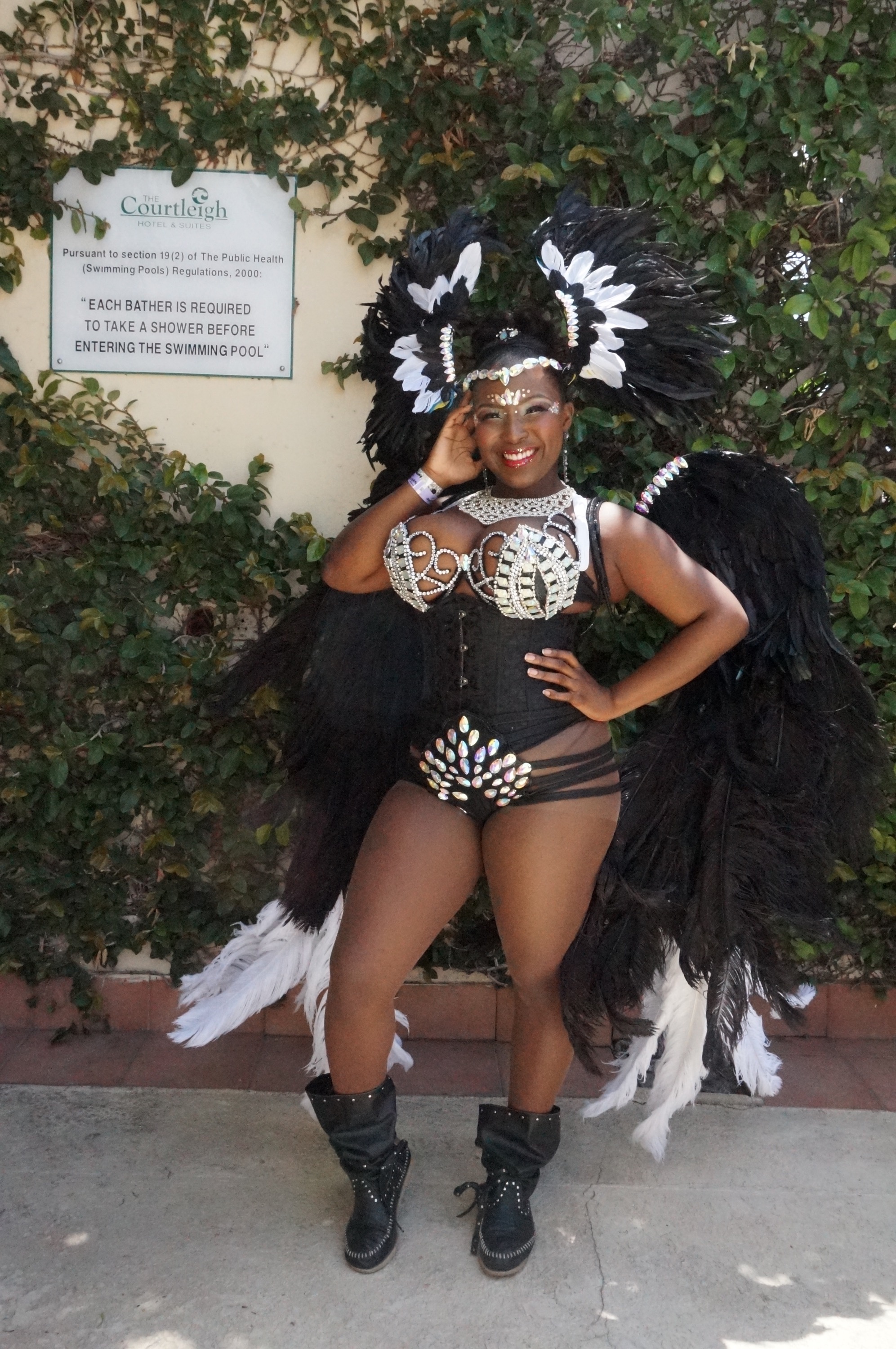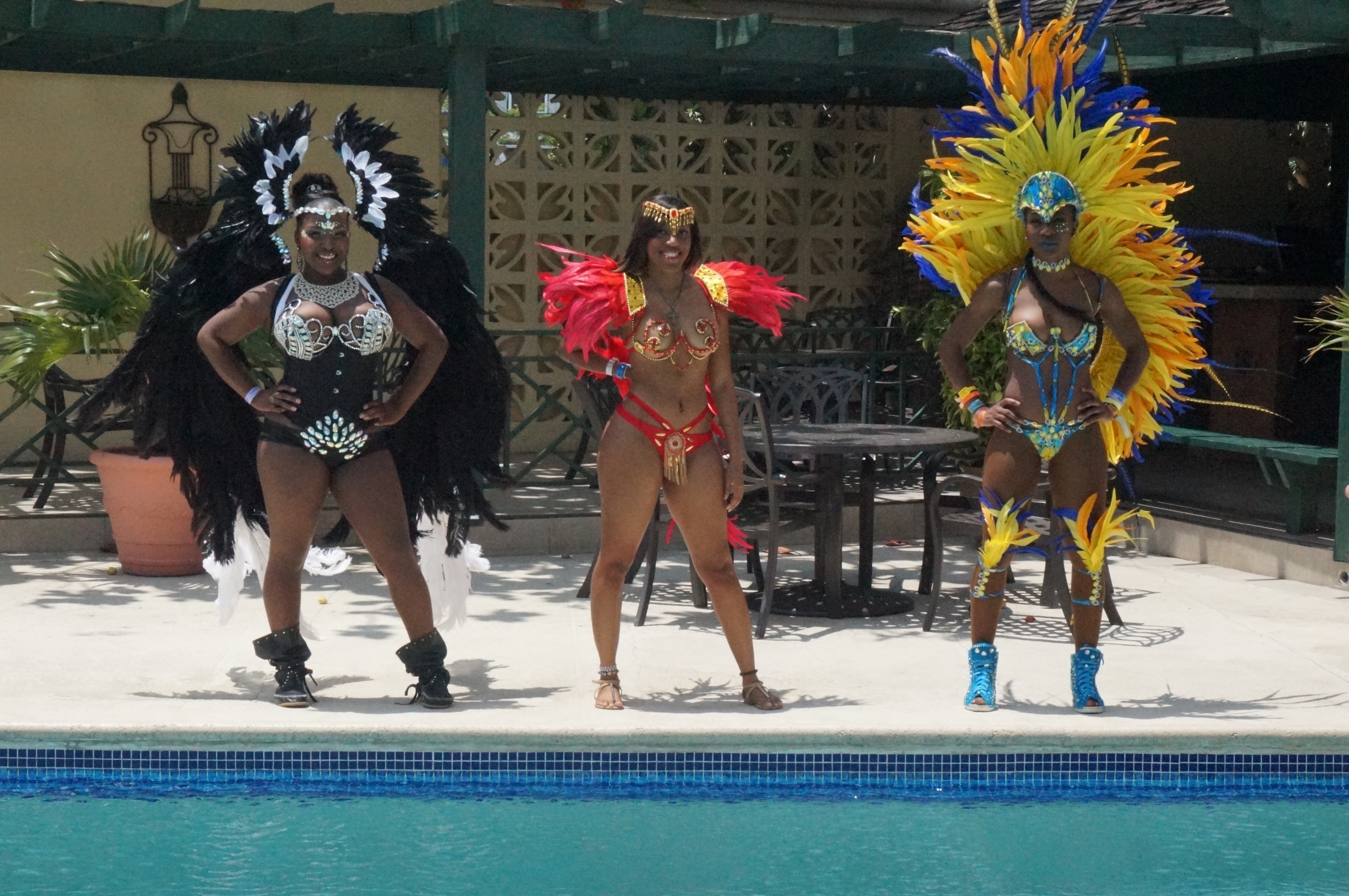 LehwegoSleek was awesome in terms of service with an air conditioned tent for frontline masqueraders as well as complimentary make up retouching and a professional photographer on site. Any hiccups regarding my frontline costume went out of the window as I primped and preened for the camera.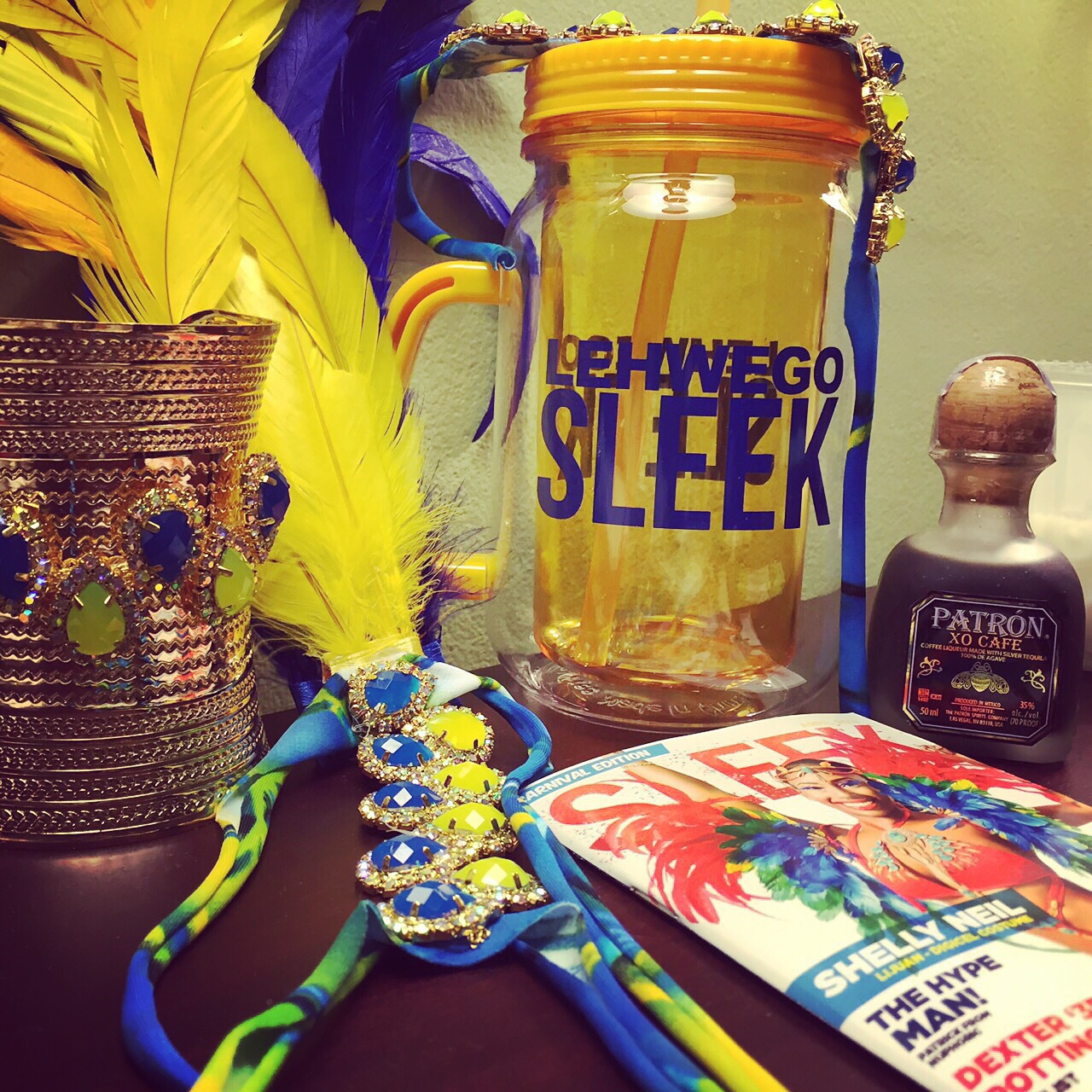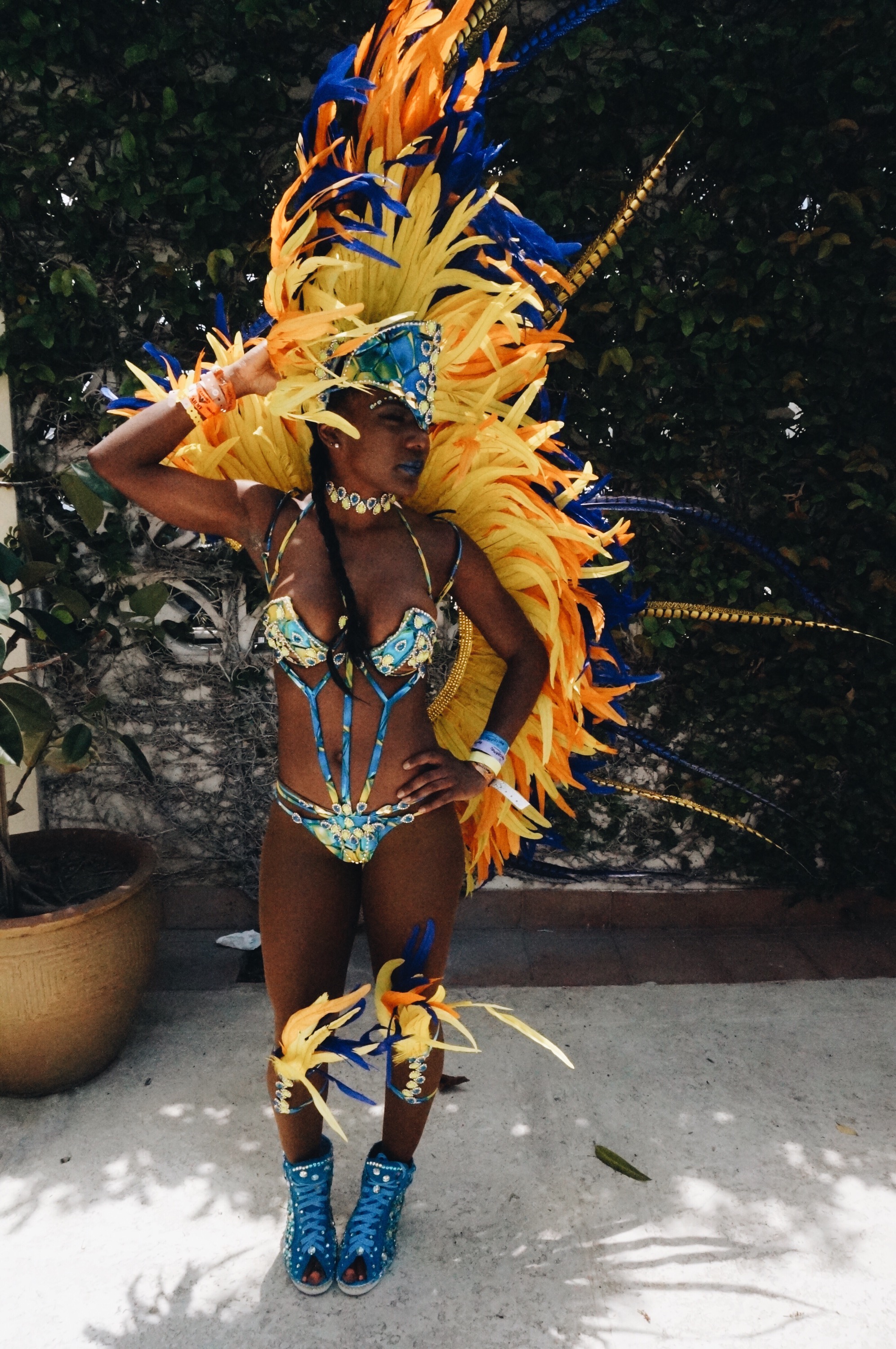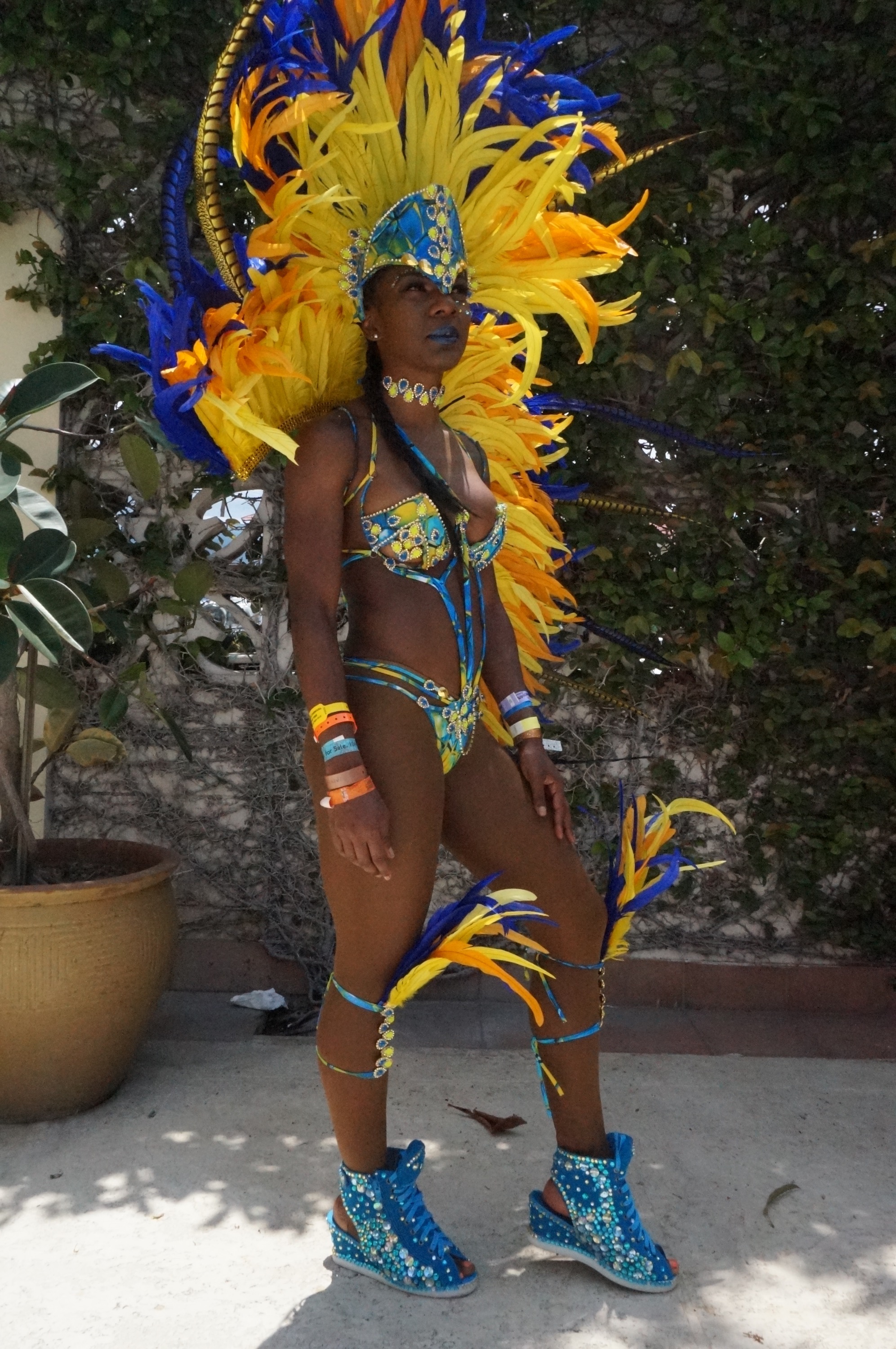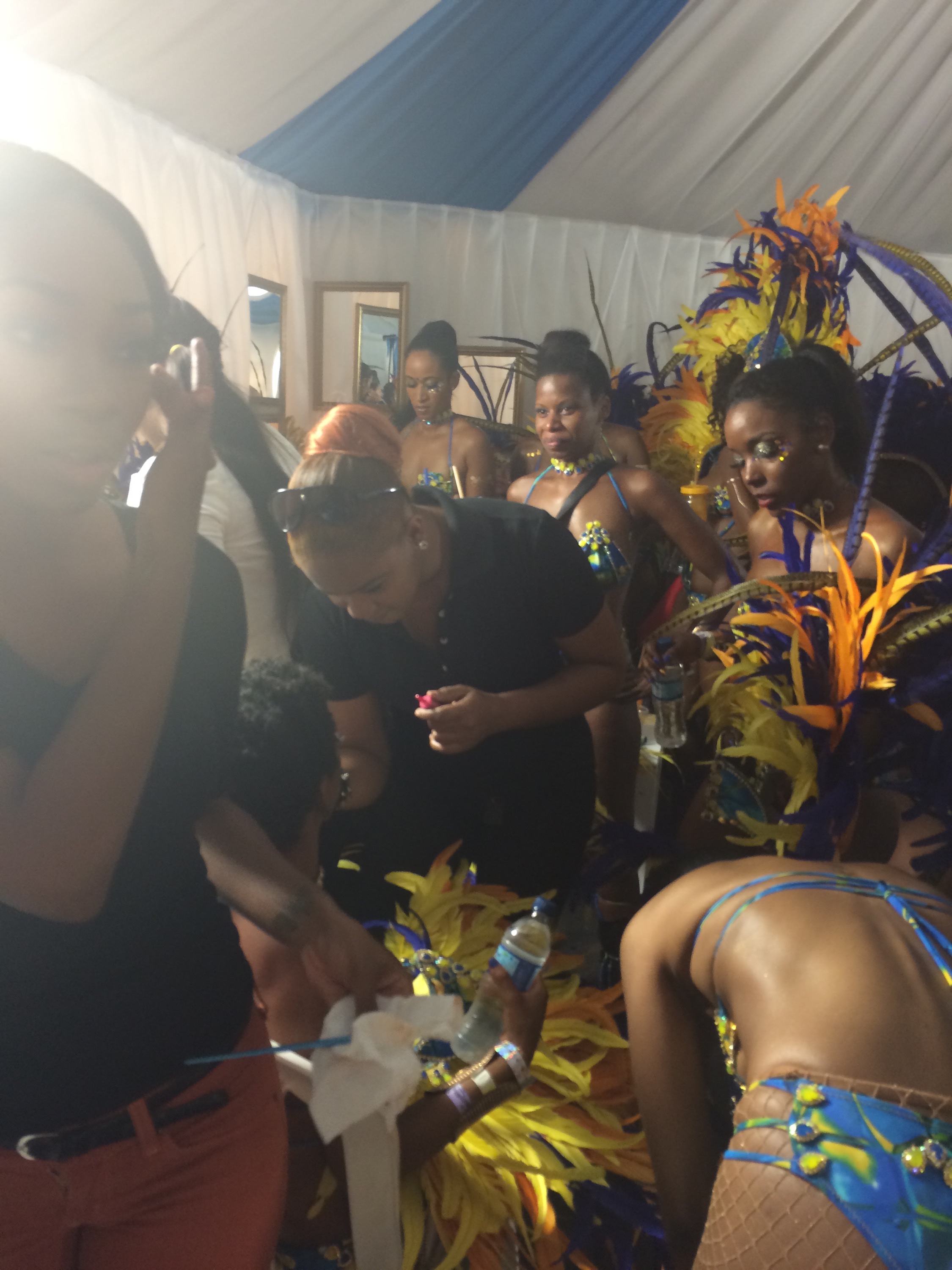 BACCHANAL IN THE STREETS
Got to the road in literally 5 minutes via taxi. No fuss! No walking miles to find a band because there is only ONE band! 10 points Bachannal Jamaica! There's no stage to cross but who cares? I loved the freedom and intimacy (as many people that were out there) that this concept allowed. The energy of the masqueraders was on an all time high! No violence or fighting; just pure euphoria and wukking up. The band had its' fair share of stormers but everyone just seemed to be on the same wavelength. It was carnival! Time on the road was ample; started chipping from around 10am all the way to the Mas camp where the vibes ended later in that night. My drink of choice was vodka and Ting! Music was an eclectic style of primarily soca, dancehall, reggae,a littl EDM/techno and a few rap songs made it in there as well. And hey if you did not like the vibe of a particular truck, the following one was only 2-3 minutes of chipping and wukking behind. A sweet surprise on the road for me was a nice fruit stall selling sugar cane for like 1-2 USD. I was in heaven "nyamming" my cane and getting on bad with any familiar or unfamiliar face I came across.
Photo Cred: Trinidad Carnival Diary and Be Sleek JA and @athenaanonymous (Instagram)
The route ended at Bachannal Jamaica's mas camp where we grabbed a yummy Escovitch fish dinner and contemplated an after party for the night. After several minutes of  deliberation, we headed to the hotel for our Las lap–nap  fete! Party was surely done & it was time to get ready to head home :(. I definitely think I left with more angst, heartache and Tabanca than I arrived with…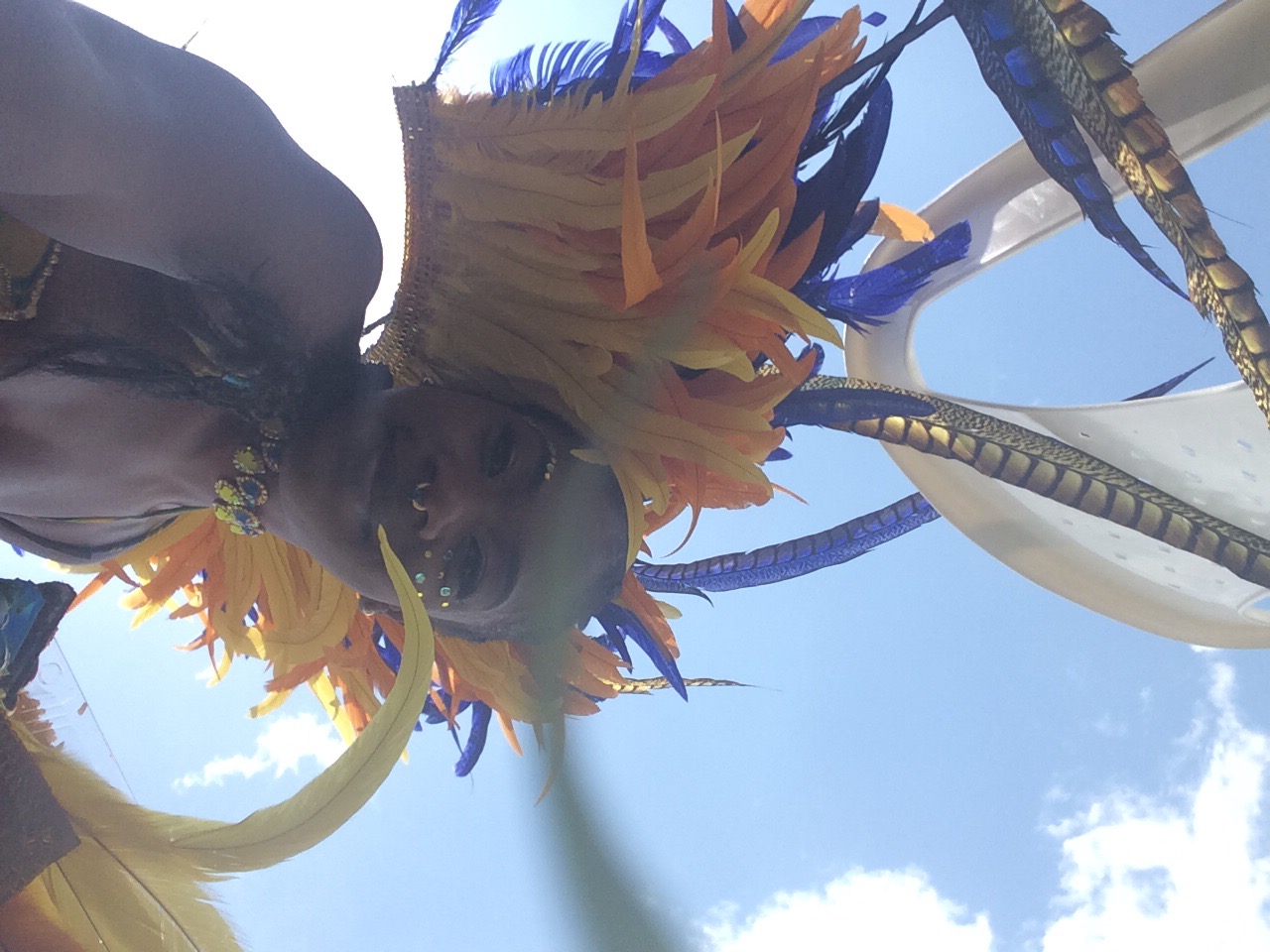 Why Bacchanal JA is a great alternative for the avid carnival junkie…
1. Cost 
Let's just say it…carnival costs a pretty  penny! I've dubbed it my expensive  hobby. 
The more expensive carnivals can run you into a budget of $3500 and  up. Jamaica, cost me about 2,000-2500 including  flight,  hotel, fetes,  food,transport and souvenirs. It is definitely a better "BANG" for your  buck if you're looking for a weekend chip or fix for that lingering bastard called "Tabanca". 
2. "Inclusivity"
I believe  Jamaica carnival has something so unique in the concept of having ONE band on the  road. Of course, you have your private  sections, t-shirt sections but the true ALLURE  of this event is the gathering of masqueraders,  feters,entertainers even stormers under one band. The vibe is  unexplainable. Just this detail alone is what I sincerely feel makes the HEARTBEAT  of Bacchanal Jamaica! I felt the love and I will be back for some more. 
3. Warmth and vibes
Hospitality cyan dun! I never felt so at home in a foreign country; almost to the point that I did not want to leave. So much so that I'm contemplating renting a house/apartment and car with friends next year to get away from the "touristy" vibe. I think the only thing I regret about this trip is not seeing more of Jamaica. S.N. Thanks to Karnival By Kandi for the top-notch hospitality organizing transport and fetes. Absolutely loved it and will try again at future carnivals. 
So……. I couldn't put everything into words so here's a video of our Epic Bachannal Jamaica weekend.

Jamaica…SWEET! 
Until the next bacchanal, 
Crista xoxo
Til next time,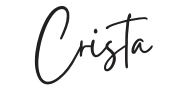 2015
bacchanal Jamaica
bahamas carnival
bahamianista
blog
blogger
carnival
iWillDesigns
Kulcha
lehwego
lehwegoSleek
MOA
vlog