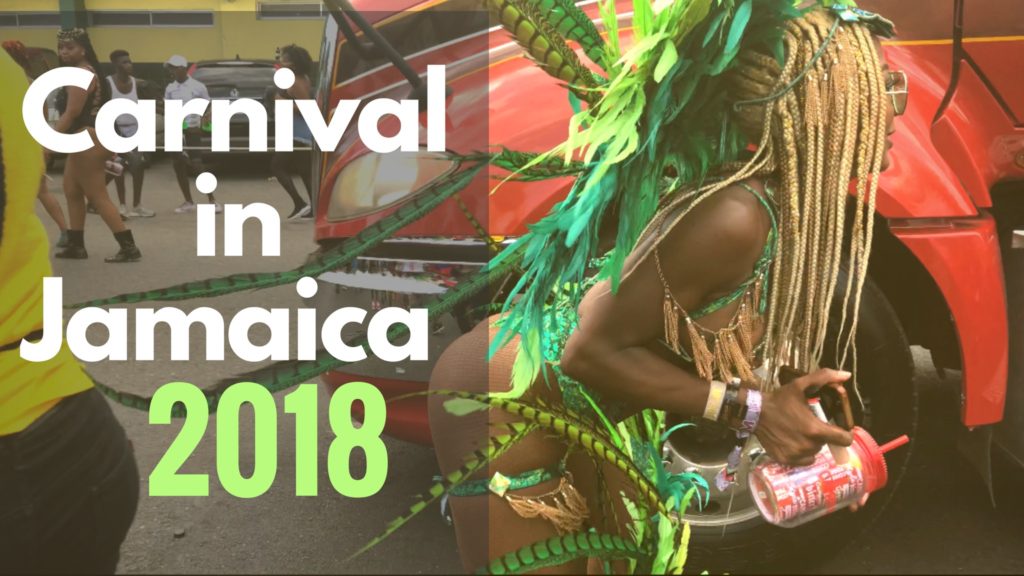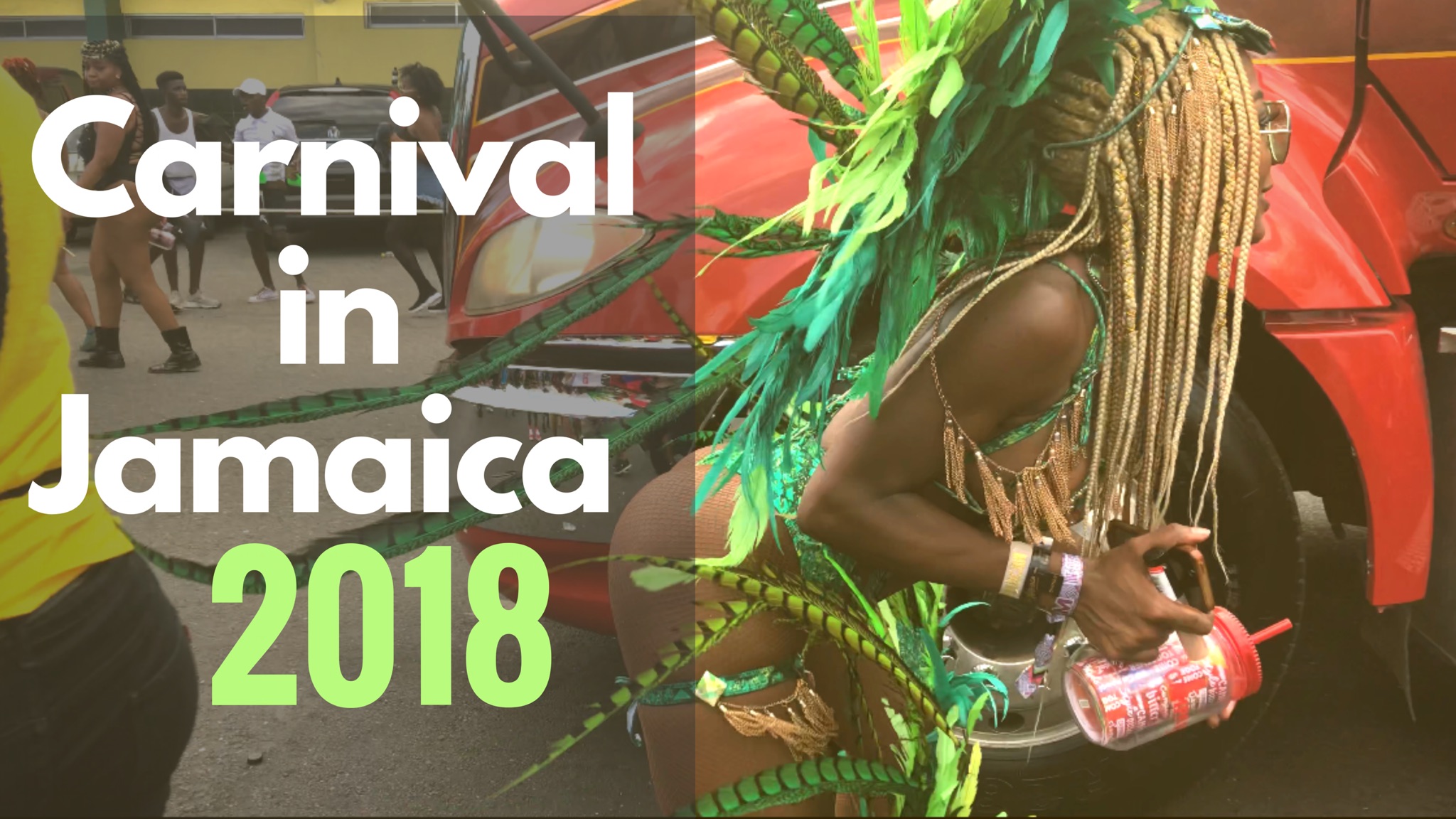 I actually can't believe carnival in Jamaica is over — planning seemed so long and the actual trip just completely flew by and now here I am writing this review.
Disclaimer: My experience is my experience and is my perspective alone. Others may or may not have had same experience but that's what makes carnival and life (in my opinion) that much more exciting and special.
JAMAICA, JAMAICA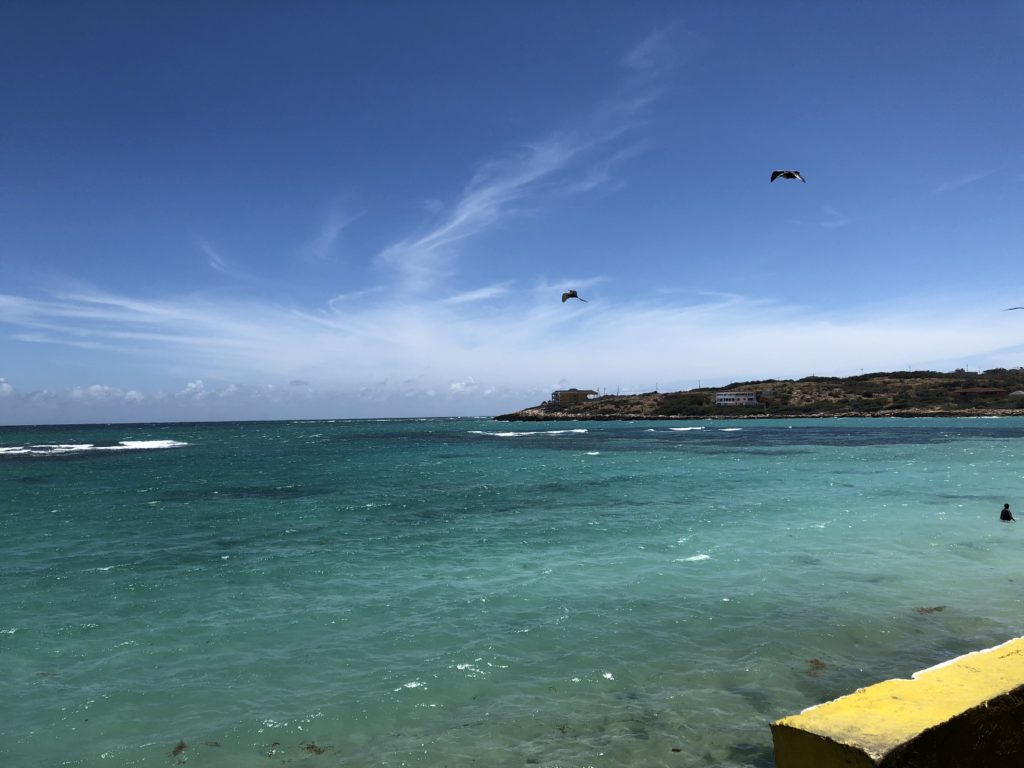 First of all, Jamaica is such a beautiful place. From the colors of the inner city streets of Kingston/New Kingston to the views of the mountains, rivers and beaches I saw. There's just so much to be in awe of and so much to do.
Customer service overall seems to teeter at two extremes, either "can't be bothered" or very friendly and cordial. Our personal driver was the nicest man and went out of his way for us on many occasions but the general consensus service-wise was that you didn't know what you were going to get.
We decided that we would stay from the Wednesday to Tuesday while others actually started their carnival in Jamaica experience in Ocho Rios/Port Antonio the prior week to attend events like Marbana. Something I would definitely do next time to see more of Jamaica (yes I would go again in a heartbeat).
We utilized Karnival by Kandi for transportation as well as On Time Taxi as recommended by Jamaican media house, Lehwego.
We stayed in New Kingston, Jamaica and booked with ProHomes Jamaica, which our personal experience was not what we envisioned from booking to the actual stay. The accommodations were absolutely fine; booking and paying a deposit was seamless. It just came down to paying the actual balance and a lot of miscommunication, poor customer service coming up towards the trip. Next time, I'll opt for a hotel stay and/or very well rated AirBnB but your experience may differ.
Fetes
It's tough to say which fete was my favorite during carnival in Jamaica because they all had elements I loved and some had kinks to work out here and there but overall I enjoyed myself. Out of 9 fetes, I am proud to say I only missed one (because I was exhausted), Soaka–so no wet or jouvert fete reviews here. Also, note fete prices rose again this year with maybe one or two fetes in the $20-30 USD range and some going all the way up to $100+.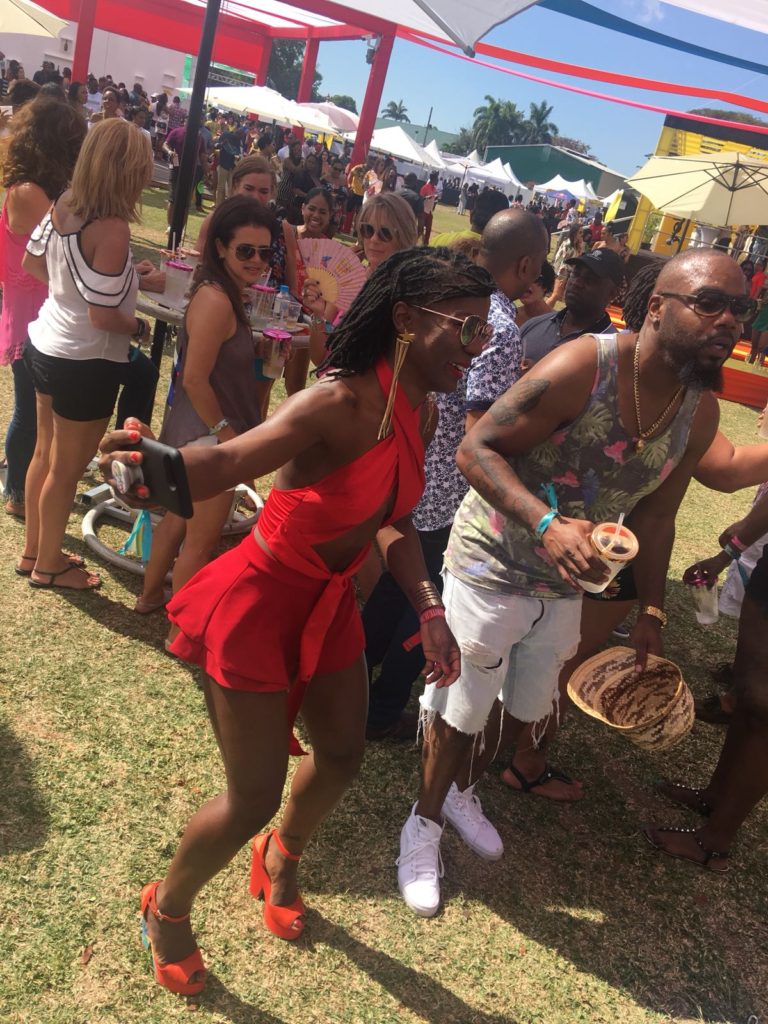 I Love Soca Jamaica
I Love Soca Jamaica was the very first fete for my carnival in Jamaica experience. A cooler fete for about $25 USD; so we went grocery shopping and curiosity got the best of me with the Trelawney Rum aka Jamaican Puncheon. Let's just say don't drink it.
Coming from someone who does not typically enjoy artists' performances throughout the majority of the fete, I had to say this fete was definitely a game-changer. With performances from soca and reggae/dancehall artists combined, it was a phenomenal set and probably the best I'd seen for the entire carnival in Jamaica. I mean who can top Beenie Man & Skinny Fabulous on stage together (make sure you watch the vlog for my very enthusiastically shaky footage).
Oh and I must mention, how energetically the Jamaican crowd responds to Jamaican artists–Chi Ching Ching performed Rope and Rock The World and the whole fete was literally rocking.
Candy Coated Wine UP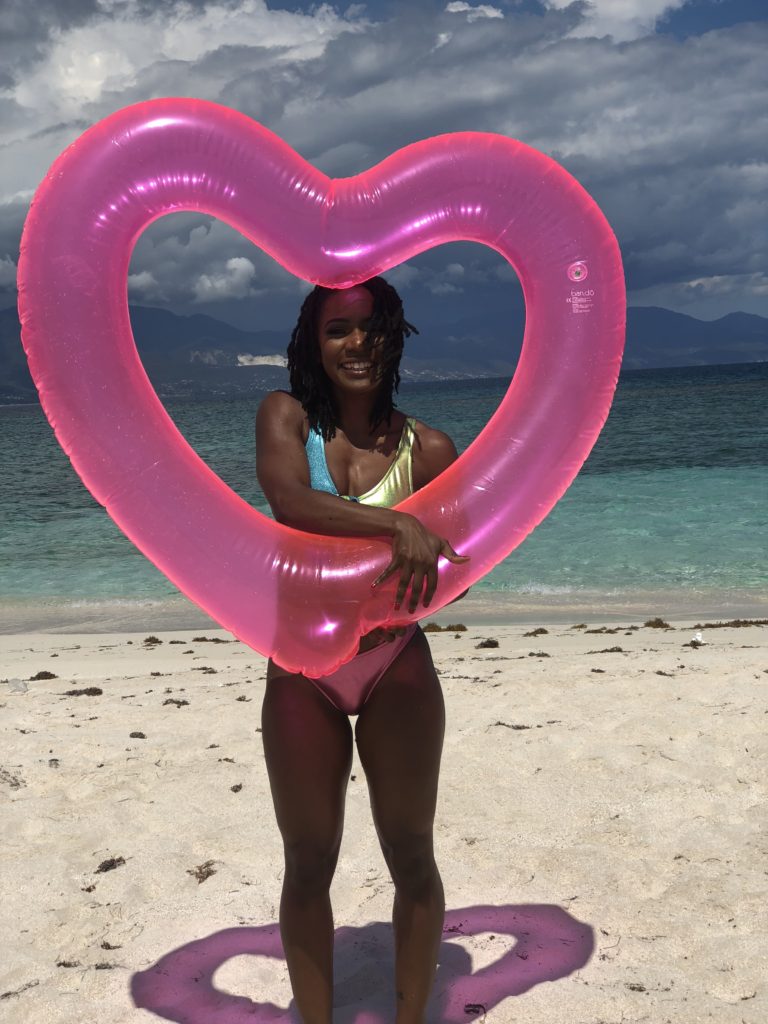 So I almost missed the boat on this one but literally made it IN THE NICK OF TIME. This was my first catamaran fete (about $100 USD) and I'd always heard really good things about Wine Down and Wine UP from Candy Coated Events but just didn't know exactly what to expect. Wine Up had an intimate, laid-back vibe. The view of Jamaica from the water is simply amazing and serene especially while experiencing a hangover from the notorious Trelawny Rum aka Jamaican puncheon (don't drink it). After about a 10 minute cruise, we docked at Maiden Cay and were helped off the boat onto the small cay. The promoter ensured that all floaties were blown up to fully enjoy the vibes. There was even a floatie with drinks anchored into it. Entertainment wise, there were DJ's,a riddim section and guests like celebrities Usain Bolt, soca artists etc. Food was served on the beach and on the catamaran and I particularly enjoyed the fact that I could party in the sand or water or just chill/lime on the boat.
Tribe Ignite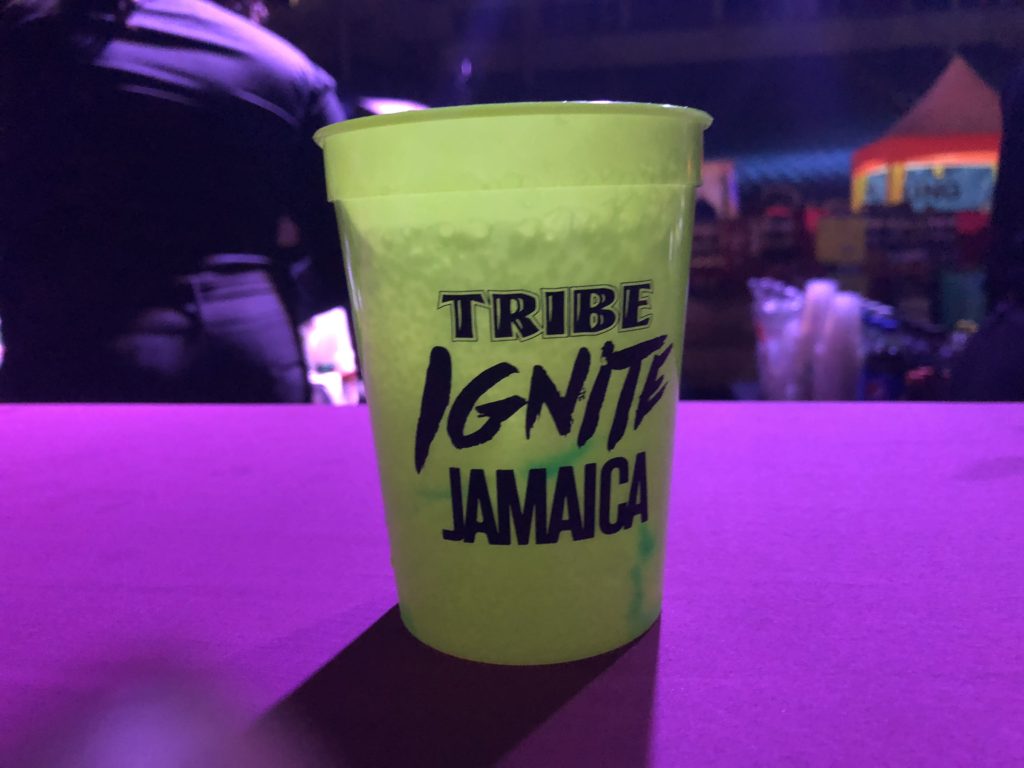 Tribe Ignite was drinks inclusive but for the sake of my overall health, I opted for no liquor. Just Ting, all night. There was food stalls of course and overall it was a generally good vibe. Really enjoyed Kes' performance on the stage as well.   It seemed like this was the first official "meet up" fete because I saw so many familiar faces and it really got me excited that I was in Jamaica for carnival. Tickets for this event ranged from $45-60 USD.
Candy Coated Cruise – One Love Boat
Definitely made it on time for this fete; my first Candy Coated Cruise outside of Miami and was not disappointed. Drinks were immediately flowing as we boarded with CandyCoated signature cups. Bar service was quick throughout the entire boat ride, at least in my experience– they did however run out of some liquors. Breakfast/brunch was provided on the top deck of the boat and after eating we opted for the photo wall + smoke machine for IG-worthy pics. Then as more and more people began to board, the vibes began to build. We chose the bottom deck and I definitely think it was the best choice.
A riddim section, an AWESOME balance of dancehall, reggae & soca because when in Jamaica– I just think its a must dancehall plays, in fact I wanted more dancehall. The bottom deck of the boat was lit with old school dancehall/reggae and soca tunes, 2018 soca and all the latest dancehall dances that everyone was adamant to try out. I finally got the shoulder fling down by the way. Tickets for this event started at $85 USD.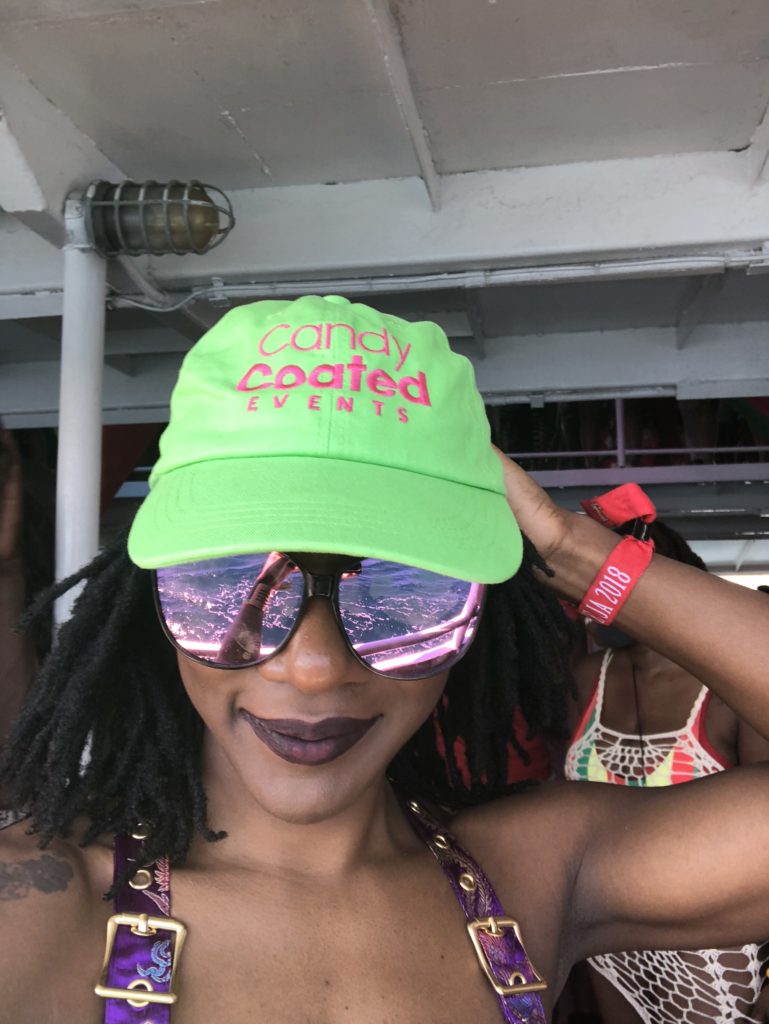 Soca Brainwash JamRock
Immediately after the Candy Coated Cruise, the best taxi driver ever zipped me over to Mona Hockey Field where Soca Brainwash Jamrock was being held. I thought I was late but the event definitely went over time and when I got there, the crowd was still coming in and everyone seemed to be catching a vibe. So, it is very possible to do Candy Coated Cruise to Brainwash and I know some people that went and fete after as well. The process to get drinks was quick, I tell you Jamaican bartenders don't dilly-dally. There was a sectioned off food court with jerk chicken, hot dogs/sausages etc–definitely granted a wait for food but with enough time to spare to enjoy the event.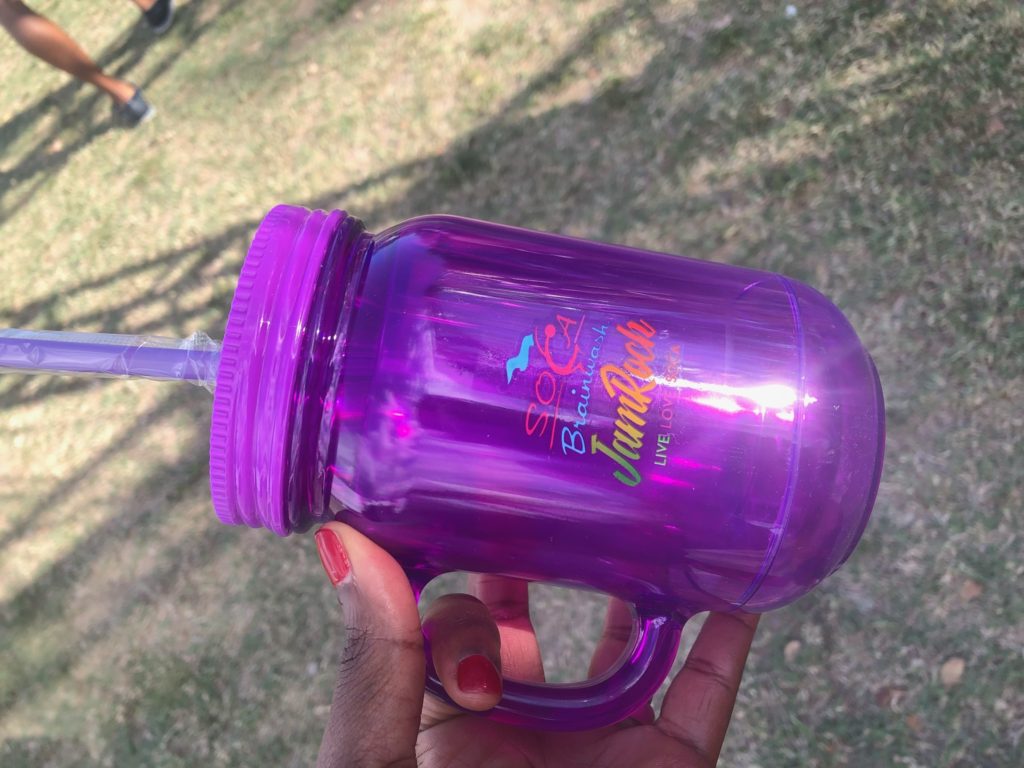 This is definitely my 2nd best brainwash experience and was totally worth the $95 USD I spent. The DJ's and hype men were engaging and they played a variety of soca and dancehall hits. I'm so glad I went to this and didn't listen to the nay-sayers.
Sunnation Sunrise Breakfast Party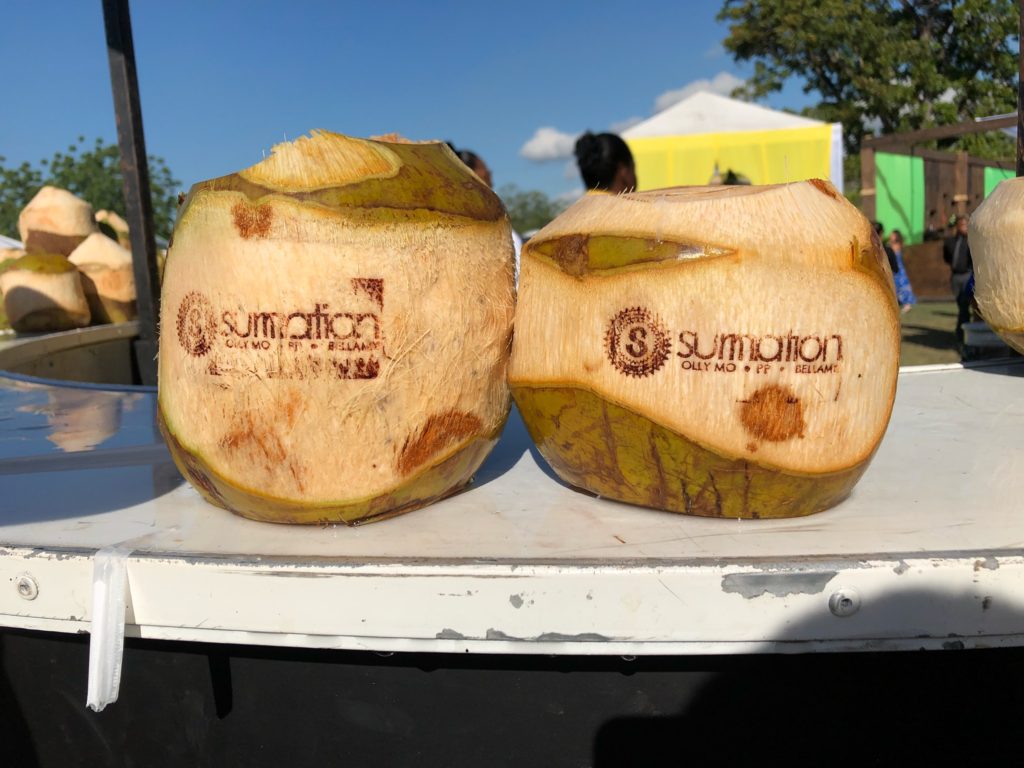 I remember Sunrise Breakfast Party being hot in 2015, so I made sure I wore something that was cool enough, dressy enough but I don't think I was completely prepared for the amount of heat that Sunday morning to afternoon. We walked in to a coconut water booth which was a REFRESHING treat because well –HEAT. Then wandered over to the food court area where there was so much different types of food, I was a little overwhelmed on where to start and what to eat (which is a good thing). I paid 100+ for the fete so to see how many options there was made me feel as if I had gotten my money's worth and that the promoters really pay attention to detail.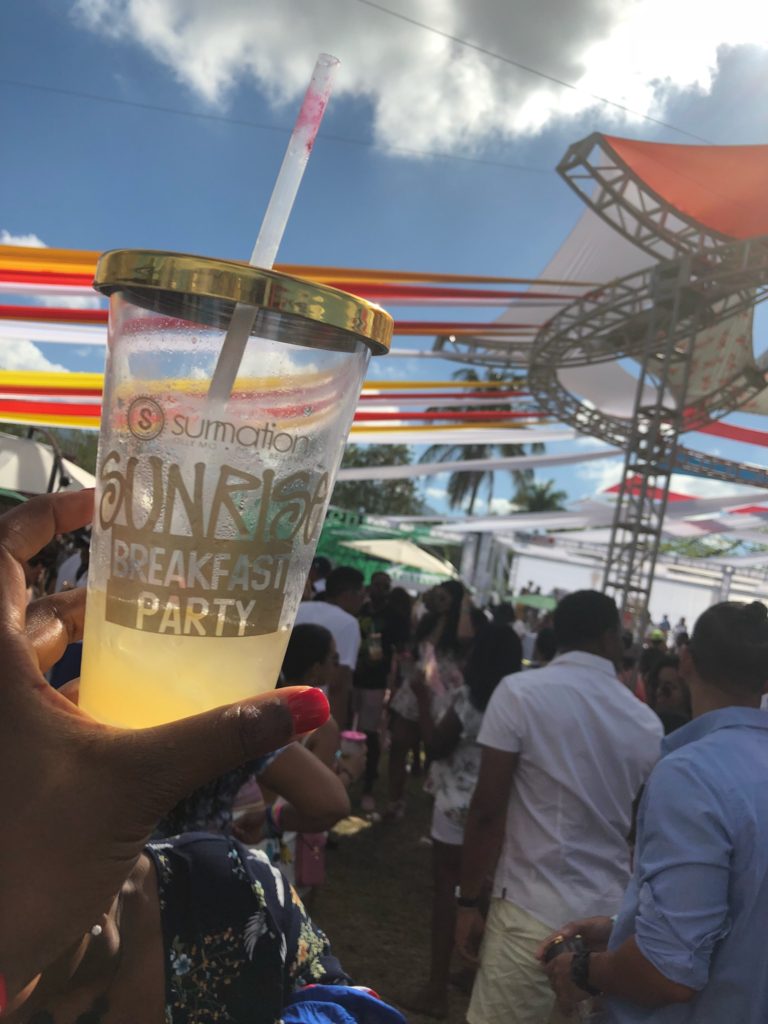 The decor was well thought out although, I wished there were more shaded areas but there seemed to be strategically placed mist fans here and there as well as sponsored elevated platforms/booths with couches, fans etc. –one in which I took a much needed 5 minute nap.
Sunrise had the perfect balance of performances, DJ's and just amenities to keep people cool, refreshed, fed and entertained. This is a staple fete for Jamaica carnival– I don't care what anyone else says. You didn't go to #carnivalinjamaica if you didn't go to Sunrise Breakfast Party. I have to share my favorite drink in Jamaica — Johnnie Walker Black + TruJuice + Grapefruit Schweppes. You're welcome.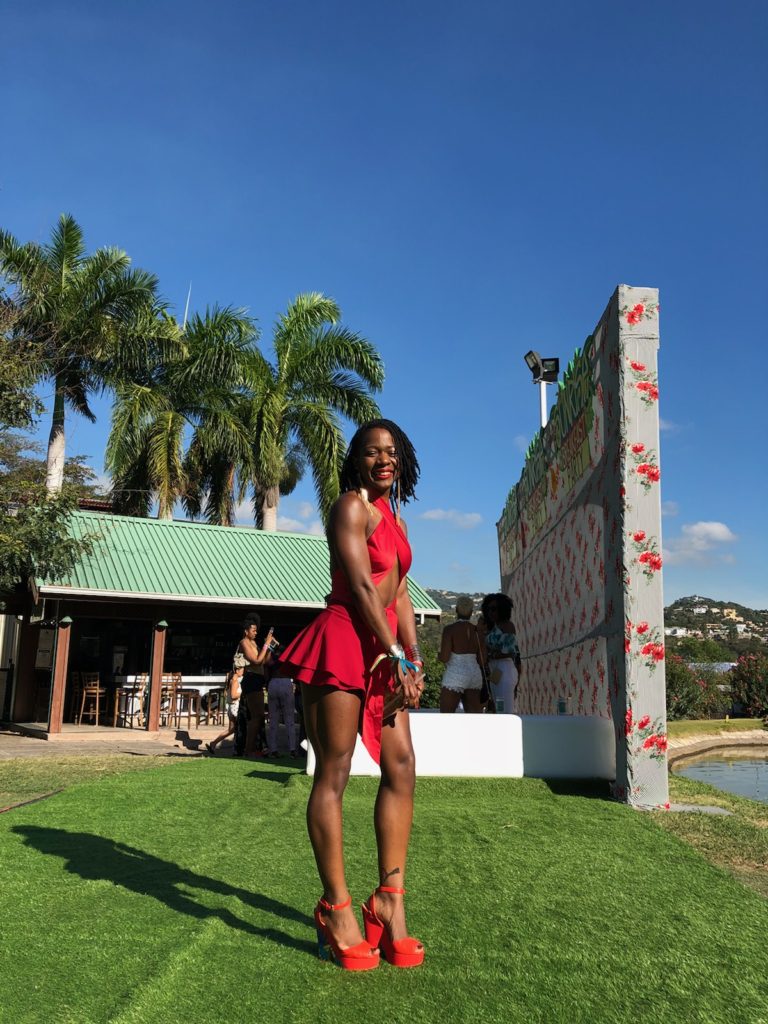 PM Fete
A new concept fete that I thoroughly enjoyed. Pre-Mas fete. Now if your'e accustomed to going to two-day carnivals in Trinidad or elsewhere, then you know the concept of Monday wear. Well the PM fete appeared to be a nice warm up for the road and I was just glad to have a new type of party concept.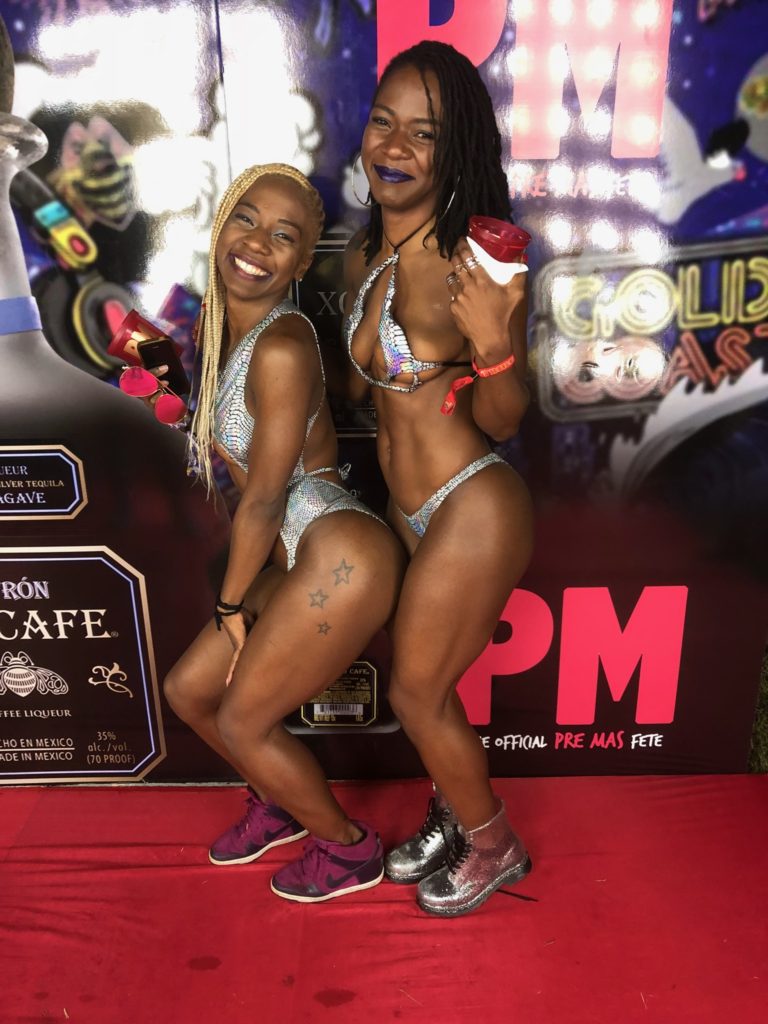 Donned my Monday wear from Shop Evolve and walked into the party, they had a photo wall with the most amazing lighting, food stalls in a sectioned off area and bartenders that moved swiftly. Big up the bartender that made the Patron (coffee liquer) + Sangsters suggestion– my 2nd favorite drink in Jamaica. Great balance of DJ's spinning and artists especially the dancehall session that took place because I needed to learn Genna Bounce. Everyone seemed to be having an amazing time in their costumes and Monday wear; it was a really good time. Ticket price started at $40.
Xaymaca Beach Lyme
It was nice for Xaymaca to hold a complimentary "las lap" fete. I was done for after the road but it was nice to have an almost "farewell fete" after the reveling. Cool vibes at the beach, drinks were on sale but I utilized the Lucozade tent after somebody noticed how pop down my energy was. I'm getting old, y'all.  Still a great way to end the #carnivalinjamaica experience.
Road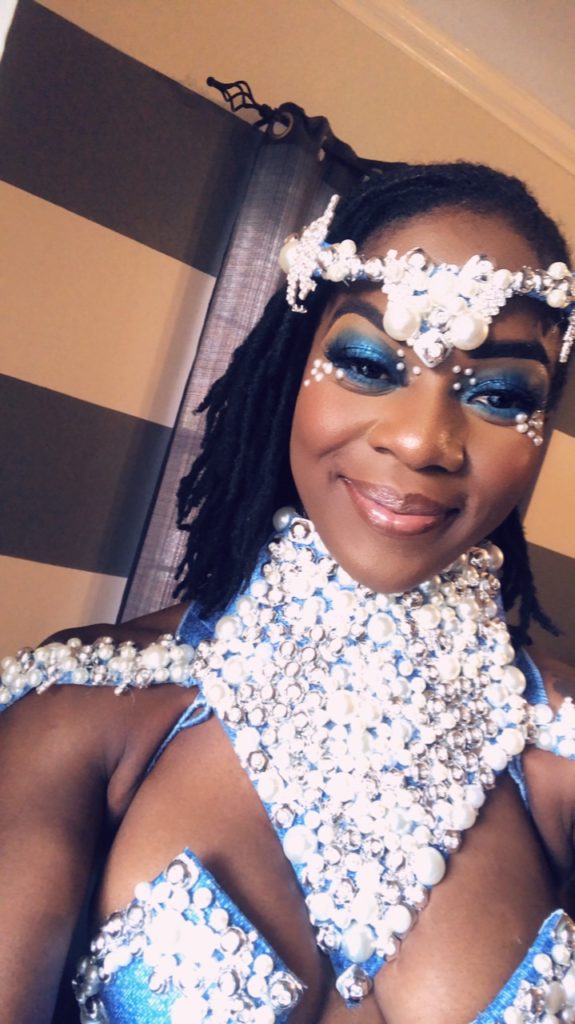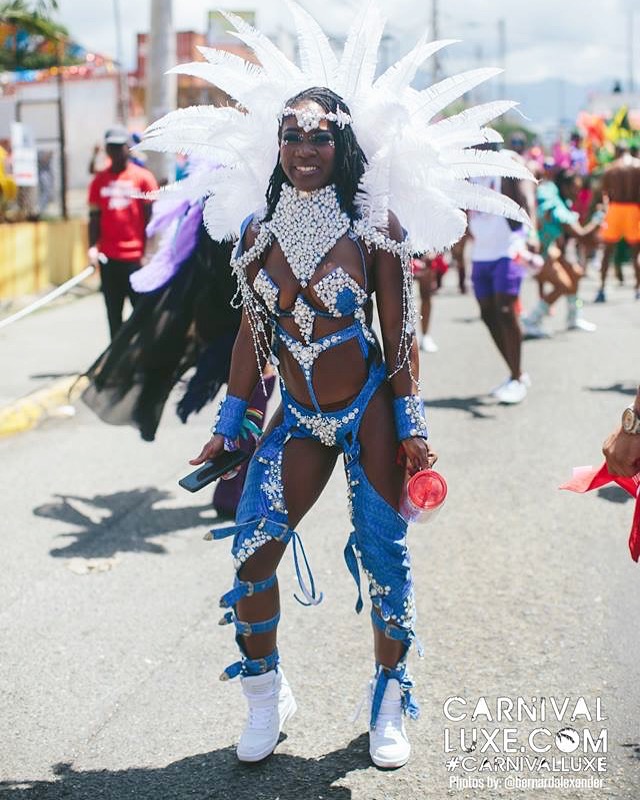 Xaymaca International
So I played with Xaymaca International for the first time and it was a clear difference from playing mas when all the bands were in one band from registration all the way to the road. Registration had a few hiccups with payments but we got it all straightened out with Xaymaca reps via WhatsApp (a feature all bands need to adopt)–it was really convenient. I still have pics and video and voice notes of them assisting with questions regarding my costume.
Competition between the bands were on a different level but then as long as it meant better service for masqueraders, then by all means compete.
I did not personally pick up my costume but I was told there were fitting rooms, reps to make sure the costume fit and to make last minute adjustments and that the reps were very friendly. Can I get a fitting room in Trinidad? Just saying.
On the road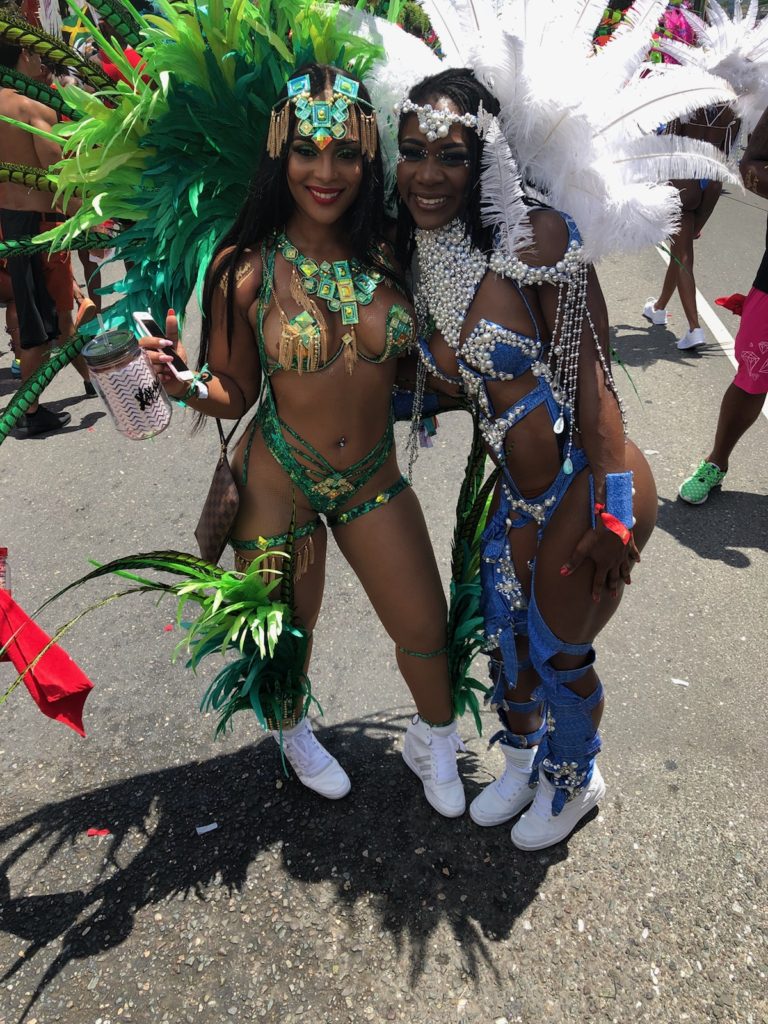 PROS
I am a masquerader, I like to jump and wine so I like space. The morning session was perfection, lots of space to roam around, photographers taking photos, ease of getting drinks quickly and safely. It was apparent that there was a lot of security, marshalls on the road etc. The music on the truck was great, I don't think I heard the same song more than 2x but it was a big band so I may be wrong. I also have to say I've never ever heard the Bahamas shouted out so much at a carnival in my life than in Jamaica. Like, I have whiplash from every time they called our name–because I was just so taken aback. Definitely a positive FIRST.
Back to the road, I was able to roam from the front to the back of the band with no problems. It was reminiscent of my first time in Jamaica where you could just enjoy the  sweet vibes. We unfortunately missed breakfast but it wasn't long til we got to the lunch stop. The lunch stop was massive, there were bars, photo walls, tented areas with chairs, fans, indoor facilities with bathrooms, AC. Apparently there were massage stations and charging stations but I didn't get to use those. DJ's were still playing a variety of music. There was a variety of food, I had the curry goat and was fine for the rest of the day (don't judge me).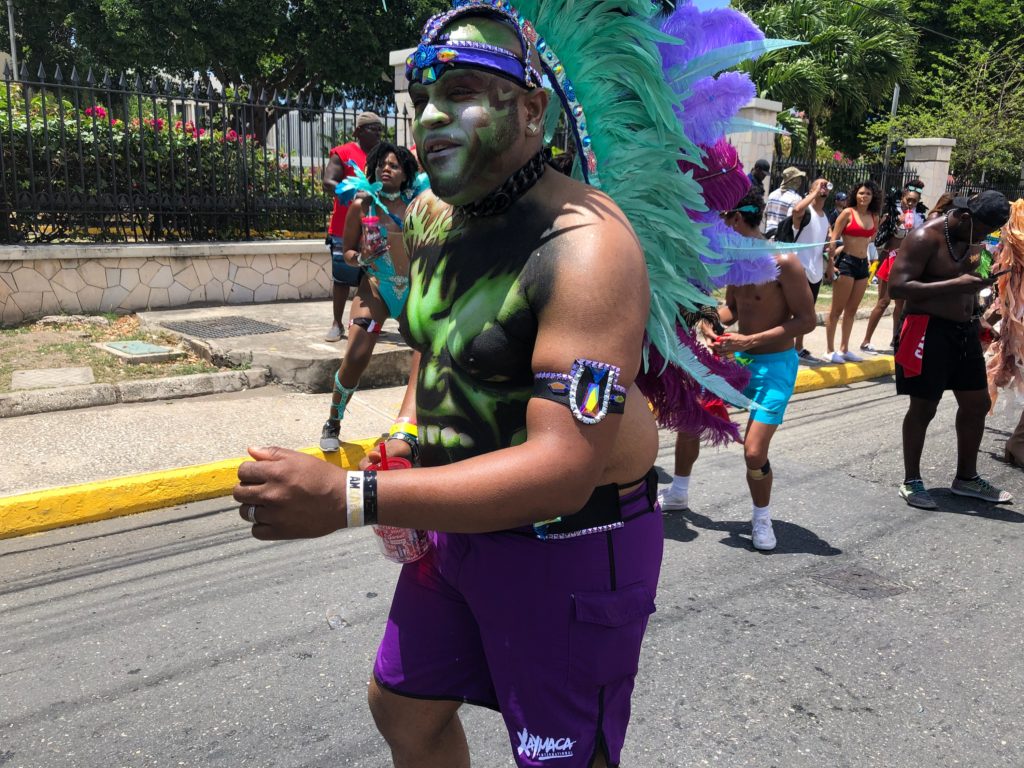 CONS
Yes, cons because no carnival experience is perfect and there's always something that can be worked on.
Prior to road march, distribution could have had a longer time-frame but as we know with mas, sometimes costumes aren't ready til the very last minute but with the amount of masqueraders Xaymaca has and will probably increase in 2019, definitely need to allow for more time or an extra day for people to get costumes.
Now, back to the road…
Afternoon session: I don't know where all these people came from or maybe the streets/route just got a lot tighter but it became increasingly hard to navigate the band especially if you had on a back pack with feathers etc. Mind you there were some spots that had space, I was told the very back and some pockets here and there between the trucks but I just felt like I had to stay outside the ropes if I wanted space. I also felt like the trucks sped up a lot more and it was just a little bit difficult to get drinks to the point where a friend and I just raided a mobile bar and poured our own.
Don't get me wrong; numbers are great especially for the band's success but then it can affect the quality of the product. I just found myself wishing that there were more trucks or more space during the afternoon session and that I spent less time trying to find space or walking ahead of the band and missing out on performances.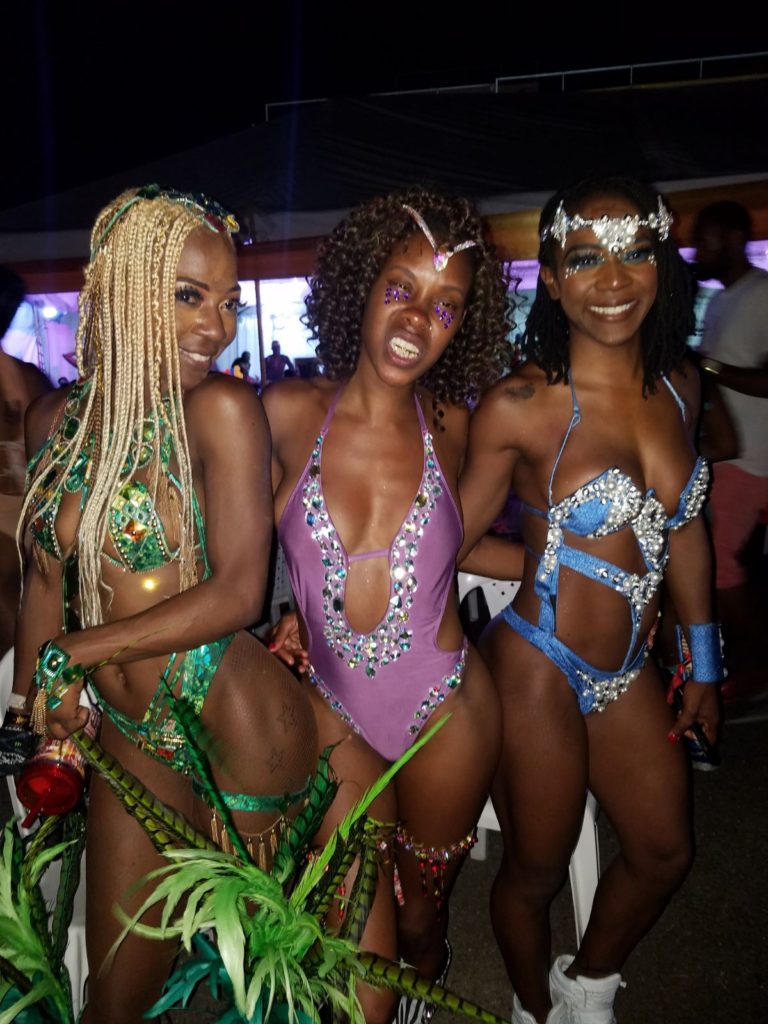 Other than the space issue which I'm sure the band will rectify for 2019, I had a great time. Press play on the vlog below for even more carnival in Jamaica.
Tips For Carnival in Jamaica 2019
Plan Early, Save Early, Book Early
If 2019 is anything like this year, start your planning minimum 6-8 months ahead. Jamaica is still an affordable carnival but with fete and costume prices climbing –I would definitely have been saving if you were planning on going. Find out what you can book now and space out your payments. (accommodations, flights etc.)
2. Expect more people
Listen #carnivalinjamaica is a great choice for an international carnival and the way it's trending on social media and for the cost –expect to see more and more people next year.
3. See Jamaica 
There's so much more to Jamaica than feting. I wish, I wish, I wish –I had skipped a day or made more time to actually see more of Jamaica.  I keep hearing the taxi man scold me for going party after party after party and not seeing the rest of the country. So I'm telling you all –make some time to see the island. We did however get a chance to go Helshire for some Fish & Festival.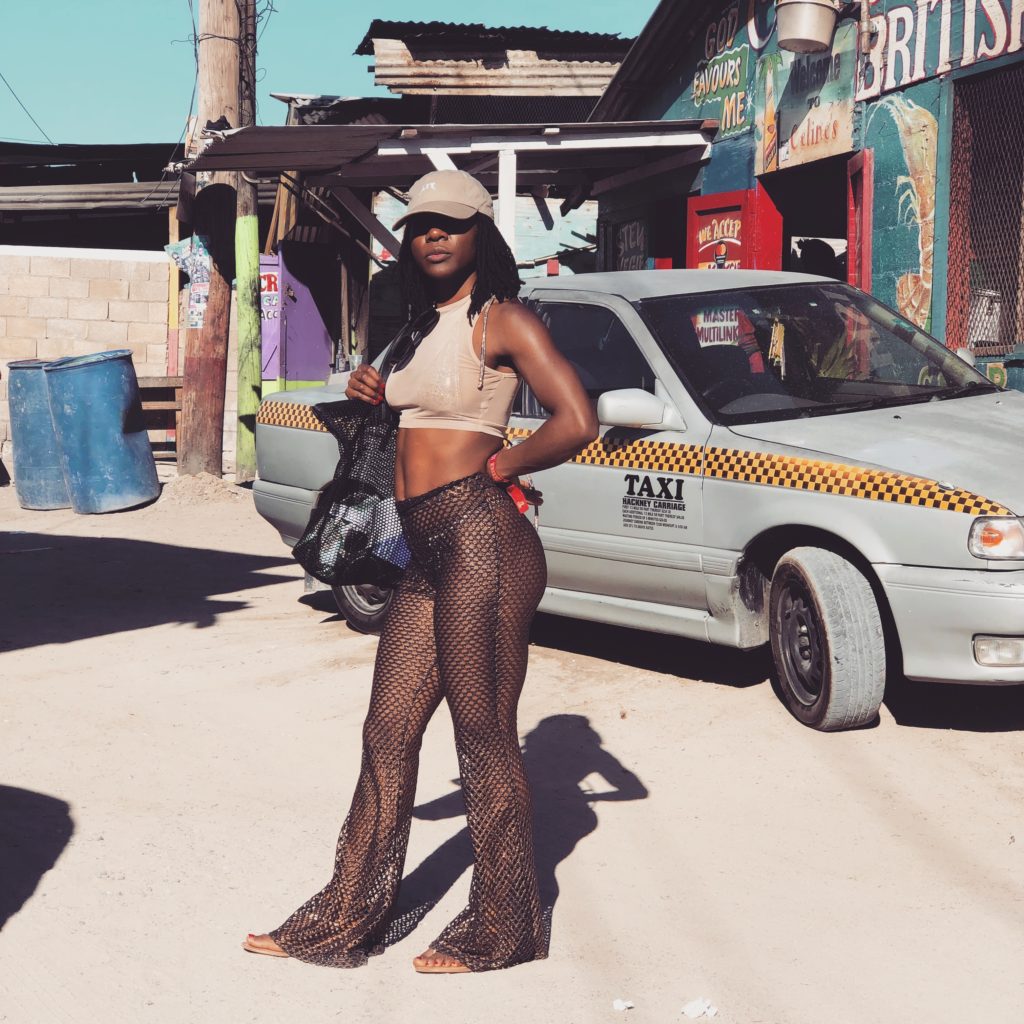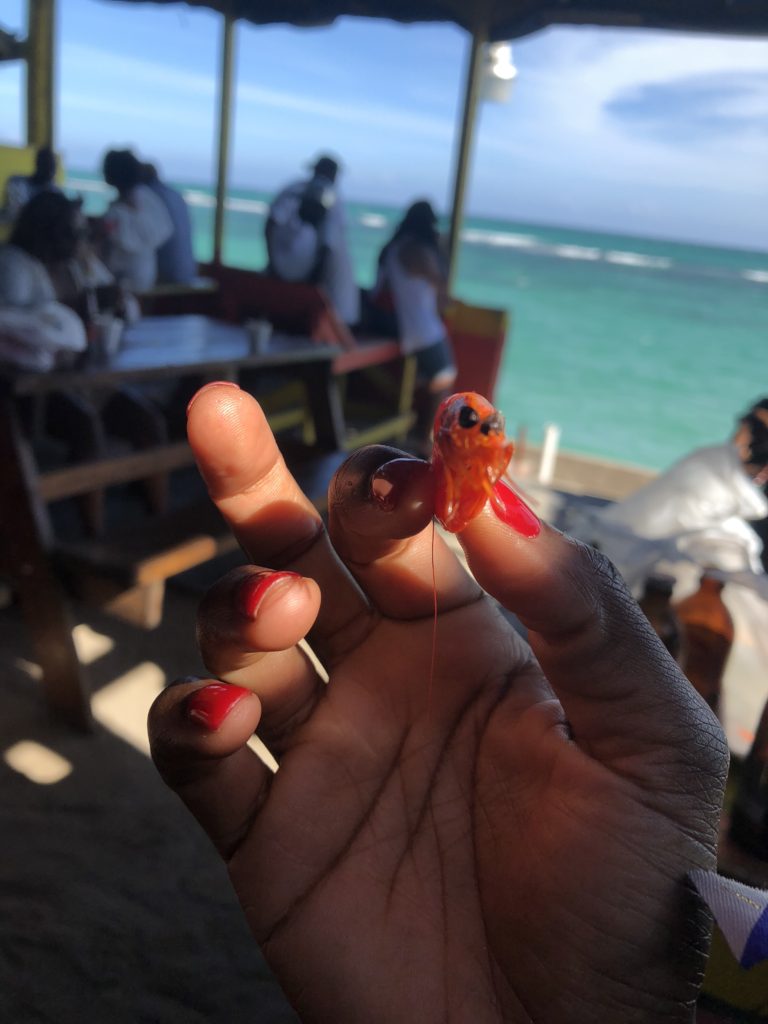 To make a long story short, I'll be back. Another thing that I love about Jamaica is that they gave out surveys about the carnival in the airport which tells me they are serious about the product regardless if "soca" may or may not be their thing. Carnival in Jamaica is a special carnival experience– I can only imagine how lit it would be if they made it two days. And I'm definitely still trying to figure out how to Genna Bounce… (ha!)
Til the next pump,
Cris
Til next time,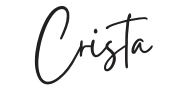 bahamianista carnival review
carnival in Jamaica 2018
carnival in jamaica 2019
carnival in jamaica review 2018
fetes review jamaica carnival
I love soca Jamaica 2018
jamaica carnival
Jamaica carnival 2018
jamaica carnival fetes review
planning for jamaica carnival 2019
sunrise breakfast party
where to fete for carnival in jamaica 2019
where to fete for jamaica carnival 2019
Xaymaca band review
Xaymaca carnival review
Xaymaca international 2018 review
Xaymaca international review