If you didn't know already, Spice Mas 2022 is happening according to the Spice Mas Corporation. The Spice Isle is legitimately one of the most beautiful islands in the Caribbean I've ever seen and known for its' production of spices such as nutmeg, cinnamon & ginger. In the Caribbean carnival arena, they are renown for the best J'ouvert in the Caribbean; if not the world.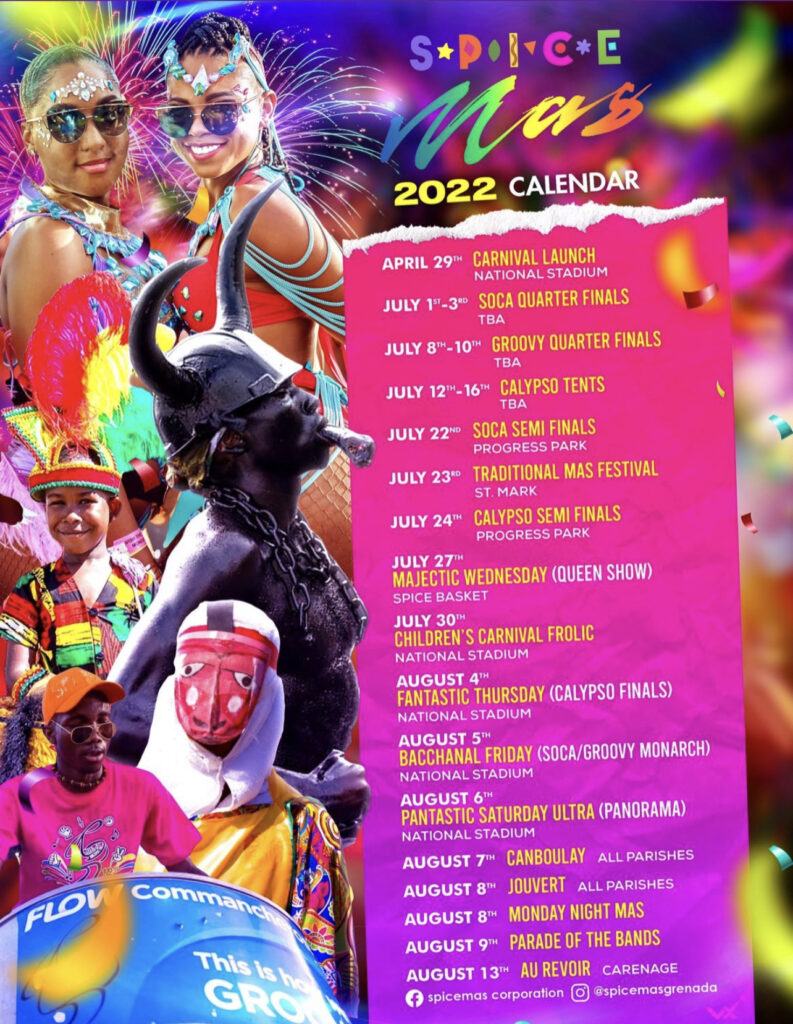 Official dates for J'ouvert and Carnival Monday and Tuesday are…
Monday August 8th & Tuesday August 9th, 2022.
Travel dates can vary (depending on the traveler) but to give yourself enough time for fetes, the carnival events and sightseeing; at MINIMUM, I'd recommend traveling Friday (August 5th) to Wednesday (August 10th). The airport code is GND for Maurice Bishop International Airport. Flights from Miami are currently in the $800+ up range and more depending on your city of departure. 
Where To Stay During Spice Mas
If you're a beach bum, Grand Anse Beach has a host of hotels and AirBnb's that are situated on one of the most perfect beaches I've had the pleasure to visit. Some noteworthy resorts are:
If you prefer Airbnb or VRBO; I booked an Airbnb (in 2019) closer to Grande Anse Main Road which was a short taxi ride or bus ride to restaurants, the beach, events and parade route. Preferred areas are Grand Anse Beach, Morne Rouge, Belmont or St. George's (however do note how close the location is to the main road , The Carenage or coast where most events were held).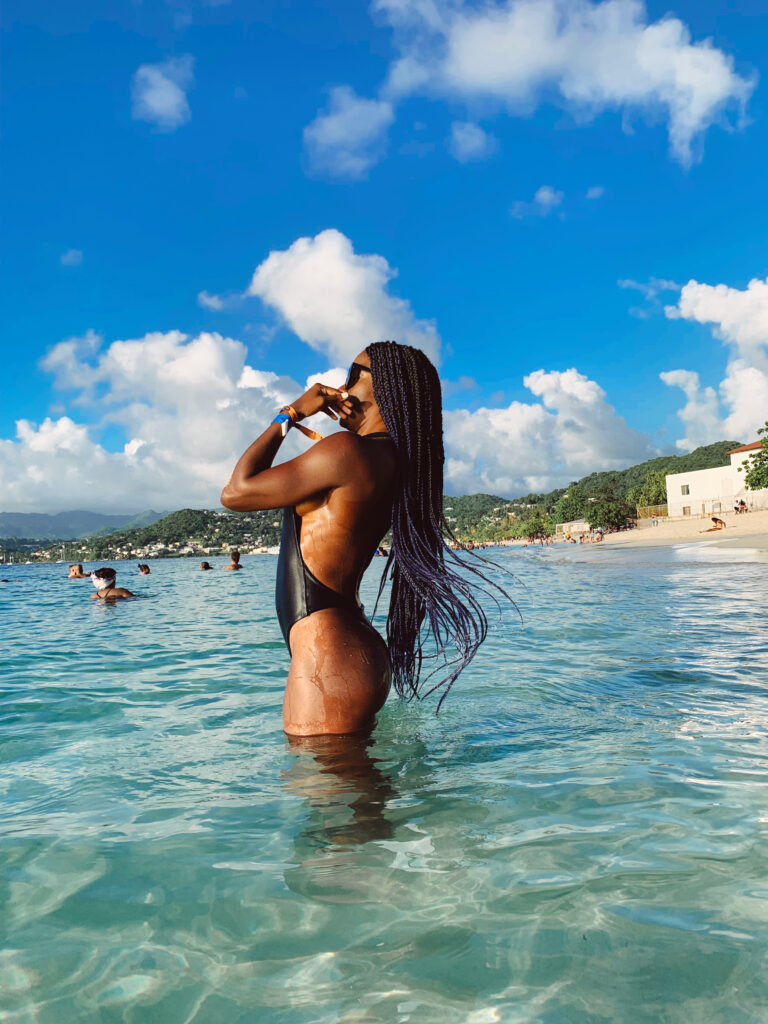 Important Things To Note for Spice Mas 2022
Spice Mas 2022 Carnival Bands
Pretty Mas is held on both Carnival Monday and Tuesday during Spice Mas and here are a few seasoned and new bands that are offering carnival costumes for 2022 (list subject to change).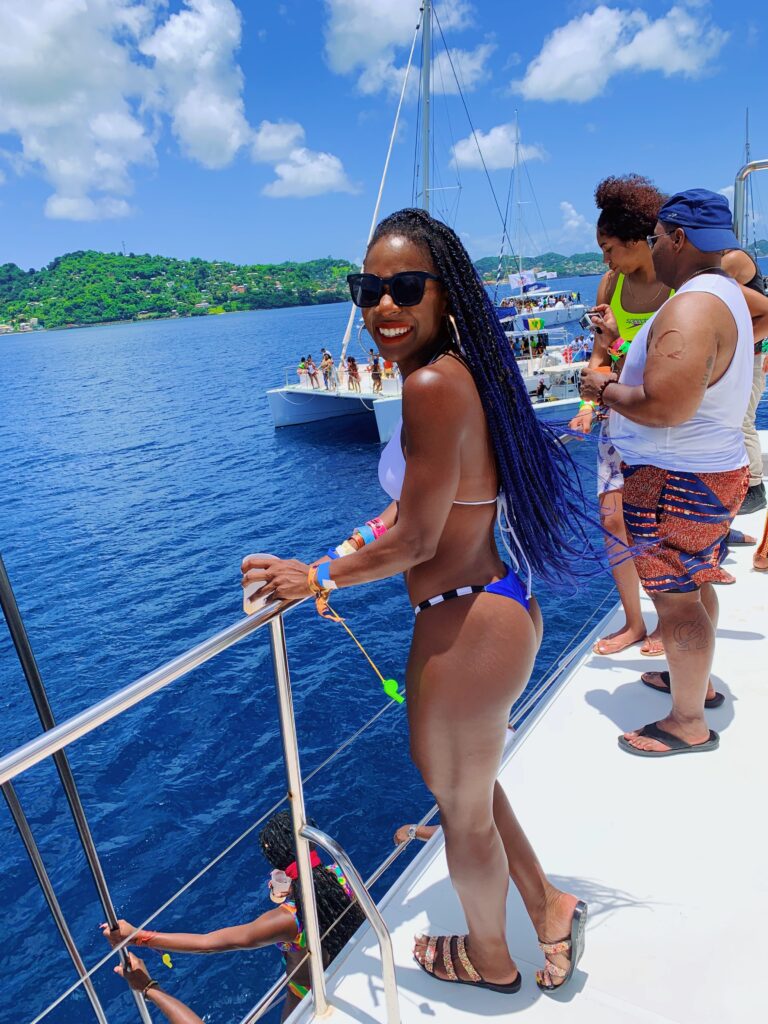 Fetes/Events
Some recommended events for Spice Mas 2022 are Soca Monarch, Biggest White (concert), Pure White,  Waggy T, Fleet, Beach Bum and Sunny Side Up Grenada. My go to was asking Spice Mas veterans their go-to events and also checking out events website, Go2Fete. Go2Fete is where you can find all events related to Spice Mas and purchase tickets online. Fete tickets start as low as $25 USD. 
Another important thing to note is the carnival timeline of events while you are in Grenada. It is TRULY NON STOP PACE…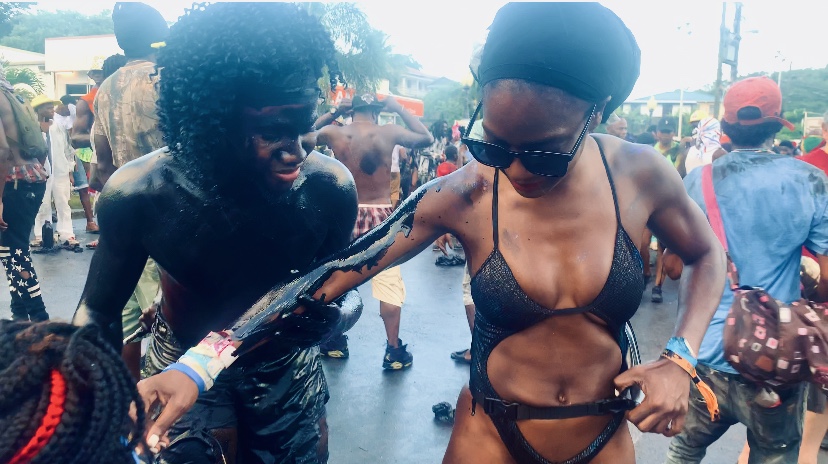 J'ouvert (5am- I was told until all the bands pass through the Carenage)
J'ouvert occurs during the early early morning hours til about mid day ish but did you know… that there are multiple J'ouvert celebrations happening in different parishes throughout the Spice isle and not just on carnival Monday but also on the Tuesday as well.
A few tips for preparing for J'ouvert: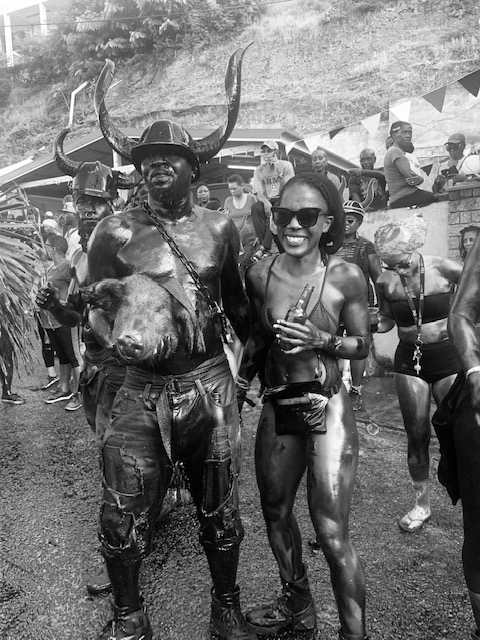 It's EXTREMELY IMPORTANT TO NOTE the history and significance of the Jab as it relates to slavery, emancipation and the evolution of the Caribbean carnival in Grenada. Please see video below posted by Know Your Caribbean on Instagram. For more information regarding the traditional Jab Jab experience, see Jambalasee Grenada on Instagram.
View this post on Instagram
Carnival Monday -Pretty Mas 
Carnival Monday starts around mid-day on Monday as J'ouvert "ends" and well into the evening/night hours.  Slated as a day to "free up yourself" and wear what you want. Carnival bands also offer Monday wear options.
Monday Night Mas (7pm -4am)
Bands and masqueraders congregate after the sun sets for a massive display of LED lights. Here's a few options to choose from when picking a carnival troupe for Monday Night Mas (list subject to change).
Carnival Tuesday (late morning/midday to evening/night)
However for 2022, it's been announced from notable bands that there will be an earlier start to the parade (as early as 9am). Masqueraders meet up on the route to play mas all day and it's a combination of modern carnival and revellers to Jab Jab and traditional mas players like the ShortKnee. It's paaaaaaaace so just be ready.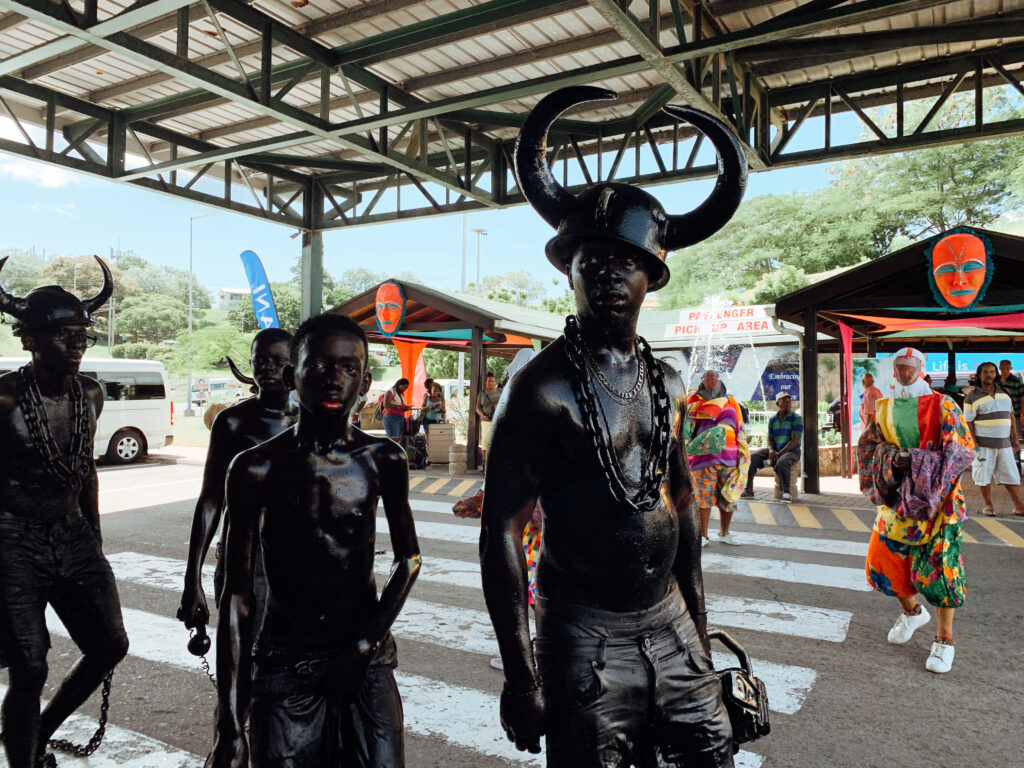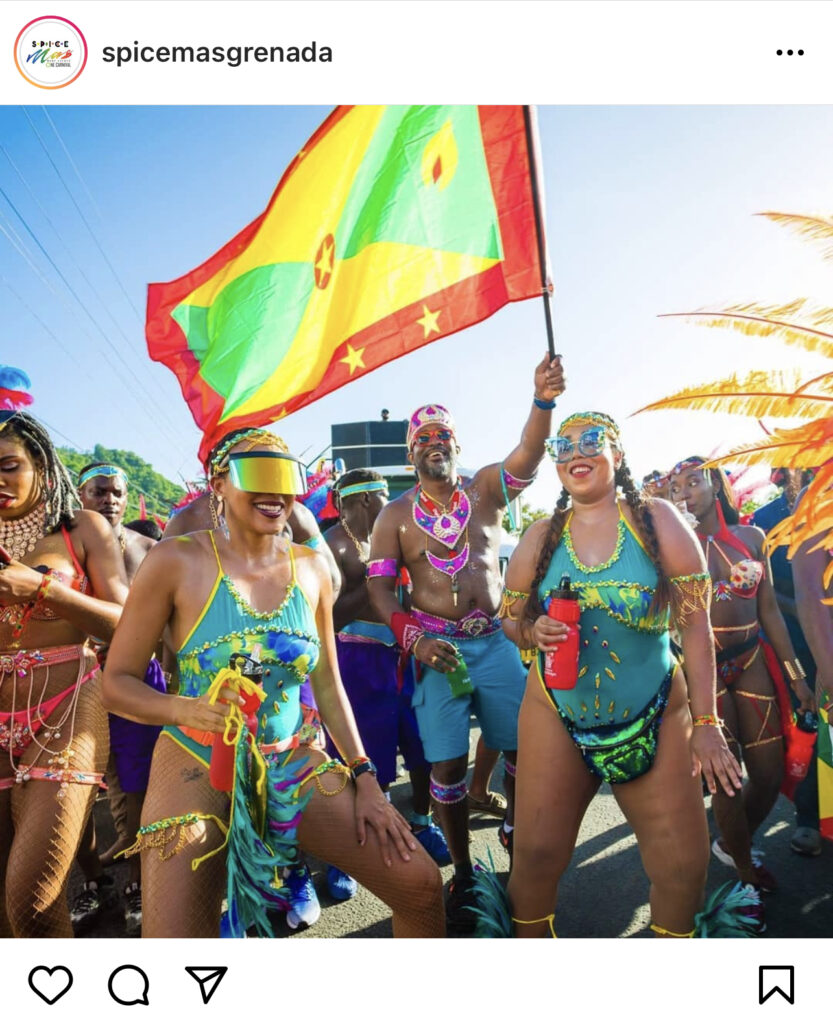 Things To Do In Grenada During Spice Mas 2022
I personally only made it to the beaches because carnival events are ongoing but here's a few local recommendations and places for sightseeing/day trips that I've been eyeing for my next Spice Mas.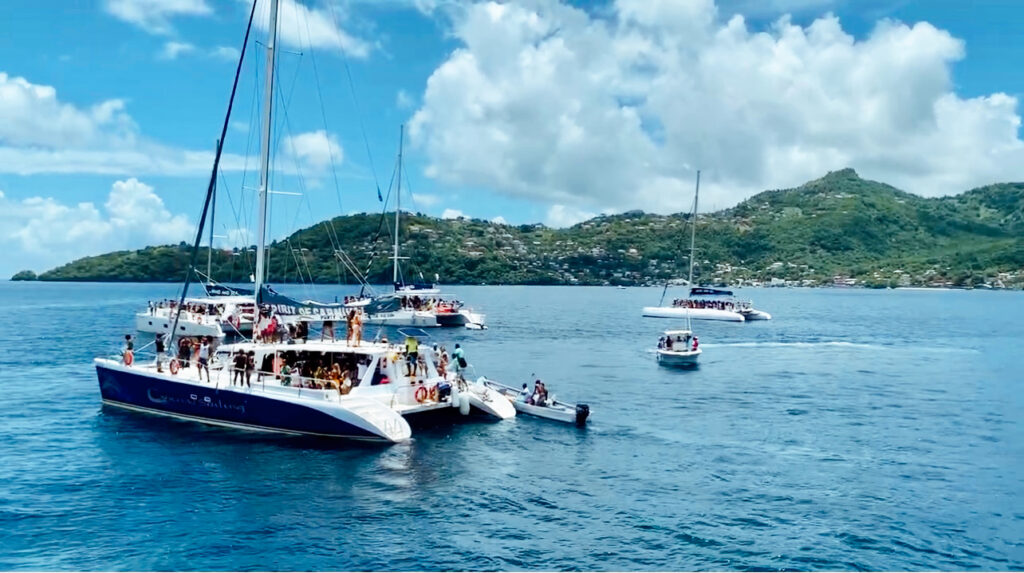 Things To Eat In Grenada
While Grenada does boast of an amazing culinary scene, locally it's recommended to try OilDown – a dish reminiscent of a stew of salted meat, vegetables and spices. We also ate at a few local beach bars/restaurants called Umbrella's Beach Bar and Cummin Up Caribbean Restaurant & TakeOut which are both on Grand Anse Beach.
For any other recommendations, check out my 2019 Spice Mas Review HERE.
**This article contains affiliate links from which I earn a commission if you choose to purchase with no extra cost to you. 
Til next time,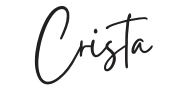 carnivalingrenada
grenadacarnival
grenadafestival
spicemas
spicemas2022