Looking to travel to St Kitts-Nevis Carnival for 2024, well we outside again! Here's a total guide to get all in with your crew for Sugar Mas 52!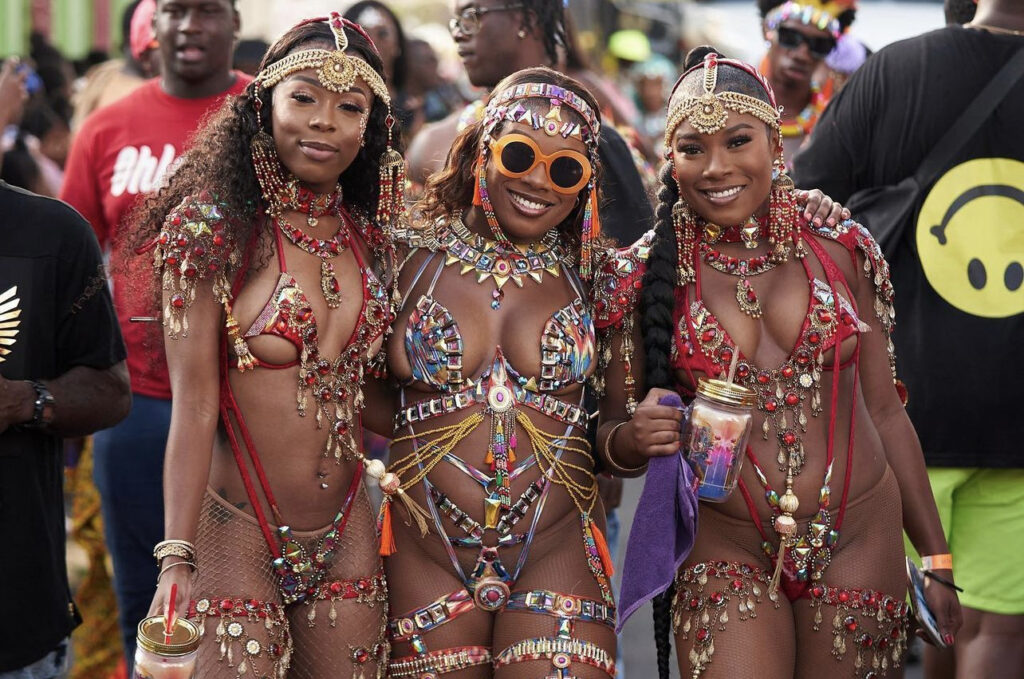 This article is sponsored by the Saint Kitts Tourism Authority & St Kitts-Nevis Carnival Commission but all thoughts, opinions are my own. All photo credit owed to St Kitts-Nevis Carnival Commission. 
Things To Remember for Sugar Mas 52
The National Jouvert takes place on December 26th, 2023 – Boxing Day Holiday. The Grand Parade takes place on January 1st, 2024 and January 2nd 2024 (Las Lap).
When traveling to Saint Kitts for carnival, you'll fly into Robert L. Bradshaw International Airport (SKB).  Recommended dates of travel can vary depending on your holiday schedule but in order to make the pivotal events you should plan to spend your Christmas and New Year holidays in Saint Kitts. (December 24th to January 3rd). Although, J'ouvert and the parade have a few days in between so you have options for travel.
The capital of Saint Kitts and Nevis is Basseterre; Saint Kitts and the isle of Nevis is considered a two-island nation. Mount Liamuiga is the highest point at 3, 972 feet.  The landscape is comprised of lush, mountainous terrain and the islands are famously known as where the Atlantic Ocean meets the Caribbean Sea. The currency used in Saint Kitts is XCD or the Eastern Caribbean Dollar; 1 USD = 2.70XCD.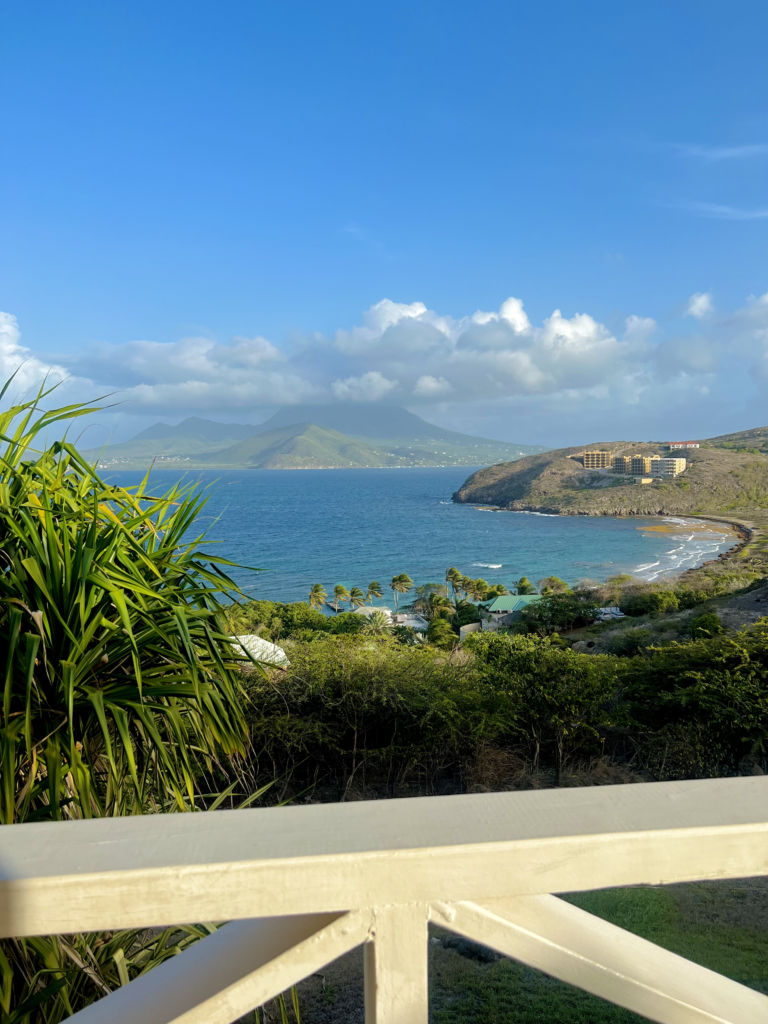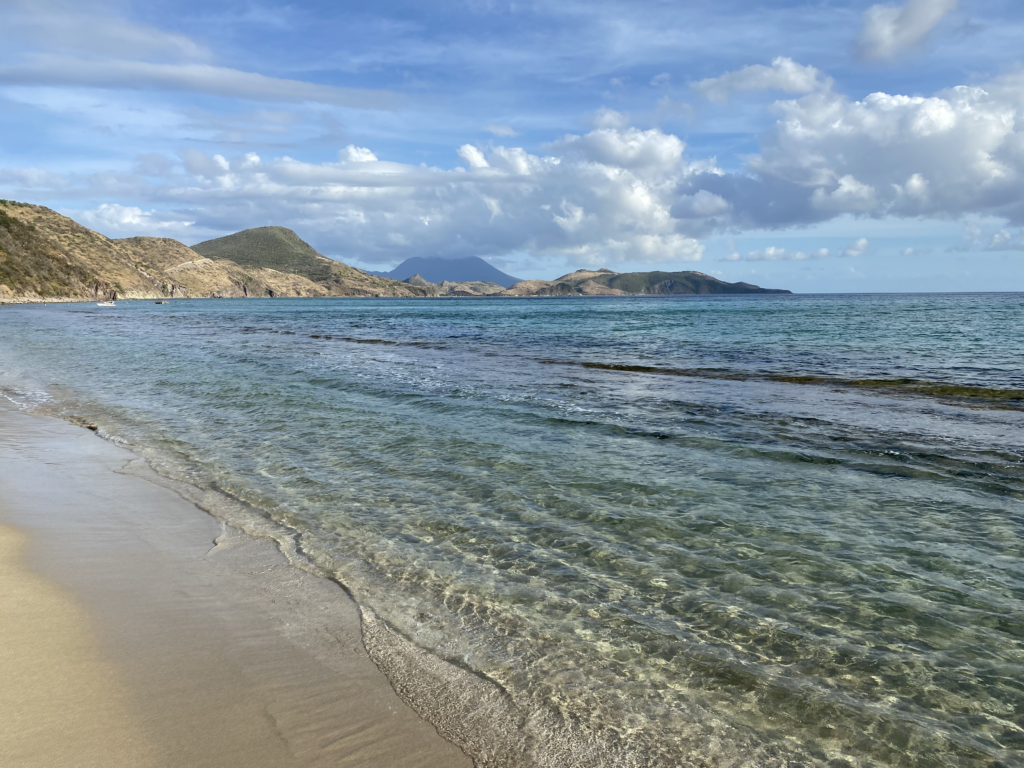 History of Sugar Mas 52
According to Historic St. Kitts, the history of St Kitts Nevis Carnival dates back as far as the 1950's with the establishment of a more organized parade/celebration in 1957. This looked like a timeline of carnival events including a Carnival Queen pageant, a Christmas tree lighting, a Calypso concert and a carnival dance held on January 1st, 1958. It's encouraged to read the entirety of the Saint-Kitts Nevis carnival here to understand the evolution and sanctity of the cultural celebration. Sugar Mas 52 is rich in cultural folklore also known as Christmas sport or street performers/performances (moko jumbies, clowns, bulls and more) played by locals during the season and everyone participates -from the very young to the very old.
The St Kitts Nevis Carnival is marked by a mix of music, pageantry, historic folklore, lively events and parties and so much more.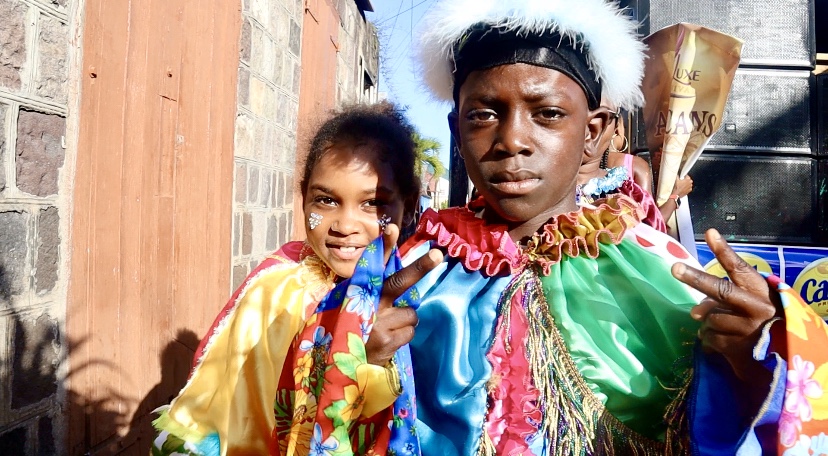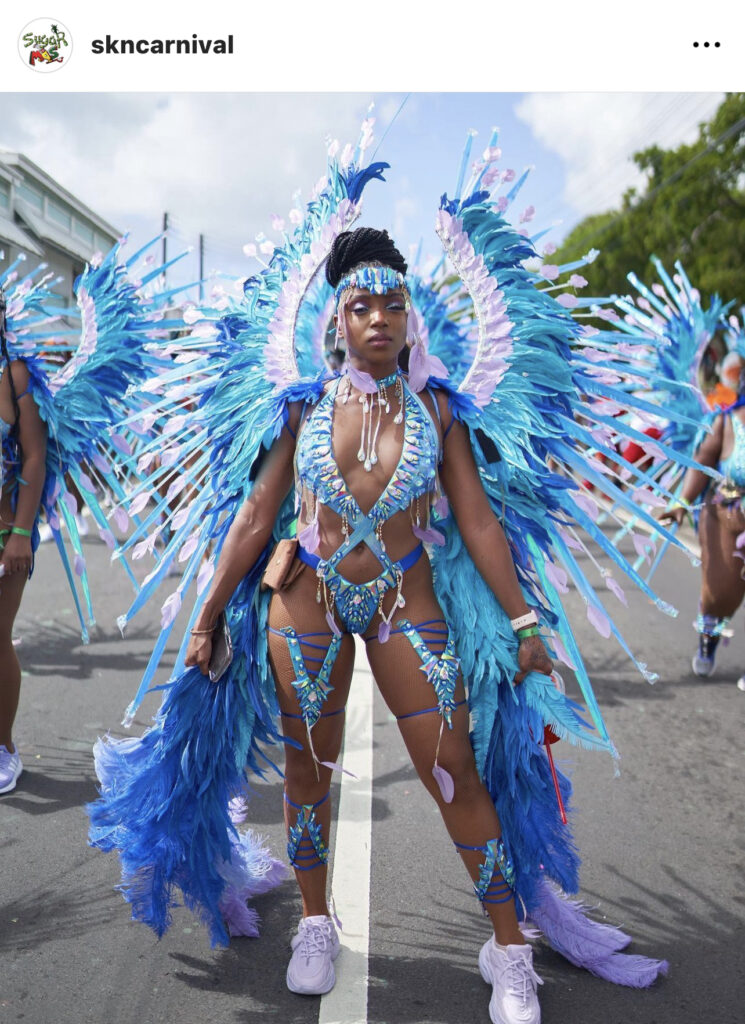 Where To Stay
Locals will recommend staying on Frigate Bay where a number of hotels and resorts are situated near the beaches, restaurants and more. Here are a few recommendations:
You can also opt for villas or airbnbs along Frigate Bay strip area.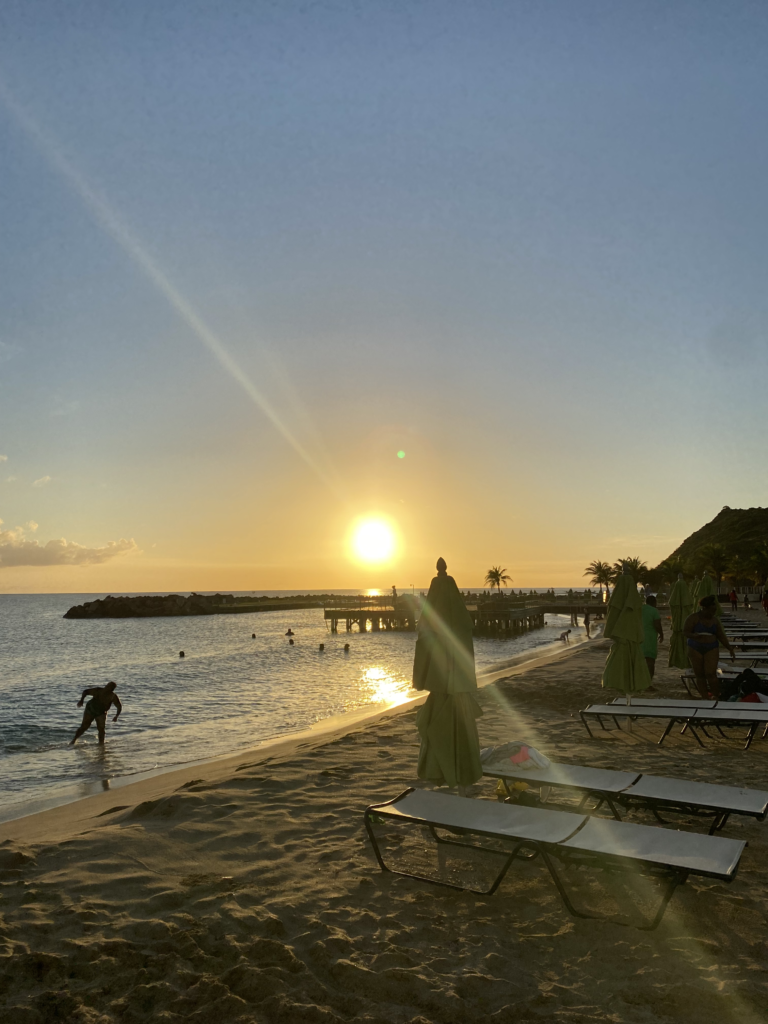 Getting Around
Getting around Saint Kitts & Nevis is pretty easy, you can rent a car or take taxis which are typically readily available. Kittitians and Nevisians drive on the right side of the road. Local/public transportation comes in the form of taking mini-buses (identified by their green H- license plates). If you're trying to go to Nevis, there are a number of water taxi companies such as Blue Waves Water Taxi & Charters according to MyStKittsTouristInformation.com.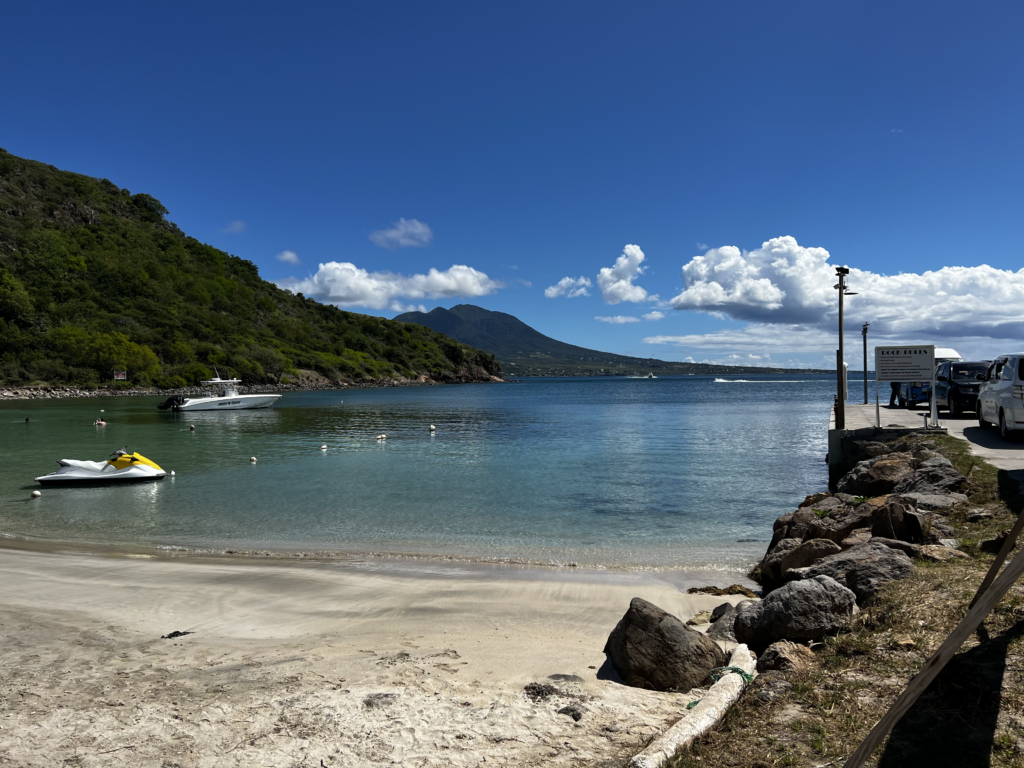 Jump In A Carnival Troupe
If you want to participate as a masquerader for J'ouvert/Carnival Parade; here are a few names to familiarize yourself with. Bands launch typically during October or later.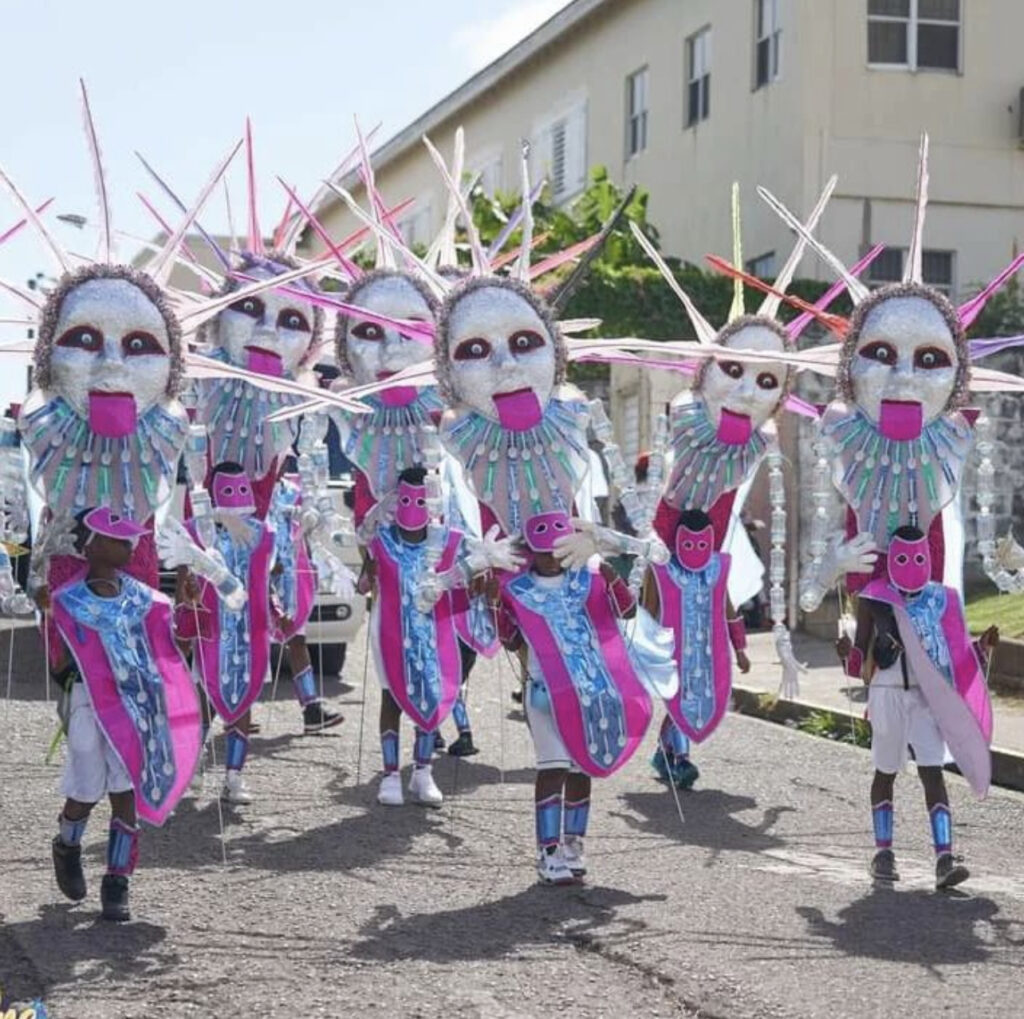 Carnival Troupes
Jouvert Troupes
On The Road For J'ouvert
It starts in the wee morning hours on Boxing Day Morning. You find your troupe and in my experience with ChattaBox Company, they fed us, gave us drinks upon arrival. Music was pumping from various Kittitian and regional DJ's that played soca favorites but the emphasis was Kittitian soca aka Wilders, a fast paced, live-band music playing local favorites or snippets of renditions of classic songs from the likes of Celine Dion and more. The objective is to experience J'ouvert and the music openly because it's so unique to Saint Kitts plus the locals don't waste time and vibes seem to continue to escalate from 3am well into the afternoon. FYI: The Jouvert troupes are also competing for Jouvert Troupe of The Year so bring your best energy.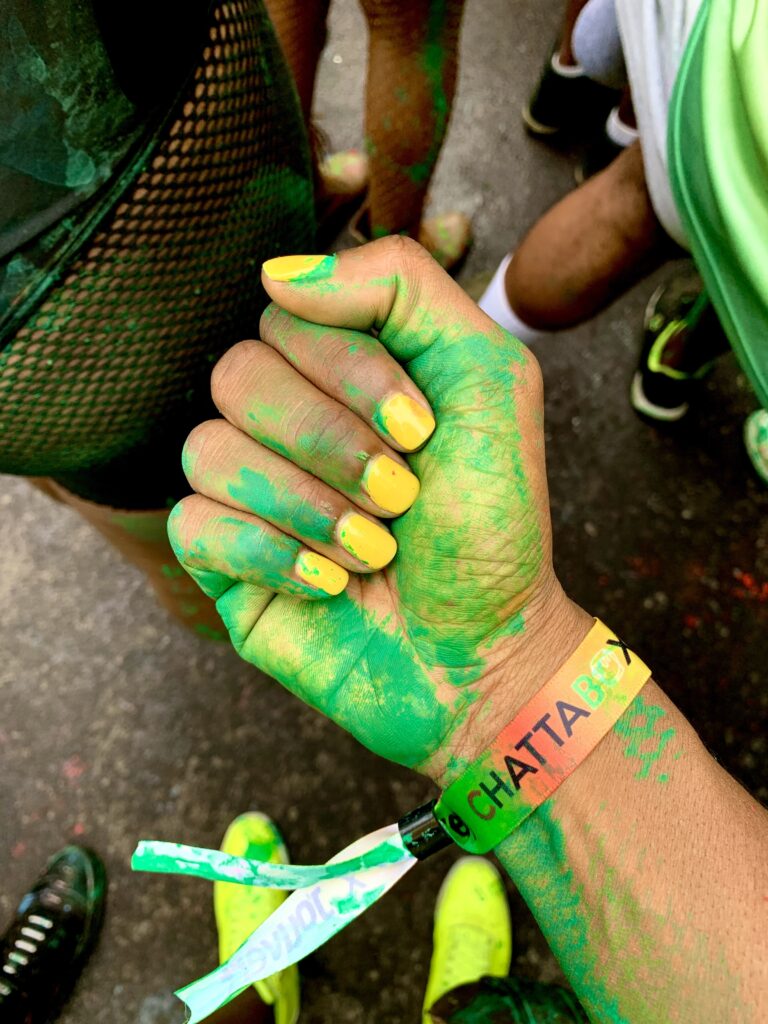 Saint Kitts & Nevis Carnival Events
The national and fringe event calendars are updated frequently via the SKNCarnival website and social media. While you have so many to choose from; it's recommended to mix both national and fringe events for a "balanced" cultural experience. If you're looking for recommended parties, check out TidalSKN's Anchored (boat ride), Inception, Sunset Wild Safari, Boozy Brunch, CoolerFete by CaneJuice Events and more.
On The Road Again (based on my personal Sugar Mas experience w/ Luxe Carnival)
Day 1 on the road starts with locating the band and lining up for the first judging point. This is where you wear FULL costume. In fact, the National Saint Kitts-Nevis Carnival is a running competition where the bands compete for Troupe of the Year. There are a few judging points along the route which starts mid morning and ends after sunset. Drinks/food are available from trucks via your designated band during the Grand Parade. However, there are several food vendors on the side of the street.
Day 2 on the road is deemed "Las Lap" and revelers have the option of re-wearing their costumes, wearing bits and pieces of their costumes for day 2 or wearing "Las Lap" wear which can resemble swimwear or Monday wear styled attire. The goal is to just free up on the last day of the Grand Parade.
Check out footage from last year's parade from Carnivalist ChavDaKid:
View this post on Instagram
Saint Kitts & Nevis Music
Everyone should know Byron Messia (Talibans) hails from Saint Kitts & Nevis but they can also boast of having their own unique soca music in the form of "live-bands, steel pan melodies, African rhythms" called Wilders. My initial observation of Wilders was that once you really listen to it- it is extremely infectious. If you listen to one of the YouTube mixes, it gives very much "follow the riddim-improv-freestyle-kind of vibes" which is fascinating because the music can go on for hours. One of my favorite songs has to be "Outside Again" by Grand Masters Band/Dejour/Rucas H.E. Here's a few names to explore on YouTube:
Grand Masters Band
Nu Vybes Band
Kollision Band
Rucas H.E.
Small Axe Band
Akaiiusweet
Dejour
Nicha B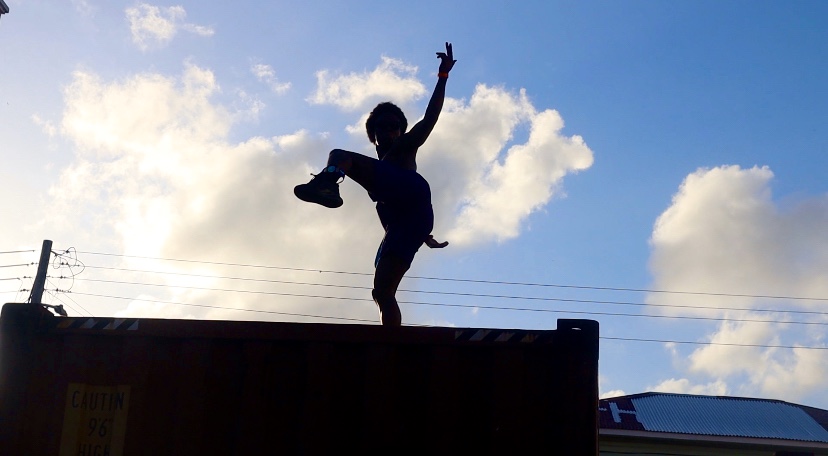 Food To Try in Saint Kitts & Nevis
The national dish is stewed sailfish with spicy plantains and coconut dumplings but it is running competition with the local goat water (soup). You can also visit Frigate Bay Strip and try a few restaurants like Boozies. Travel to Nevis and try a Killer Bee. For more food recommendations check out Kittitian/Nevisian creative Everything Sim Simma.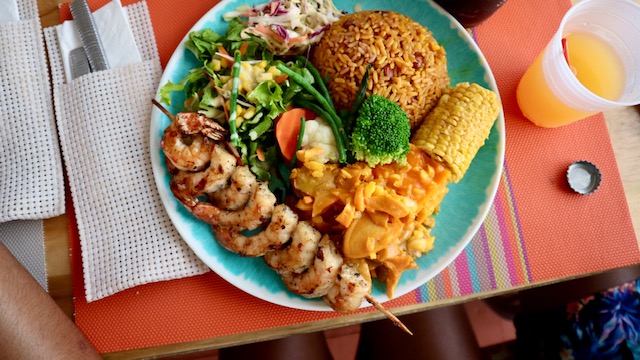 St Kitts & Nevis Things To Do & Attractions
There's a variety of attractions and things to do when in Saint Kitts and Nevis that are divided into categories such as nature, ecotourism, leisure tours, water sports and more. You can check the official Visit St. Kitts website for more details, but here's a few things I've had the pleasure to do while visiting beautiful Saint Kitts & Nevis.
Timothy Hill Overlook
Oneill's Tour
History at Brimstone Hill Fortress National Park
Day Pass or Stay at Belle Mont Farm
Take a ferry over to Nevis
Caribelle Batik/Romney Manor
Hike Mt. Liamuiga
Or just chill on the beach and relax, catch a stunning sunrise or sunset…whichever floats your boat. One of the pros (many pros) is that there's enough time to explore, celebrate the culture and relax during Sugar Mas 52. So what say you…are you all in with your crew?
View this post on Instagram
Til next time,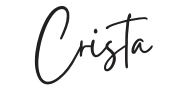 st kitts nevis carnival
st kitts nevis carnival 2024
sugar mas
sugar mas 52
sugarmas