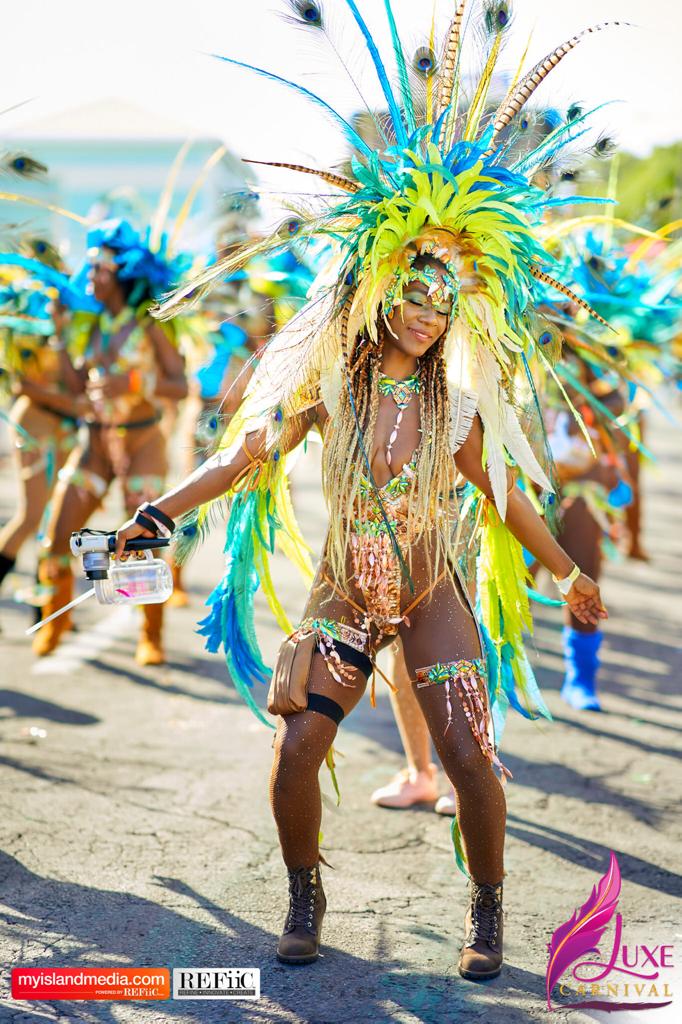 Currently there's a not so great stigma for NEW carnival troupes/bands across the region; but Luxe Carnival stands to create a reputation that is not only credible but a band that keeps their masqueraders first.
*insert praise break here*
I had the amazing opportunity to play with Luxe Carnival for their inaugural year for Sugar Mas 48 and here are my thoughts on the Luxe Carnival Experience.
Presentation/Band Launch
The carnival frenzy started with band launch and Luxe leading the social media fray with their presentation of Evolution. See more information on that here.
My pick for Sugar Mas 48 was the frontline option for the Carib section pictured below that made me fall in love with peacock feathers and large headpieces.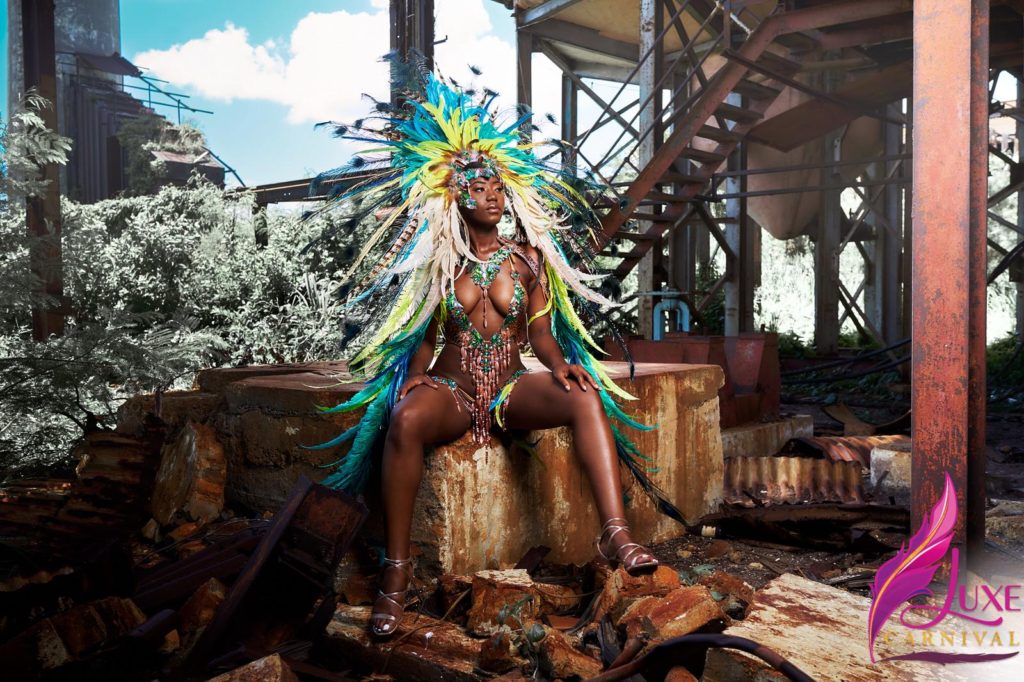 Registration
Registration (for me) was completed via a Luxe band representative but it was also easily accessible via their website that was available shortly after band launch with pictures/prices. Luxe Carnival kept potential masqueraders informed of pricing and options via Instagram and Twitter and did a really comprehensive job of keeping persons up to date with events, costume pick up times etc.
Costume Pick Up
We visited the mas camp and were literally IN and OUT in about 10 minutes. Staff literally were working around the clock to make sure ALL masqueraders had a seamless experience from having a seamstress on site for any last minute adjustments for FREE the day before parade. The Luxe Carnival staff were so determined that all the masqueraders were satisfied with their costumes that they were even giving $$ (yes dollar bills, yall) so masqueraders could get the necessary adjustments completed themselves. The focus was truly on the masqueraders and providing a quality experience. 
Personally my costume was not ready until the day before but Luxe reps were communicative and personally delivered it and waited for me to try it on to make sure it fit correctly and it did. My costume looked EXACTLY like the prototype except I did not realize the frontline leg pieces came with some extra "oomph".
Goodie bag came in this very cute iridescent bag that I will be toting to every beach in 2020. Items included sunglasses, keychains, soap, water bottle, a Luxe Carnival dad hat, FLOW towel, pasties, condoms, Luxe Carnival mug and three wristbands alongside some travel sized toiletry items/cosmetics.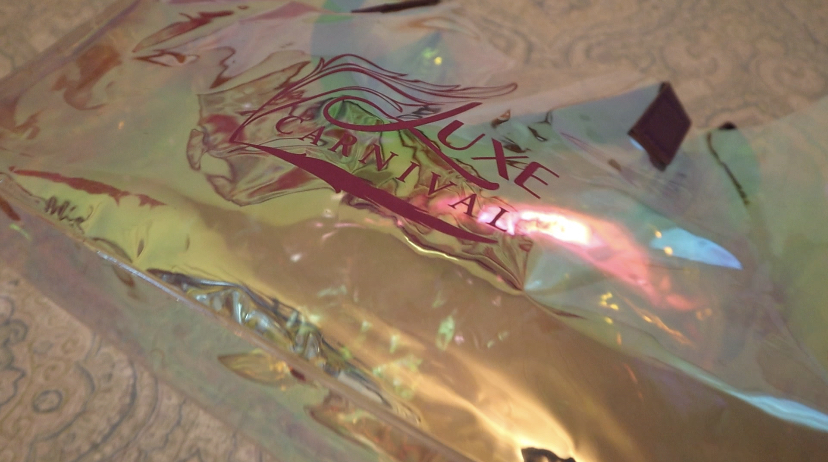 The Luxe Carnival Road Experience
Day 1
We made it on the road right in time for the 3rd of 5 judging points (around 1:30pm). Kittitians take their mas very seriously it's REALLY NOT a game (when they say get in your section, GET IN YOUR SECTION).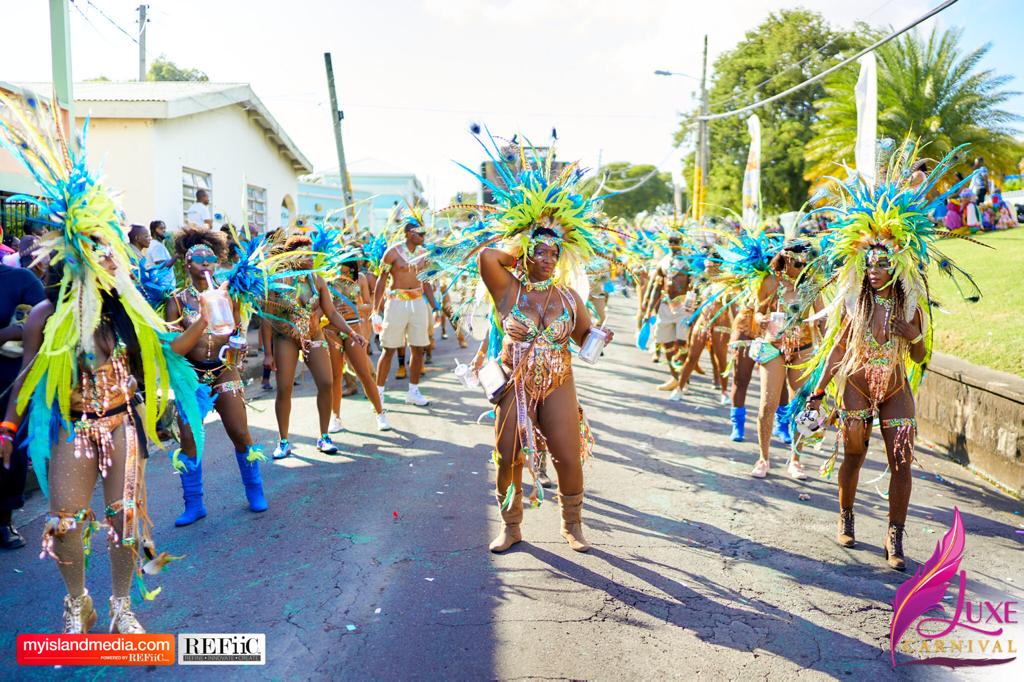 My first recollection of passing the judging point encompassed having to get in a line with two other ladies and stay in formation as we chipped toward each judging point. Now if you are not accustomed to this; it can be a bit daunting however Luxe Carnival "roadies" (as I shall call them) were moving throughout the band and making sure masqueraders had drinks and were where they were supposed to be for ALL judging points.
NOW… as we passed the judging points, my section (Caribs) got into a bit of a routine and it reminded me so much of Junkanoo choreography.
Band leaders ushered us into a circle and it almost felt like I was an actual Carib doing some sort of ritualistic dance but it was soooooooooo ON THEME. I LOVED IT!
My only tip (for Day 1) if you decide to do SUGAR MAS 49: make sure your drink is full as you pass through the judging points and listen to the people "dem" when they say get in your section because mas is a full on competition.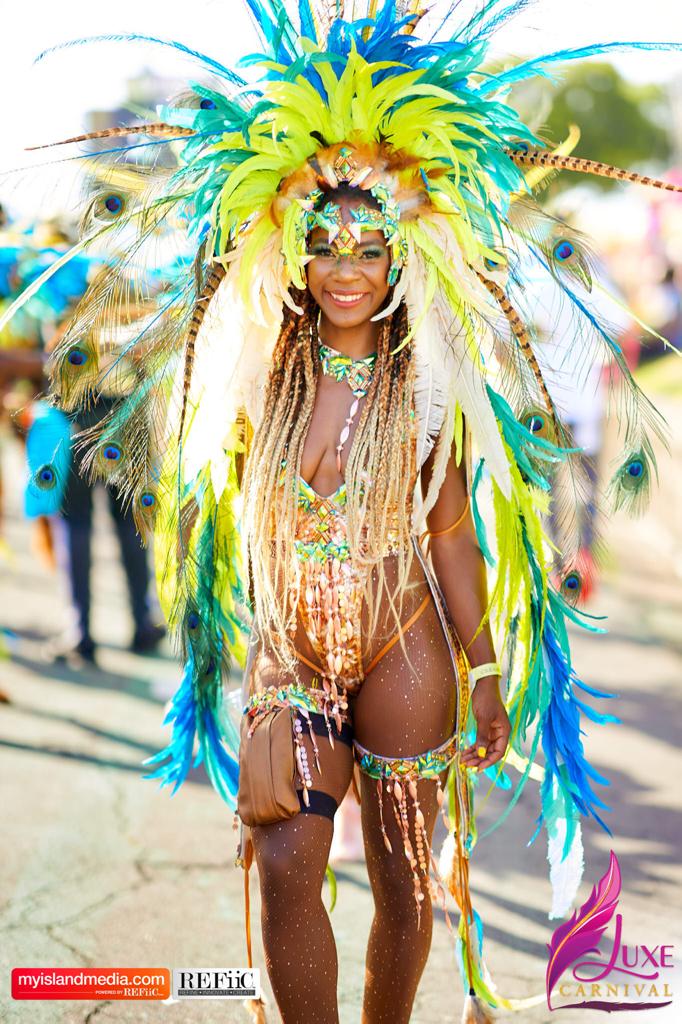 Music/DJs
I won't lie it took a minute for me to get used to Kittitian soca but there were several songs that stand out. Live band music is a cultural staple and Luxe had artists such as AkaiiuSweet, Kollision Band and DJ's/emcees such as Dr. Haze Lady Drea, DJ Tero and International DJ Stephen. My favorite on the road had to be DJ Lady Drea – hands down! While the rest of the DJ's were really good- she stood out with her musical selection and didn't play the same several songs I had been hearing throughout the day mixed with Kittitian soca. Speaking of Kittitian soca, here's some music you need to know for #carnival2020 and beyond:
Food/Drinks
After running a bit late with make up, I missed the first meal but had this yummy concoction of wings, buns and potato that was really satisfying  and timely on the road. There was no issue getting drinks on Day 1, bartenders were swift and very heavy handed with the liquor. I definitely found myself pacing myself with my drinks because they were definitely on the strong side.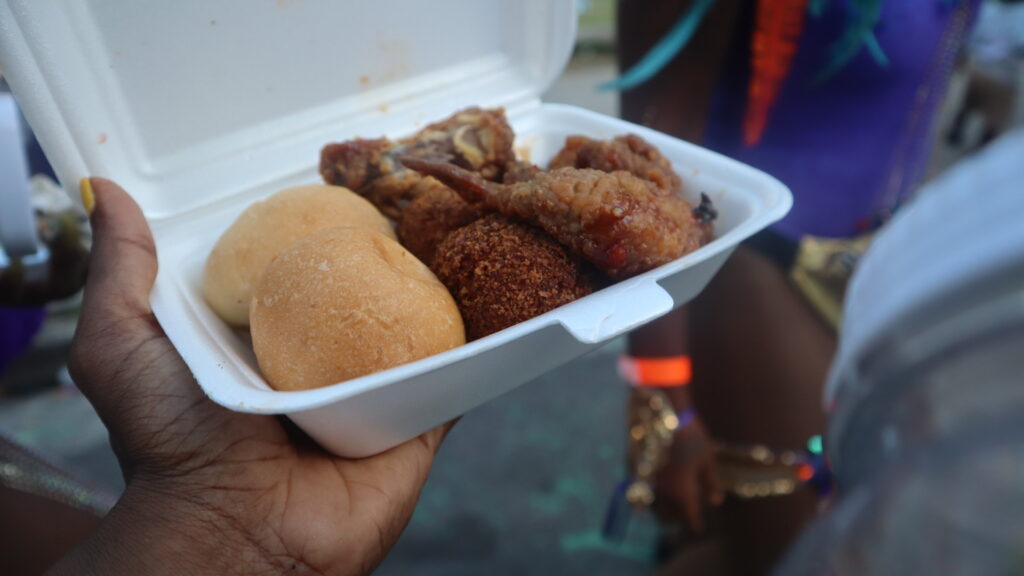 Vibes
So disclaimer: I was in St Kitts for almost 2 weeks ya'll and I have still yet to figure out how to describe the vibes… All I know is that I went in not knowing what to expect (meaning I didn't watch any Sugar Mas videos on YouTube + minimal listening to Kittitian soca). All the Kittitians that I met were pretty much like "St Kitts vibe is just different".. and they were CORRECT. It's different, pure and non-commercialized.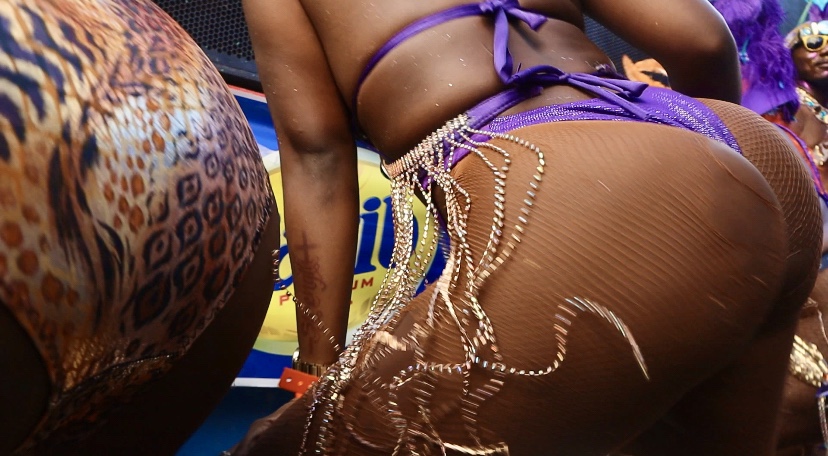 The vibes in Luxe Carnival were progressive and unapologetic (very ANTI-stush) and just continued to build as the day went on. Judging time was like a bit of a warm up but as the sections began to mix/mingle and people started to "nice up"…the vibes were like electricity as the day progressed.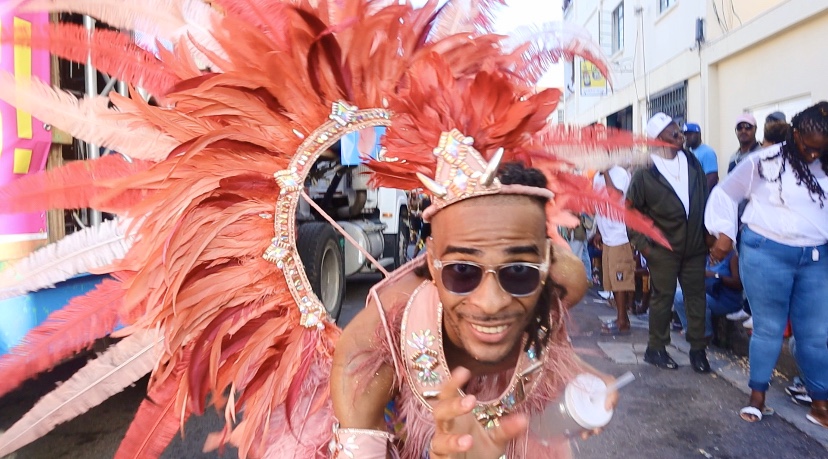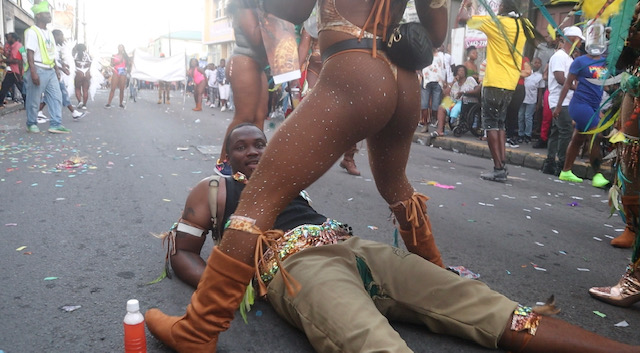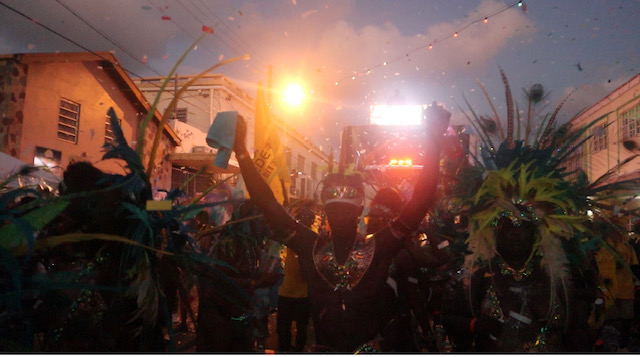 We ended Day 1 knocked out on the cool down bus that took us back to the Luxe Carnival mas camp around 8-9pmish.
Day 2 (Last Lap)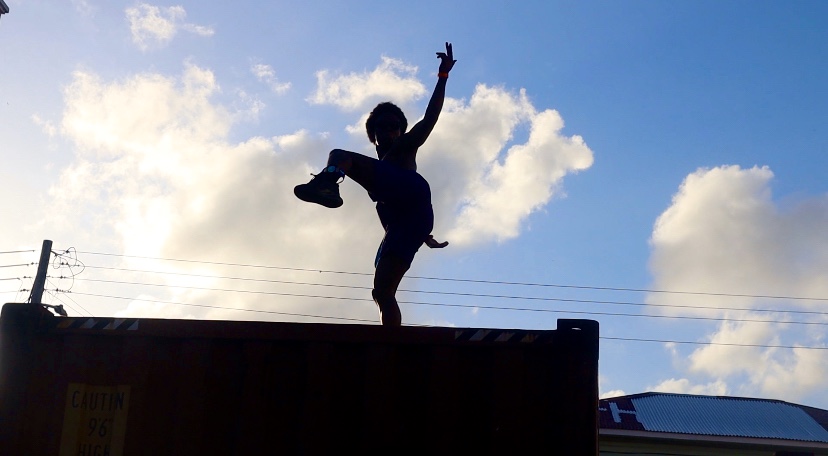 So before I even touched road on this day, MANY persons told me that this was the best day for mas on the island.
Stripping away the uniformity and protocols, by the time we hit road we had already found out who won Band of the Year.
I'll take this moment to congratulate Luxe Carnival on their very close 2nd place finish (ESPECIALLY for a first time band) -they deserved all the points and MORE.
For Day 2 you have several options of what you can wear including:
Day 2 Wear sold by the band
Parts to whole of your costume from Day 1
Do your own thing aka customized last lap wear
I ended up with a custom Last Lap Wear from Carnival by C and my Luxe Experience cap.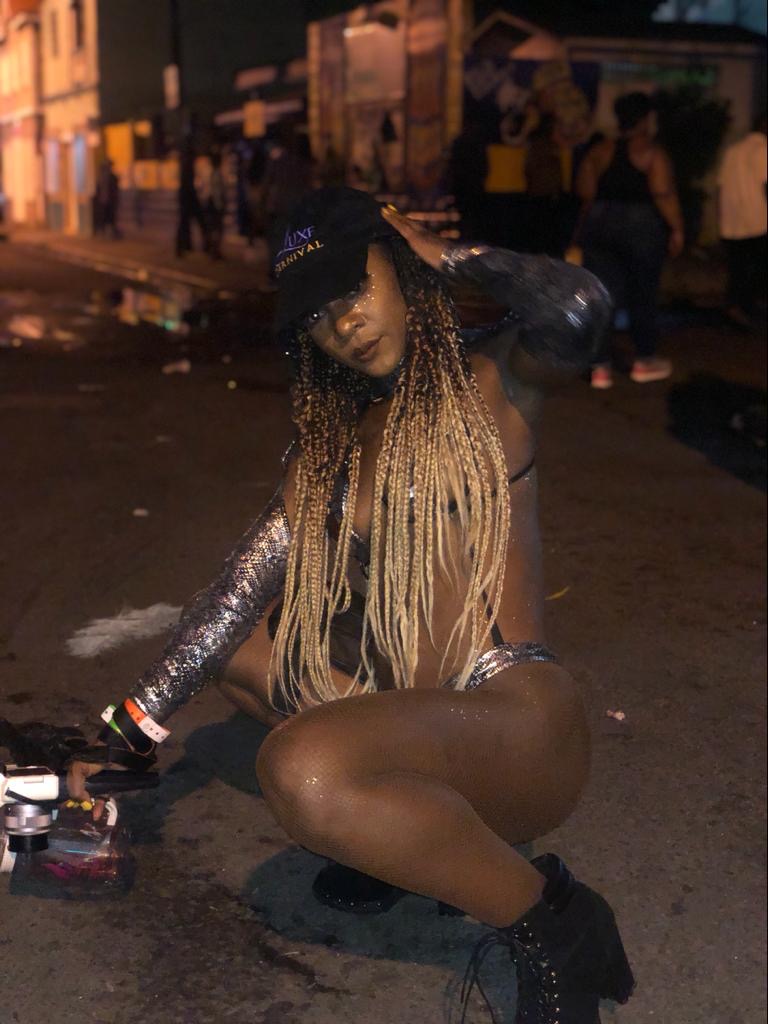 Day 2 on the road with Luxe Carnival was A VIBE! Hands down. From the time we arrived ALL THE WAY to the point I had to get carried back to the cool down bus. 🙂 I have to say I have never had a carnival experience where I had to take my shoes off before I left the road. Continue reading to understand why…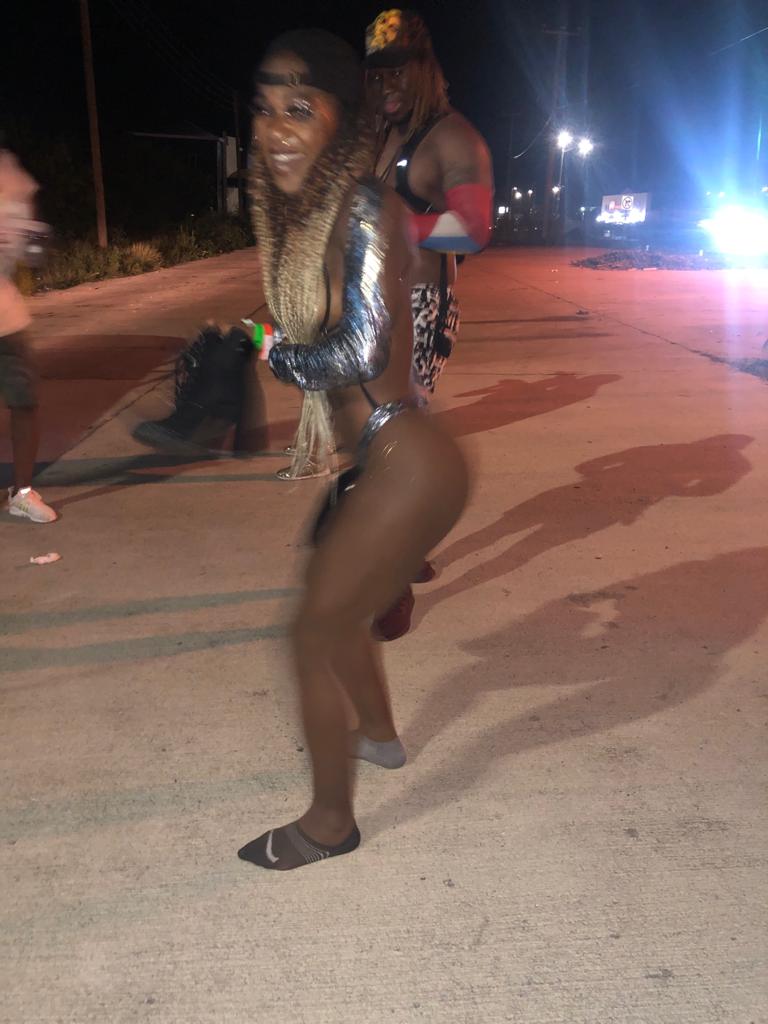 We started the day at the Luxe Mas camp (around 3ishpm) and boarded the cool down bus that transported us from the mas camp to the beginning of the route. After getting to the road, we started off with some pics (of course) then had fish soup with dumpling, potatoes aka YUM. Drinks service was again – SWIFT, heavy on the liquor with a "trace" of chaser (prepare your liver).
Plus mobile bathrooms were readily available for all the potty breaks.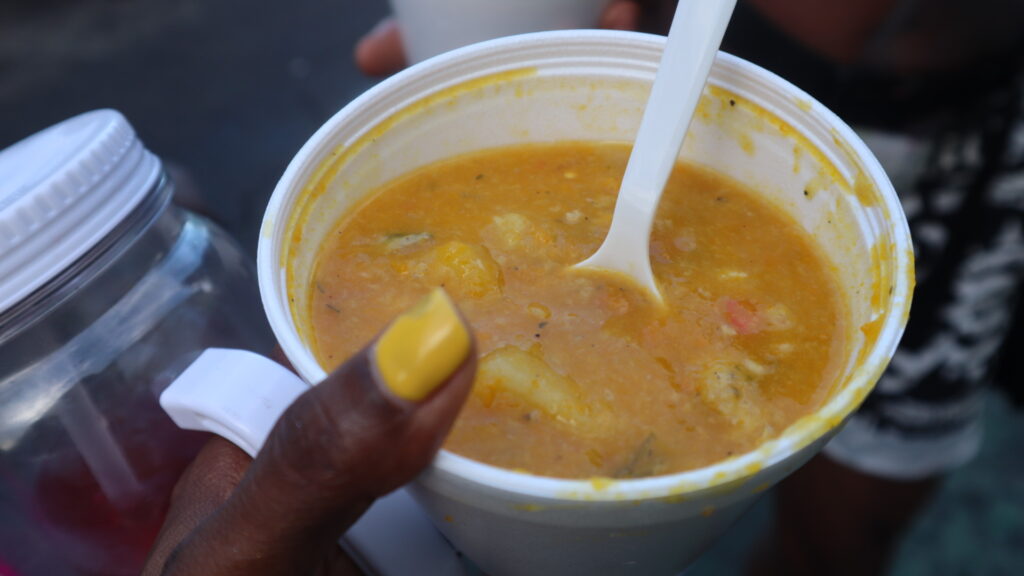 Water, powder and glitter…. I distinctly remember all these elements getting thrown up in the air. One young lady started off throwing glitter on herself and in about 10 minutes the whole band was covered in glitter.
I still have a few specks in my hair and on my skin that I have been trying to get off. For a smaller, first time band, being with Luxe Carnival on the road made me feel like I was at home, jumping and chipping with strangers (now carnival famalay) because EVERYBODY including the on-lookers were catching the Luxe vibes – TBH probably where the carnival flu epidemic started.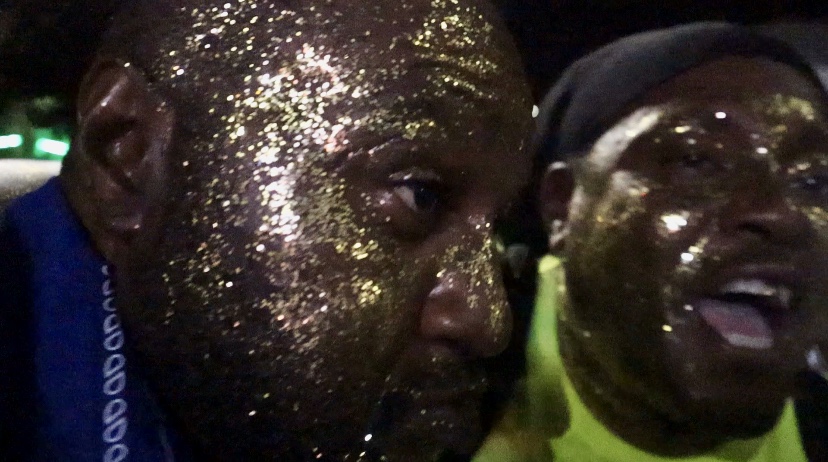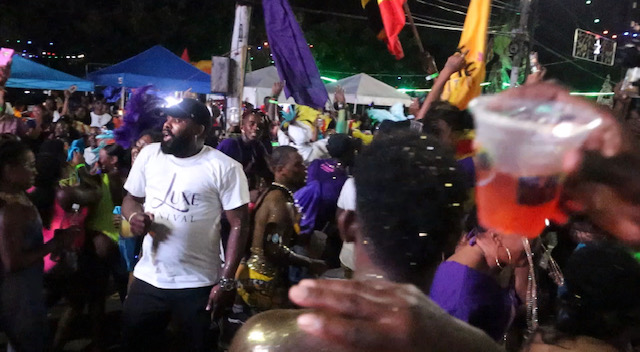 Final Thoughts
I think the biggest question I got was "Would I play with Luxe Carnival again?"
Without a shadow of a doubt, YES. Check out the vlog I did of Day 1 and Day 2 HERE:
For a first time band, they were efficient and accommodating and made sure everyone had a great experience on the road. I personally feel like I got an authentic taste of what Sugar Mas 48  should look like via the Luxe Carnival experience and I definitely cannot wait to experience it again! Mark your calendars for Sugar Mas 49 with Luxe Carnival – Jan 1st & 2nd, 2021.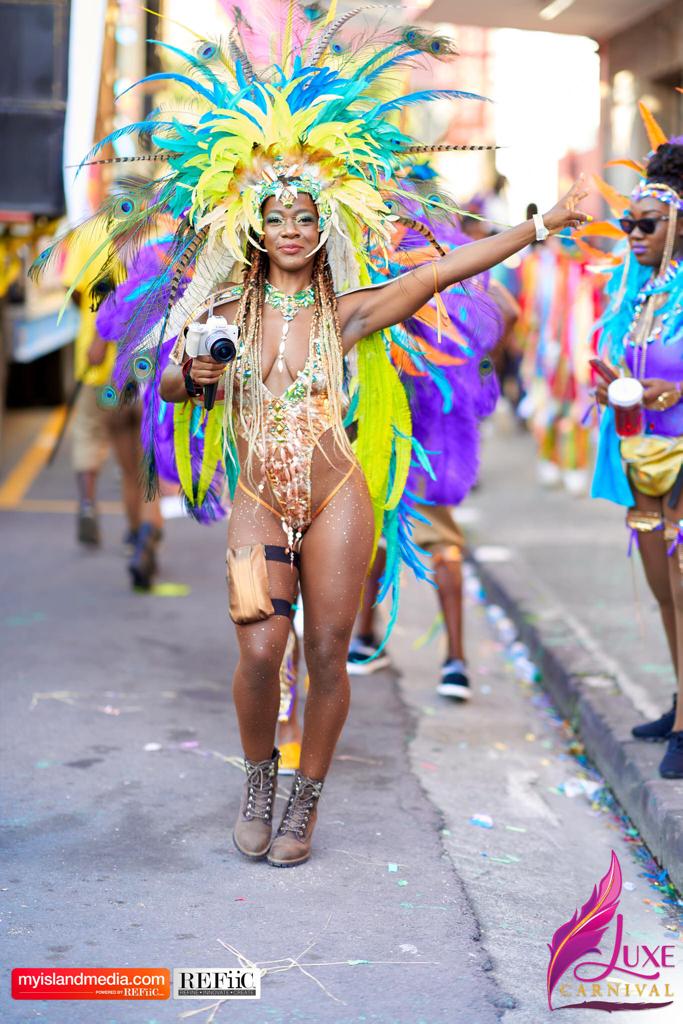 Til the next pump,
Cris
Til next time,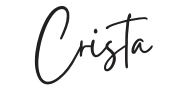 carnival band st kitts
luxe carnival 2019
luxe carnival 2020
luxe carnival st kitts
sugar mas 2020
sugar mas 2021
sugar mas 48
sugar mas 49