If I were to pick a part all the reasons to come to Sugar Mas, it would be a lot more than SEVEN…trust! Sugar Mas 48 has to be one of the purest carnival experiences I have ever had so I wanted to break down 7 reasons it should be your first carnival for 2021 and what you absolutely NEED TO KNOW before you start planning Sugar Mas 49.
SUGAR MAS 49 INFO:
Location: St Kitts and Nevis (more particularly Basseterre/Frigate Bay)
2021 Dates: Jan 1st & Jan 2nd, 2021
Airport Code: SKB (Robert L. Bradshaw Int'l Airport)
Recommended dates of travel may involve you spending the greater part of the holidays in the beautiful St. Kitts & Nevis as some of the more popular events occur before Christmas Day and J'ouvert takes place early morning Dec 26th on Boxing Day. TIP: Check flights from 6 months or so before hand because they can get pricey.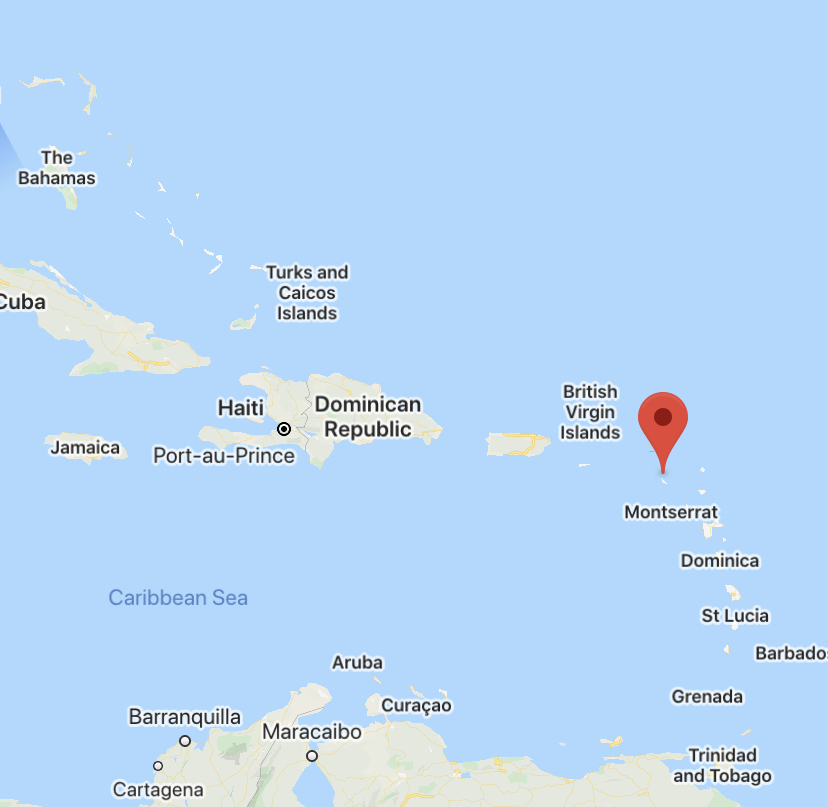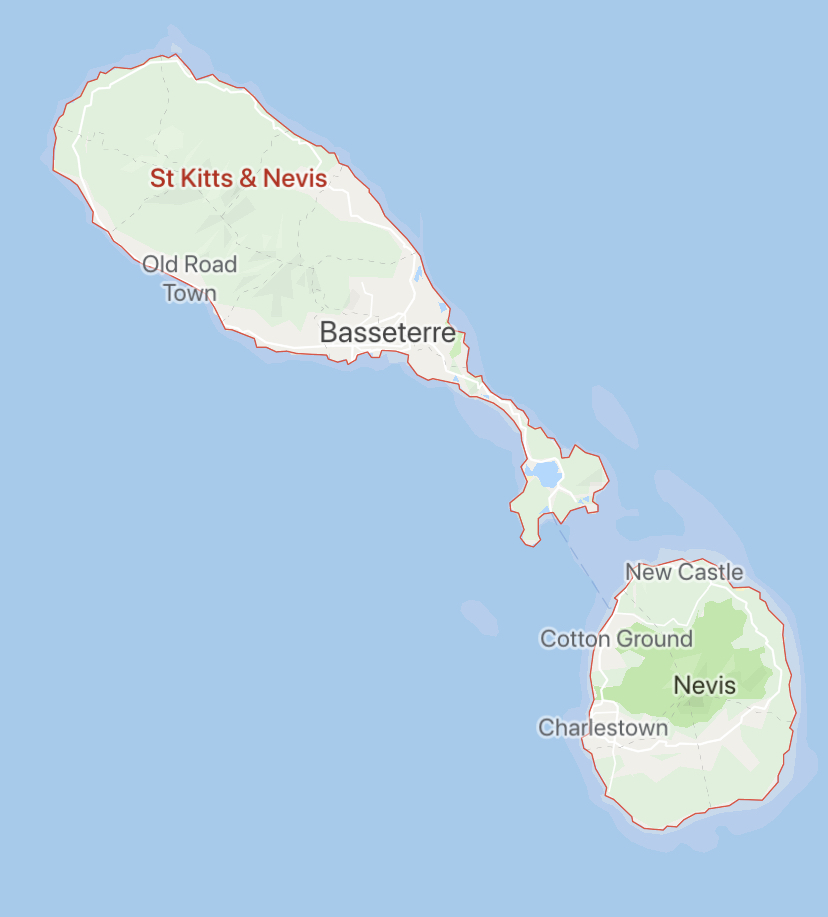 When I asked where were the best areas to stay for Sugar Mas; 99% of Kittitians told me Frigate Bay. There are a lot of Airbnb's, hotels (most starting at $100USD a night) on this touristy strip as well as grocery stores, restaurants/bars and entertainment.
1. Sugar Mas On New Years Day
If you have never rang in your New Years on the road, here is your chance! Sugar Mas is a 2 day carnival
held every New Year's Day and January 2nd (Last Lap). And I can't think of a better way to spend the first day of the year than on the road in a costume…
https://www.instagram.com/p/B7D1eEHBTzE/?igshid=vpnnui8t8qhf
I personally played with Luxe Carnival who provided an authentic Kittitian mas experience. Read all about it HERE.
2. J'ouvert
I don't even think the most seasoned carnival – goer would be prepared for the marathon that is St Kitts & Nevis National J'ouvert. Several J'ouvert troupes parade, powder and paint up the streets of Basseterre from 5am to about mid-day. I played in ChattaBox J'ouvert ($175-$200EC = $65 -$75USD) which started at about 2:30am/3amish with a pre-foam party, headed on the road around 5:30am and ended pretty much with me catching a nap on the truck around midday. This was the first time I ever encountered J'ouvert as an active competition where troupes compete for bragging rights and cassshhh money prizes. I personally like how J'ouvert is staged several days before mas because there is no rushing or mass sleep deprivation in between to get ready for the road. See IG post below for visuals.
https://www.instagram.com/p/B7GZHqbB96i/?igshid=18wmiqp0tipdv
ChattaBox fed us soup (several options including conch, if I'm not mistaken) and warm cheese and bread after the sun rose. Unlimited drinks but I probably filled up maybe twice because bartenders were really heavy handed with the liquor. Just FYI, that's not a complaint.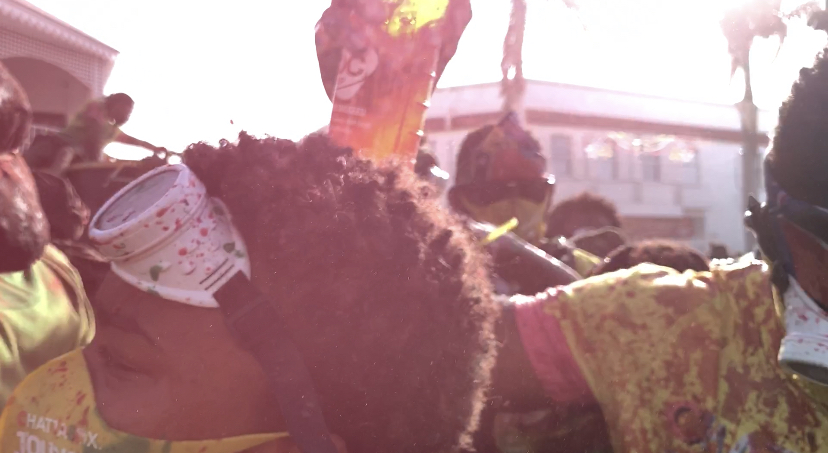 3. Sugar Mas Fetes/Events
St Kitts & Nevis boasts of a hefty carnival season with events starting early to mid- December. Some of which include the popular Cooler Fete  (which is the Saturday before Christmas}, pageants and traditional cultural events. While I didn't attend ALL of the events for the season here's a quick rundown of the ones I attended:
Luxe After Party – an intimate warm up fete held at Vibes Beach Bar on the strip by Luxe Carnival band. Music by DJ Tero & DJ Lady Drea really got the vibes going and it was a great introduction to St. Kitts nightlife. (Free/cash bar)
Top Off Brunch – a brunch & bubbly inclusive fete held at Fairview Great House, a 300 year old French plantation estate. We started mid-morning with traditional Caribbean breakfast and brunch food topped off with A LOT of champagne. My favorite DJ's for the fete were DJ Tero & Power Surge and here is where I finally got what there is to get about Kittitan soca/band music. Besides that they played dancehall, afrobeats, popular soca hits as well as a little bit of rap. ($40 USD- food and mimosas/bellinis inclusive + cash bar)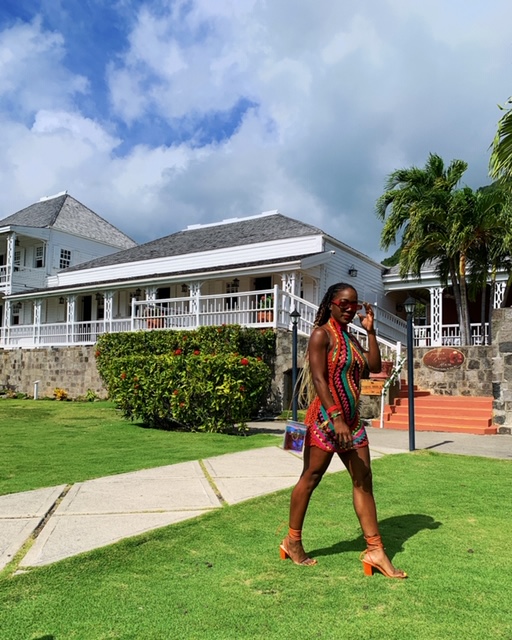 Inception – a 12 hour fete, LITERALLY. From 9pm – 9am…highlights for me included DJ Puffy, the food/drinks, and watching all the gal and mans dem risk it all for Aidonia ($160 USD). Kittitians love DANCEHALL. Inception is not traditionally a soca fete. However, there were soca artists such as Problem Child, Little Natty & Thunda and also Kittitian bands such as NuVybes Band Int'l, Grand Masters Band, Kollision Band and Small Axe Band. I don't think there is one Kittitian fete/event that has problems in the drinks arena. I was pleasantly pleased with my Hennessy and Cran and the bar DID NOT run out. Initially we had a choice of all different kinds of food but I opted for the fish soup (so good). Then when we were about to leave, they were serving breakfast – don't ask me what it was just know I ate ALL of it.  ($160+ USD VIP/$60+ General)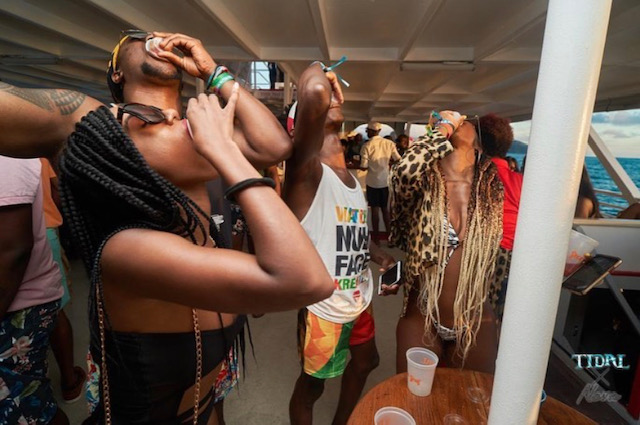 Soca Seas  – arguably the best fete/boat ride I attended while in St Kitts & Nevis – probably one of the best I've been on in A WHILE. A midday to evening all inclusive boat ride. The standard across the board for bartenders in St Kitts & Nevis seems to be "heavy hands" because that bar only saw me about 2x for the entire boat ride. Not to mention, there were "sweet treats" being handed out, gummi worm shots and I had so much fun I totally forgot to get food (LOL) but they definitely had because I saw people eating. (tickets started at $160 ECD/$60 USD) 
https://www.instagram.com/p/B6syPYmhHRN/?igshid=1xniyff1jlr86
Carambola NYE – an intimate New Years eve dinner and party at the beautiful Carambola Beach Resort. It was a nice change to get all dolled up and ring in the New Year with friends. Carambola was all inclusive with finger foods (dinner ticket was a higher cost) and an open bar. It rained a bit after we rung in the New Year but overall I had a pretty decent time. ($90+ USD)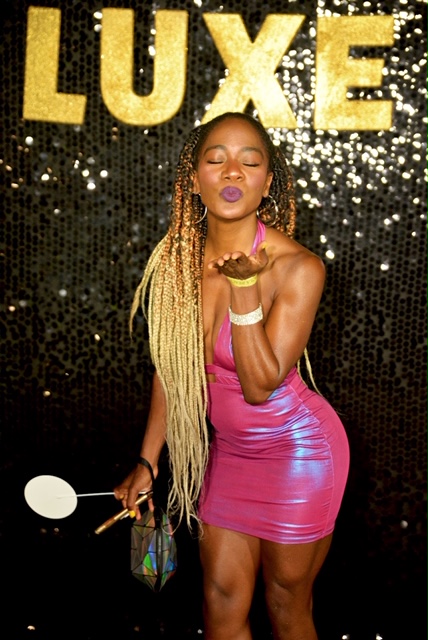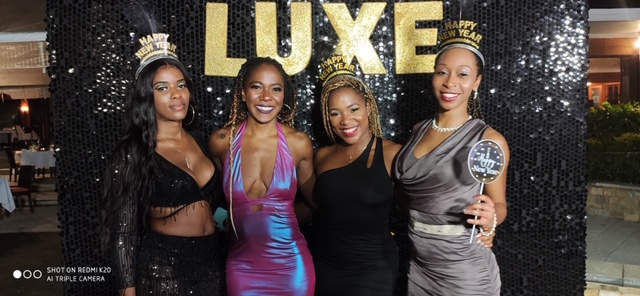 If you need even more of a visual…check out part ONE of my Sugar Mas experience video below (including jouvert, fetes and ATV rides).
4. Sugar Mas Vibes
One word: PURE. With the increasingly commercialization of carnival culture; St Kitts & Nevis Carnival is a rare gem. From the music to the people, the energy is something that I was not accustomed to AT ALL. However if you let it, it seeps into your veins. TIP: Stock up on your vitamin C and B12, you will absolutely need it.
5. Sugar Mas Music
The music for Sugar Mas is undeniably different. The locals take pride in the live band music, bouyon-style music (Wilders) and my advice for persons wanting to do Sugar Mas 49 is to LEARN THE MUSIC. My first few tries, I didn't quite get it but hearing it in a fete and seeing it played on the road made a WORLD of difference. Now I'm a certified FAN; here are a few favorite songs from this year and previous years:
6. Things To See, Do & Eat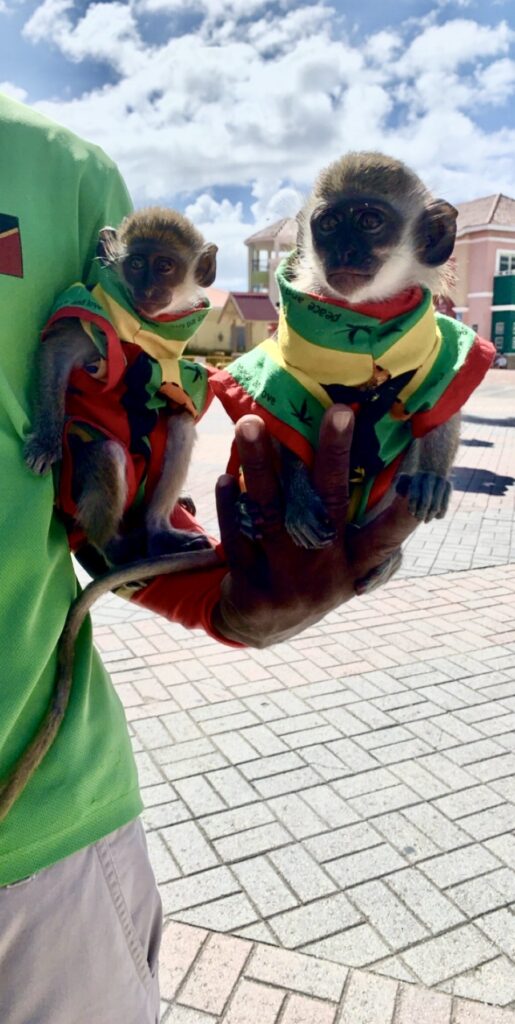 Balance is key at Sugar Mas between fetes, mas, seeing the actual island and relaxation. My first taste of touring St. Kitts was organized by St. Kitts Tourism who took us on a scenic ATV tour with Spectrum ATV tours. While it was very thrilling learning how to maneuver an ATV – we learned a lot about Kittitian landmarks such as an inactive volcano called Mount Liamuiga (the highest peak in St. Kitts at 3,792 feet) and Brimstone Hill, a national fortress park.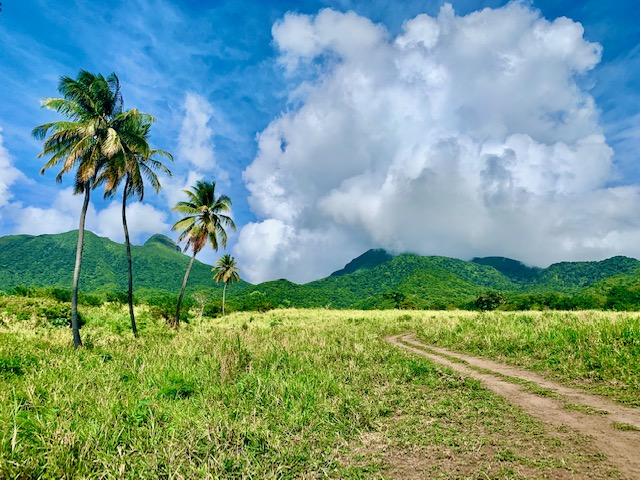 https://www.instagram.com/p/B7HICenhh_w/?igshid=tlollz3c9roy
Post Sugar Mas, YAT Concierge organized an Island Tour of both St. Kitts and Nevis where we learned about it's history including colonization by both French and British and how it has shaped the island.  It was just really interesting how the history of the island shaped the present from varying last names to where Kittitians and Nevisians reside on either isles and respected parts of each island. We also were able to tour Brimstone Hill, Caribelle Batik/Romney Manor and take a very quick privately chartered boat ride to Nevis for eats and to experience the Hot Springs (some pools as hot as 120 degrees F). TIP: Walk with enough cash for entrance fees/tips; I'd say $20 US covered it for all entrance fees for the sites we visited. Budget tips at your discretion.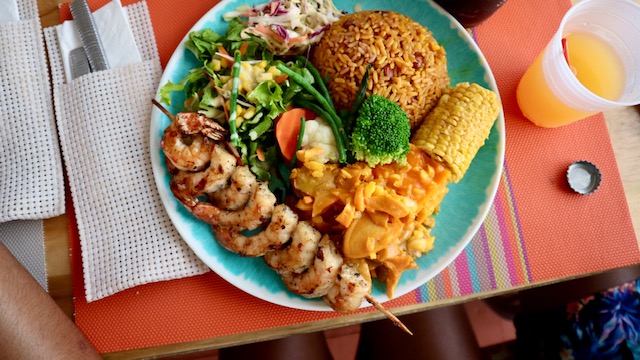 Other recommendations that I'm likely to check out more thoroughly next time I go to Sugar Mas:
Black Rocks
More of Nevis
Kittitian Hill/Belle Mont Farm
Port Zante
I also got a chance to sit on the famous outlook, Timothy Hill that allows you to see where the Caribbean Sea and Atlantic Ocean meets. It was FREE.
https://www.instagram.com/p/B7HlCenhh_w/?igshid=tlollz3c9roy
7. Sugar Mas History/Culture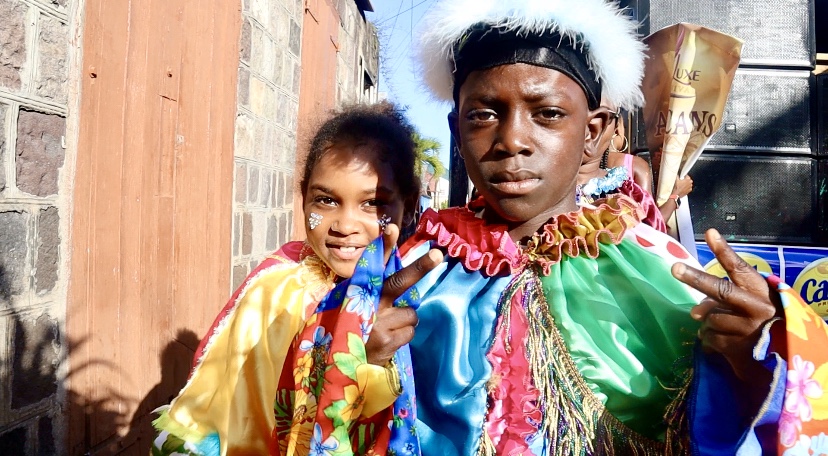 Besides bikini and beads mas, Kittitians and Nevisians hold true to their traditions rooted in folklore in the form of
caricatures such as the Kittitian clowns, bulls and moko jumbies to mention a few. Kittitian clowns apparently are a portrayal of a court jester that was brought to the island by a French governor in the 17th century who kept the legacy of "keeping court".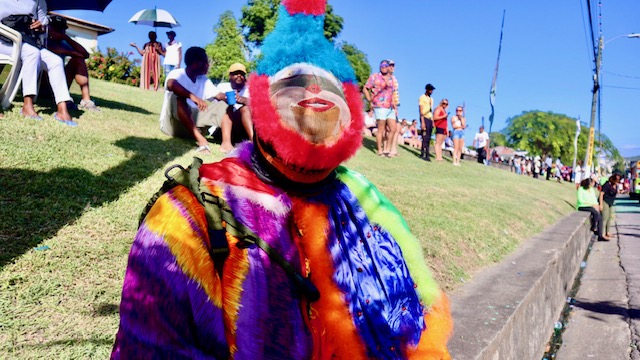 The streets burst with life and color during Sugar Mas 48 with these brightly colored caricatures from children to adults with colorful flowing gowns in different patterns/colors accompanied by all variations of masks, whips in addition to costumed masqueraders. I was surprised to see how many people take part in the tradition (because they were EVERYWHERE) but it was nice to see that the locals keep their history and culture alive.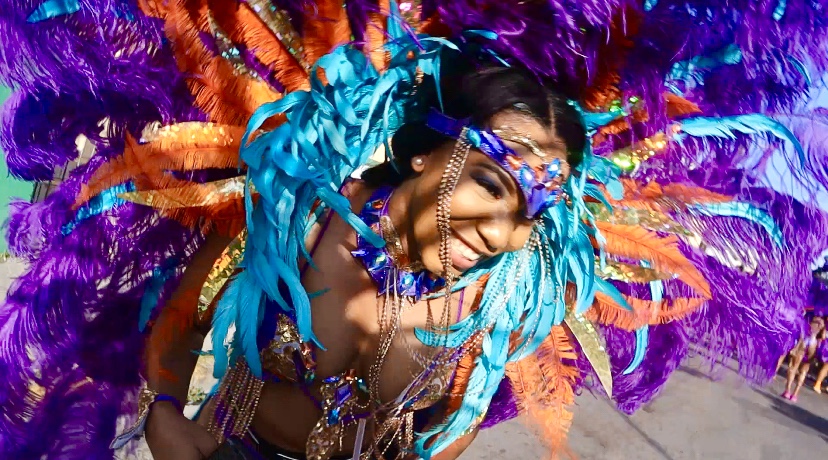 Click the vlog below for my two-day road experience with Luxe Carnival!
Now to what most people want to know…
HOW MUCH?
Now I went for about 2 weeks (Christmas Day to Jan 6th); the biggest costs were flight, accommodations and as a carnival blogger, I had the opportunity to partner with Luxe Carnival. Costs are debatable, you may want a backline costume or not, some ladies/men do makeup and some don't. Sometimes you know a friend that will let you crash on their couch for free or you prefer resort life. So it really depends on you what you personally want. After doing some research I've estimated these ball park costs as follows:
Cost
Flight $550+ to $800+ (depending on when you buy and where you fly from)
Costume: starting at $275+ (women) and $285+ (men)
Makeup: $100 USD (for 2 days)
Hotel/Airbnb: $100 + a night = $375/$400 split
Transport: ($15 US to the airport -one way/$12 into town) $300 USD minimum
Fetes/Events: $500 USD max
Miscellaneous/Spending: $300 minimum
TOTAL = $2700 minimum
I would say prioritize buying your flight first because those can get expensive and naturally because it's around the holidays. Additional things you should know are that the ATMs were kind of temperamental in Frigate Bay (just FYI -walk with cash if you cannot make it into Basseterre/downtown area right away). Transport/taxi stands were right outside on the main strip in walking distance or you can get taxi numbers easily from the locals. Another tip; there's a strip of bars, restaurants down Frigate Bay where you can get food and drinks easily. Another resource I would check out for planning Sugar Mas 49 is Tropical Beau's blog; a native Kittitian blogger that I literally interrogated before I stepped foot in St. Kitts & Nevis.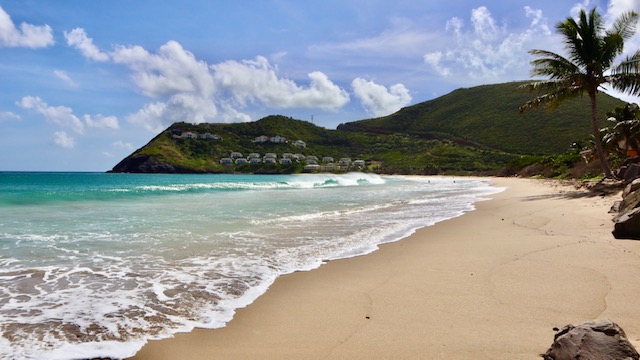 With all that said, there are so much more reasons that would turn this into a million word blog post as to why you should consider Sugar Mas; but I honestly loved my time in St. Kitts and Nevis and I really cannot wait to visit again…
Cris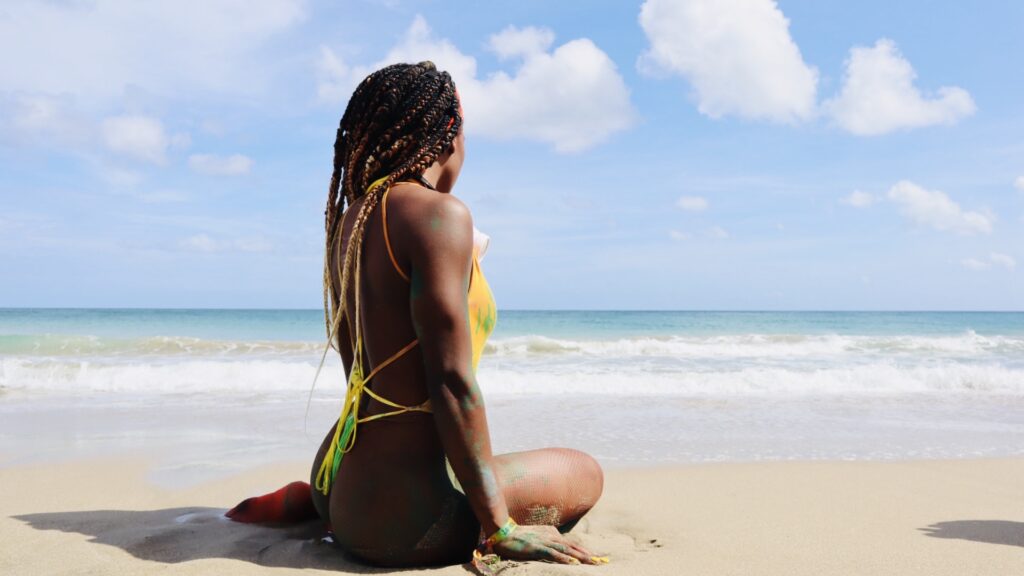 Til next time,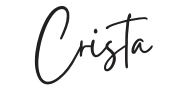 st kitts and nevis
st kitts and nevis carnival
st kitts carnival
sugar mas 48
sugar mas 49