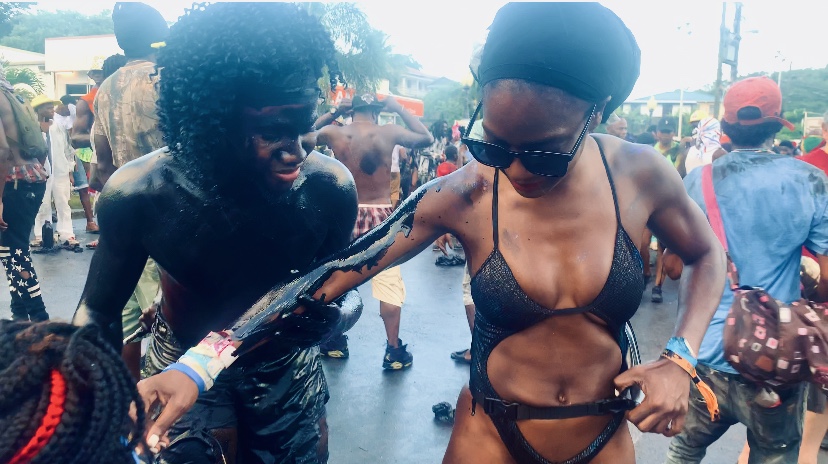 Planning Spice Mas 2020? Anyone?
After a 2 week stint in Antigua for carnival, there was absolutely no way I could pass up traveling to the nearby Spice Isle for the authentic Jab Jab J'ouvert and Spice Mas. As they say …Grenada have d best mas by farrr and it was a MUST that I  experienced it for myself.
By the way if you're even considering planning spice mas for 2020, mark August 10th -11th, 2020 on your calendar right now, set the price alerts on Kayak, stalk the hotels and Airbnb's cuz….trust me this is a "once in a lifetime" experience.
WHEN?
More specifically pay attention to these important dates and the sequence/timing that they occur in when planning Spice Mas 2020 because it is pure pace:
Monday August 10th, 2020 
J'ouvert (5am- I was told until all the bands pass through the Carenage)
J'ouvert occurs during the early early morning hours til about mid day ish but did you know… that there are multiple J'ouvert celebrations happening in different parishes throughout the isle and not just on carnival Monday but also on the Tuesday as well. So if pretty mas is not your thing then boom… double your Jab Jab, double your fun.
Carnival Monday -Pretty Mas 
Carnival Monday starts around mid-day on Monday as J'ouvert "ends" and well into the evening/night hours. Slated as a day to "free up yourself" and wear what you want. Carnival bands also offer Monday wear options.
Monday Night Mas (7pm -4am)
Bands and masqueraders congregate after the sun sets for a massive display of LED lights. Here's a few options to choose from when picking a carnival troupe for Midnight Mas.
Locals often say this is something you don't have to worry about until weeks before or until you touch down but what's a little more info sooner than later.
Tuesday August 11th, 2020
Carnival Tuesday -Pretty Mas (1pm -11pm/12am)
The culmination of the back to back pace that is Spice Mas peaks at Carnival Tuesday with the last day of pretty mas. Here are a few seasoned bands that you should consider for Spice Mas 2020:
Also been told that a few new bands will be launching as well.
WHERE?
St. George's Grenada. Airport code: GND
Recommended areas of stay: Grand Anse Beach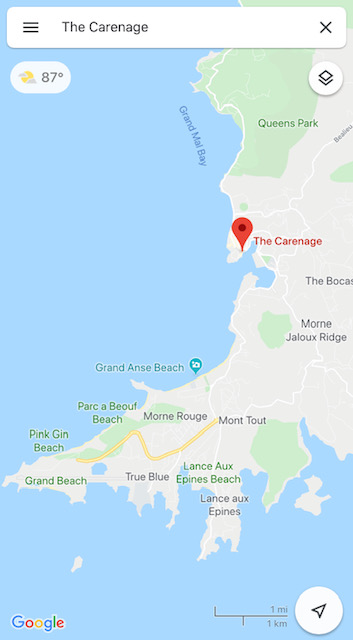 My 2019 Spice Mas Experience
Note: This was my personal experience and other's experiences will vary.
Now for my Spice Mas experience for 2019 I traveled from Friday August 9th – Wednesday August 14th, 2019 and stayed in the Lance Aux Pines area (because all the affordable options on Grand Anse beach were gone).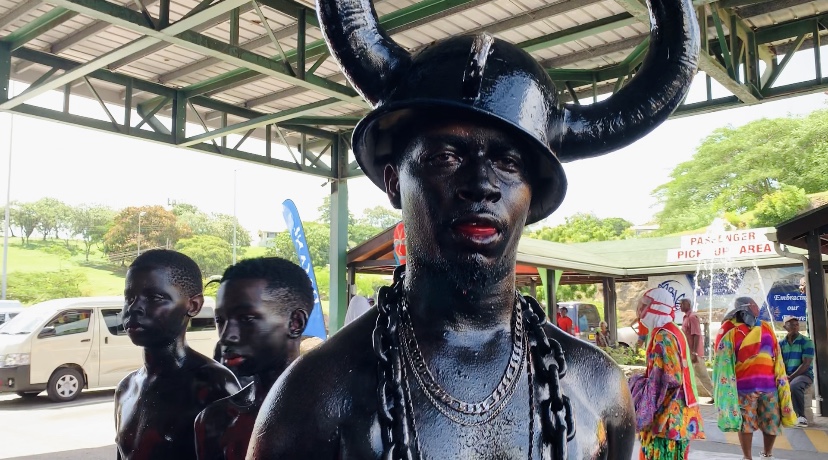 Touchdown at the Maurice Bishop International Airport after several connections from Antigua. Breezed by customs and immigration and walked out to receive my first taste of Grenadian culture. I mean literally as you step out the door…
Jab jab, Grenadian soca, shortknee welcomed visitors and returning locals with a display of what was to come for the carnival weekend and week.
I honestly felt like I walked into a fete… people were dancing, taking pictures and videos  and singing along. Met up with my friend and fellow creative Nia who is also a native Grenadian. She showed me around and gave me a quick run down of events and what to expect for the carnival week.
Where I went…
Fleet ($160 -food and drinks inclusive)
This catamaran cruise fete came highly recommended by locals and carnival chasers and was organized by Spice Mas Addiction. Purchasing process was fairly easy, tickets were available via Eventbrite. All the catamaran boats were named after soca songs. I chose Famalay initially then ended up switching to Issa Snack. The day of the fete came and we sped to the dock but thankfully they were running on Caribbean time. After boarding the Issa Snack boat, I got a few drinks -(Johnny and Cranberry); the bars also had authentic Grenadian liquors like Rivers and others as well.
Let me tell ya'll when they say Grenada is beautiful…the landscape literally takes your breath away. See IG picture below.
We sailed after waiting for a good while but I was glad to meet up with some friendly faces. I do not remember who the DJ's were on the boat – all I remember is that they played PURE GRENADIAN SOCA for 80% of the cruise. My favorite was Boyzie -The Return. So it was fun learning and interacting with patrons while getting used to the songs. Patrons of neighboring catamarans literally brought the vibes competing to see who had the best boat.  We sailed for an hour or so interacting back and forth (so much vibes) and then docked at a local beach for lunch.
The only issues I had with Fleet was that for $160+ US dollars, the food situation was completely disorganized. Literally people were just skipping lines, going behind table vendors holding out their plates haphazardly etc.  I found a quiet spot on the beach to eat my food and then ventured out into the water to cool off because the sand was scorching. The food was really good though. Spent a decent amount of time chilling in the water and then re-boarded the catamaran where the vibes continued for another hour or so until we redocked at the initial departure spot.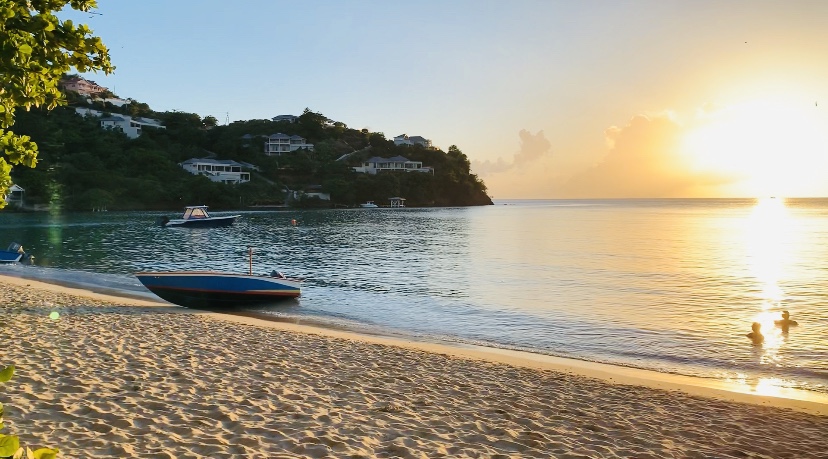 Another great thing about Fleet was that the after party Binge was complimentary with Fleet purchase. I literally stayed at the after party for a whole of 5 minutes but this view of Morne Rouge Beach made me want to stay on the beach forever. Did I say how gorgeous Grenada is? 
What I missed and regretted for Spice Mas…
If I were planning Spice Mas 2020, I would most definitely do the following:
Soca Monarch
The Biggest White or Pure White (bought a ticket for $30+ but ended up missing it)
Sunny Side Up Grenada
an all inclusive like Waggy T or Ultra
Another friend of mine could not stop talking about The Biggest White the next day and I am determined to not miss it or Soca Monarch for Spice Mas ever again!
"My experience was awesome, arriving that night and going straight there (Biggest White) was worth it. All the artists who performed did an amazing job, definitely a show full of vibes and not a dull moment. Definitely will be there in 2020 God willing." – IG: @conquering_leo
For a list of fetes and events if you are planning Spice Mas 2020; I found Go2Fete to be very helpful as well as a blog post of events written by Grenadian blogger Laureen entitled 10 Impressive Events You Need To Attend for Spice Mas 2020.
I missed Carnival Monday and Midnight Mas, but here's a friend's perspective of how Midnight Mas went for him:
"Midnight mas was amazing. It was extremely unique. One of the only few carnivals to have mas at midnight. I love the fact that all of the bands have "light up the dark" themes and some of them got very creative." – DJ Wumi
Music
Now before I get into mas, Spice Mas 2019 had to be the most amazing collection of soca music I had ever experienced. When I say I went into Spice Mas blindly and came out humming "Diagnosis" at every opportunity …listen Grenadians make sure you know the music! Here are a few of my faves you should listen to while planning Spice Mas 2020:
J'ouvert
I really didn't know what to expect heading into J'ouvert during Spice Mas. Many people had told me that Grenada had the ultimate J'ouvert experience so I was nervous, anxious and excited. We took a bus towards the Carenage around 4/5am which was very short (10 minutes or so) and inexpensive ride (less than $1-2USD). We unfortunately did not have any oil or baby oil but locals on the road were eager to help us out (all we did was ask!) As nice and accommodating as they were, I still think there are several things you need to know before planning Spice Mas 2020 (especially on J'ouvert morning):
Eat a goooooood breakfast
Use baby oil/vaseline to prep your skin for the oil
If you don't want to use oil, there's a charcoal alternative (ask a local)
J'ouvert is free so you do not have to pay to join a band
You can get a helmet with horns but you would have to source for someone who does it locally
Carry a waterproof bag or case for your phone and belongings
Tying up your hair is NECESSARY!
ALSO…expect anything 🙂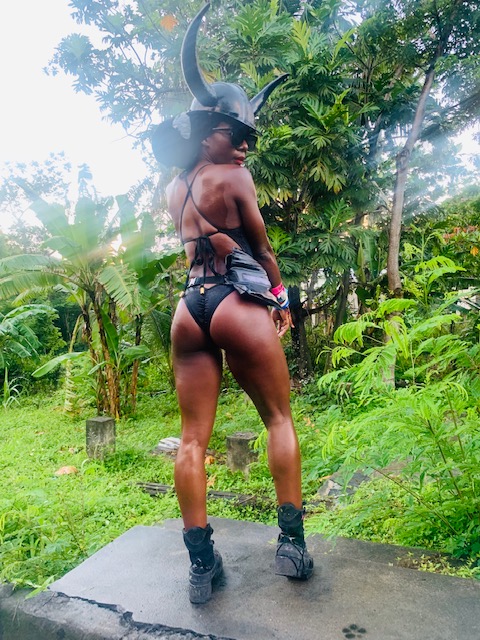 Signifance of the Jab Jab
So before you read on, I think it is important to understand this integral part of Grenadian culture that many on the outside looking in can have mixed thoughts about. Jab does NOT mean devil worship in any shape or form. It is a significant trademark of Grenadian history and culture that is rooted in slavery and emancipation. Jab is rooted from the French word "diable"; Jab Jab in short meaning "double devil". Prior to emancipation slaves were not permitted to participate in carnival celebrations so after being freed they celebrated by painting themselves black and greasy, adorning chains, horns to commemorate their freedom in an artistic way as well as "an attempt to offend polite society".
My Jab Jab experience was a bit of a culture shock. We got to the route and there were several trucks with paint, oil. Locals were running around putting oil on people and themselves. Then we ascended into this crowd…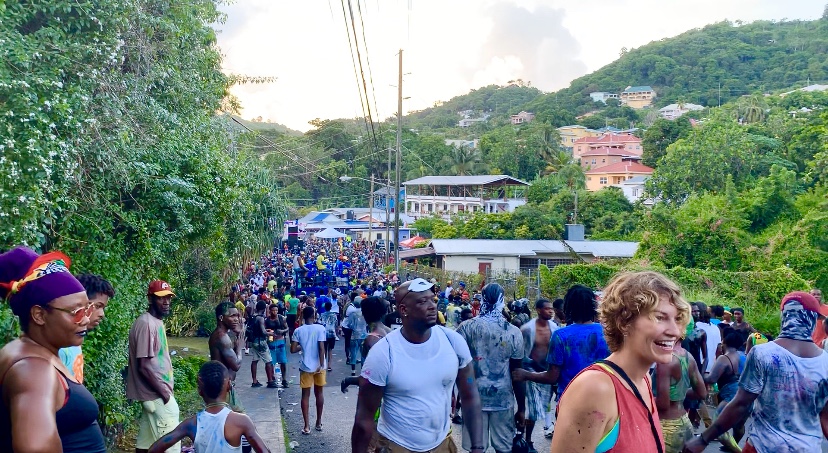 If you do not like crowds, this may be a bit uncomfortable for you but there are just so many people out; it is unavoidable. After getting covered in oil we found some local friends and danced behind the trucks. Grenadians have a special kind of wine, its like a chip and a shuffle combined and it goes perfectly with their music. Also if you get a "little push" while on the road, it's expected and definitely not aggressive. Just put on your thick skin and keep it moving. Also walk with some cash just in case you get hungry; vendors will be on the route selling food and drinks.
Now the real "Jabs" are OUT, covered in head to toe oil, adorned with chains with some of the most "interesting" props such as animals and animal parts (one man had an actual electric eel). Some had various items in their mouths with a substance that looked like blood (I later on learned it was food coloring). Others were dragging coffins, suitcases and basically they were all putting on the best spectacle of their version of "Jab". It was a bit scary at first but the Jab Jabs love the attention and also will pose for some really interesting photo opps. See below.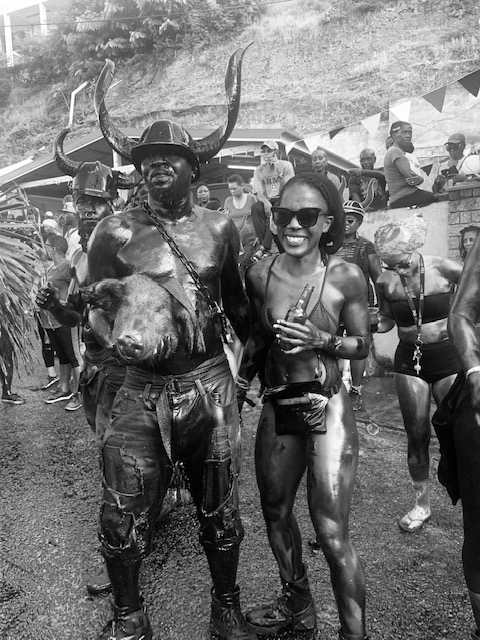 For anyone wondering, I didn't kiss the pig but it was definitely one of my top 5 moments for carnival 2019. I feel like the whole of Grenada was out for Jab, you could even see the little Jab Jab babies (so cute). My friend Cinelli did a whole vlog on the Jab experience. Watch below.
This pretty much summed up my mood that day. J'ouvert was EVERYTHING! Also…getting the oil off. We were with locals and stopped by a little convenience store for detergent and went to the nearest beach. Locals and travelers were in the water scrubbing their clothes and skin trying to get the oil off(sorry Mother Nature). It was liberating.
Carnival Monday
Regrettably but not so regrettably, I skipped carnival Monday. I was severely disappointed in one of the newer bands for Spice Mas also known as Lavish the Band  and instead of going with many recommendations and my gut instinct to play with a more seasoned band…my eye was too big and I ended up opting for the dazzling costumes and dreams offered by Lavish the Band. Some persons got their costumes (don't get me wrong) but it was by principle and having dealt with really poor customer service  personally that I decided not to play the "last minute cat and mouse" game of waiting on a costume and asked for a full refund. But hey…everything happens for a reason.
So instead of hitting the road after J'ouvert, we opted for a chill beach day at one of the most gorgeous beaches I've ever seen in the Caribbean. Grand Anse Beach.
I honestly think the mix of the green plush hills with the pastel colored houses smack dab on a canvas of blue skies and white clouds make this beach so instagrammable…
Plus it is the epitome of relaxation. And there's food nearby… we ate at both Umbrellas and this really quaint beachside spot called Cummin Up Caribbean (they run on island time though just FYI so jump in the water while you wait on your food).
Carnival Tuesday
While still reeling in disappointment from the costume debacle, my friend and my heart basically talked my brain into going out for Carnival Tuesday. Really though, how was I going to go all the way to Grenada and miss the actual pretty mas? What kind of carnival junkie would I be? *cues Trouble In the Morning*
While I wanted the costume and grandeur of being a masquerader, I still had a pretty decent experience following the bands  and listening to the music. The locals are very friendly and very accommodating and it reminded me a bit of home (The Bahamas). I would definitely play mas again however with a more seasoned and experienced carnival band. If you're planning Spice Mas 2020, definitely ask others who have been or if you know people that are familiar with the Spice Mas scene- I'm sure they can point you in the right direction. Plus Cinelli did a great VLOG on Pretty Mas here.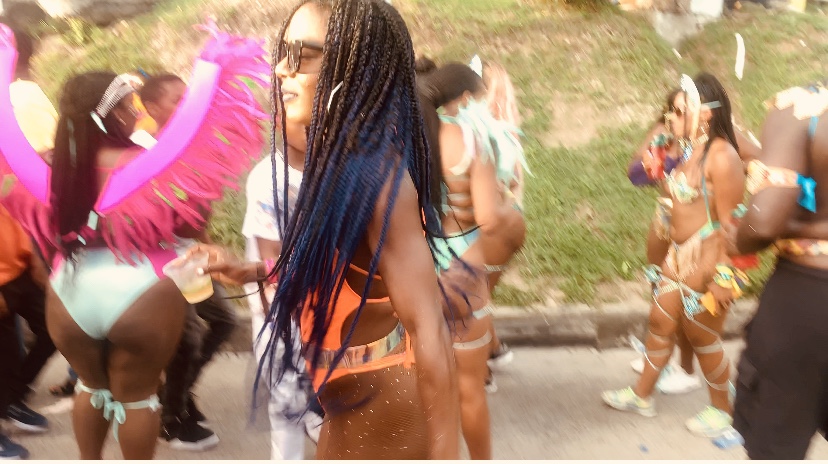 PLANNING SPICE MAS 2020
Now here's what most people want to know…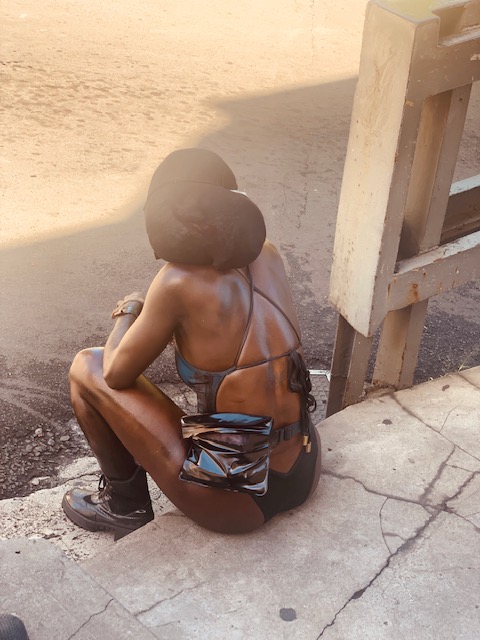 HOW MUCH?
Flight
Right now, flights are on average about $800+ RT (from South Florida) and can get pretty expensive if not secured early. So start looking NOW.
Accommodation
The Airbnb that I booked was a lot more inexpensive ($255.04 for 5 nights) than the two hotels that were almost $1000+ for the same period of time. Although I would have preferred to stay on the beach, but booking Airbnb's in Grenada are very reasonable (starting at about $60 a night). For a week's stay in a hotel you're looking at a range of $700 -$2000+ dollars depending on the hotel you are looking at while planning Spice Mas 2020.
Costume
My costume that I was refunded for was a total of $500 USD. Costumes can range from about $400 and up depending on your preference (i.e. feathers, frontline/backline).
J'ouvert
J'ouvert is FREE. Budget about $40 to $50 dollars for a Jab helmet.
Fetes/Events
Now I was always told that fetes were inexpensive in Grenada but this year I had sticker shock. A lot of the fetes were reminiscent of Trinidad prices so I opted for more inexpensive options. For instance Biggest White was $30+. So it depends on you what fetes you would like to do. I'd say start with a budget of $300 dollars to cover basic fetes, midnight mas band etc.
Transport
Taxis were efficient in my mind. We encountered a reputable taxi service called Ace Ventura Taxi based around the corner from us. They actually even had Wifi in the vans and took debit/credit cards and also ran tours. We ended up spending altogether $150 per person (for the entire trip) but I did find the rate a bit expensive for the duration of the drive. An airport drive was 10 minutes for $20-25 dollars one way. Nonetheless, better safe than sorry. I would budget about $300 but traveling in large groups makes a difference as well cost -wise.
Overall Budget
I would say a good starting point, minimum budget for planning Spice Mas 2020 is $2500 dollars.
Other than that, all I can say is Spice Mas is a MUST for any carnival-goer. The Jab will definitely see me again sometime soon!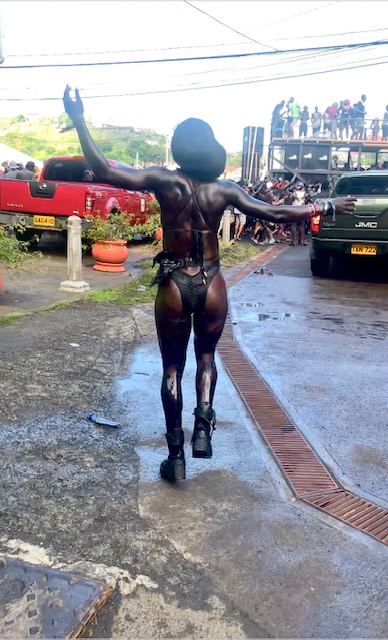 Til next time,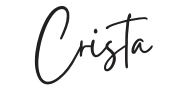 grenada carnival 2020
grenada history jab
jab jab grenada
jab jab grenada 2020
jab jab meaning
oil festival grenada
planning grenada carnival
planning spice mas
planning spice mas 2020
spice mas 2019
spice mas carnival 2019
spice mas carnival review