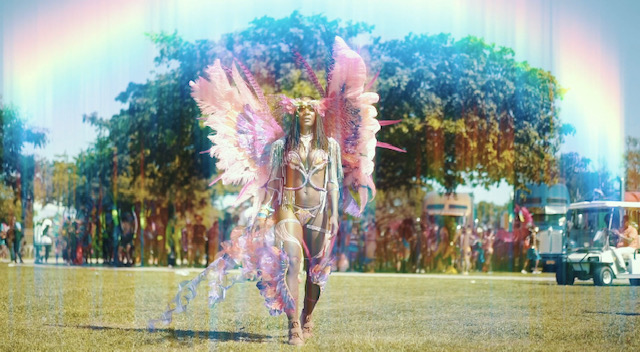 Revel Nation Carnival has been my choice for Miami Carnival for the past 5 years (with the exception of one year and I came back running). The band has solidified its' position as one of the most responsible, most organized mas bands for Miami Carnival and carnival as a whole(in my opinion)…here's why.
Registration
One word. Seamless. I was able to register via a Revel Nation associate and they sent everything over to me via email. I registered for Phantom Flora section leader. I had almost registered for Dahlia Whimsy; sent in all my sizes/options and everything only to change my mind last minute (ha!) and they were still able to accommodate me.
Costume
Every year I have an ongoing battle of "which Revel Nation costume to choose???"
The theme this year was Revel's Labyrinth; so naturally a lot of gorgeous mystical, beautiful fairy-like and ethereal costumes. This year a lot of the sections called my name but I ended up choosing (at the very last minute) Phantom Flora. I had fears that it was A LOT of costume and because my frame is petite that it would swallow me up but I was far from wrong…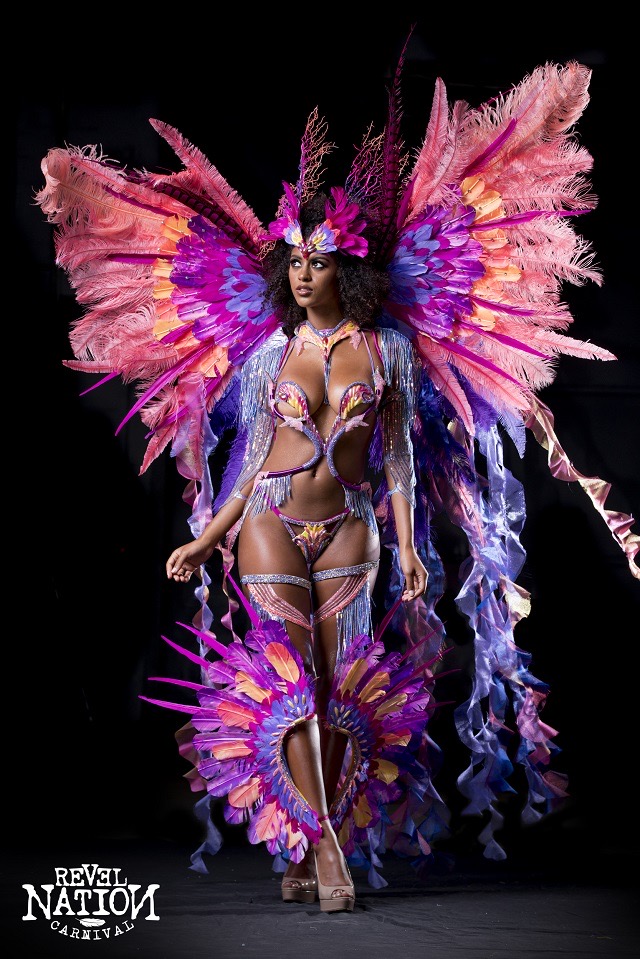 Pick Up
Location (for me) was a lot more convenient for pick up. It was much closer to my home and the timing was great for the day. The customer service at Revel Nation Carnival is completely professional; they take their time explaining your order and the process. It was literally no more than 10-15 minutes wait to talk to an associate and even before then there were two guys handing out forms and making sure people were signed in.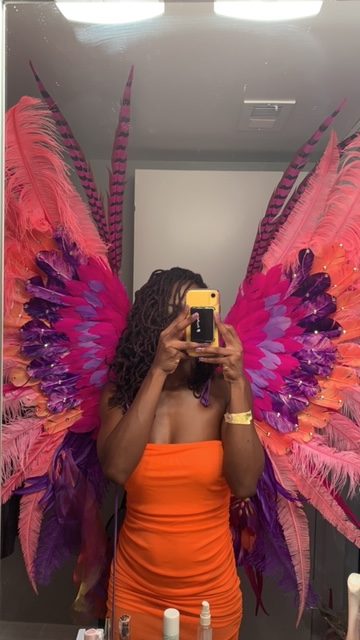 When I walked into the distribution area, they firstly had me sign a waiver. Then I sat down and waited until I was called. They went over my order and what was included and gave me the necessary information for the road (time to meet the band, what wristbands to wear, Jou'vert package etc.). I was then directed to another room to pick up my costume where they laid out all my items and explained each article of the costume. I fell in love all over again and knew I had picked the right costume for me – Phantom Flora. The feathered backpack was light, the leg pieces/shoulder pieces and wire bra all fit and came together perfectly.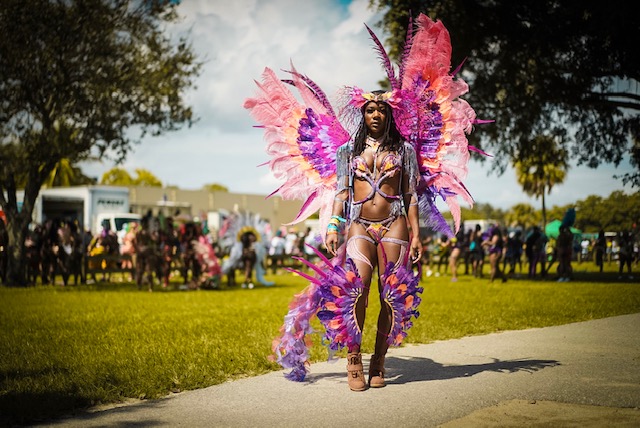 Meeting the band was no problem; we got there sometime between 12pm and 1pm and people were still filing into the fairgrounds. The big Revel Nation truck was clearly visible amongst the other carnival bands so there was literally minimal confusion on where the band started.
After some quick pictures and video, I headed over to the snack truck where they had snacks available for all dietary needs. I ended up grabbing veggie/beef/chicken patties and then headed to the bar where I started with Malibu/Orange Juice/Ginger Ale.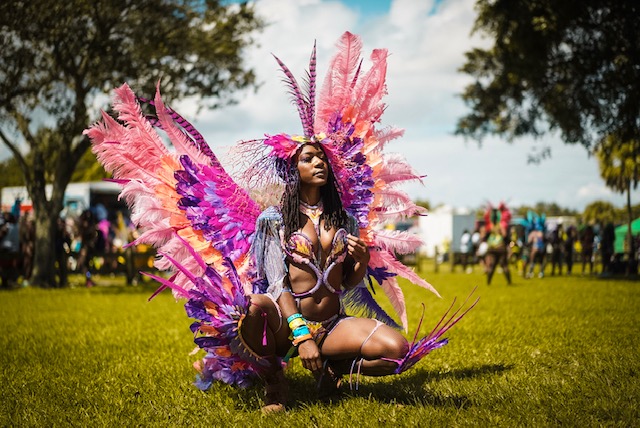 Music/Performances
So the DJ line up included Aaron Fingal, D'Bandit, Dr. Esan, Private Ryan and Cool Blaze.  Now before anyone comes for me- DISCLAIMER: I am looking for a variety of music from islands like St. Lucia, Grenada, Dominica, Antigua, Barbados, Trinidad etc. I don't want to hear the same songs I heard in Trinidad Carnival although I know I will but I feel like 2019 soca music is so varied that I should be able to hear a little bit from each island.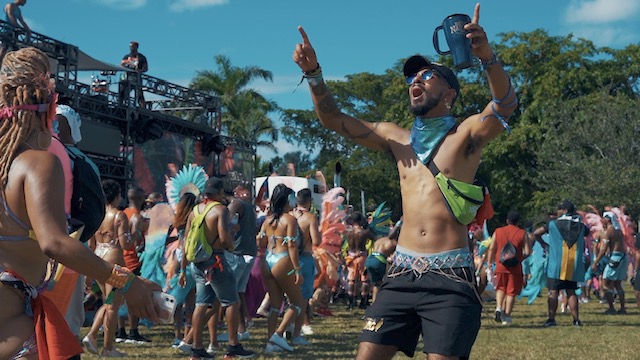 The road started off really amazing going into the gate, I heard a few small island tunes mixed with the bigger island hits and everyone wherever I looked in the band was dancing and enjoying it. Aaron Fingal is definitely a hype man just FYI. Trini Souljah added a nice rhythmic element with the drums/riddim section. There were a few points during the day that the music got a little repetitive but then it would spike again. I do remember losing my mind to Pandemonium, Nasty Up – definitely one of the highlights before crossing the stage. Shenseea performed as well and as much as I love her as a performer, I felt like it brought the vibes to a bit of a standstill (but I typically don't like performances so it could have just been me). Skinny Fabolous and Trini Souljah definitely amped up the crowd as the sun set and as we made our way to cross the stage.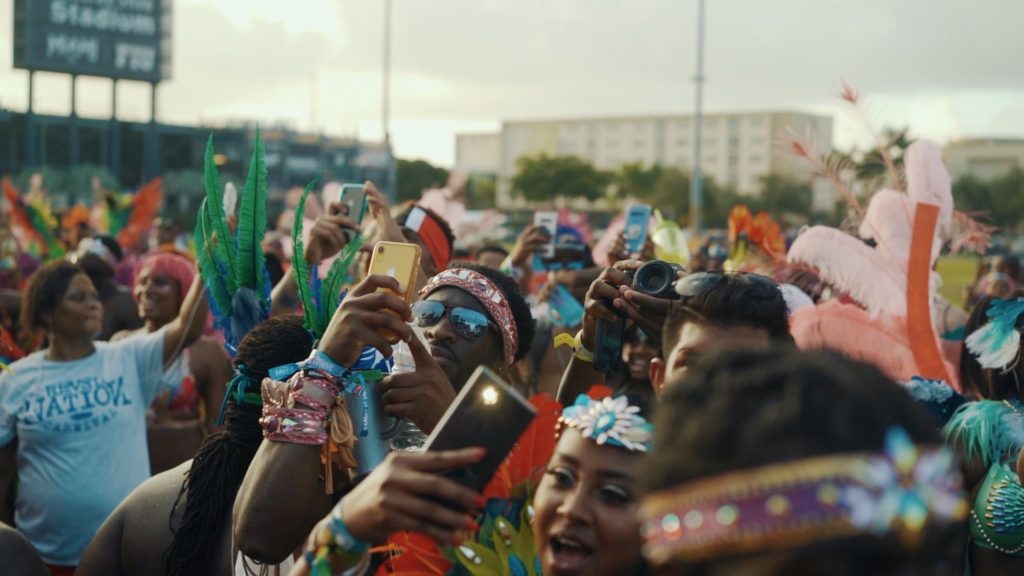 There was definitely a good mix of music from afrobeats to soca to dancehall played throughout the day and another highlight was being able to cross the stage to Nasty Up/Crazy Ppl. Revel Nation Carnival is definitely a stage band and everyone comes alive, I literally stayed to watch every section pass because the vibe at the end of the night was up up up…
For those asking about how my costume held up; it did pretty well except for my feathered leg pieces. I kept on my feathered backpack all day but it is still in one piece (thank God!).
Food/Drinks
Drinks and bar service varied throughout the day. Initially there was minimal to no wait before moving on to the route but once people started to make their way to the band, the wait got longer. I want to say I had a total of about 6-7 drinks for the entirety of the parade. I started off with Malibu, then asked for Hennessy but apparently they didn't have any. The band was sponsored by Smirnoff/Red Bull and came up with a cute menu with specialized drinks that fit the name of each section so ended up drinking that.
I got food before crossing the stage and had bbq chicken and rice which was adequate. No complaints there.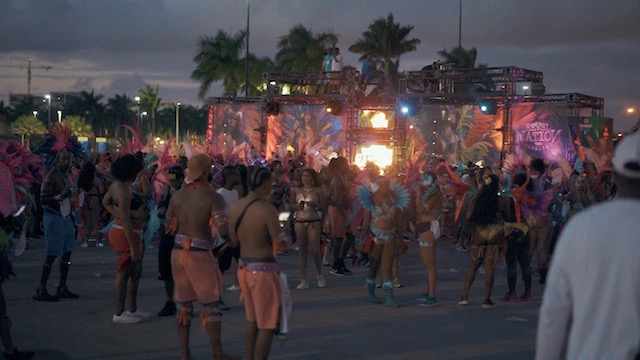 Vibes 
Ya'll already know my motto, vibes are relative. What may be an awesome time for one person may not be for another and it all depends on outlook/perspective, experience, your crew or even if you're having a great day or not. Soooo many variables…
This year was definitely better than last year vibes-wise (although it still cannot top my first year with Revel ha!) – it was still a really good year for Revel Nation Carnival overall (from my perspective, others may vary). Check out the video below here. (edited and shot by I Focus Visuals 
Why Revel Nation Carnival?
For me, I honestly stick to Revel Nation because of their professionalism, great costumes and customer service. I've played with multiple bands over the years for Miami Carnival, left and come back and have not been disappointed. I choose Revel Nation Carnival, because (for me) it feels like a family. They actually care about the carnival product and are very open to feedback and make tangible changes to the product to satisfy their customer.
With the climate of new bands popping up here and there on the carnival scene and with customers spending their money and often not receiving costumes or having their whole carnival experiences ruined due to bad business – Revel Nation Carnival continues to be in a league of its own and thankfully a breath of fresh air in terms of producing a great carnival product.
They take pride in their brand and creating a great carnival experience for masqueraders and this is why I stan. If you want to know if I'll play with them next year – my answer without a shadow of a doubt would be YES!
More Reviews (because my opinion isn't the only one that matters)
"Officially a fan of Revel Nation. REVEL FOR DE ROAD!! After some interesting carnival experiences this year I am beyond ecstatic about Revel's presentation of Labyrinth. Everything about this band is flawless and professional. The costume collection process was seamless- literally walked in and out with little to no wait time; the drinks, snacks and food overflowed; and the road was pure VIBES. More than happy to say Revel exceeded my expectations and lived up to and beyond the reviews I've heard from carnival feterans. I'd gladly play mas with Revel again at any point." –The Last Mermaid
"I hadn't played mas in Miami since 2017 and I am glad I came back with with Revel Nation Carnival this year. My experience with Revel Nation Carnival was just amazing.
A friend of mine was playing with Revel Nation for the first time this year and convinced me and my friends to play with her.
Presentation/launch: A+ costumes were beautiful
Website: B; the website should be live soon after the launch, masqueraders want to see details of the costumes
More pics of the options are needed (FL vs BL and back shots)
Online registration: A+, no issues
Communication via email and social media: A+
Assistance: A++, wether it was online, on the phone or in person at pick up, someone was ALWAYS available to answer questions nd most importantly to find a solution.
Pick-up: A++, 5 costumes were picked up in 15 minutes, people were so nice and friendly, exchanged bikini sizes without any issues, vibes were nice. I was impressed by the color coded organization for each section.
Costumes: A+++, BEAUTIFUL AND HIGH QUALITY!
Road: A++, people looked beautiful, vibes were on point, drinks, snacks and food were readily available and the music was excellent.
Overall, I had an amazing experience with Revel Nation, it has been my best experience in Miami so far (I have been playing mas around the world since 2009) and will play with them next year without any hesitation." – @valleyne
"This year was my first time playing with Revel Nation and I must say
that they really aim to give masqueraders a top-tier and high quality
experience from the band-launch to the road. I was captivated by their
costumes from the time they were released and after hearing more about
the band itself, I was convinced that Revel was the band that me and my
friends would play with this year. I was very impressed with their
distribution, it was easy, quick, and seamless. I was in and out. I got
there early so I walked in, filled out the paper work, paid my balance,
and got my costume. Nothing more, nothing less. Speaking of my costume,
this is my favorite costume I've ever had. I played in Diprocta and even
after the road my entire costume remained intact. That is a FIRST for
me.
On the road, I loved that they had sooooo many snack options. The fish
cakes and veggie patty I got were bomb! The road overall was good. I
would say that there were highs and lows on the road but the highs were
high af! Overall I had a great time, no complaints and I would
definitely play with them again." –@tjwashere_
"After years of storming, I've decided to give Revel Nation a try.
Being extra particular about my costume, I had several questions and every question was answered in a timely manner, professionally. In addition to communication, registration was seamless! Very organized and they went over every piece and made sure you were satisfied before leaving.
I played with them for jouvert and carnival. As I reached the band jouvert morning, I waited in line for breakfast (coating my stomach before drinking is a must) but they ran out of breakfast. So I found a vendor, bought breakfast and kept it moving. The wait at the drink truck ended up being alot longer than expected. As the day went on, the vibes were just lacking and I realized ppl were more so standing and chipping. Later on in the day they served lunch, which again ran out before I got any. So after having to buy my own breakfast, lunch and barely getting drinks, I wondered if playing with the band was even worth it.
I decided to sleep in on carnival day and met the band around 3pm. At that point the vibes were in full swing. However they ran out of Hennessy, then shortly after, ran out of all rum. The drink menu based on the sections were cute but I wish they had more options for non vodka drinkers. The costumes were beautiful and held up all day. After maneuvering through the crowds to pass through the narrow gates, I was impressed to see all backpacks still in tact.
I heard they had snacks but I honestly forgot about my belly (that shows the level of fun I was having) until it was time to cross the stage. At that time, I ate a decent sized portion.
Overall, Revel was a good band but the lack of drinks made it uncertain if I'll return." -anonymous
"I wanted to share my experience with revel nation.
After playing mas for second time in 2019 I want to say a huge congratulations and thank you to the whole team.
This is one of the best band I played with, my friend and I had a great time last year(2018) on the road, so we decided to do it again and clearly everything was on point.
Costume collection, organisation, guide, food, vibe, music and beautiful women.
I definitely recommend revel nation
Thank you 🙏🏾." -M. Doucoure
"Distribution – The location was perfect for distribution for all of us who opted to have the Dutty Revel and Revel Nation experience… we were able to collect both packages at the same place. There were a lot of people there when I arrived but the organization and flow were great. 
Road Experience – I have played mas in Miami for 10 years and each one is actually different. This was my first year with Revel Nation and I can say they didn't disappoint. The women of Revel Nation are beautiful and bountiful and the furthest thing from stush. It was extremely easy to steal a wine and equally as easy to get a drink. The only thing is they have not yet mastered how to serve a drink while the truck is moving. I have gotten drinks from a moving truck in Miami before so this was weird to me. The DJ line up was great. Dr. Esan had small island sessions which is a huge plus as the music is hardly played enough. 
I was with Experience Nyrvana section/Celestials and the energy to cross the stage was second to none. The vibes were crazy and hearing Nasty Up as crossed only increased the energy. This was my 10 year anniversary in Miami and Revel Nation didn't disappoint." –@dontaetoobusy
More reviews to be added… but in the meantime let me know in the comments how your Miami Carnival experience went. I'm definitely excited for Miami Carnival 2020 and can't wait to see what Revel Nation Carnival has up their sleeve…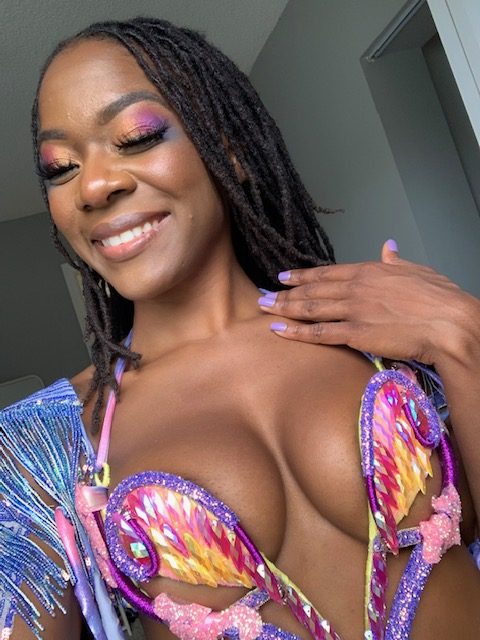 Til next time,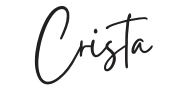 miami revel nation
pros and cons of playing with revel nation carnival.
revel nation carnival band
revel nation carnival miami
revel nation carnival review