You know you make a plan for carnival and sometimes that doesn't go as planned. I had a whole line up of fete wear ideas and outfits for each and every event for Miami Carnival 2019 but unfortunately didn't get to wear them all so…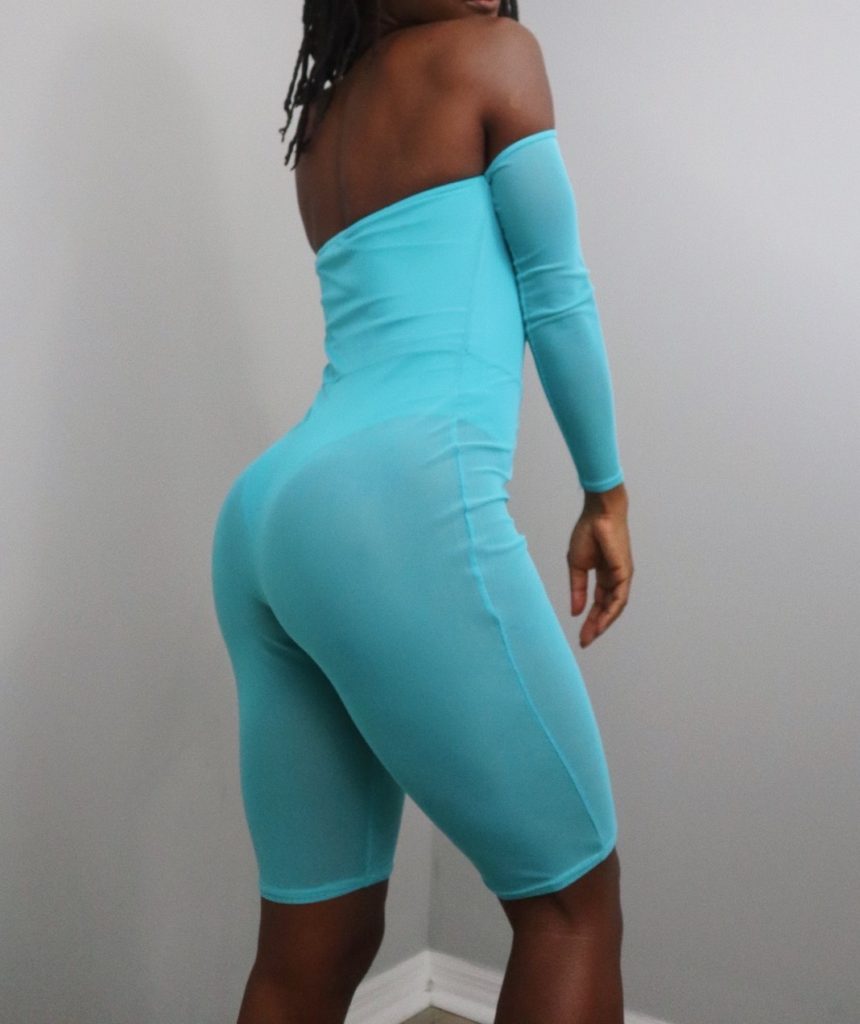 Here's a quick rundown of some of the items I wore to Miami Carnival 2019 (all items sponsored by Femme Luxe Finery but all opinions are my own). Hopefully this blog post can give you some fete wear ideas for your next carnival or event.
I'm usually not a "wear a dress" person to a fete because well fear of slippage of unmentionables but this dress was absolutely doable because of the bodysuit underneath the neon mesh so I wore this to both Duck Work and Big Phat Block Party.  It was super comfy and survived the washing machine so very happy about that. Also… Y'ALL it glows in the dark (video coming soon).  Find this strapless sheer neon dress HERE. The whole party dress collection is fire. It was definitely functional with my favorite orange heels and it was nice to have a sexy change of pace in terms of fete wear outfits and ideas. Places you can wear this to would depend on you but I would switch out the heels for sandals and wear to a beach party or a cooler fete or even out on a Friday night.
Then on Saturday for Scorch + Spice cooler fete, I wore (the color of the year) a neon green set that was super sexy. I got a lot of compliments on it so definitely wearing it again at some point in the future (neons seem to be unmovable at this point lol). I loved how it made me feel- the only thing was I had to wear super high heels because the pant legs are so looooooong and I didn't have time to get them hemmed. Find this neon front tie set HERE.
I washed it and I think I got some oil on it from my hair but against my skin I couldn't tell a difference. The only probable issue I had wit fitting my shoulders but according to the site it can also be worn off the shoulder. This set is a showstopper in truth though. Definitely have to start going out more so I can wear this again.
The other fete wear ideas I'm posting, I unfortunately didn't get to wear because time was surely of the essence but here they are and I'll provide some tips of where I could probably would wear them (coming to a timeline near you- make sure to follow me @bahamianista on IG for the posts, k.)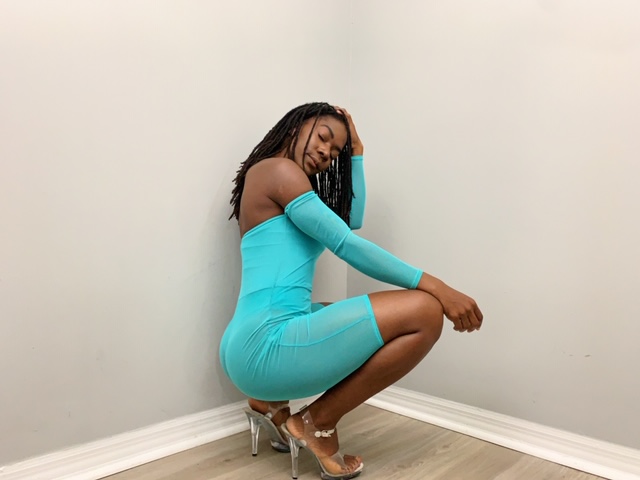 I had to "Meg The Stallion" this to see if it would hold up in a fete and it passed :). When I saw this on the Femme Luxe Finery site, I knew I had to have it and I had nothing blue so yeah it was definitely a winner. Sheer long sleeves and a bodysuit underneath give it an elegant sort of sexy. I would wear this to a breakfast party, an all inclusive or drinks inclusive fete. Heck with the right accessories, it may even make New Years. You can find this blue corset mesh playsuit HERE; it also comes pink, white, neon yellow/green and black. It's also on sale for $7 dollars so click the links.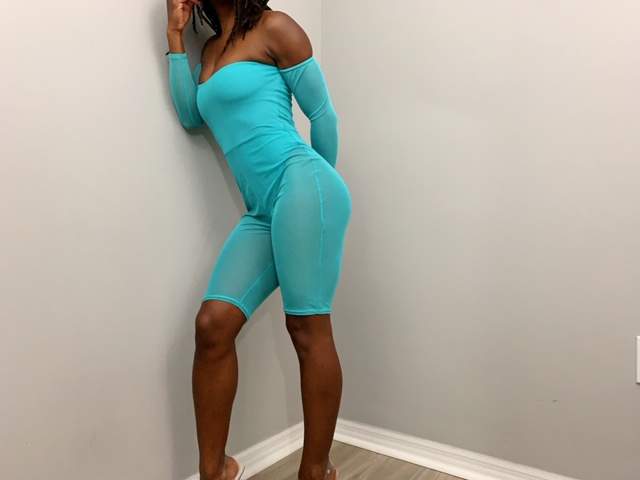 The only con with this suit is that it's a little baggy in the front so I probably should have gone for a different size, however my arms would not be able to fit a smaller size cuz well muscles. *Disclaimer* – I tend to have sizing issues sometimes with clothing because the way my body is proportioned. 
However nonetheless, still a cute pick.
I also got a cute comfy black loungewear set that I wore between fetes. No pics because I was a HOTTY TOTTY MESS. Super comfortable, I'm actually wearing the bottoms right now as I type. The only con was that the top had some pilling after washing but it still in good enough condition to wear around the house and on errands and I would wear it for traveling purposes as well. It comes in a lot of colors and prints so check out the set HERE.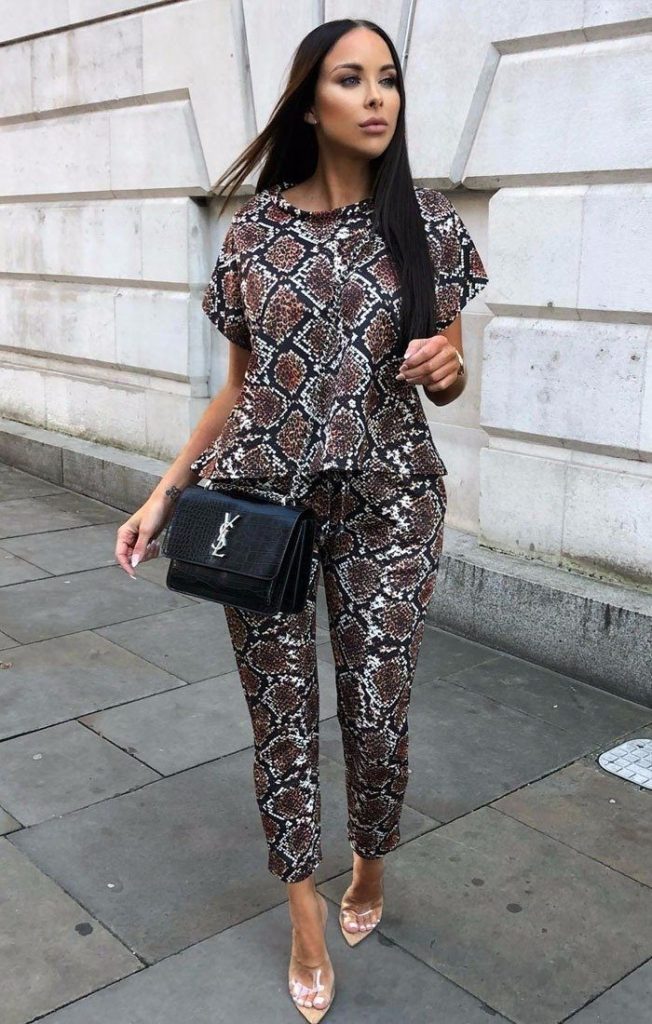 I won't lie, I love doing these posts. Comment below if you want to see more style and definitely follow me on the gram, @bahamianista.
More life,
Cris
Til next time,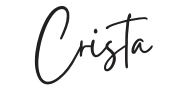 femme luxe finery review
fete wear
fete wear ideas
miami carnival wear
what to wear to a caribbean party