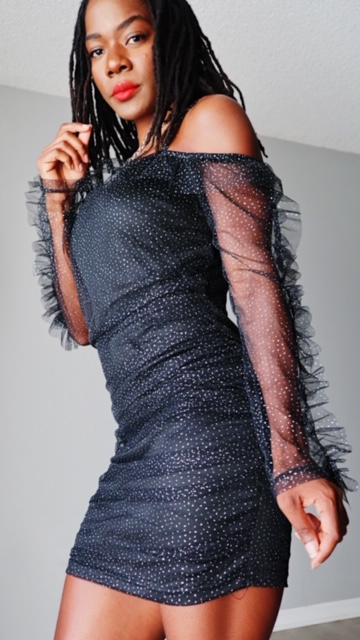 So carnival is on a bit of a pause since the holidays are basically "tomorrow", here are 4 holiday party dresses you can wear to a holiday fete/party. Fellas, you can definitely get some gift ideas for your lady friends out of this post so read on…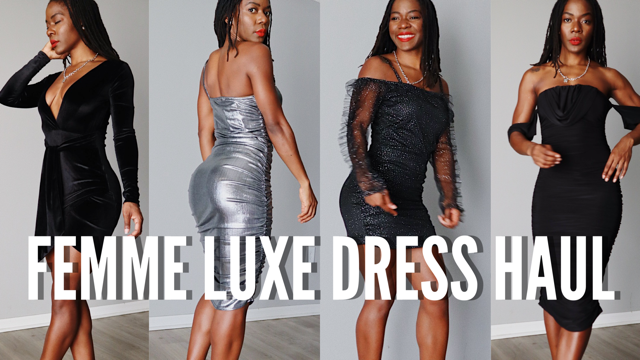 Femme Luxe Finery gifted me four lovely Femme Luxe holiday party dresses to get Thanksgiving, Christmas and New Years ready! Keep in mind these holiday party dresses are multi purpose so you can wear them to dinner, to family gatherings and to a fete. Plus they are all around that $20-$30 dollar price range, so not expensive at all especially during gift-giving seasons. Now that's what I call a gift!
*For reference I am a size extra small or small but in UK sizing I wear size 6 and all of these dresses are a size 6 in UK sizing for anyone who was wondering.*
Dress 1: VIOLA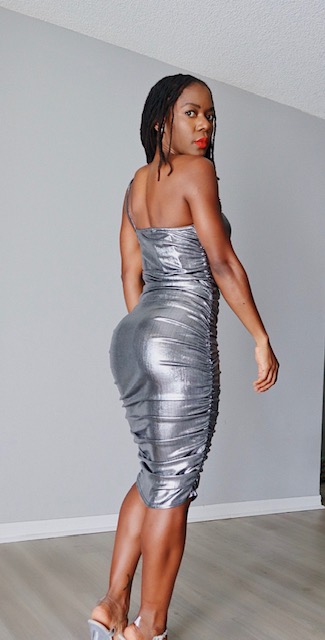 Viola, Viola…. is a super sleek shimmery holiday party dress that can definitely go for Christmas and New Years. I think once you're shining in some sort of shape, form or fashion for New Years, you definitely get into that New Years-y sparkly mood and you're ready to start the new year beautifully and confidently with a shiny new mindset. This dress is superrrr comfy, stretchy and has a one shoulder strap detail for extra sex appeal. I can definitely see myself toasting and counting down to the New Year at a rooftop party or dinner with the right shoes and bag.
Dress 2: MADISON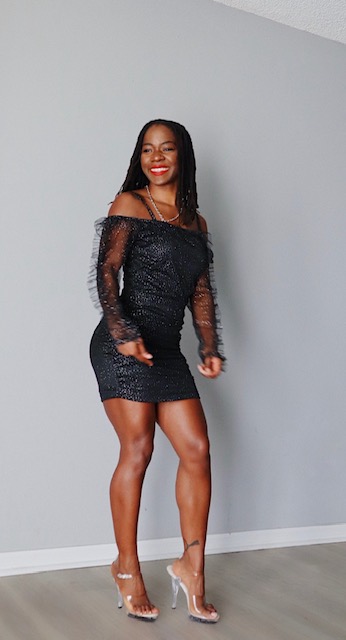 Gosh, I love this dress. Seriously. The sheer sparkly sleeves and the ruffle accents with the combination of it being a mini dress – def top 2 of 4! Its super cute but also sophisticated and the mini gives it an extra "oomph" for the holidays. The glitter definitely shedded on my skin but I don't mind a little extra bit of sparkle especially for the hap-happiest season of alllllll. I foresee this being a work holiday party dress or something to wear around the family with some cute stockings, boots, flats. It is definitely family and work appropriate (I think) but still fun and festive for the holidays.
MALIA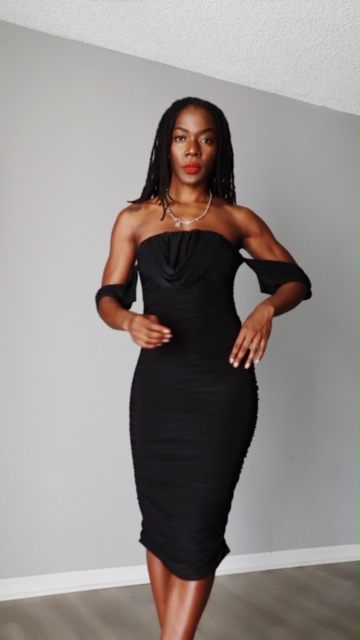 I definitely thought Obama when I read the name of this dress and especially after trying it on. I mean, who wouldn't? It is form-fitting elegance and midi dress style so definitely my first choice for the more dressed up fetes, holiday parties. With the right accessories and shoes (I'm thinking pearls and a red lippie) – a sure win for a New Years gala or ball and it comes in a ton of other colors. Somebody just needs to invite me to a fancy holiday party so I can get my presidential, first lady vibe, Obama, Jackie-O on. The off the shoulder sleeves were perfect because sometimes the fit around my shoulders can make a dress a hit or a miss for me but definitely not an issue with this dress.
MEESHA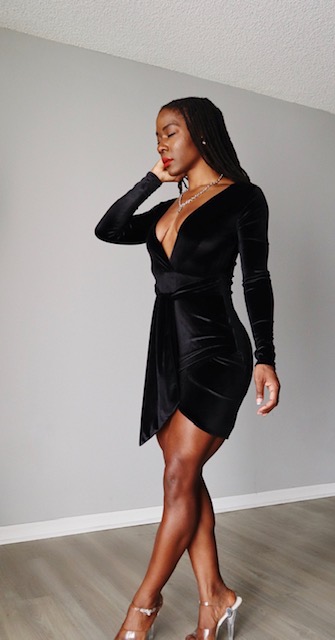 Anyone else start reciting Ja Rule lyrics after reading the name of this dress? "Dawn LeShaun, Ines and Alicia…about three Kims, Latoya and Tina"
Haha ok just me! (Meesha's not even in the lyrics if you were wondering lol)
Meesha is my faveeeeeee holiday party dress look though. Out of all 4 of these holiday party dresses, I love this one the MOST. The velvety soft fabric and long sleeves make me feel luxurious and ready for a New Years date or dinner ;). I was a little bit nervous about the deep v neck and minimal boob support but it fit perfectly and the belt is not detachable but perfect for my ladies who love to get down low on the dancefloor to block the unmentionables from public viewing. Ha!
ALSO because, I love love loveeeee watching hauls. Here's a YouTube video on all these dresses that show you the movement, style and functionality. Press play below. SUBSCRIBEEEE to my Youtube Channel!
Let me know in the comments below what you think of the holiday party dresses and where you would wear them. Also which is your favorite? And don't forget to follow me on Instagram to see the repeat occurrences of these holiday party dresses.
Anywhoo….happy holidays and happy shopping.
Much love,
Cris.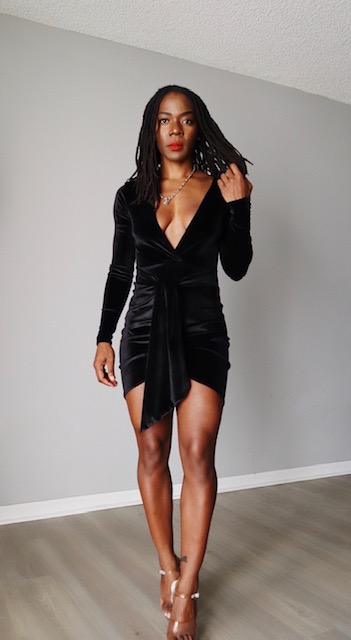 Til next time,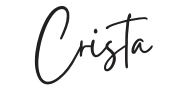 christmas dresses 2019
femme luxe dresses
femme luxe finery dress hauls
femme luxe finery reviews
holiday dresses 2019
new years dresses 2020