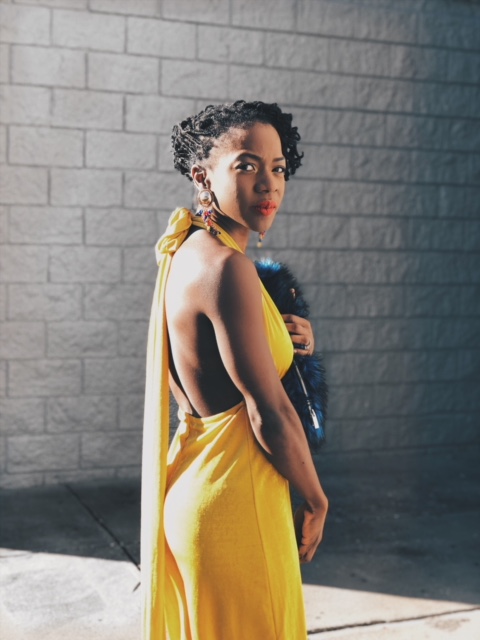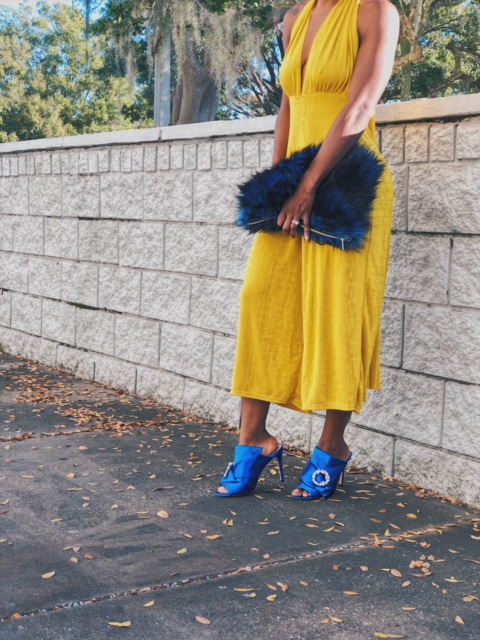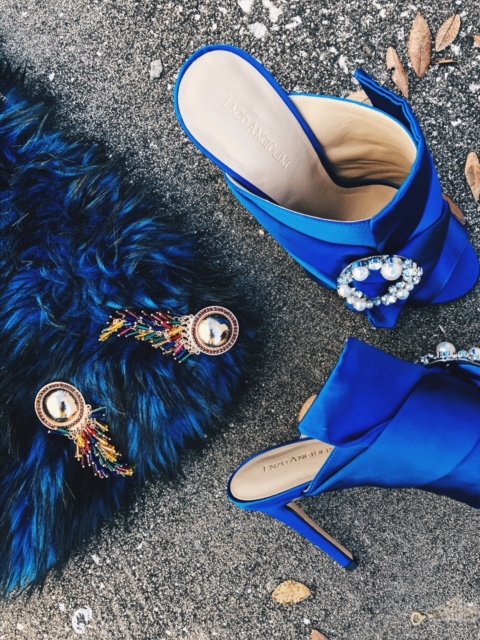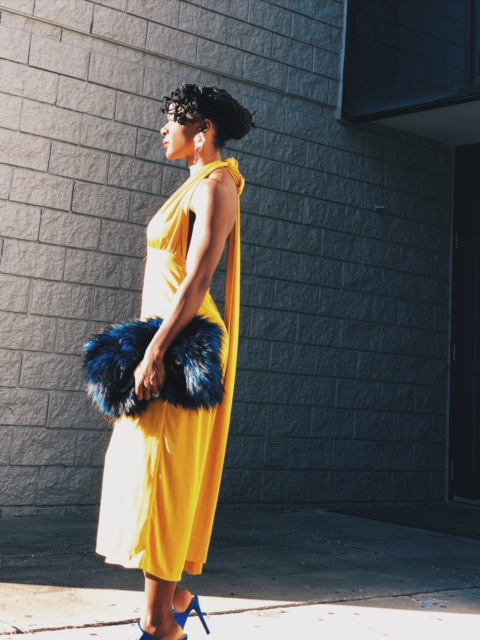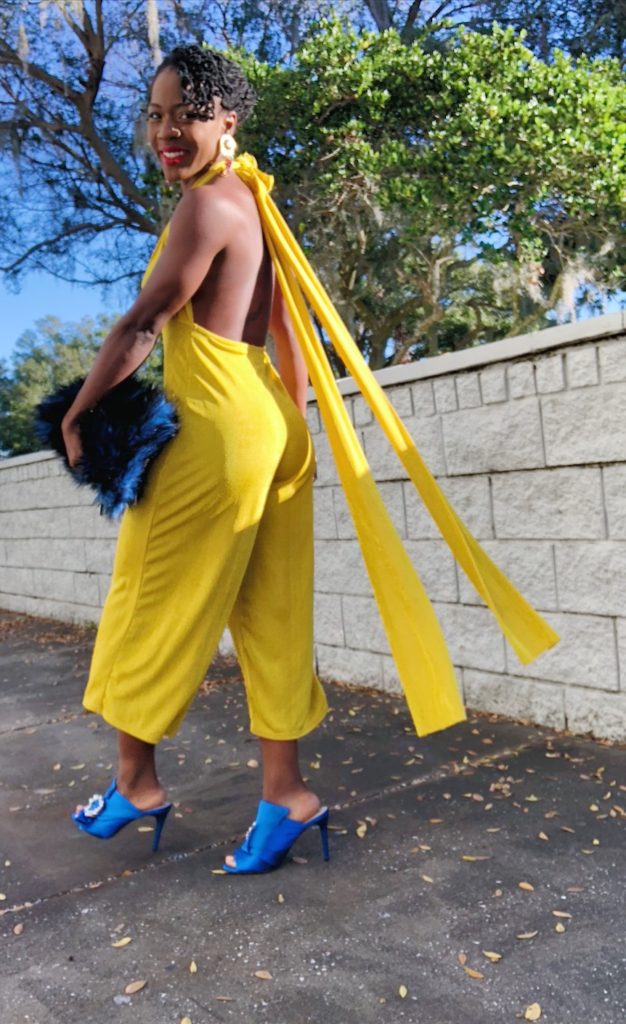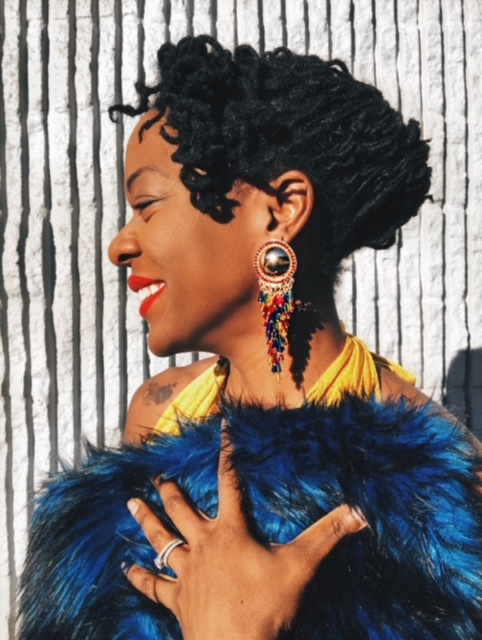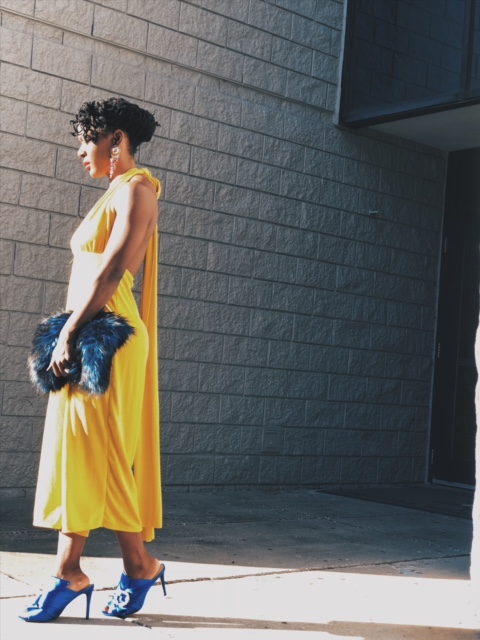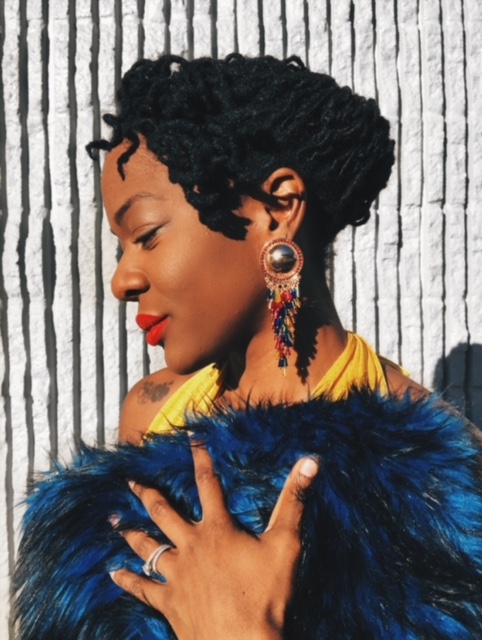 Velvet Jumpsuit | NastyGal | find it here.
Heels | DSW | find it here.
Bag | She The Collection | find it here.
Earrings | Zara | find it here.
Happy New Year! So this velvet jumpsuit was a must because I was determined to come out of my "home-body" ways and get out into the world some more. Then, my actual blog wasn't cooperating so I stayed in the entire New Year's night making sure it was up and running for 2018.  *womp womp* I had actually made concrete plans until the universe conspired against me and I had to nurse my baby (aka blog) back to life –but it is what it is. So one of my New Years resolutions is definitely, DEFINITELY getting out of the house more.
So, I don't know about you but I like to dress the way I feel and this velvet jumpsuit was giving me Caribbean 70's  culottes vibes.  Plus, I wanted to feel bold, different, unpredictable so I opted for less shine, more color, more texture with a little sparkle in these DSW blue satin sandals. This  yellow velvet jumpsuit from Nasty Gal caught my eye immediately while online shopping and I just couldn't get it out of my head. Then the magic really happened when I won these awesome DSW cobalt blue satin sandals for one of my favorite travel and lifestyle bloggers Simply Cyn. If you aren't following her she is real life, black girl-boss traveling and style inspiration.
To top off the look I added Riri's STUNNA lip paint. This whole look had me feeling like a lesson on primary colors but a lesson you would never forget. 😉 The STUNNA lipstick is BOMB by the way; tried it and reapplied it several times– no crustiness or gooey buildup and it stayed on even though I eat like I have no home training. Grabbed my She The Collection faux fur bag that I've had for a good minute and I love this bag simply because not only is it fashionable, it's cuddly and gives a little bit of warmth if you're trying to look cute on a cold night.
More New Years resolutions:
I really want to do more things besides carnival and fitness.
I'd like to do at least one more bikini fitness show in 2018 before giving it up entirely.
Be closer to my family.
Be more vocal.
Do things even when they scare me.
Be myself unapologetically.
What about you all? What's new for 2018?
Wishing you all a prosperous 2018,
Cris
Til next time,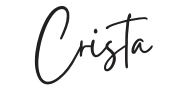 blue satin heels
blue satin heels and velvet jumpsuit
dsw blue heels
dsw blue sandals
dsw blue satin sandals
faux fur bag
faux fur bag ideas
how to wear a velvet jumpsuit
nasty gal velvet jumpsuit
stunna lip paint on dark skin blog review
stunna lip paint review
velvet culottes jumpsuit
velvet jumpsuit
velvet jumpsuit outfit ideas
what to wear with blue satin sandals
what to wear with velvet jumpsuit
where to find faux fur bag
Zara earrings sale
Zara metal earrings