Officially 22 days until I arrive to the beautiful and entertaining city of Miami, FL to partake in their annual carnival! Besides this, I have an itinerary of sightseeing, restaurant-euring lol, and partying that is sure to leave the regular carnival-goer exhausted. Everything is booked for my fun and fabulous four-day weekend…all except my costume. I registered with a local miami band called Mascots International but wanted to put a spin on my costume so I revamped my wire bra from NY carnival into this beautiful creation:
All that took to create this piece:
1. recycled wire frame/bra
2. 1 yard of blue spandex to wrap the wire frame ($9.00 a yard)
3. small hot glue gun and glue sticks (less than $5.00)
4. faux gold/diamond trim to lay on the bra after wrapped ($6.00 a yard)
5. several blue gems (package of 20…less than $5.00)
6. just a little patience
and tada!!! My very first wire bra made by yours truly
I am ready for Bachaanal!!!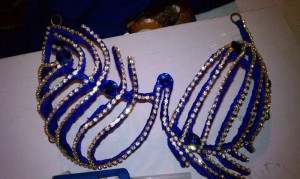 Til next time,