Ok.  Is it just me or does it seem like the world is a little "carnival-crazy"? I'm talking carnival fever in Chicago, the Carolinas extending all the way out to Aruba who's hosting a summer carnival in 2016; in addition to the more celebrated festivals in Trinidad, Barbados, Canada. Feting and reveling is steadily taking over the globe. "I ain't mad"…..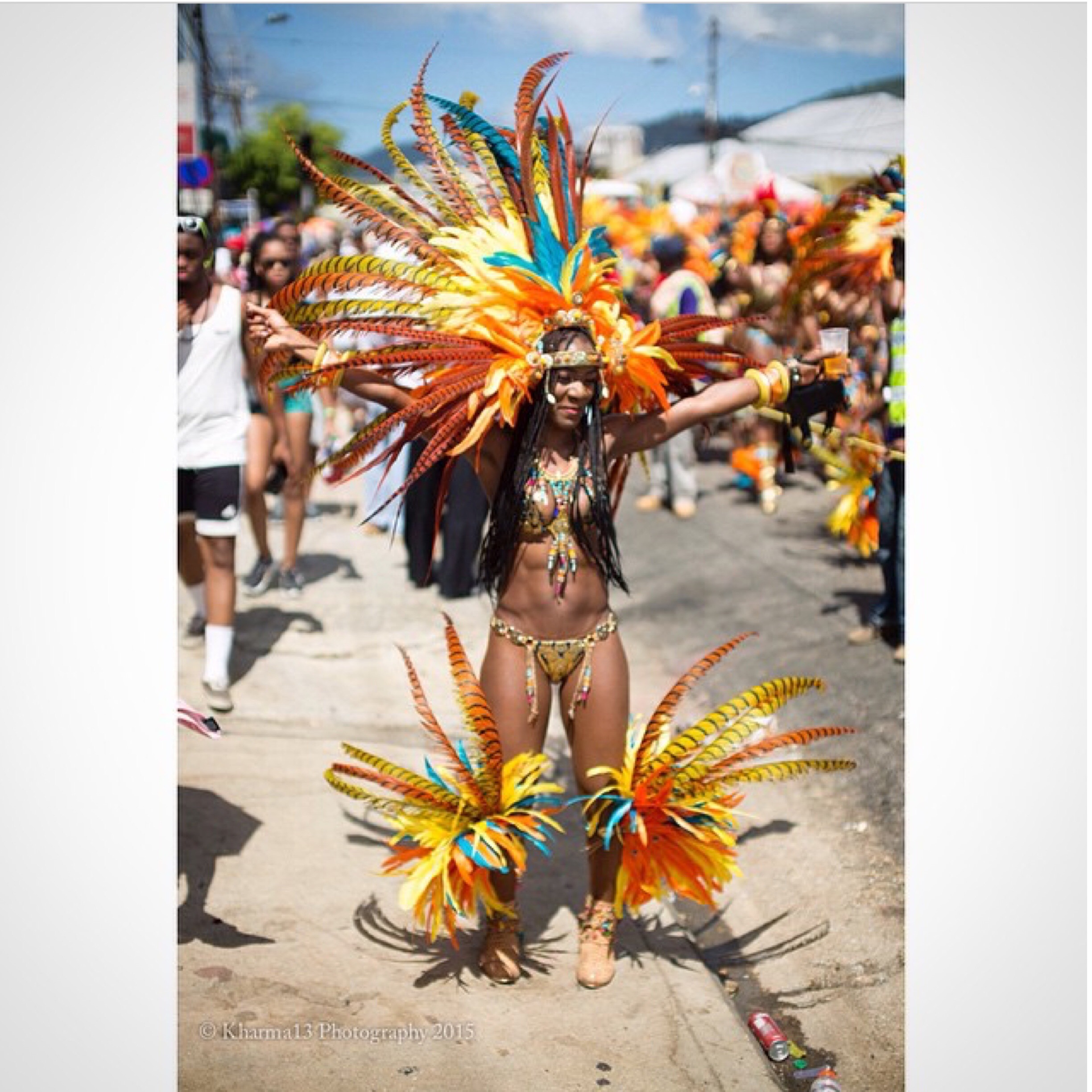 And why would I be?  The euphoria is one that cannot be described by mere words; where else and how else can you attend a festival that celebrates different people, different cultures, erases inhibitions, promotes unity by pulling together the unlikeliest of pairs as well as just ensuring a grand ol' time. Carnival's reach is so potent, extensive, infectious; its influence is quickly spreading even making it's way to my little nation and namesake, the beautiful isles of the Bahamas.
A few years ago, no Bahamian (well maybe the small population of carnival junkies) could have dreamed or fathomed that a carnival could have graced our shores, let a lone our inner city streets. Junkanoo is and was "we tings"; one of a few cultural traditions that we will fiercely protect and defend  to the death. Now for those who don't know; Junkanoo is a festival celebrated in several parts of the Caribbean particularly in the Bahamas that boasts of grand and elaborate street festivals of bands vying for the year's bragging rights; the bigger of the festivals held during the wee hours of the morning on Boxing Day and New Years Day. Historically, Junkanoo is said to have several origins particularly spanning from West African traditions. In the days of slavery where slaves were granted days off during the Christmas holidays, groups took to the streets in a spontaneous showing of indigenous costumes made of sponges, netting, cloth etc. It has then since evolved into a grand parade where groups plan and work throughout the year to compete while depicting a theme  with ornate large-scale costumes, choreographed dancers, free dancers as well as brass bands accompanied by goat skin drums, cowbells.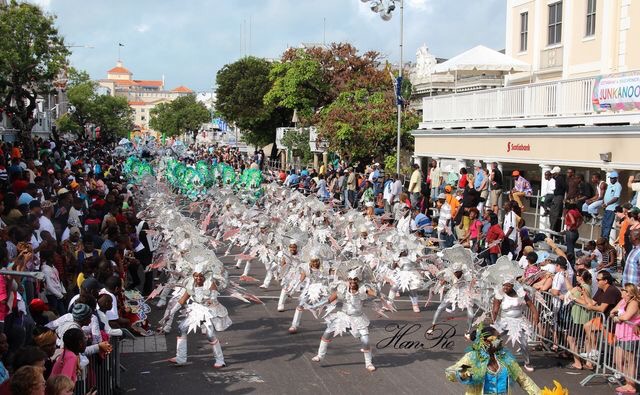 Video Credit: Junkanoo or Nuttin Youtube Channel
But despite the historical prowess, in an attempt to stir the cultural  and more so the socio- economical pot ; the government of the Bahamas invested 9 million dollars into the first inaugural  Bahamas Junkanoo Carnival held May 7-9th, 2015.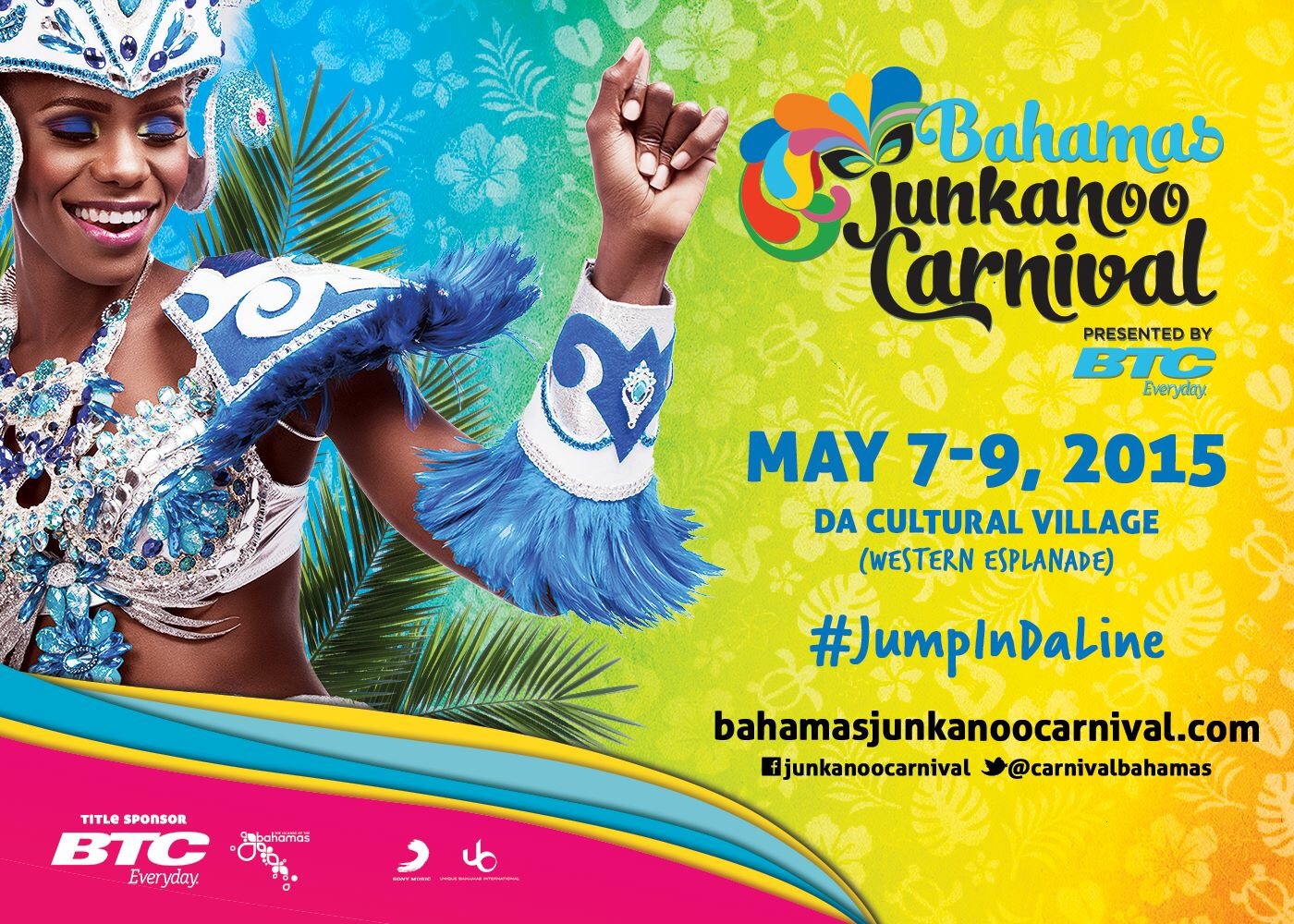 Crystal Strachan, co-contributor for bahamianista.com, entrepreneur and founder of Shop Evolve, seasoned feter and reveler took to the streets of Nassau to "Jump in Da Line" for the first ever Bahamas Junkanoo Carnival.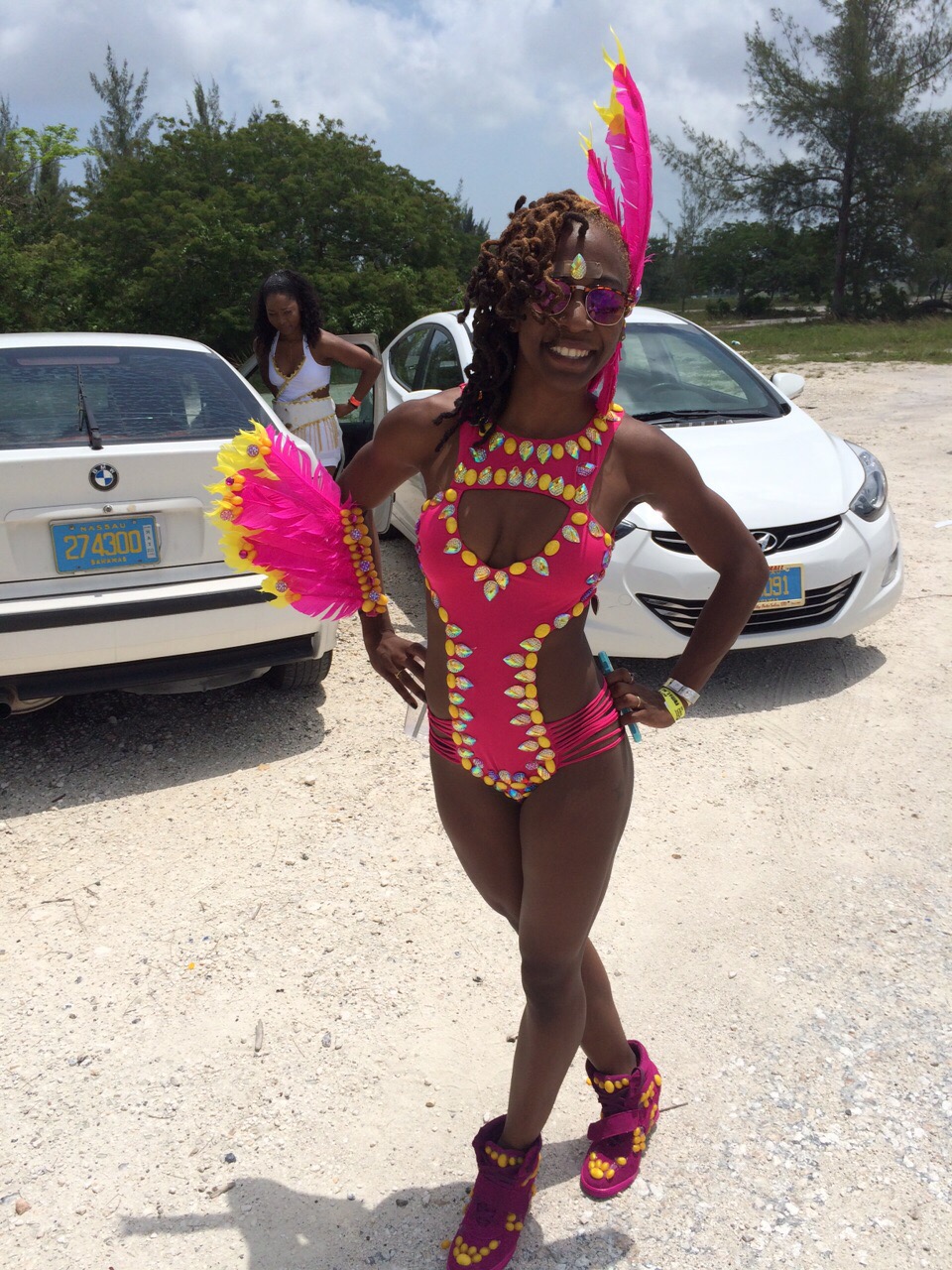 B: Tell us a little about your costume and what inspired it.
My inspiration for my costume/ carnival wear came from looking at pictures of parrotfish. I created a comfy monokini with a bit of scaly sparkle and shine(lol), outlined with yellow and pink iridescent stones and designed my earpiece and hand piece to resemble fins. I'm the type of Masquerader who loves a lightweight easy no fuss costume that I can mash up the road in so I wanted something simple but colorful and easy to move in. It was my first time rocking something made by me and I am ecstatic as to how it came out. I chose pink and yellow to match up with Rhythms Harbor Island section; so I wanted to go along with their theme but still do my own thing.
B: As a carnival junkie and having participated in Junkanoo and international carnivals, what were your thoughts going into this Junkanoo carnival? What would you say makes it unique compared to other carnivals in the Caribbean and around the world?
CS: Because of the fact that it took a part out of Junkanoo and that was instilled in the carnival.  As the carnival came to a close by Western  Esplanade before the judging points, you had tourists on the sidelines, masqueraders from the different bands all just "rushing" in the street–it was just full crowd participation. At the end that was what stood out to me because I've never seen that any other carnival. It made me feel proud; I honestly had goosebumps.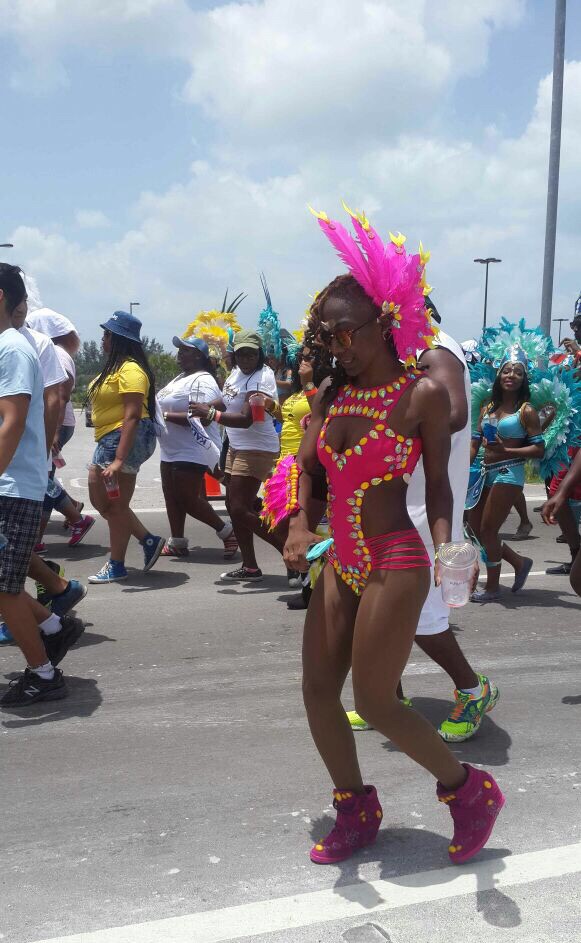 B: Can you explain your experience on the road ? How many bands did you jump up in?
CS: I got to participate in and/or at least see five of the groups along the route.
B: Well, that definitely makes for a unique experience versus being in one band. How did you feel about the different bands–their vibes and energy?  What do you feel each band had to offer specifically?
CS: I initially started out with Rhythms, Sting and Fusion. That particular band I felt was a band where you could completely let loose. You could be completely inhibition free. Everyone was having a good time. You had members pulling spectators from the side of the street to join in. Costume highlight was the beautiful all white Inagua Salt Frontline piece!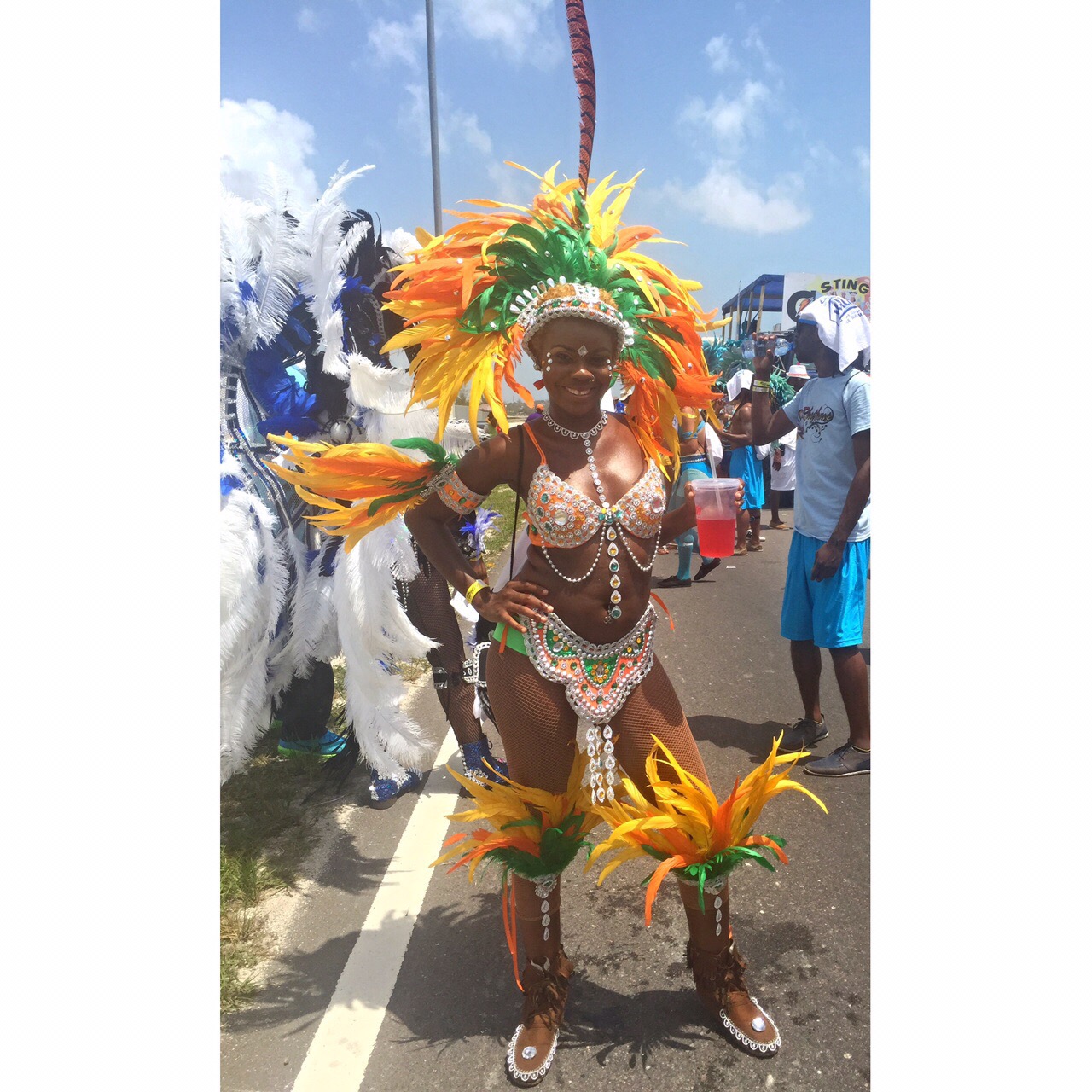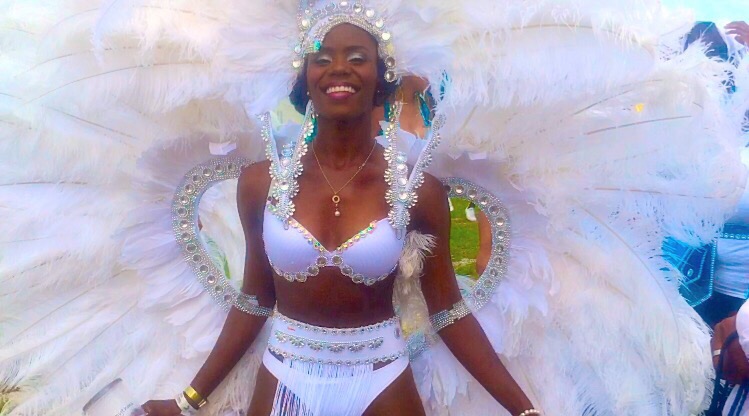 Starz- I literally was pulled into the group to buss ah whine with these bacchanalists. Definitely not shy, they 'BEEN' ready for the road! Costumes were bright and each section had a certain flare!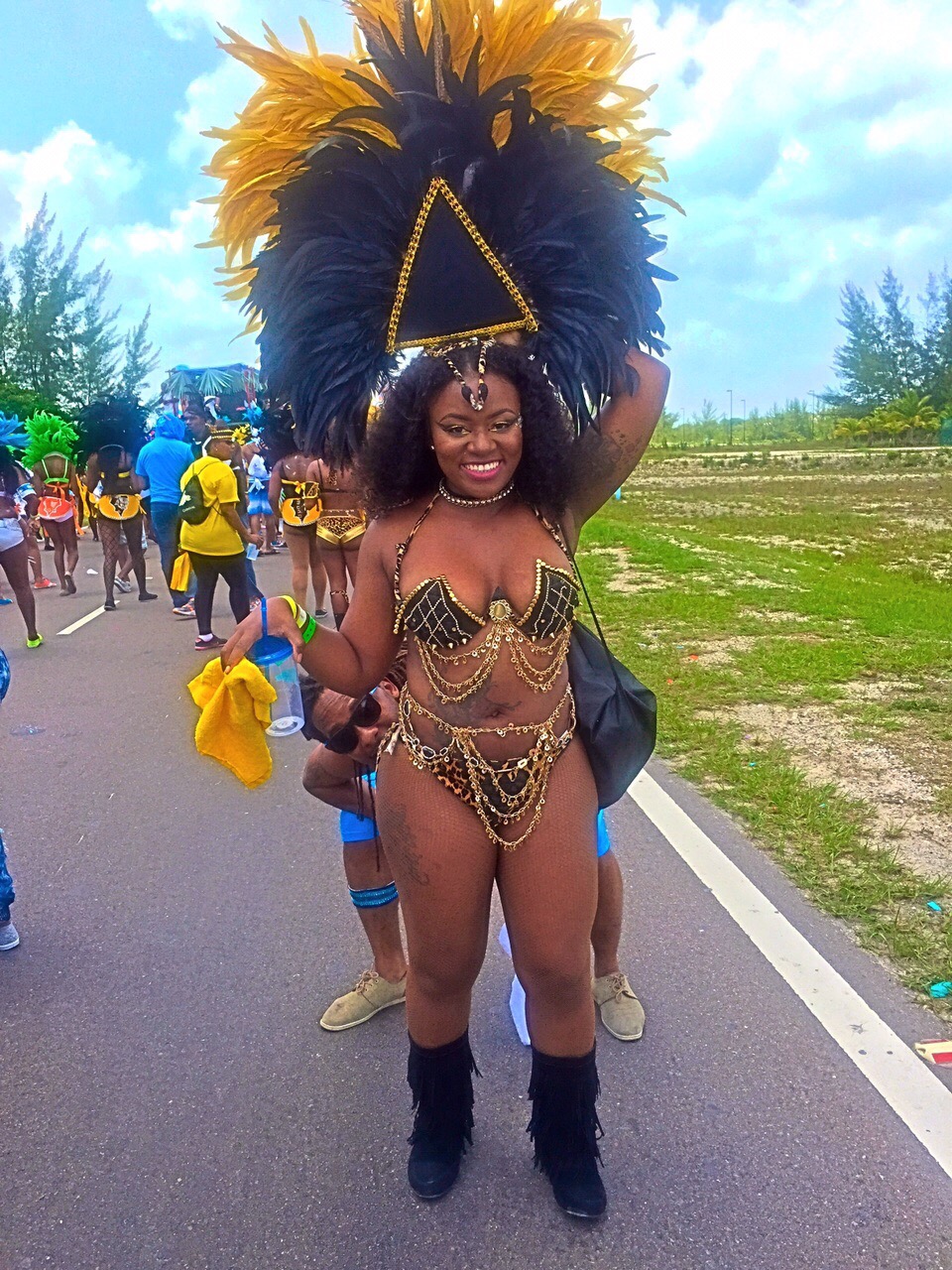 Eden/Enigma- this group had more of a groovy stush feel but they were 'vibesy'. Costumes styles went from gorgeously radiant to sultry and super sexy. Very organized and music was pumping. Soca superstar Skinny Fabulous was on the mic and DJ Private Ryan was getting down with the masqueraders.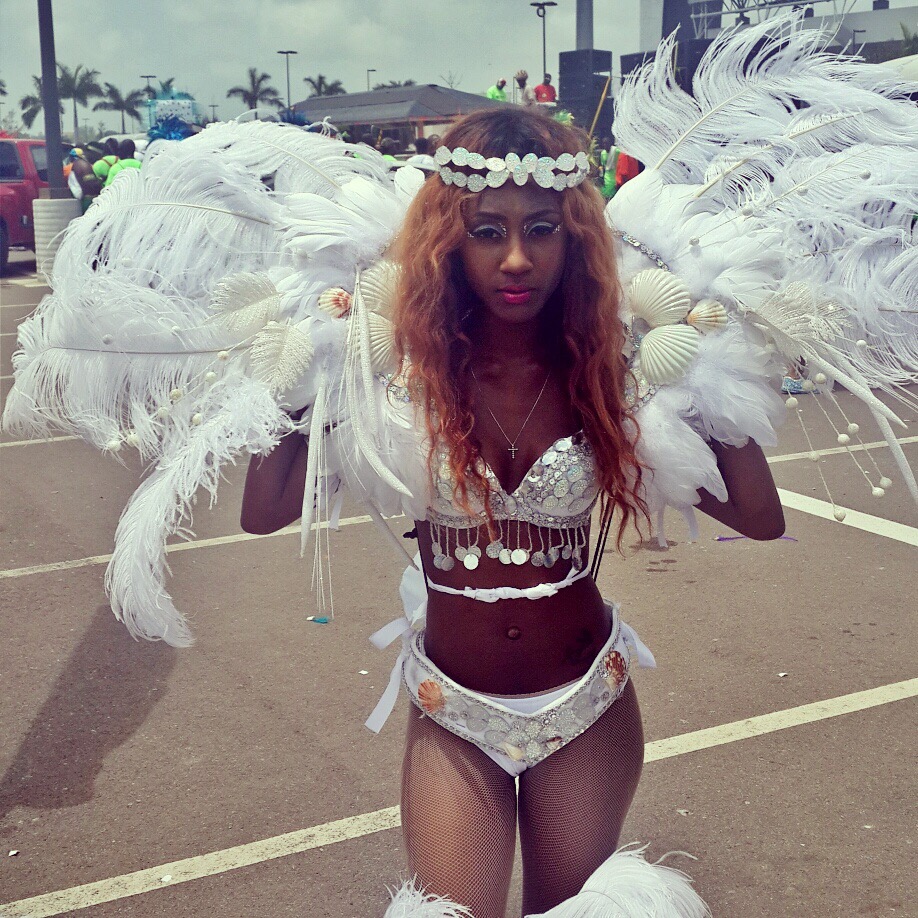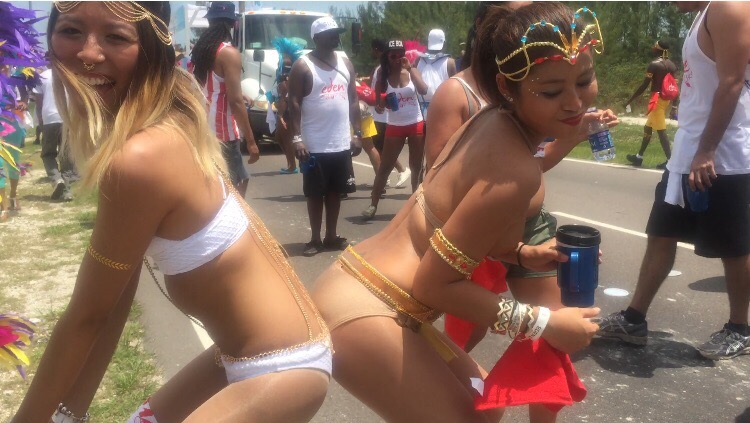 Bahamas Masqueraders-
One of the biggest groups(if not THE biggest group) masqueraders were first out the gate! Costumes were beautifully designed! So gorgeous I was in AWE. They even had a few live performances from Bahamian artists.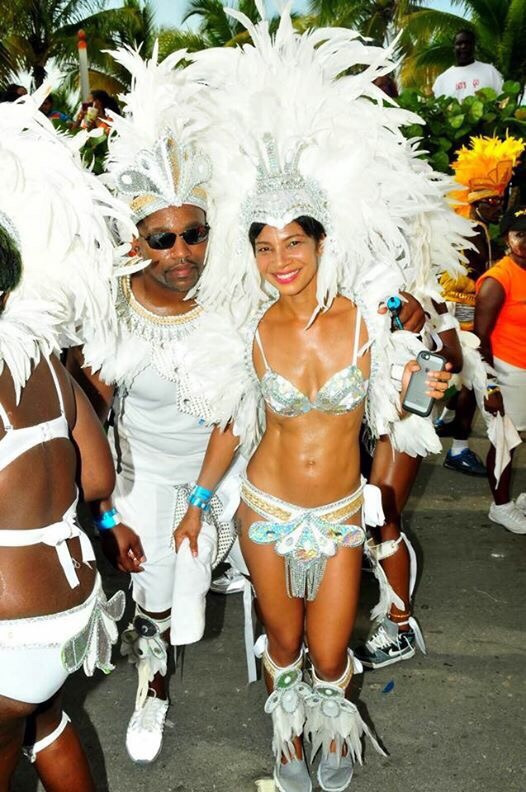 Xtasy Band- I felt their band had a good DJ/best music. They were playing a lot of music I like to hear; like afrobeat, soca, reggae, Bahamian music as well. It was a good mix; it was balanced.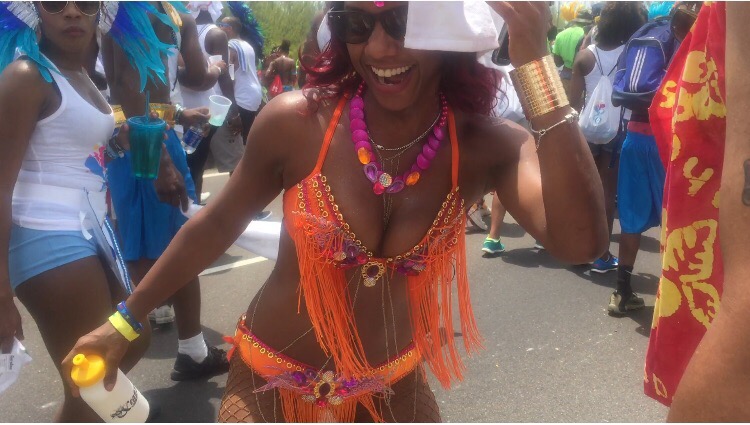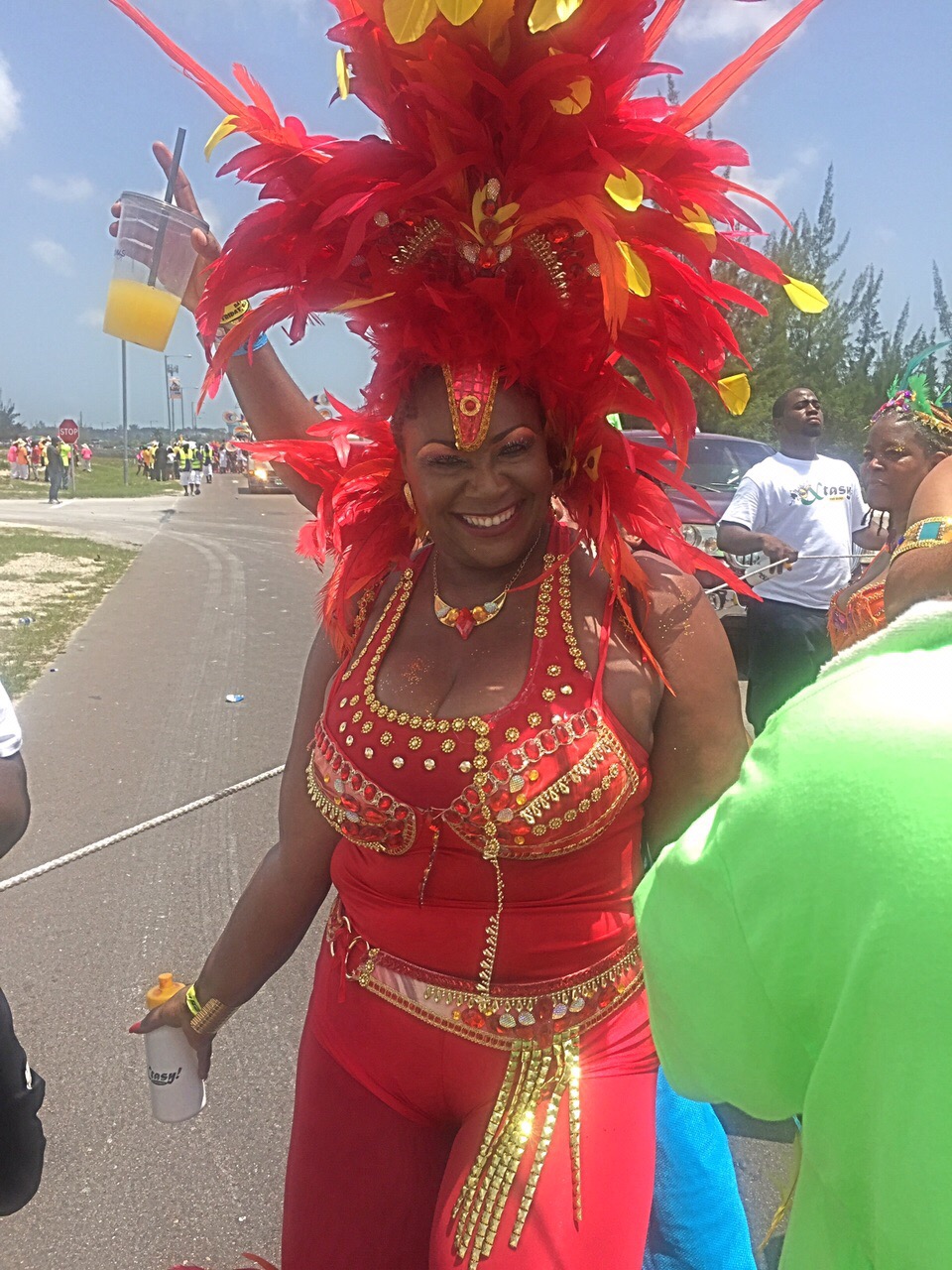 B: For prospective carnival-goers; what were the positives on the road? For example, service, food, the route, cost of experience etc.
CS: The crowd participation was one of the best I've seen in all the carnivals I've participated. I was hailed down by some guys straight out of the inner parts of Nassau Street for photo opps. They were straight up gentlemen who were just loving themselves and enjoying the vibes. Liquor was flowing; nobody had 'dry mouth'. A lot of the bands were fun-loving, accommodating. Another positive, the bands I experienced were playing a good mixture of music. As we got onto Thompson Blvd; you could tell more people were getting 'loose' and into it as we got to the middle of the route as opposed to the beginning. It felt family oriented; felt like everybody (spectators and participants) were coming together as one. There wasn't any violence, no fights on the road. I didn't hear or see any incidents. Police were on the street and band security was definitely enforced.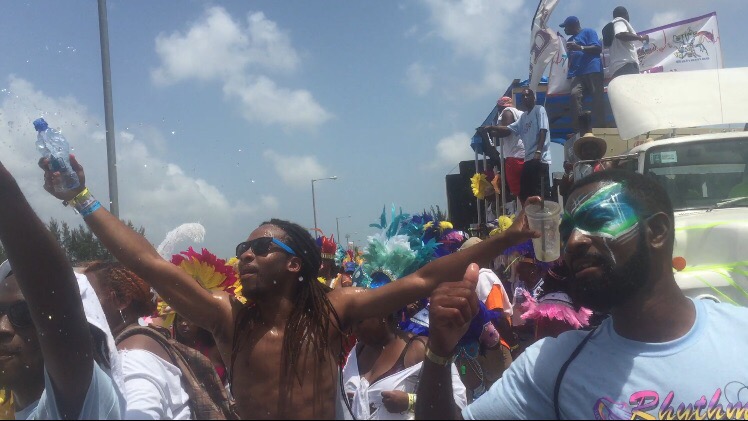 B: What were the negatives or what do you think can be worked on surrounding this Bahamas Carnival?
CS: A lot of people complained about the fact that there was so much space and wait time between each band. For me, someone that was going from band to band, it felt like I ran 10 miles twice.
There was no rest stop; I feel an organized rest stop for one to get food and makeup touch ups and cool down some is needed. Also, some of the bands did not offer food (or maybe I just missed it) at crucial times during the parade. An earlier start time(even though I was late )would also be something to explore. I also think there should be a more organized timeline detailing all events leading up to Road Fever especially for out-of-towners. Costumes I feel were overpriced seeing as it was the first carnival; I definitely think there needs to be better costume production and/or pricing. If you're going to pay $800.00 for a costume, you should get your monies worth. Another suggestion would be a party/concert for ALL masqueraders to link and jam after Road Fever. I felt like everyone should be able to come together afterwards.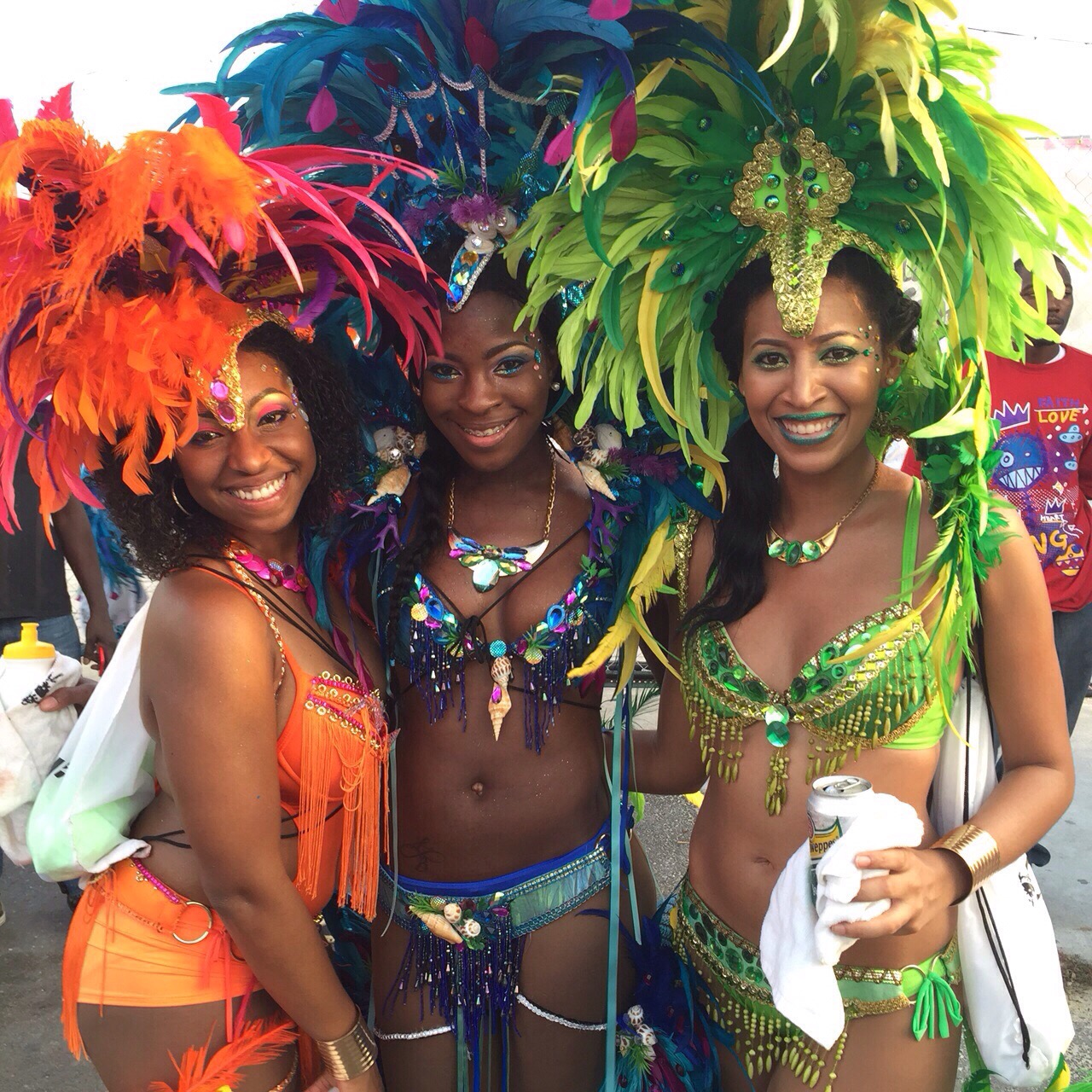 I think if it (the carnival route) were just organized more from the beginning whether it would be more carnival than junkanoo or vice versa, people would have had a better idea on how to organize themselves. You usually see those long delays at Junkanoo and that's almost always in the early hours of the morning when the sun isn't out.  It could potentially be a health risk, especially for persons not used to carnival or rushing. You had a lot of people going home early or leaving the carnival route.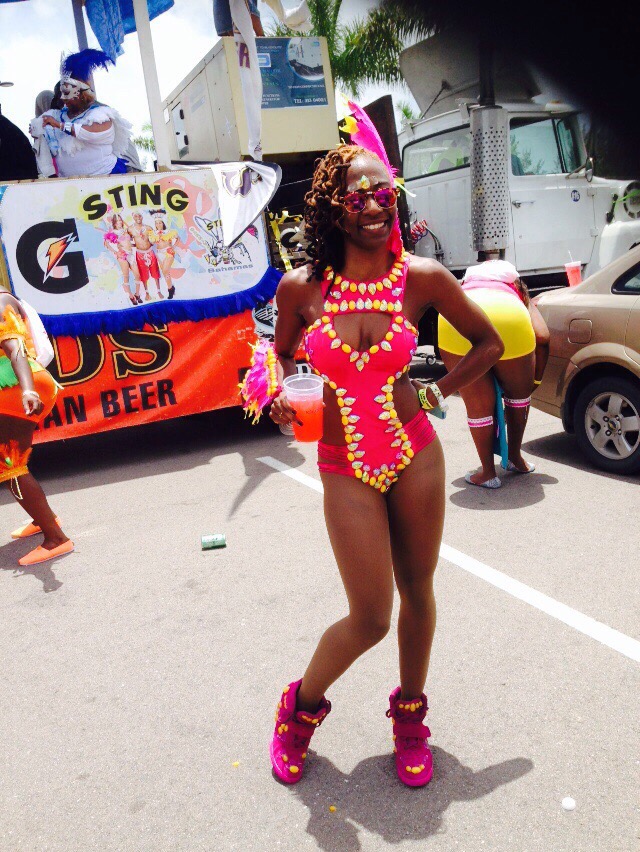 All in all, the crowd participation was really good. I imagined from the backlash that there would be persons out protesting the carnival but you had a lot of people dancing with masqueraders, clapping and singing along. It was really a good sight to see —strangers pulling you in to take a picture—usually that behavior, I would say is not common with parades in the Bahamas.
B: Since you were able to see and feel the vibes in different bands and the carnival at large, would you participate in next year's Junkanoo Carnival?
CS: I would participate in next year's carnival seeing that bands and the Comission. hopefully have a better idea of costume costs and organization etc.
B: I know each and every masquerader has their own personal experience as well as perspective when it comes to carnival; but if you were talking  to a tourist or prospective carnival-goer;  why would you tell them to come and participate in Bahamas Junkanoo Carnival?
CS: It's not like any other carnival; you experience a fusion of  Junkanoo/ Bahamian culture as well as different genres/traditions offered from other places in the Caribbean because it wasn't just only soca played–there was reggae and even some Afrobeat and Kompa as well. I felt like it was a lot of different flavors mixed in one. At the same time, I think scenery was a big deal; a lot of people appreciated (especially tourists) the fact that it ended at Arawak Cay because you were able to look out to the sea while dancing on the road and the beach is within steps of you. A lot of people ended up in the water afterwards; it was like a perfect ending. I don't know of or have been to any other carnival that offers that experience.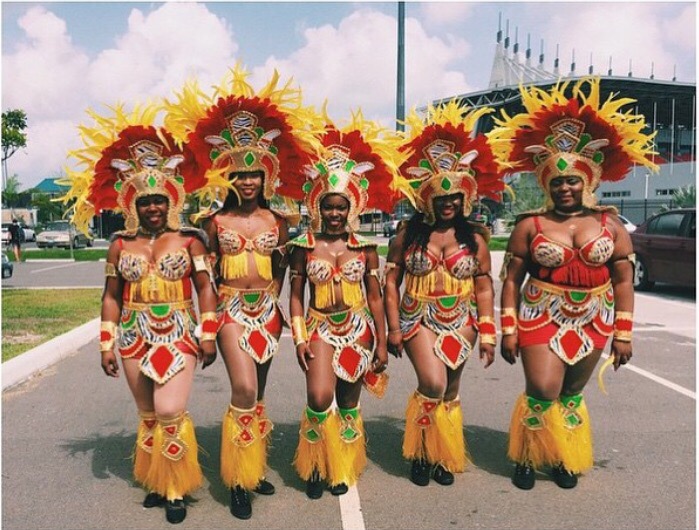 Another thing, pretty much all of the carnival festivities for the last three days were all in the same location; so you didn't have to travel much. Hotels are in close proximity to Western Esplanade so that area was also easily accessible.
B: So would you say this is one for the carnival bucket list?
CS: Definitely.
Here's 7 minutes and 55 seconds of Crystal and friends jumping in da line for the very first Bahamas Junkanoo Carnival:
(for optimal WOT-LESS-NESS watch in 1080 HD)
Until the next jump up,
Xoxo
Bahamianista
Til next time,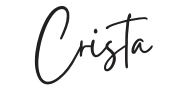 242
bahamas
bahamas carnival
bahamas masqueradwrs
carnival
eden
edenize
enigmah
fete
feters
fusion
jump in da line
junkanoo carnival
mas
Nassau
queen of carnival
revel
rhythms
xtasy mas