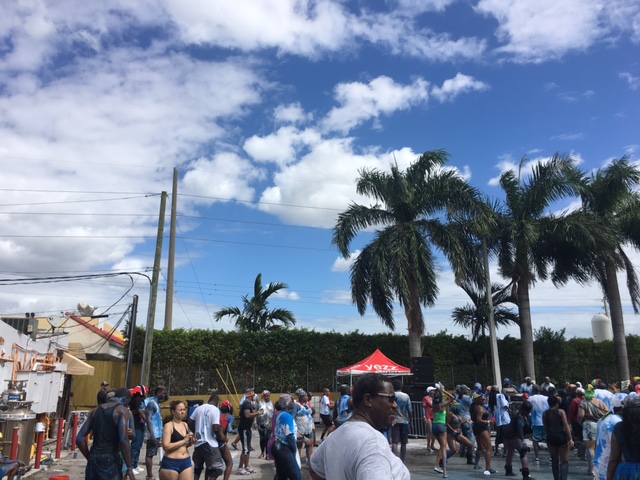 Its evident Miami Carnival had it's ups and downs especially with Hurricane Matthew not only affecting South Florida but DETRIMENTALLY affecting parts of the Caribbean. It's definitely something that can not or should not be overlooked. Prayers are extended to the islands of Haiti, Cuba, the Bahamas and southern United States who are STILL recovering from Matthew's havoc. The news may be old; but the wounds are still fresh.
Here are some reliable global relief efforts you can make donations to:
Hurricane Relief for Grand Bahama
PROCESS
The consensus is that Miami is the biggest, most popular US-based Caribbean carnival that seems to get bigger and bigger every year. Over the years, it has proved to be one of the better  carnivals in terms of "price for experience"  regarding carnivals in general, whether in the Caribbean or the US. This year, prices overall increased for fetes, costumes etc. Also, the amount of new fetes added to such a short Columbus weekend was a bit overwhelming but a good thing for the amount of persons now wanting to experience a bite of the carnival pie.
FETES
No fete is perfect especially with the aftermath of a hurricane. Vibes depend on your perspective. You can be a loner or someone that needs a crew–it literally all depends on you. BUT there are fetes that earn the titles of "can't miss" or "never-again" or "not worth my hard earned money" or "just ok" and the list goes on and on…
The consensus, I feel (and others may not feel this way) is if a fete is a certain amount of money, the experience should meet or exceed expectations. Expectations, like perspective will vary from person to person.
PLEASE NOTE:
All submitted(anonymous or not) reviews are quoted and italicized and the opinions of those submitting independent reviews of events attended. 
With that disclaimer said, here we go.
Candy Coated Cruise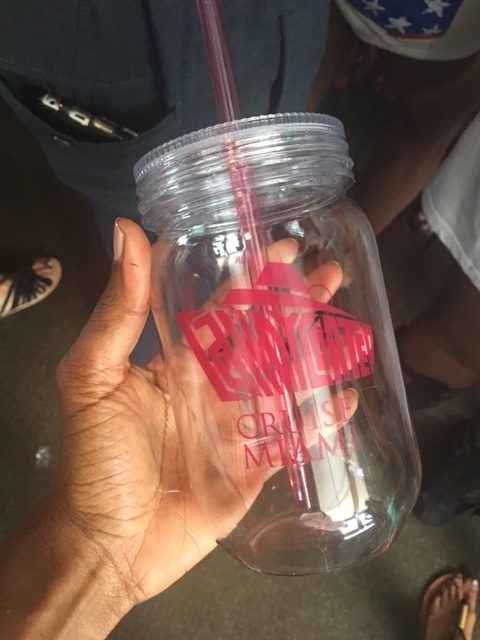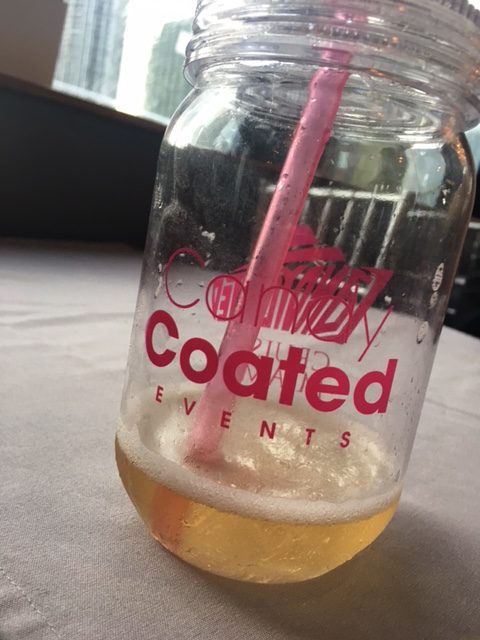 First official fete in Miami (at least for me) as the weather allowed. It was bright, sunny –the skies and waters were calm and beautiful (thank God). It was a good crowd despite all the cancellations and delays overall; even witnessing the promoter aiding a few feters with their luggage onto the #BenUpBoat. Straight from the airport , straight  into fete… -B. Garlin.
The  food was good however just smaller portions (than the previous year) but people were able to have seconds and thirds. There was also the signature roti snack at the end of the fete.
The candy coated vibes are consistent. Full-stop, period. Music was pumping and varied and flowing. Let me tell you, minimal or breathable clothing is required NECESSARY  because you will perspire… Of course, there were areas to cool down like the top deck, bottom floor of the boat, windows open etc etc.
Bar traffic and congestion was the con of this fete. It took a significantly longer time to get a drink during the fete than was desired. With a short window of feting time (at sea); that meant a lot of tapping your friend for a bly, getting the bartender to notice you among a crowd of anxious feters and sometimes not getting your first drink of choice.
Other than that, the Candy Coated brand (I think) is pro-feter; meaning aware and proactive towards the potential fete-goer's needs. This year's sales moved from previous patrons getting first dibs to whomever had the fastest fingers and could snag a ticket which I thought was one word…FAIR.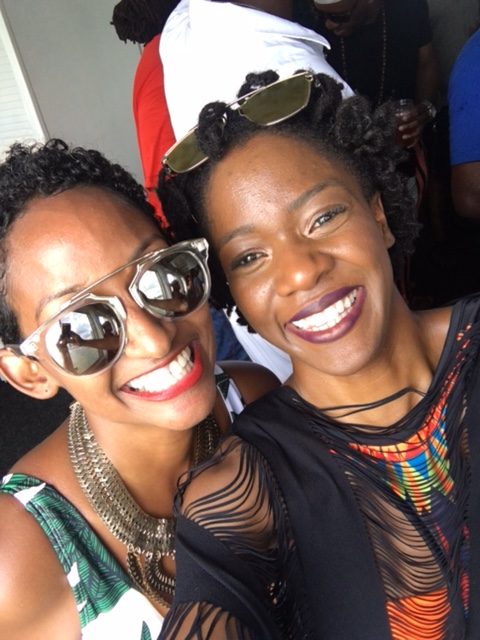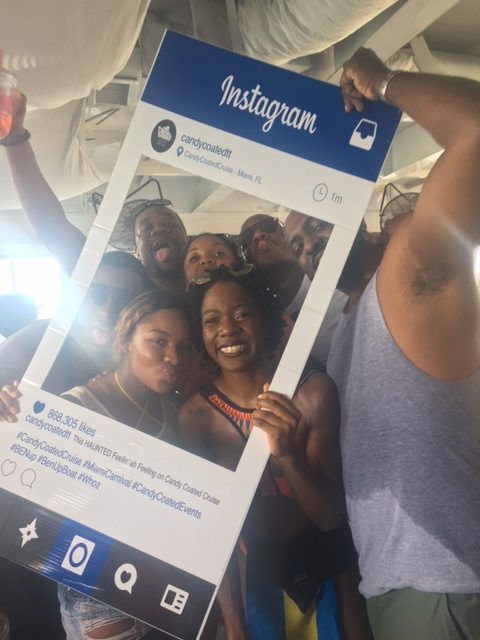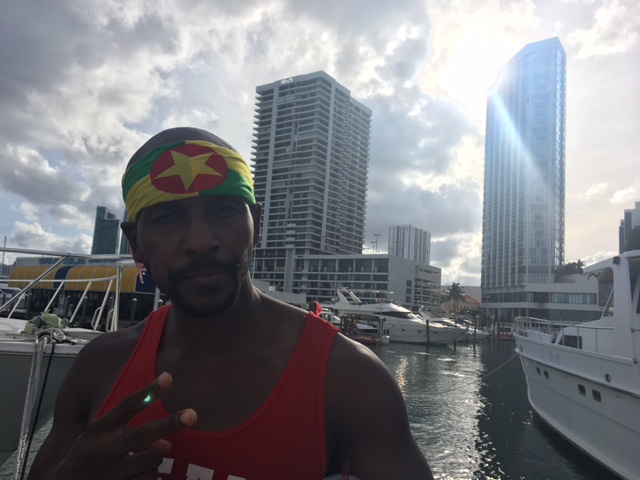 Adventure Island
"With the threat of Hurricane Matthew on us. I decided to get as much fetes in as possible. While scrolling on Instagram I saw something called Adventure Island that wasn't so far from where we were staying. So I gathered the troops and decided to check it out.
We arrived at the venue early and when I say early I mean like 30 mins after the door opened. Imagine about 25 Bahamians walking into a party with basically only the staff there. I was getting cuss left right and center. So I decided to do what we do best… DRINK. After about 3 drinks the crowd arrived and then they realized it was a smart idea to get there early so we could get "nice up" before we had to struggle to get to the bar.
By this time liquid courage was in our veins and the magic began. I must say the Djs were on point and being a Dj myself I don't get to say that much. I loved the fact that I could actually fete without having to compose myself because I would have to play soon.
Then the WINEATRON came out. The name my friends gave me after Miami Carnival this year. I promise you I dished out winery and jookery on every female around me.
All in all I Ioved the fete. The performances were great and the music was awesome. I was really impressed with the fete in general. The only problem I had was the venue was too small. Other than that it was an awesome experience." -Bravo O. aka DJ Bravo (IG: @braahvo )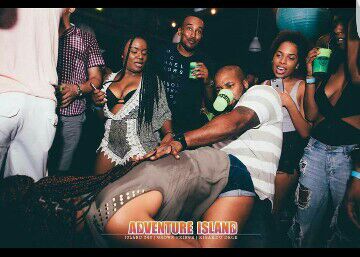 Soca Brainwash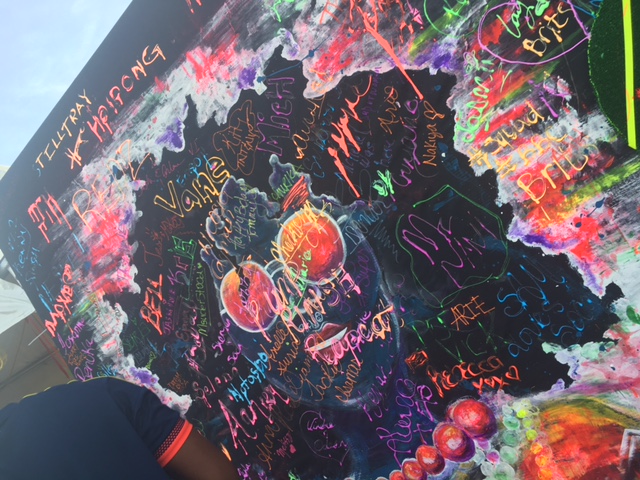 I love a fete with a lot of space and things to do. The brainwash venue did not disappoint being held in a large parking lot on the Zoo Miami grounds. The ebb and flow was magnetic with costumed greeters at the entrance–the neon Soca Brainwash board full of bright colored"John Hancocks", various vendor tents for example neon makeup application and a Guinness sampler tent.  There was also an ATM conveniently placed for anyone low on cash.
This fete was not inclusive of drinks or food –you had to purchase drink tickets which can be quite cumbersome; especially jumping from one LONG line to the next and then in retrospect realizing you really spent 100+ ticket and drinks included.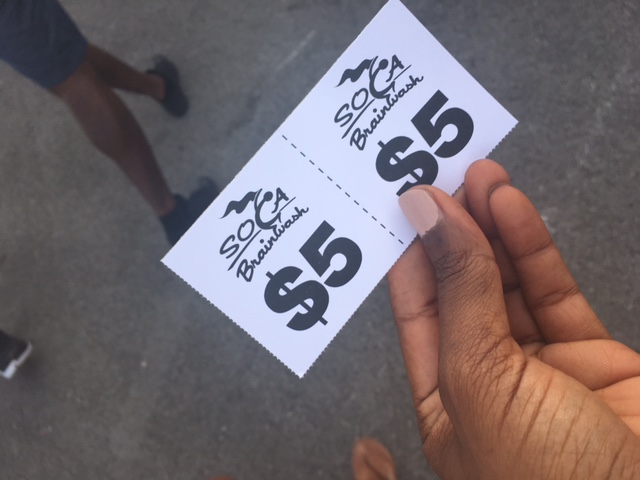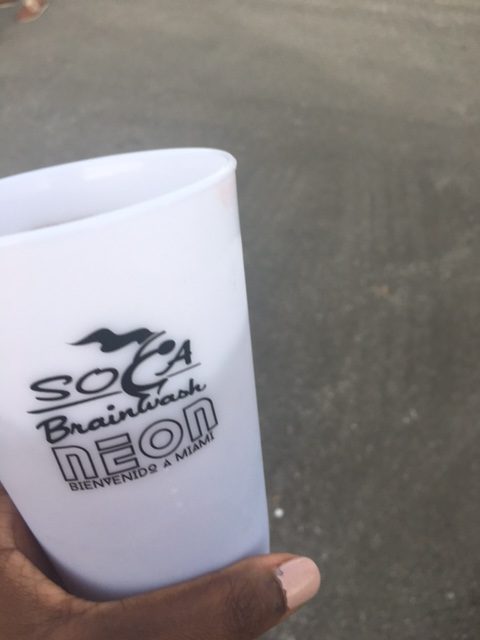 Despite this, the DJ's, crowd hype and special "neon" touches (i.e cups, , souvenirs, decor) added greatly to the experience. I love that this fete is "interactive" and focuses on ambiance and experience.  Although, if the price goes higher next year–something should be included in the form of libations or edibles or maybe even a DJ battle. Idk.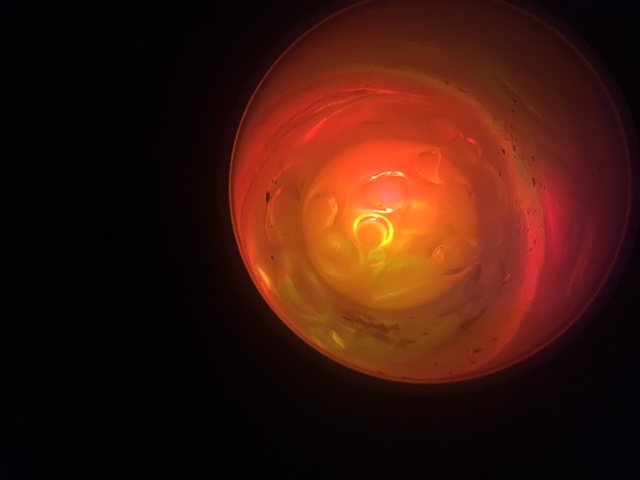 MOA White Hot Miami
A lot of thought went into the outfit for this fete. I mean white dress with sheer panels, lucite heels with flats in tow and the fact that I never have attended an all white party with a dress code reading elegant etc. etc.; I took full advantage. After switching outfits about 2-3 times, I finally switched back to the initial outfit with the encouragement of others. After a long few hours of costume pickup for myself and others, I was a little tired but still ready to fete.
So we Uber-ed to the designated parking lot (around 12isham) and were just a bit perplexed about where the shuttle was –meeting other patrons who were parked up and waiting as well. After a few exchange of texts, the parked up shuttle driver was literally a few feet away from us and we were on our way to the private oasis. Upon arriving, LET ME SAY–this had to be one of the most gorgeous venues I had ever seen for a fete–in fact I want to find the owner and put down a deposit for my future wedding/reception — I don't have the ring yet but a girl can dream— because it was gorgeous. Patrons donned all white among a dimmed, scenic landscape sprinkled with soft, white lighting and framed with fire places placed perfectly in this dreamy scene.  Took a few glances around and got my wristband and slowly realized then probably said out loud —Why isn't anyone dancing?
After taking in the scenes of persons sitting around fire places, holding conversations here and there in groups, taking note of the bar situation and listening to the not-so-happy first impressions of friends who had got there earlier than me; I decided to get my $85 dollars worth of vibes with the limited amount of time I had left.
Under the music tent was a bit hot, mosquitos were present and the crowd was scattered between the tent and outside of the tent–I put on my flats to catch a wine to a few of my favorite culture songs. The music was varied from soca to other genres. After jumping up for a few songs, I couldn't keep the vibe going and it just didn't feel like a fete , in my opinion.
"The vibes were not there. I got there at about 11pm and the food station was not open, save for shrimp. The atmosphere was not hype; it actually felt like I was at a backyard wedding reception. The venue was beautiful though, with lots of space. I cannot speak to the drinks but I was told by my friends that the bar kept on running out of premium drinks (JW, Hennessy). If given the choice, I would not choose this event again." -R.  Albury
Viva La Carnival
"Viva was a great choice. Was this the first year for them? I had a ball. Didn't even mind all the sweating. Location –thumbs up; making it a cooler fete –thumbs up; having t-shirts on sale to change into–thumbs up; vibes–thumbs up; having that big a** fan by the bathroom area–thumbs up! I thoroughly enjoyed Viva. Vibes were lit in my opinion. Or could it just be because of the crew I was with…" – Nesta @nessiegeorgeanie (Instagram)
"Finally touch down in Miami and the first fete off the jet was Viva La Carnival… I was determined to be LIT regardless of circumstances. Upon arrival there were two lines–one if you had a cooler, the other if you didn't. I liked how Viva had plastic bottles for people to dispose their alcohol in because of the no glass policy. The line moved pretty swiftly and upon entry we got some signature Viva cups… 
The drinks/bar was pretty good–they accepted both cash and credit cards which was a plus for me. Also the bartenders had on some nice Viva jumpsuits which I thought was a nice touch. As my crew and I walked in the first thing we did was locate a "ben up" spot in the party. We found a nice spot by the speakers and the madness began. As always, we linked up with a mini crew who was nice enough to share some rum and good vibes. The music was an assortment of DJ's –my favorite of the night had to be DJ Puffy outta Barbados… when I tell you this man had the crowd turnt–he did that! 
Overall, the musical mix was that of soca, dancehall (mi love), culture and hip hop. I thought that it was perfect because after a while, I for one, would like to hear a different variety of music. The party was scheduled to end at 2am but we went on til after 3am when the cops came and shut it down (sad face)… 
Next year I will definitely have a cooler and I look forward to this fete again." -Ariel H.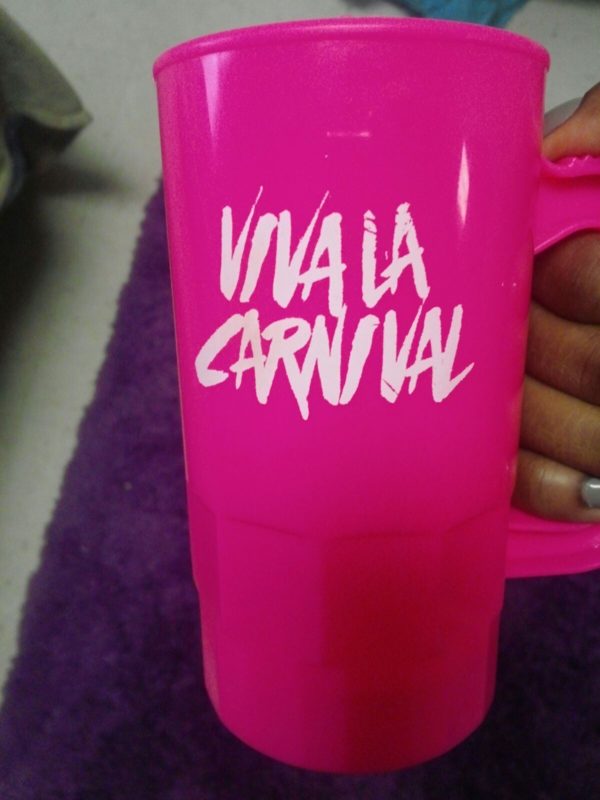 SSS Blue : Alternative Jouvert  Experience
So I opted out of Saturday's jouvert and no, there's nothing wrong with Miami Broward Jouvert–just for the past seven years I needed something new.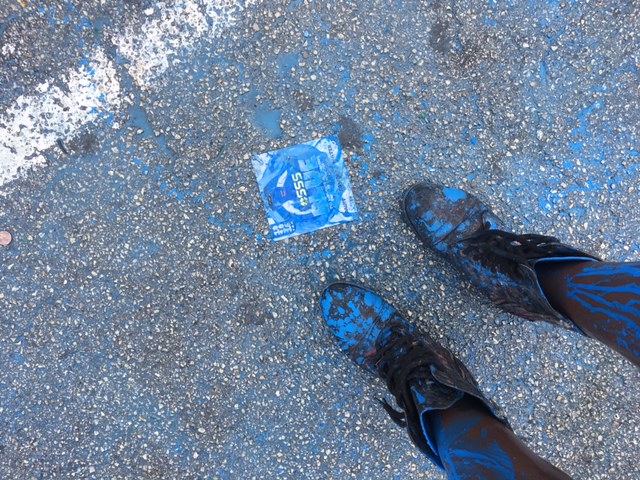 SSS BLUE was the move post carnival and let me tell you for 20+ dollars, I got my life. You ever pull up to a fete on a friend's recommendation not knowing what to expect…well this was me. Immediately after entering, no words just PAINT. Gooey blue paint all down my leg and back and arms–talk about ensuring patron participation. You cannot come to this fete if you "fraid" powder, paint or vibes; people came around with buckets of paint, powder every so often to make sure you didn't stay too clean. Venue was spacious, there was a lot of room to get on, get dutty, get wet and so on…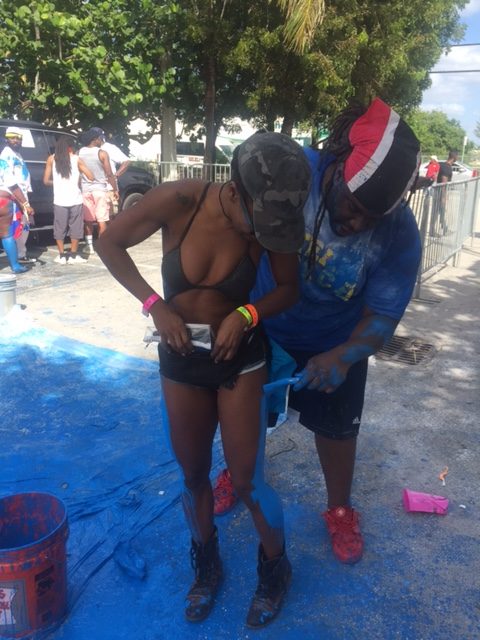 Music. I don't think I've ever seen as much dj-crowd interaction at any other fete for Miami carnival. A lot of Grenadian Jab, Jab music was played because that was the majority of the crowd but I've never seen a crowd move so consistently. Literally little to no breaks in movement–energy, energy, energy! Pace, pace and more pace! Spice Mas is definitely on the carnival bucket list.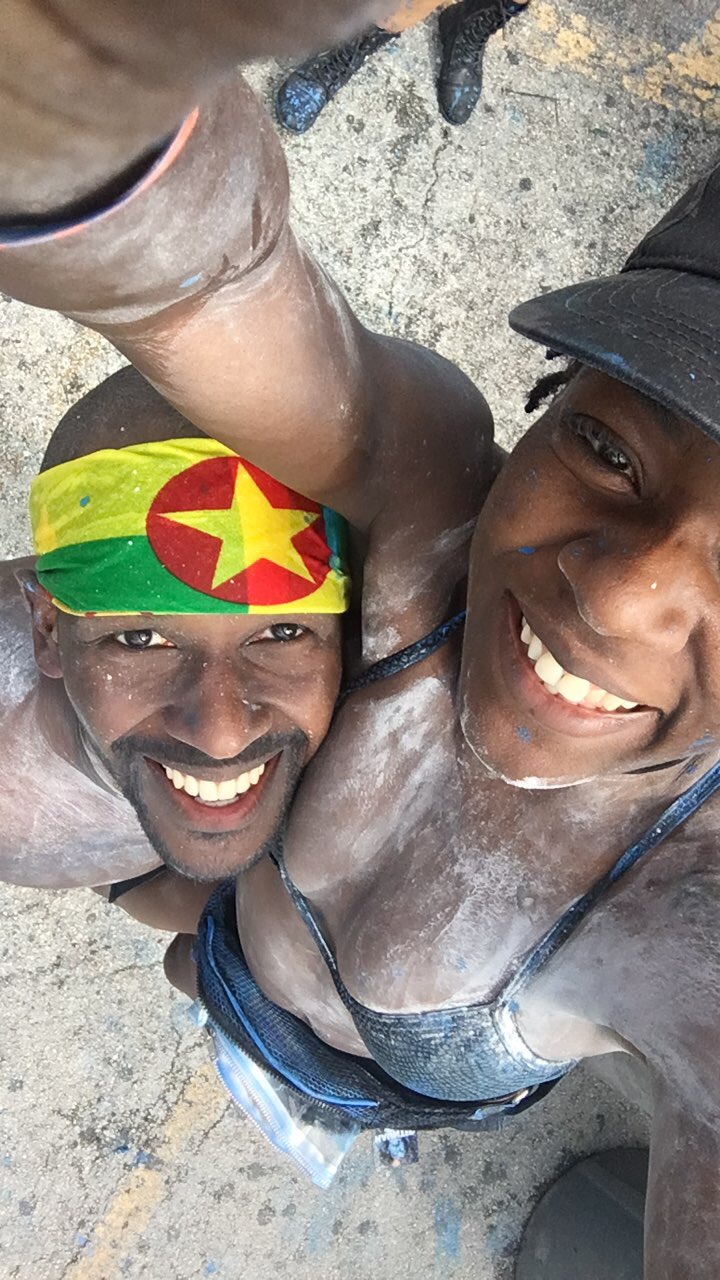 The only small issue I had about this fete was the fact that I did not get the all inclusive ticket. For general ticket holders, there was another ticket system, however literally no bar traffic and getting drinks was a smooth process. I know for next time to budget for the all inclusive ticket.
CARNIVAL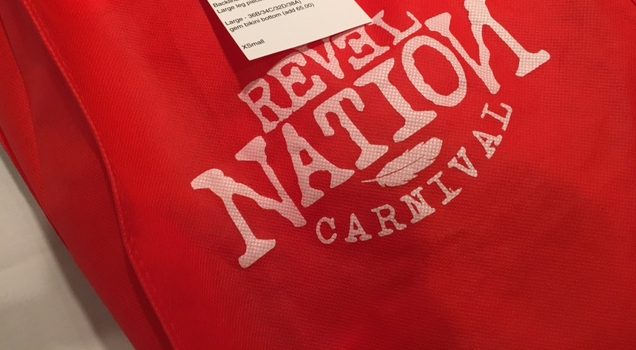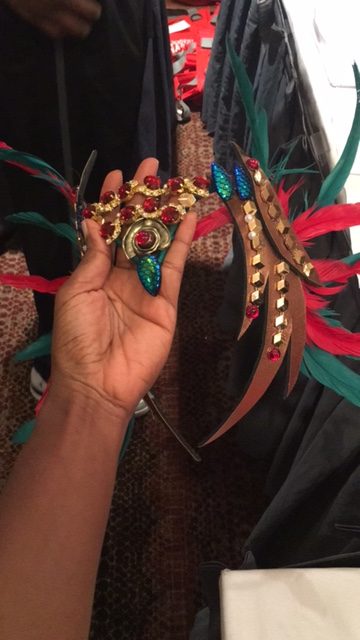 So, I played with Revel Nation for the second time as a large band, which I feel is undeniably now one of the IT bands for Miami Broward Carnival. Again, costumes were on point with attention to detail but some issues with sizing etc. Overall, they were beautiful (as expected) on the road and I was very satisfied with my Berserker costume.
Pick up was smooth (for me) but from others I heard complaints with disorganization with wrist bands, making payments and the wait in the mas camp to pick up.
On the road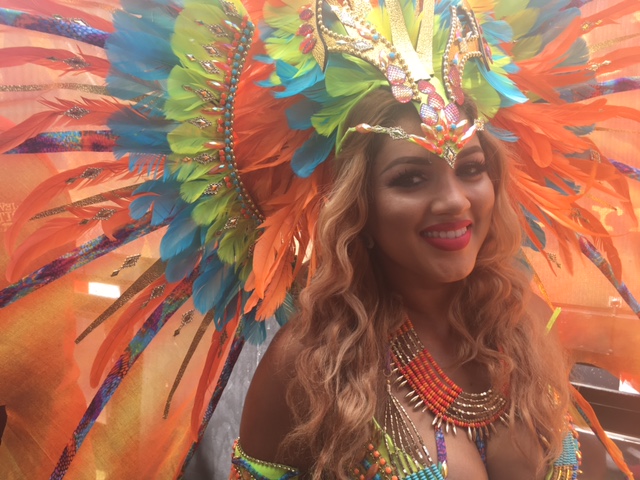 Revel Nation provided snacks before we left to embark on the parade route in the form of patties, sandwiches, festival etc. The only issue I encountered was no vegan/veggie options for our non meat eating folks or persons with food allergies.
The bar was smooth sailing. LITERALLY. Anytime, except for a certain point prior to crossing the stage, drinks were flowing and easily accessible. During lunch/dinner time, there were several options of whatever type of meat you specified upon registration. Generally, customer service seemed to be consistent with a few hiccups here and there during pickup (for some).
Compared to last year, the vibes were up and down for me. I don't know if it was the logistics of the actual parade, the amount of people participating but it just seemed like a lot of stops were made and the revelers were not as "engaged" but like I said it really depends on what your definition of vibes are. There were people having the time of their lives and then there were others chipping, chilling, taking pics and doing whatever floated their boats. We took advantage of the downtime and did some band-hopping to check out the rest of the parade.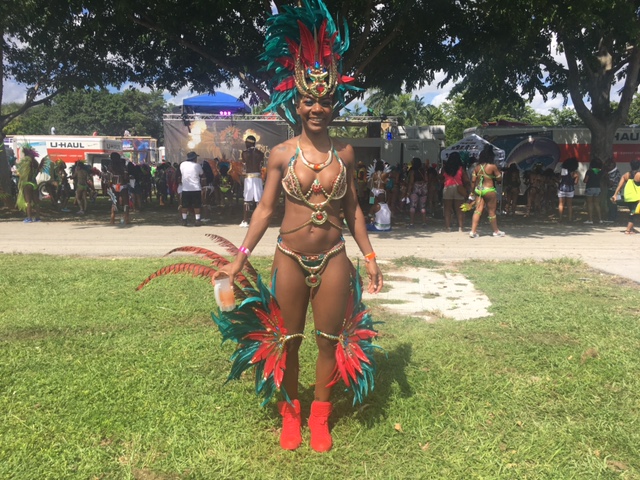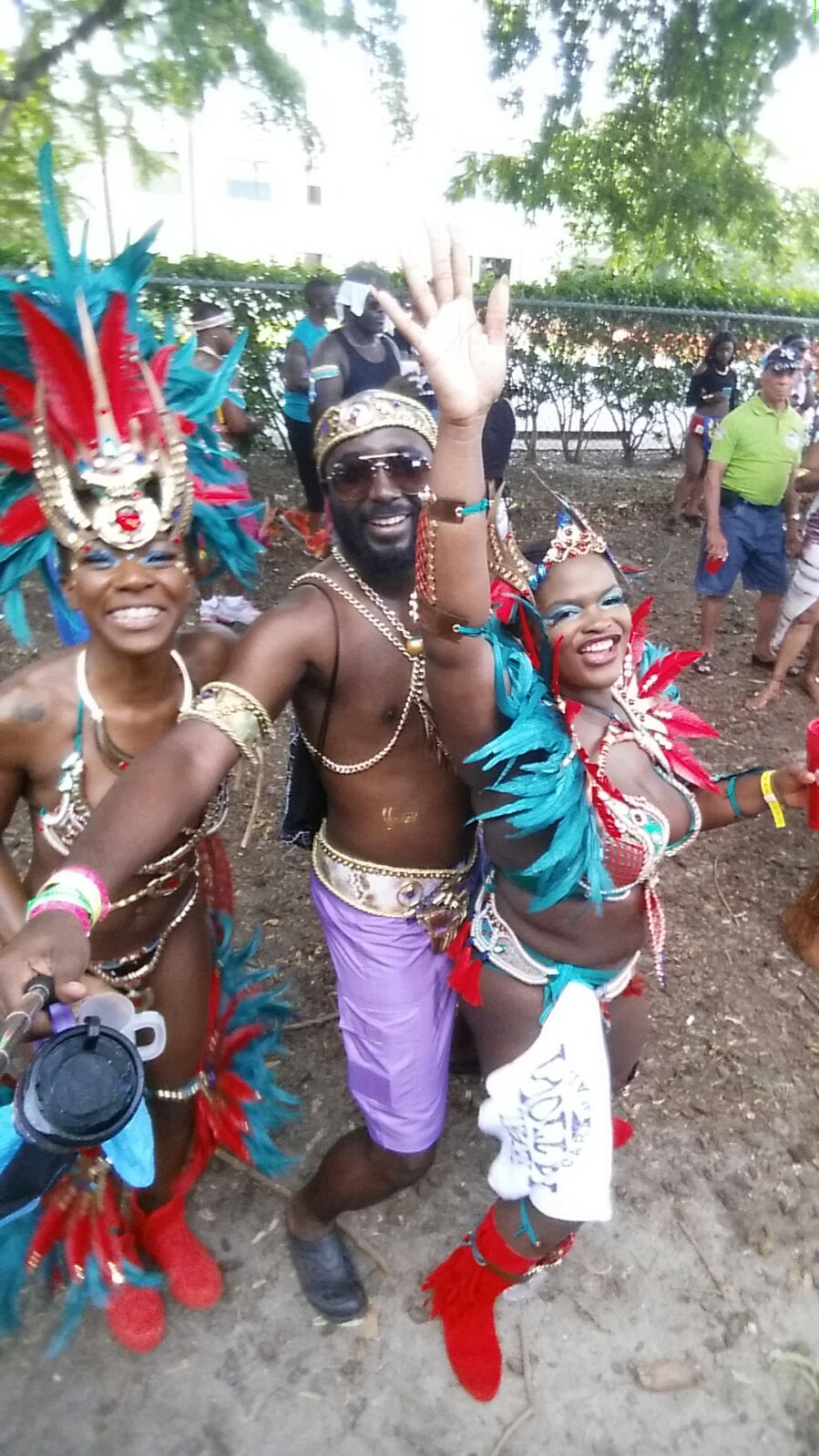 Crossing the stage was an experience. I love that the DJ gave sections several different songs to get "wutless" to. Revel Nation's numbers have increased which was no surprise but that added to the stage experience and uniformity of the sections and band. Anxiously anticipating the after movie with that being said. Other than that, if you're into beautiful costumes and a solid band experience, Revel Nation is definitely one of the few bands that can provide that experience.
What I learned from Miami Carnival this year…
MORE PEOPLE, MORE MONEY
If y'all thought this year was expensive; it will PROBABLY be even more so next year and that goes for all carnivals. One good thing is that events are popping up here, there and everywhere and if you don't get into one fete –there are much more to choose from.
UBER BABY
Uber is like an angel from above descending on all carnival and fete junkies. Utilize it, utilize it, utilize it. Sure, convenience comes with a price but safety first especially if you do not have a designated driver.
DON'T FOLLOW THE HYPE
Try things out for yourselves. What I think is a good fete does not make it a good fete for Susie or Harry and vice versa. Just because there's a lot of hype around an event does not determine it's success or ensures you a vibesy experience.
For all my visual people, here's 8 minutes of my Miami carnival experience:
So what fetes did you go to? Are they a "can't miss" fete or a "never-again" experience?
Did you go to carnival? Let me know how it was for you in the comments below.
Til next time,
Crista S.
Til next time,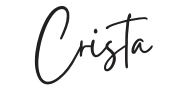 blog
carnival
carnival in miami
Miami
miami broward carnival
miami carnival
travel