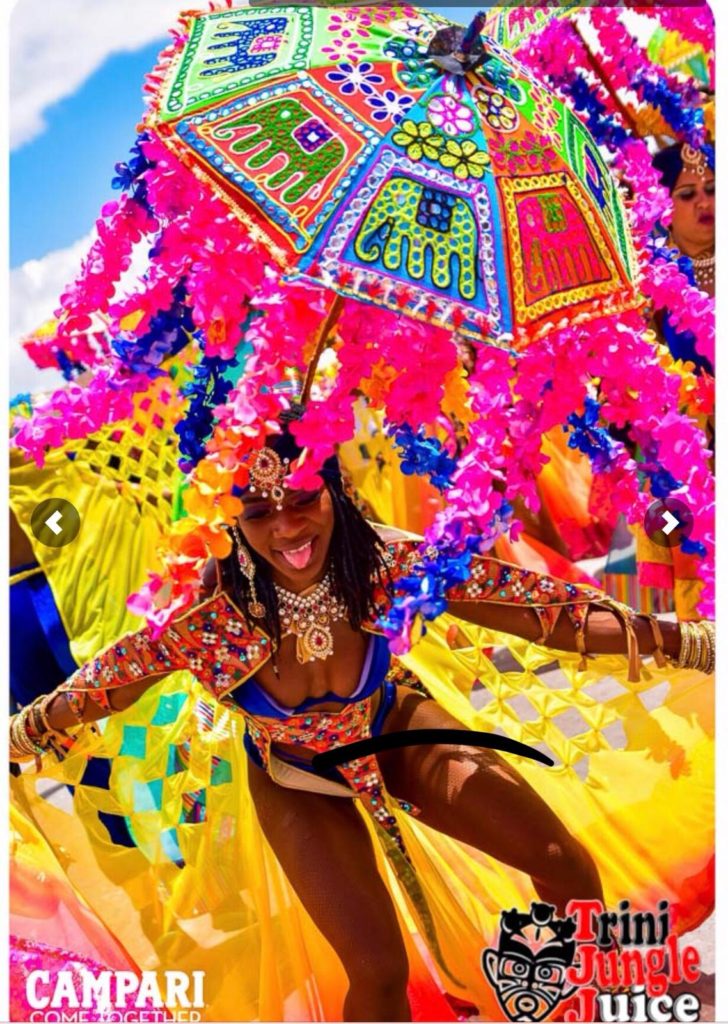 As one Trinidad carnival done, Trinidad Carnival 2020 planning seems to already be in full swing. Now before I jump into what you can actively start doing NOW (like right now) to get ready for Trinidad Carnival 2020, here's a sort of quick review of my 2019 experience in attempts to answer any burning questions you may have…(better late than never I say).
Travel Dates (February 26th to March 7th, 2019)
I landed in Port of Spain, Trinidad and Tobago on Wednesday February 27th, 2019 (due to a flight change) and stayed til Thursday March 7th, 2019 which was a total of 8 nights. This year, Trinidad carnival is slated for…
Monday February 24th, 2020 (Carnival Monday) and Tuesday February 25th, 2020 (Carnival Tuesday).
Therefore plan to get there sometime during carnival week which is usually the Monday prior to Carnival Monday. Most people leave out on Ash Wednesday but I chose to stay later because well tickets were cheaper and I needed some downtime. A lot of people also opt to fly to Tobago for some R&R/fetes on Ash Wednesday (February 26th, 2020).
Airport codes to remember (POS- Port of Spain + TAB -Tobago)
Accommodations
I stayed at Monique's Guest House with one other person. It is located on Saddle Road in Maraval. It was a fair distance from the Savannah but still adequate meaning close by to restaurants, stores. I started looking into accommodations in August of last year after the hype died down. The nightly rate included cleaning and breakfast (which was over $200 dollars per night for triple occupancy). For the price, it was a bit disappointing however we barely spent time at the guest house between carnival and fetes so it was adequate for what we needed. It was doable (distance wise) with a reliable driver.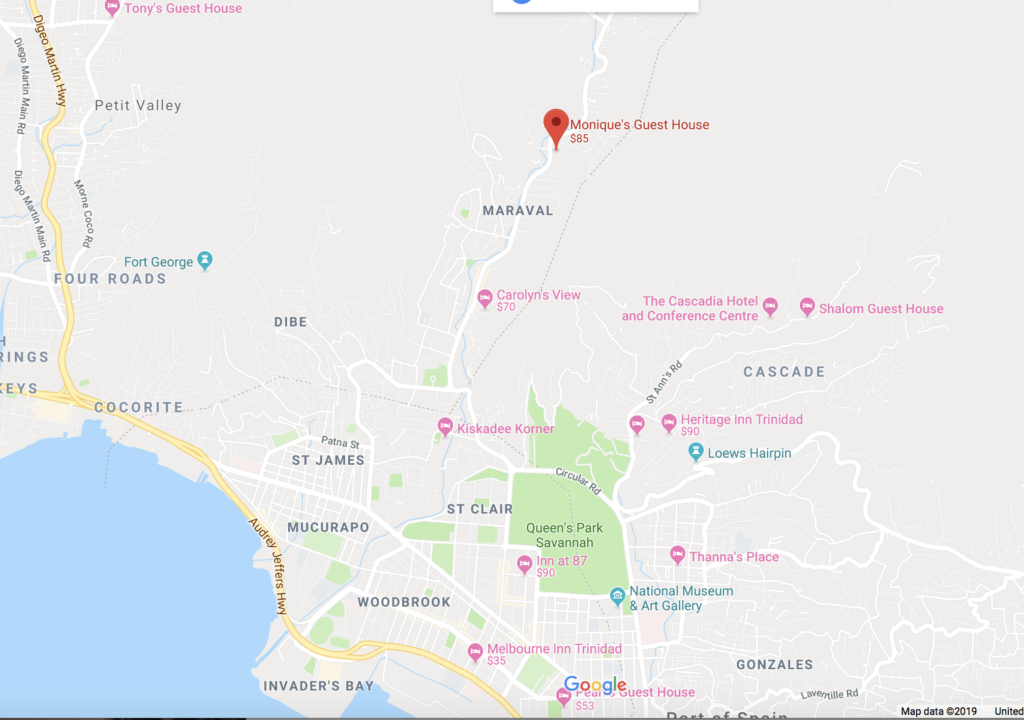 Recommended areas to stay in would be any area close to the Savannah so for instance St. James, WoodBrook, St. Clair, Maraval, Cascade (see map). Previous years I've stayed at The Cascadia Hotel and Conference Centre on St. Ann's Road in Cascade (2015/2016) which was not a bad distance with reliable transport.
Transport
I've used the same driver for Trinidad Carnival since 2015. Transport cost me personally $500 for all airport transfers, pick ups and drop offs to fetes/carnival Monday & Tuesday and other miscellaneous trips. One thing I will STRESS for transport – don't wing it. Try to find a driver before you reach Trinidad because waiting last minute can result in you hiking a ride. Trinidad does have ride sharing services like TTRS (Trinidad and Tobago Ride Share app) that I used once from Arapita Road back to Maraval after Soca Brainwash (cost like 10 USD one way). Carnival Monday night, Tuesday night and J'ouvert can get equally as crazy because of the amount of people on the road trying to get transport back to hotels, Airbnbs/guesthouses as well as trucks and traffic congestion so secure a driver as soon as you can. Best way to do this is to speak to hosts of guesthouses/Airbnb's, hotel staff for recommendations on drivers.
Costume Distribution/Band Review + Road Experience
If you haven't already check out my Lost Tribe Carnival experience here. Bands that I've played with in T&T are Yuma (2014/2015), Tribe (2016) and Lost Tribe (2019). My experience with Lost Tribe was definitely a good one. They definitely delivered on the road and had A1 customer service for the entire experience. The way Lost Tribe differed (for me) was that it had gorgeous costuming, a different more eclectic and friendly crowd plus space to move around in your costume- plus amenities on the road A++++. The vibes were good but not as hype as your Tribe or Yuma or Carnival Rogue crowd but still adequate in my opinion. Definitely check out the Lost Tribe review for all the tea.
Food
Thankfully to some wonderful Trini friends I got to sample some indigenous Trinidadian food/restaurants. First of course, doubles was eaten multiple times during carnival time at Candy Coated Love Fest, on the road with Lost Tribe and so on and so forth. Then after Soca Brainwash- got to sit down with a few friends at Mr. Chow's SmokeHouse. Don't ask me what I had- I just remember some sort of shrimp dish, a smoothie and mango chow but I would definitely eat there again.
I also got the chance to finally try Chinese Food in Trinidad (soooooooooooo good). Good Luck Restaurant aka China Dynasty Restaurant had family style dishes that were deeeeelishuuuuuuuusss. It's on 56 Arapita Avenue, Woodbrook, Port of Spain, if you were curious. Thank me by sharing this post (ha)!
Fetes
Now, I did not attend ALL the fetes but here's my line up and my thoughts about them.
Mental ($100+/drinks inclusive)
1st time at Mental and 1st out of 3 back to back fetes. I was really glad I picked this as my first event to attend especially with the theme of Pirates of the Caribbean. Drinks was flowing and (surprise!)they had complimentary food like bake and shark, doubles, chow etc. I went to this party solo but I made friends and out of all the fetes I did on Thursday – this one was the best. I had to leave early due to having to go to Punchy Punch…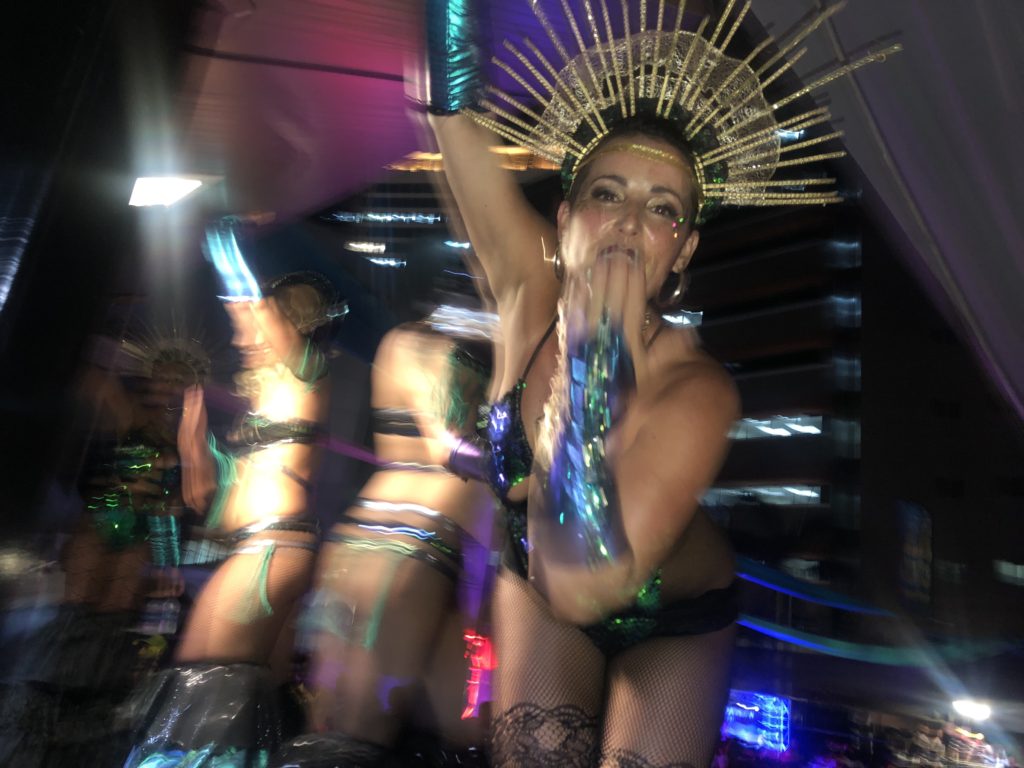 Punchy Punch ($48.31/cooler fete)
Punchy Punch was ehhh. Loved the price tag but I literally sat down and fell asleep in this party. Maybe if I was closer to the stage it would have been more vibes or had a cooler (idk) – but I personally don't think it would be in my line up again. Honestly wish I had stayed at Mental longer.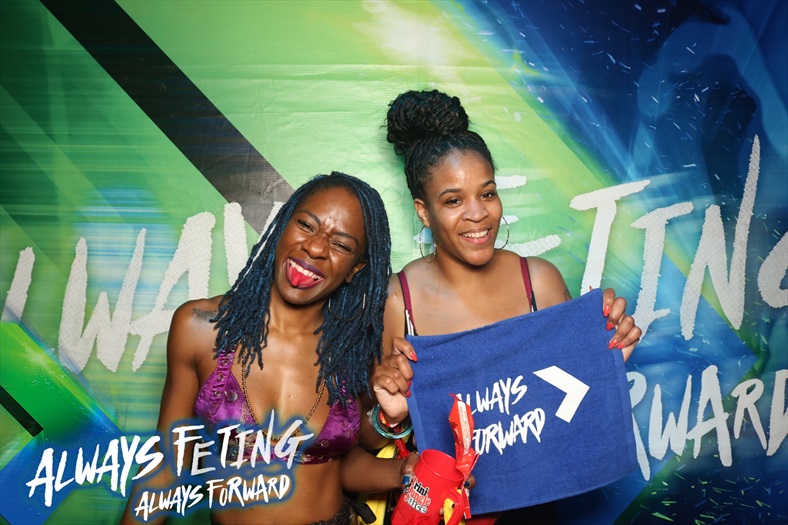 AM Beach ($150.60)
We got there late late- partially because of the driver and because of my sleep-deprived behind. FOMO makes you do crazy things like purchase 3 back to back fetes. Anyway Beach started at 3am – we got there at 8am. Caught the tail end of Kes' performance and the food was pretty good but for the price I don't know if I would do it again. I was really hoping it would be a repeat of the first time I did the party when they opened the gates up to the beach but the current was a bit rough so…
But we managed to get a little beach time anyway.
Candy Coated Love Fest ($69.57/food inclusive cooler fete)
Did CC Love Fest and I got there early. It was a cooler fete but I went solo and did not bring a cooler and went to the bar to buy a drink. Unfortunately they had no mixed drinks for sale – only bottles- so noted for next time. I scored a bottle of Soca Wine from one of the vendors and it saved me (ha). Personally, I enjoy a fete more when there are actual things to see and do besides the norm and CC Love Fest absolutely delivered with face painting, having the authentic Trinidadian culture showcased via the various caricatures (Midnight Robber, Jab Molassie) as well as a full on riddim/steel pan section. Food chits were given and there was so much food to choose from between corn soup, pelau, doubles – I ate my belly full and then some. Favorite DJ set for the night was Dei Musicale and favorite performance was Nadia Batson. This fete had so many elements to it and I was happy to get a real introduction to authentic Trinidadian culture.
Scorch Pandemonium ($74.90/J'ouvert party/drinks inclusive)
Last minute decision to do this fete and I was not disappointed at all. We met up at the venue around 2amish and they weren't ready to let people in as yet. Went inside, got a cup, glow paint and glow sticks and the fun began. Neon J'ouvert paint was flying literally everywhere and no stush to be found. Trucks started to move onto the street and we moved onto the road which was such a good time (omg) – I really didn't expect it to be that good. Came back to the original venue to a performance by Voice and Little Natty & Thunda which was definitely the highlight and I was so happy because I literally STAN this tune and wish more DJ's would play it. There were vendors selling food – I think they gave some complimentary breakfast but for some reason or other we didn't want it and opted for a cheesy warm pretzel instead. I have to say out of all the fetes Scorch Pandemonium was the best one for my T&T experience. It literally caught me off guard how good it was.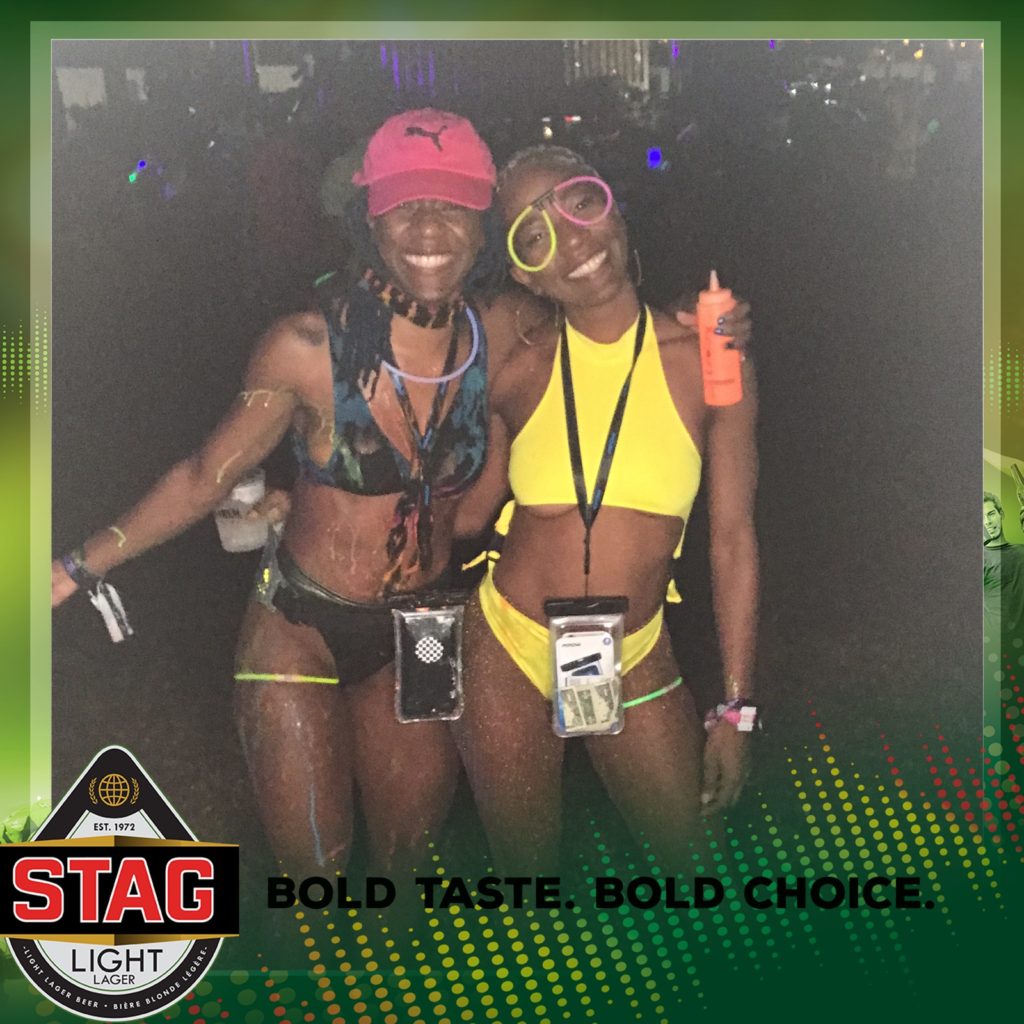 Soca Brainwash ($182.99)
Now the process to get tickets was just a bit too stressful for me. Stayed online for hours trying to score at least 2 but with no luck. I then bought a ticket from a Twitter friend who couldn't attend anymore. Got to Brainwash kind of late; it was already packed. One thing I love about Brainwash fetes are the attention to detail and really encompassing a festival/experience kind of feel. I copped a Foxy Mama 70's inspired cup and headed inside. Took a few quick pics and started to explore the grounds of this party. I particularly loved the discography of Caribbean musical greats and mainstream greats exhibition, the flower fields, the Black Panther prop and the 70's VW bug prop. The old school stage was fun for the brief time I was there.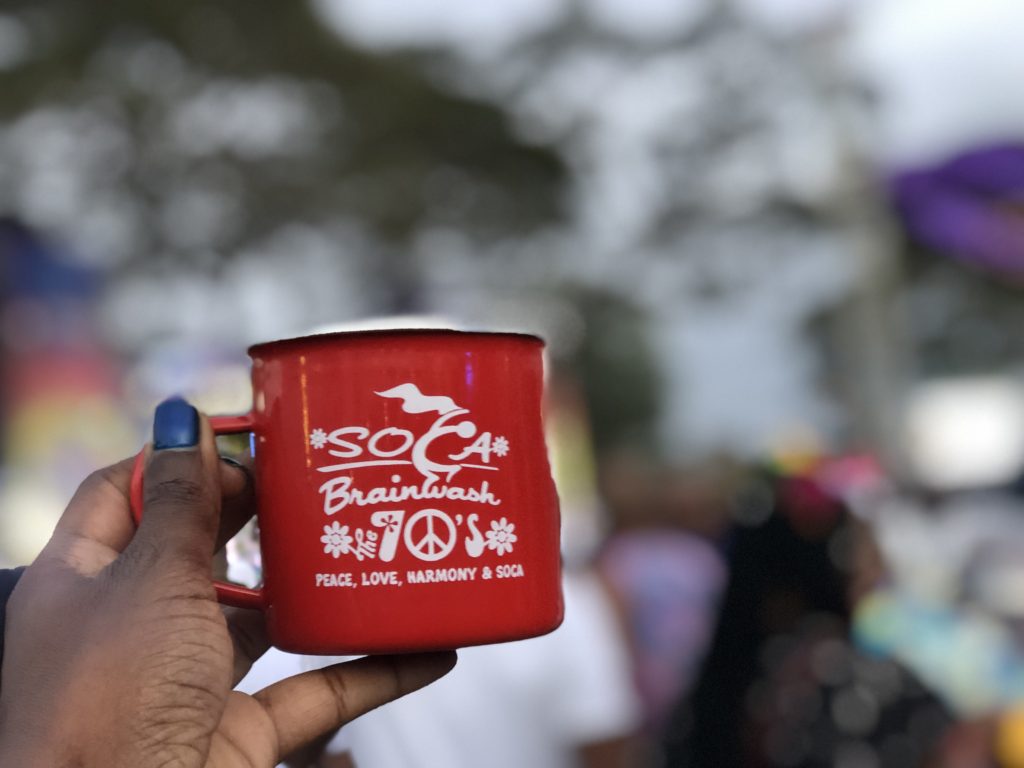 Went to get some food but the lines were LONG so I settled for Lasagna. Bars were the exact opposite (no super long wait times) and I drank gin and coconut water the whole fete. Met up with some old friends and we decided to check out the Heineken House that had a cooling/ice/snow jet gun thingy that was so cool and refreshing from the hot Trini sun. Brainwash was def an experience but Ive had better – in my opinion it wasn't as vibesy in terms of crowd vibes but the MUSIC was everything and true to theme. I would try my hand again but between the ticketing process and not getting the food I wanted, I'd be ok if I didn't score a Brainwash ticket. It's definitely something everyone should experience at least once.
Candy Coated Cruise ($132.87 – food/drink inclusive)
Finally get on a Candy Coated Cruise in Trini (yay!). So boarding was a bit disorganized but the staff got it sorted. We got these really nice tumbler/water bottle style mugs that I will be using during workouts. There were two bars – one on bottom level and then another on the higher level of the boat. It was not super crowded at all so that was a plus! A lot of vibes on the middle level and top level where there were performances by Skinny Fabolous, Little Natty & Thunda. Food was served from when we boarded to when the ship was about to dock at the end of the fete
I personally loved the steel pan on the boat and for the price I would say Candy Coated TT Cruise is def worth it. I would do it again.
Midnight Mas
Now Midnight Mas occurs on Carnival Monday. I meandered my way into Carnival Rogue to find my long lost twin sister and we made our way to the Socadrome for one last pump. By the way the little bit of Carnival Rogue I experienced was VIBESSSS- has me seriously contemplating playing with them for 2020 even though they don't have a rest stop (*cries*). Anyways we get inside and follow the trucks around towards the stage. It wasn't super crowded so that meant the crowd was people who love to pump. We crossed the stage, Kevin Crown was on the mic – I believe DJ Puffy was playing and it was soooooooooo good. I met a few kindred souls just pumping and vibing to the music – I have to say I lost my mind (and almost my right knee) in this fete. Seriously… VIBES!
This was seriously the highlight of my Carnival Monday. I definitely won't miss another Midnight Mas ever again.

Q+A
How far in advance do I need to plan?
NOW. Right now is a pretty good time to start. I started a little later than most (which is not recommended).
Where to stay?
Recommended areas to stay in would be any area close to the Savannah so for instance St. James, WoodBrook, St. Clair, Maraval (Saddle Road) and Cascade. You can search these areas in AirBnB or check out Global Carnivalist who has a list of hotels/guest houses that are good for T&T carnival 2020.
How do we find bands/get in contact with mas camps?
Most bands have social media/websites – so its easy to either DM them or look them up online. Here's the few that I've played with but keep in mind these are not all the bands:
Carnival Rogue (ha)
TIP: Look at the costumes and prices and get familiar. They have all the information for what to expect from their band even though those are last year's presentations. You can see the differences between frontline, backline, who designed what and contact information. Bookmark pages for band launch info which should start in a few weeks and follow them on social media. Just saying…
Best new fetes?
The only fete that I went to that was relatively new was Scorch Pandemonium and I would definitely recommend it again. Keep in mind it will probably be even bigger next year. I also would recommend Candy Coated Love Fest for persons who want more than just a fete experience and just want a taste of real Trinidad culture.
How much does T&T carnival cost?
A lot. LOL. But pricing depends on YOU and your choices. I personally spent $3900 on transport, flight, accommodations, costumes and fetes. That didn't include food, makeup, clothes, toiletries etc.
FLIGHT: Varies on dates you're flying and where you are flying from – budget $500 – $800 (give or take)
ACCOMMODATIONS: Varies on dates you stay and where you stay and how many ppl -budget up to $600 – $1200 pp
TRANSPORT: Varies on dates and how often you need a ride – budget up to $500
COSTUME: Varies on if you want backline, frontline or individual costume – budget between $800 – $1600
FETES: Some are as cheap as $40 USD to $2-300 USD depending on what you choose. I spent about $700 dollars on fetes (WOW) lol. So it depends on YOU.
When to look for accommodations?
You should have started already but most places will seem sold out online. Here's a tip. CALL. Don't stop at an online search. I started inquiring in August and a few places/guest houses had availability but I only knew that because I picked up the phone and did my research. Plus I prefer speaking to someone over the phone anyway. Some of the places sold out as I was calling and they were able to refer me to other reputable guest houses.
Where to look for accommodations?
Recommended areas to stay in would be any area close to the Savannah so for instance St. James, WoodBrook, St. Clair, Maraval, Cascades (see map). Also Diego Martin/Petit Valley isn't too bad or far away once you have a reputable driver.
TIP: PLEASE Google Map the Socadrome or Savannah to any place or area you're contemplating on booking before booking. I would say you want to be at maximum 20 minutes drive from the Savannah because carnival time will be a lot more traffic so keep that in mind- the closer to the Savannah the better.
What to do if I don't know a committee member?
For fetes and costume it can be a requirement to know a committee member which can be a bit disheartening for some. What I would do if you're absolutely pressed to get into a fete – email the organizer and see if they can assist OR just do alternative parties that don't require committee registration. There are also other bands that have easier processes to register like for instance getting into the Lost Tribe (for me) was no headache at all. Concierge services are also a good way to plan T&T and avoid the stress. I've personally had good experiences with Karnival by Kandi.
How to find a driver?
Lucky for me I've had the same driver for years. Best way I think for newbies is to ask people who've gone before -if they are willing to tell you about their driver and then ask staff of hotel/guest houses. They would definitely know and/or they offer the service themselves.
How to cut down costs?
Several ways to cut down on spending include:
You don't have to buy Frontline, Backline costumes are just as beautiful and less expensive.
DIY your own Monday wear or get inexpensive options – here's a few tips here.
Do your own carnival make up.
Travel with a bigger group. I just traveled with one other person so my costs were more for accommodations and transport.
Purchase early bird fetes. Don't wait last minute.
Pick fetes strategically. You don't have to do all of them – my rule of thumb is do one type of each party so a breakfast fete, a J'ouvert, a cooler fete, an all inclusive, a cruise etc.
Let me know if you have any other questions in the comments below. I know T&T carnival planning can be a bit stressful but its definitely an experience I would recommend to anyone even if they do it just once in their lifetime.
Here are the T&T Vlogs if you've made it this far.
Til next time,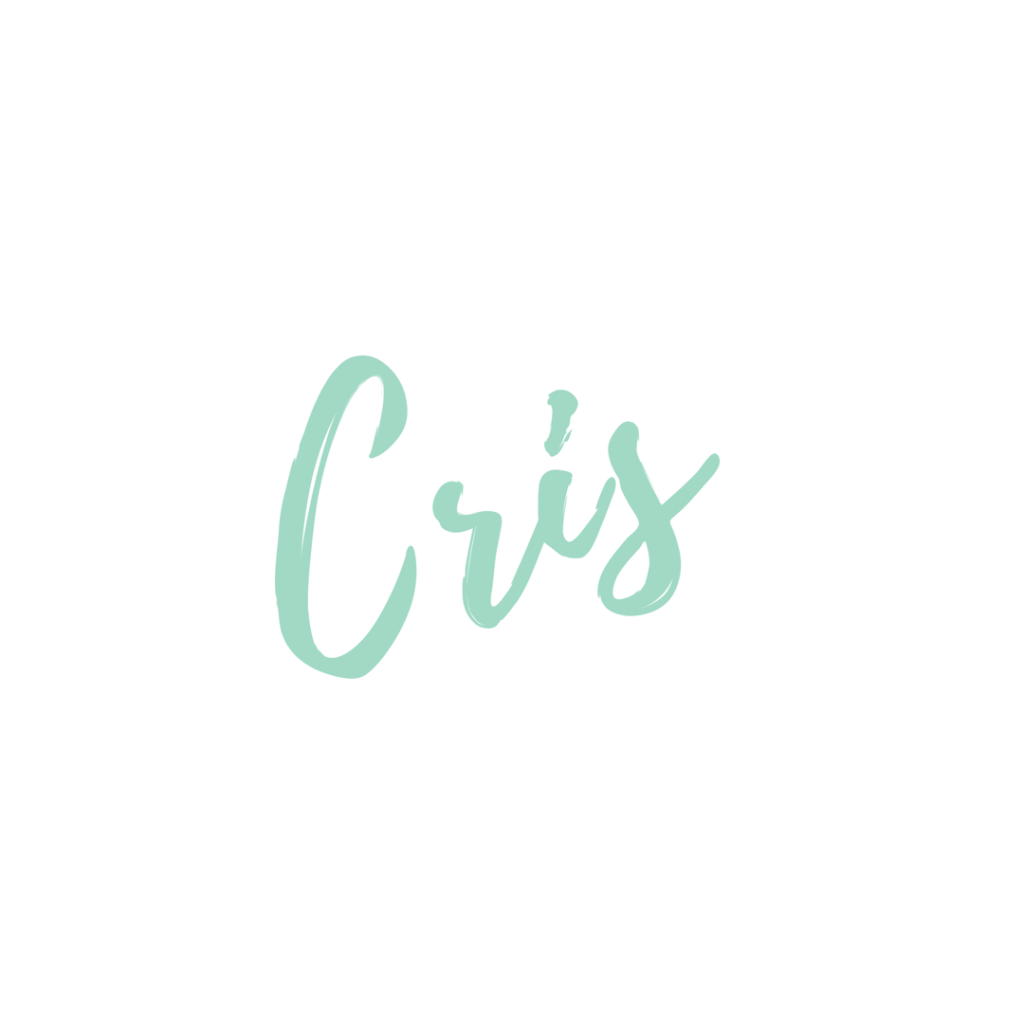 Til next time,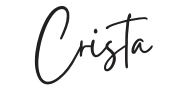 carnival in trinidad
planning for Trinidad carnival
planning for trinidad carnival 2020
trinidad carnival 2020