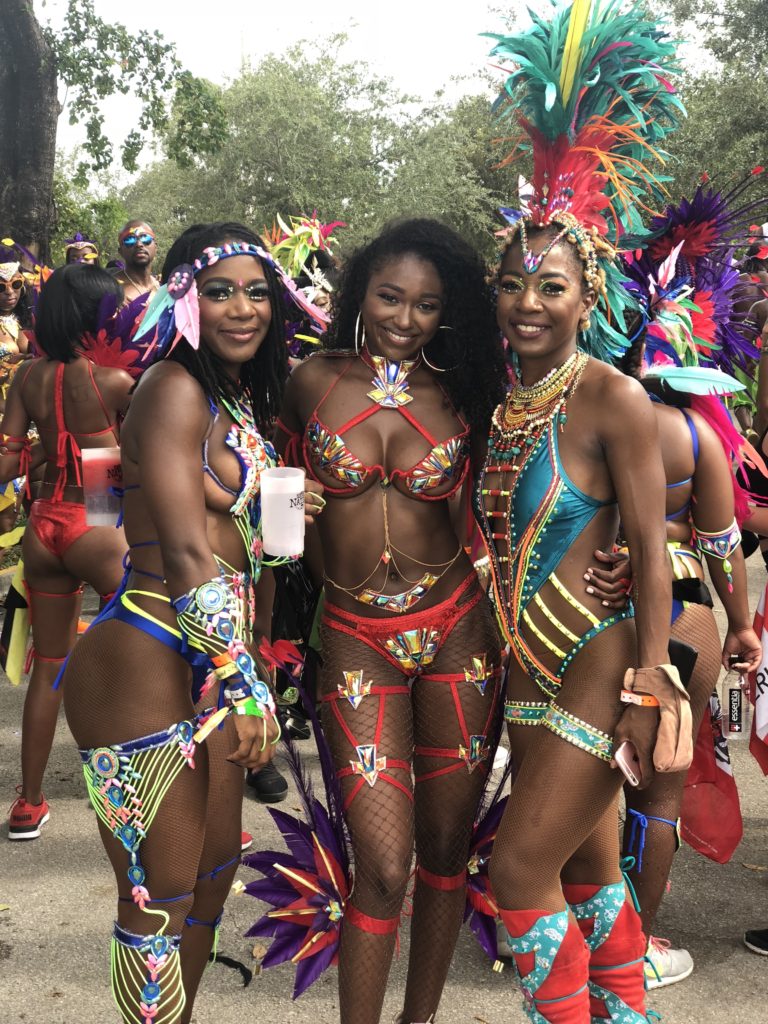 Wow another Miami carnival come and done (I swear I've been planning forever just for it to come and leave-boo!)–and just like last year's I'm going to give y'all my 5 cents about how MY carnival went. I did 10 whole events (including carnival) in the span of two weeks and thankfully I'm still alive to tell the tale so here goes:
FETES
SourSop Saturdays ( avg. cost $20)
Location: Wynwood
Started off sweet with a weekly ritual put on by Experience Nyrvana — a great place to get into "Miami Carnival mode". I had a great time reuniting with some old friends, meeting new people and hearing a lot of good music (I hadn't heard in years). They also had a really good female DJ on the roster– but I didn't catch her name. Cash bar and bottle service.
Entice Miami  (avg. cost $35)
Location: Wynwood
I don't think there's another fete for Miami carnival that offers so many artist performances at this price point, seriously including DJ sets and a riddim section. And for the record, I love that this fete was held in the hip, urban location that is Wynwood with all the great murals and art. Overall, just a nice change of scenery from your average fete. Dress code was all-black which in October is very very easy to abide by. Cash bar and the drink prices were reasonable. Vibes took a while to warm up with the weather being bipolar but towards the end of the fete- the crowd got into it especially when Skinny Fabulous, Motto and Nailah Blackman got on stage. Cash bar and bottle service.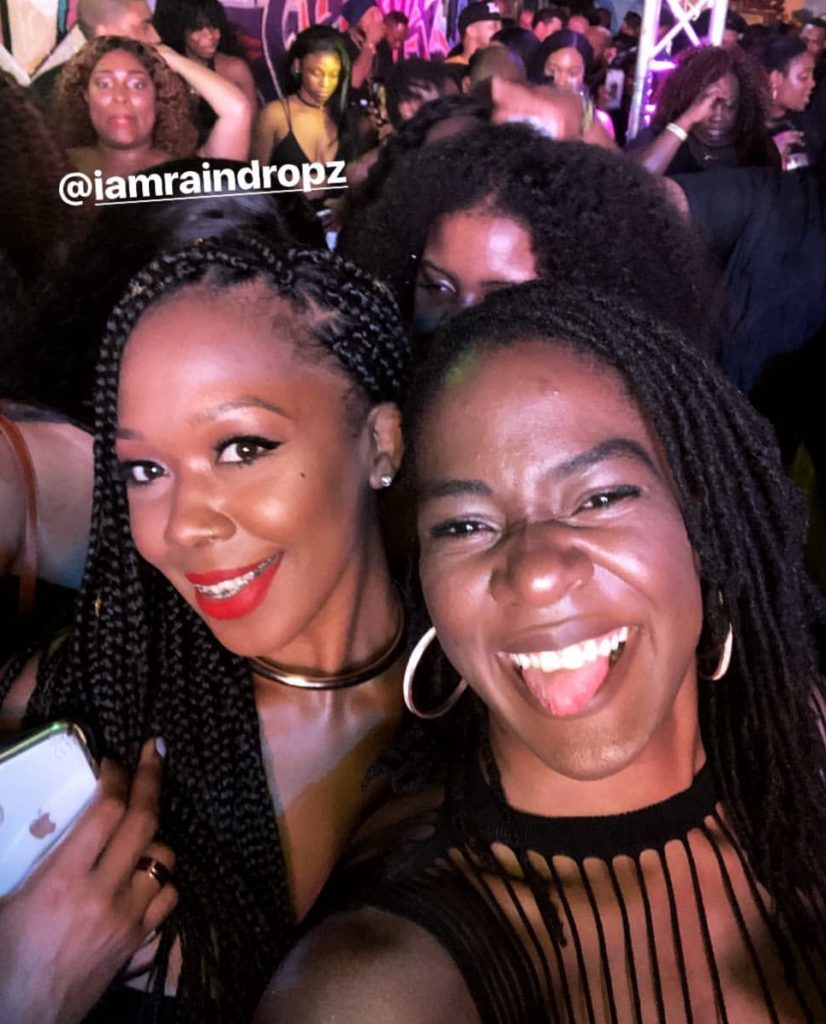 Citrus (avg. cost $125) by Aurora Events & Candy Coated Events
Location: McArthur Causeway, Miami FL 33132
A sweet all inclusive. My only grievance is I wish I ate more food instead of trying to play cute. The location was beautiful on the water and the cups were HUGE (ha). I loved the ambiance of this fete with the citrus prop and oranges and lemons strategically placed as decor. I could not resist a photo or a few and with all the different food stations (lobster rice & baked macaroni amongst a whole array of different delicacies) strategically spread out -it just felt like there was something new at every turn. Bathroom stalls with attendants were located in a clean airconditioned trailer outside of the fete but let me tell you this was definitely strategic vs the outdoor porta potties that I despise. There was a riddim section, and Kevin Crown wins my heart for best DJ I heard for the entirety of Miami Carnival. I swear he studies how to play to a crowd vs. dj's who just riddle off the same 5 songs I been hearing for months. All inclusive food and drinks. 
Duck Work (avg. cost $40)
Location: Wynwood
Confession: I have never been to a Scorch Duck Work in Miami (only Jamaica) and didn't quite know what to expect but this event exceeded my expectations. First of all, I haven't seen that many people at a fete in a long time (literally felt like I was in Jamaica or Trinidad). There were so many people but the venue had more than enough space. The crowd was already lit when I got there so I moved to the front of the stage and the vibes/energy was just on another level. I was in awe because the only reports I've gotten about this fete in particular, was that it was STUSH. And what I experienced was quite the opposite– I never had to reject so much wine in my life. The men were definitely respectful of course. I will be back to Duck Work for sure next year! Cash bar and bottle service.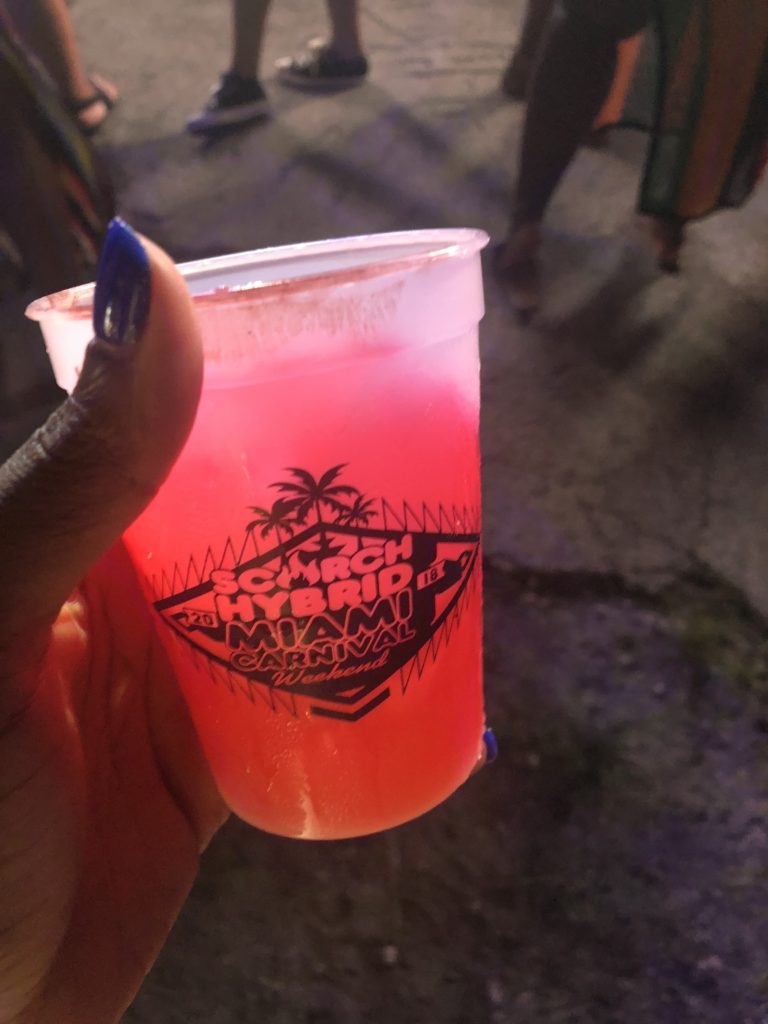 Big Phat Block Party (avg. cost $75)
Location: Wynwood
So how convenient was it that Duck Work and Big Phat Block Party were right across the street from each other? So from one to the next fete LITERALLY… and Big Phat Block Party is always one of my favorites. The venue had food trucks, it was drinks inclusive and had so much people. My only hiccups were getting a drink from the bars in a timely fashion and close to the end, bars ran out of ice. Music was definitely varied – I heard tunes from Cropover, St. Lucia, Grenada, Trinidad so I was pleased with that. I can't say too much about my stamina, because after I was dog tired and got up for Jouvert late late. I already see that next year I have to reshuffle some of my fetes so I don't "die of exhaustion" but Big Phat Block Party will definitely stay in the rotation. Drinks inclusive, food trucks. 
Jouvert (avg. cost $30-$75+)
Location: Central Broward Park
I hadn't done Jouvert in about 2 years because of the drive from the park back down to Miami but this year I was definitely excited to participate again. My crew got dropped off in a Lyft and by that time (10 or 11amish), parking was non-existent. I brought trash bags with me just in case we had to Lyft back. The line was a bit of a situation but within 10-15 minutes we were inside, so definitely next time will get there earlier. We opted to storm the bands and honestly I had such a good time jumping from band to band – my favorites Red Antz, One Island. And praise God the Lord blessed us with some rain because HOT!!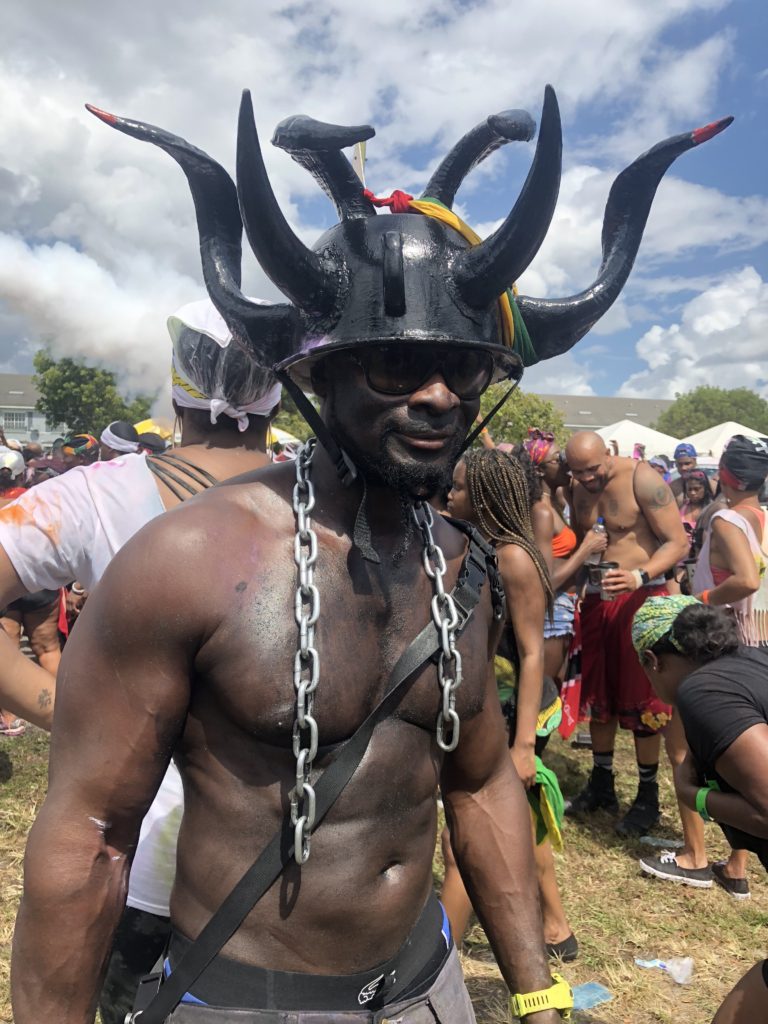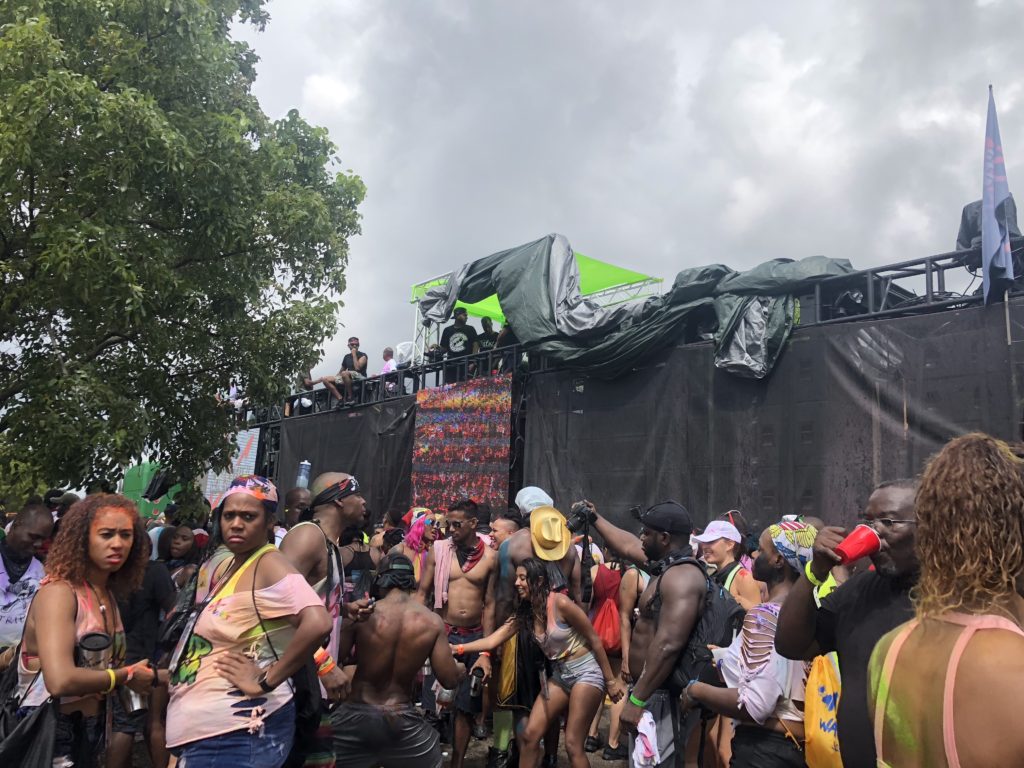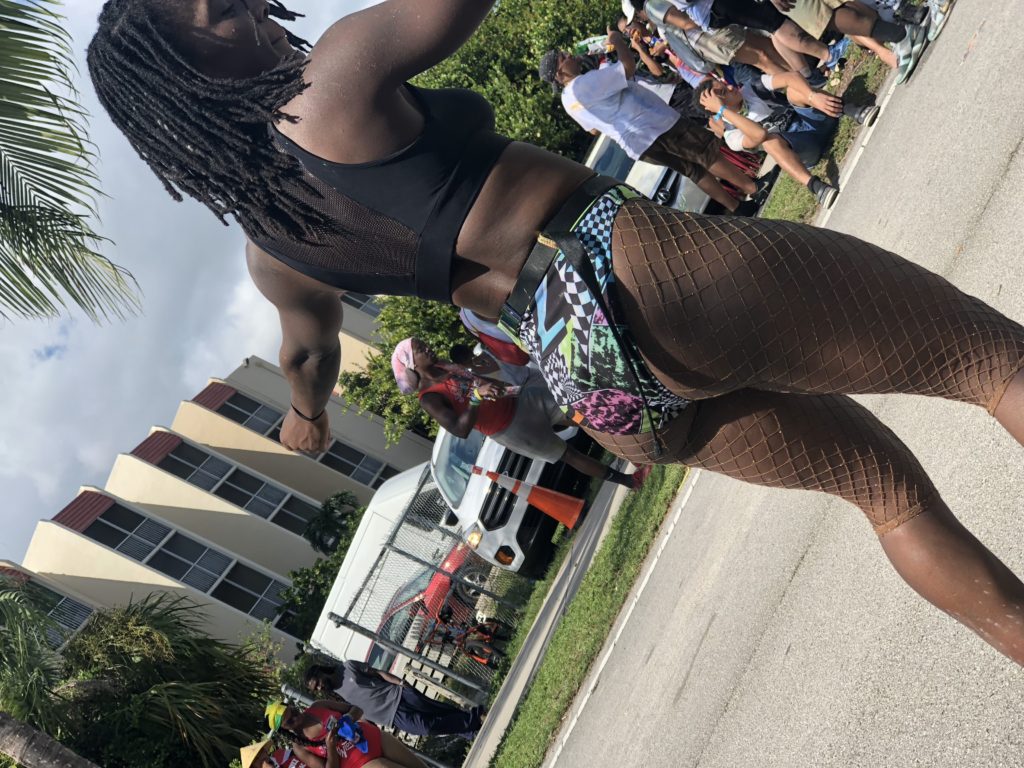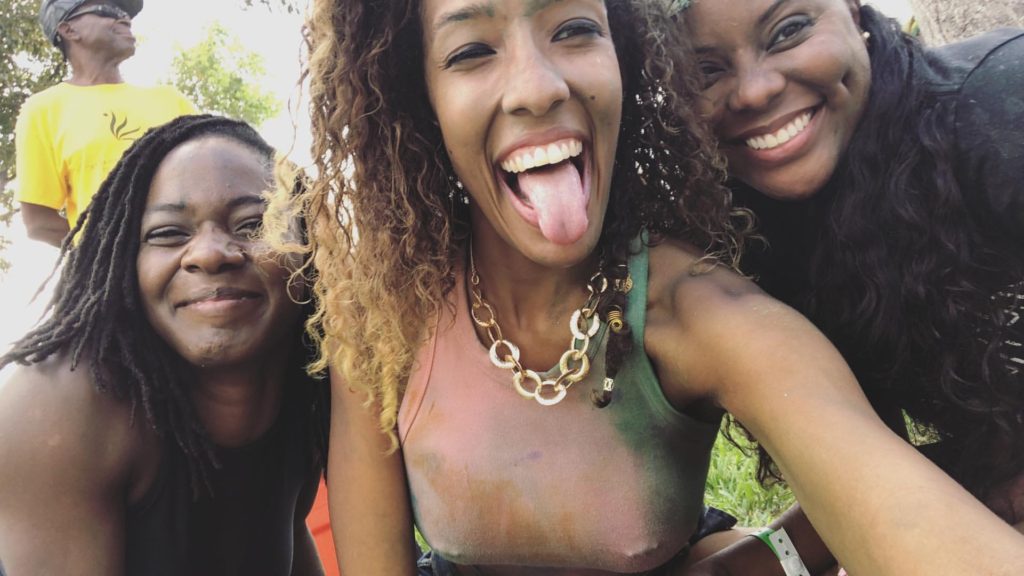 Mai Tai (avg. cost $95)
Location: Hollywood Arts Park
My first Mai Tai experience and it was amazing! From the decor, specialty cocktails, ambiance, stage, lighting, the venue location, the people. I was just so impressed. I had a tug-of-war of heart trying to decide between SBW but of course anywhere Bunji Garlin performs I will be there and he did not disappoint and this is coming from someone who is EXTREMELY PICKY about live performances. I loved the special touches – LED lei necklaces, the costumed dancers on the stage, the Angostura tent and the prop to take photos in front of. This fete was nothing but magical. Drinks inclusive. Food for sale.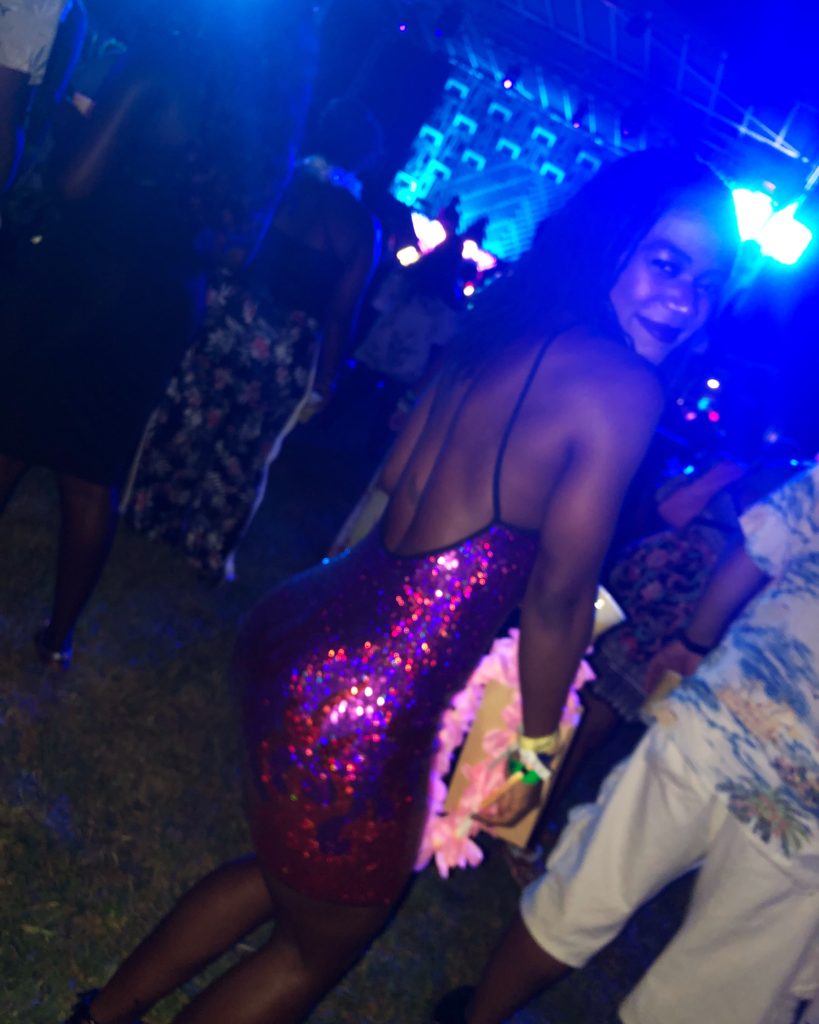 Viva La Carnival ($50)
Location: McArthur Causeway, Miami FL 33132
Confession: I fell asleep and missed out on Scorch & Spice 🙁 , so in my attempts to salvage my Saturday night. I went to Viva La Carnival with a friend again this year -late late late late late and I have to say it was a complete 180 from last year (for me personally). The venue was in a way more convenient location and by the water, the only complaint I can imagine is having to wheel out a whole cooler to the entrance secondary to parking being crazy at that hour. But in the event's defense they did warn everyone to come EARLY. The stage was set up in the center so access to it from all sides but the crowd opted to face the DJ's. Bar service did not take long at all and they even had a food court (Yass! food). My only issues with Viva were getting into the fete but after skipping the line, we were inside no problems and for the time that I was there Kevin Crown again shut the place down with his set! Next year, I'm just going to EVERY fete he's at because he is one of the most passionate DJ's I have ever seen play- hands down. Coolers, bottle service and food for sale.
Bacchanal Beach (avg. cost $30)
An all white cool down party. So by now after carnival, ya'll know I'm like just wanting my bed but who could resist a night time beach soiree especially with this Miami scorching heat. Plus cool-down fetes are a must, the best time to say your "goodbyes" and goodbye to the Miami carnival season. All genres of music were played and I enjoyed it because honestly I get so tired of hearing the same tunes over and over and over again so it was welcomed. Bacchanal Beach had a sweet, intimate feel-in fact it just felt like friends coming together to have a good time which was necessary after the hype of the carnival season. At the end of the night, everyone just basically went crazy and it transformed into a wet fete. Great last pump for the Miami Carnival season.  Cash bar and bottle service. 
ROAD W/ REVEL NATION CARNIVAL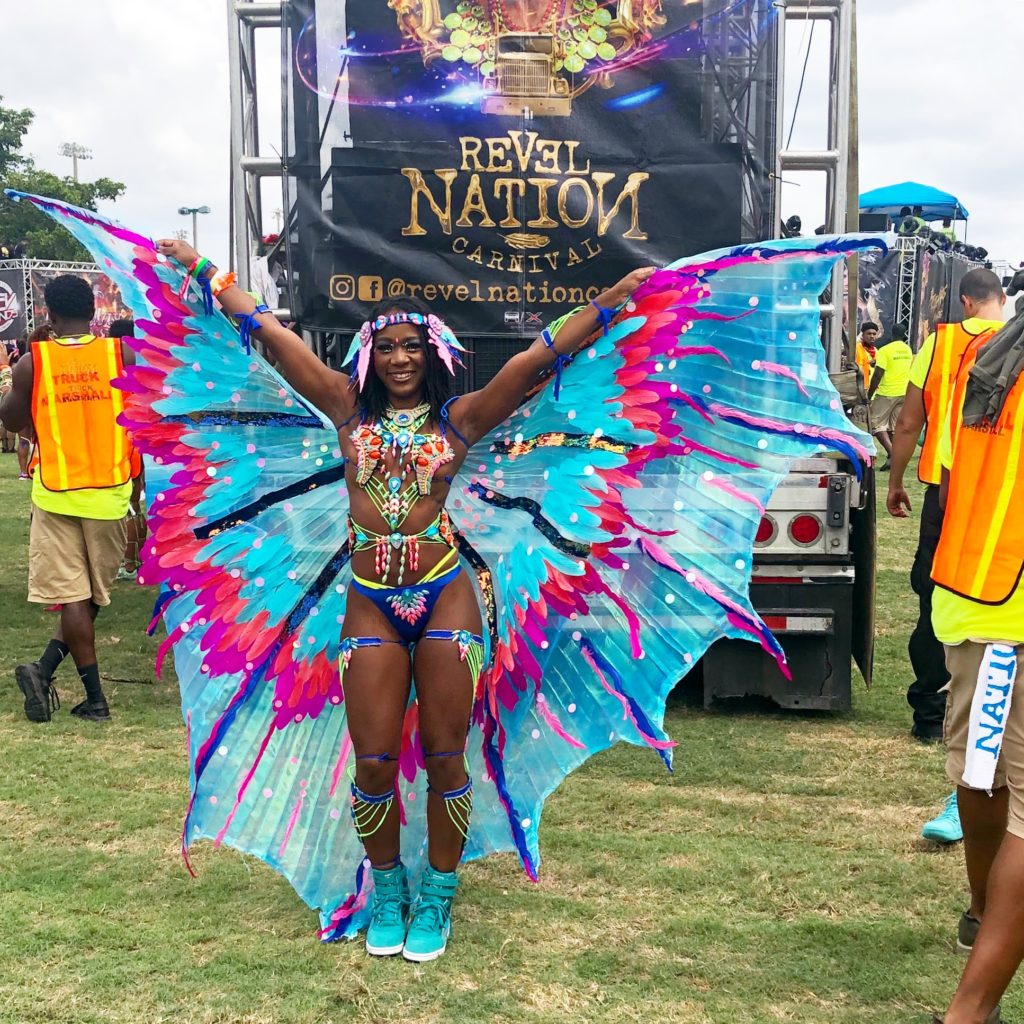 Registration
Online registration was a complete breeze. If a carnival band (in 2018) does not have a website or actual online presence (including evidence that they actually went on the road the year prior) I would worry and frankly since the beginning of my carnival experiences with Revel Nation (from a private section in Mascots to one of the major mas makers for Miami carnival), they have ALWAYS had online presence and an impeccable track record for answering masquerader's questions during the registration process. All of their team members are courteous, professional and understand mas and the masquerader's concerns so in my mind, the experience is worth every penny spent.
Pick up
Literally in and out. I think Revel Nation has the record for the shortest amount of time I've ever experienced for costume pick up ANYWHERE. They utilized an online check in system where you typed in your name and confirmation number, then prompted you to sign a liability agreement. After which, you waited until you were called to go over any payments owed, the details of your order (as they kept track of who came first) and then a Revel Nation team member walked you over to another room where the costumes were being distributed. A team member double checks your order (printed on your signed confirmation sheet) and then collects your costume and goes over all items in the package. Throughout this entire process, there are several reminders to make sure your wrist band has been given to you as well.
After all of the horror stories, I heard from others over social media, I breathed a sigh of relief that I didn't have to go through any bacchanal especially with so many fetes going on, I didn't miss any event and carnival ONLY comes once a year so….
Go over yonder and check my costume collection tips post from a while back so you don't get catch in bacchanal for next year.
People keep asking me why I go with Revel Nation, year in and out and honestly it is due to their consistently amazing customer service and diligence to deliver an amazing carnival product. My costume looked exactly like the prototype and the goodie bag was definitely adequate.
Road March
Road March was seamless with Revel Nation this year. We got to the band meeting point on time and they were already serving vegetarian and meat-option snacks (literally, no wait or lines), the bar was already serving drinks and everyone looked amazing in their complete costumes. Literally 10 or 15 minutes later, the trucks started to move and road march started. So, naturally people were warming up, greeting each other, taking photos so it took a while for the vibes to warm up. However, what I found is that in comparison to last year, the route moved along way faster than in previous years (not the band's fault). So in the sense of being able to savor the Miami carnival experience, it felt as if we were just moving along constantly. A lot of the time, the drinks truck was unable to serve drinks due to the fast pace of the parade but this is what Revel Nation did to accommodate it's masqueraders:
They announced on social media that the parade was going faster than usual for anyone who were still on their way.
They had shot girls visible and present throughout the parade for anyone who had to wait longer than usual for drinks due to not being able to serve drinks while the trucks were moving. 
Food was served prior to crossing the stage and I had my fill of jerk chicken, rice and plantains. I do have to note that when I presented my chicken chit , there were several options of chicken (stewed, jerk, fried etc) so I was really impressed with that as well.
Music was varied from Trini soca, dancehall, Cropover tunes, small island music so I had no complaints about who played what on the road…
Vibes began to build and then it was time to cross the stage and I have to say my experience with the band was way more than satisfactory. I've read and heard the horror stories of masqueraders in other bands and I have to say, if you are looking for a NEW band for Miami Carnival 2019, SIS/BRO get in your section with Revel Nation Carnival for next year. For the four years they have been a huge band, I've played with them and I have not been disappointed yet…
https://instagram.com/p/BorPga6HcQ8/

Reviews
Ya'll know I can't be everywhere all at once and I speak from my perspective only, so here's a few reviews solicited by carnival junkies (anonymous and not) about their Miami Carnival experience:
Submitted by Anonymous:
"Something needs to be done to improve event organization/entry at Miami Carnival going forward. Several members of my band arrived to the fairgrounds at 3:00pm. Because there was no signage, we wandered around trying to find how to enter the event, being told different things from different people, and being blocked by police officers at every turn. Finally, we attempted walking towards the trucks, only to reach a dead end (fence) after 20 minutes of walking in the heat, where police once again would not let us through. Then, after walking another 20 minutes back to where we had started, we waited in a very long line of masqueraders for about 50 minutes for a shuttle (of which there were 2 small shuttles arriving every 15-20 min, which was not enough for the hundreds of masqueraders waiting in line). Despite having arrived at the fairgrounds with lots of energy and enthusiasm before 3pm, we didn't successfully join the road march until 2.5 hours later, at 5:30pm, after having walked aimlessly for hours in the sun with no instructions or direction from anyone. I love Miami Carnival, but improved organization, communication, and clear direction for participants is desperately needed."
Submitted by Fadda Fete🇧🇸 :
"Big Phat was a good appetizer, nice kick off of to the weekend. It wasn't amazing, it wasn't terrible. It was just good. I like the location.
Jouvert with Revel
.  Took a minute to get there, traffic was insane. But as soon as we reach, no games was being played straight into the fire. When those clouds opened up and the rain started falling, everything just went to a whole new level. Pure vibes. Best part of the weekend hands down.
Soca Brainwash wasn't too far behind Jouvert. I already had high expectations because Brainwash Jamaica was so lit. It started of a little mehhh. But by the time Ryan and that selecta (Kevin I think his name is) came on stage party dun. That selecta MASH the place down. Going forward any fete That selecta do, I will be in attendance." #WetItUp #GetInYourSection
Submitted by Animal Vybz:
"First I would like to start off with the fetes! Majority of my fetes this year I had a good time, but there was 1 that was a complete swing-and-a-miss. The other just had hard luck. Luckily those fetes I was sponsored to attend. Prime up had plenty heavy hitter Dj's but the crowd was real slack. Adventure island wasn't bad, good vybz, moderate pump, and a nice beginning fete into carnival week. Plunge was nice, love the way Wassi takes control of the crowd. Entice…. Much better last year I feel, but the warehouse thing! They can keep that! Every half hour you find yourself outside trying to get fresh. That place had poor air circulation and a good 35% of the crowd was outside. Lotus breakfast fete, man… Vybz was nice and walking distance from Entice. Food was good and it was BYOB. Crowd was slack though…. Didn't make Citrus SMH ( The sand man won that battle) Duck was RAM! Good vybz, but they were taxing on drinks and bottles! I am Soca was good no complaints. Saturday, J'Ouvert is J'Ouvert. Drunk people, paint, powder, mud, music, plenty vybz. Viva!! Viva was a scene. Best cooler fete/ fete on my list this year. Everyone carrying on bad plenty plenty vybz and nice tingz everywhere! I will come back to Mas Sunday. Last lap Monday Bacchanal Beach. It's started a lil stush, but then the liquor set in and people loosened up and had a time. OK, carnival Sunday. My opinion on the road…. WACK! I mean I will have fun because that's what I do, but the road was so stale! If our Miami Broward Carnival committee does not put us BACK ON DI ROAD! I feel Miami will die! We are already in a bad spot being the last carnival, right before Trinidad and Uber Soca Cruise is becoming a house whole name withe good reviews (Trust me my 3rd year attending). People are literally missing Miami to go USC now. What happen to the days we mash up Biscayne, or the first year at the stadium? If our committee does not do something fast, and by fast I mean next year. Miami will only be a place to fete during carnival week and that's it, people will go home Sunday."
That's it for me y'all. Are you going to Miami Carnival next year or nah?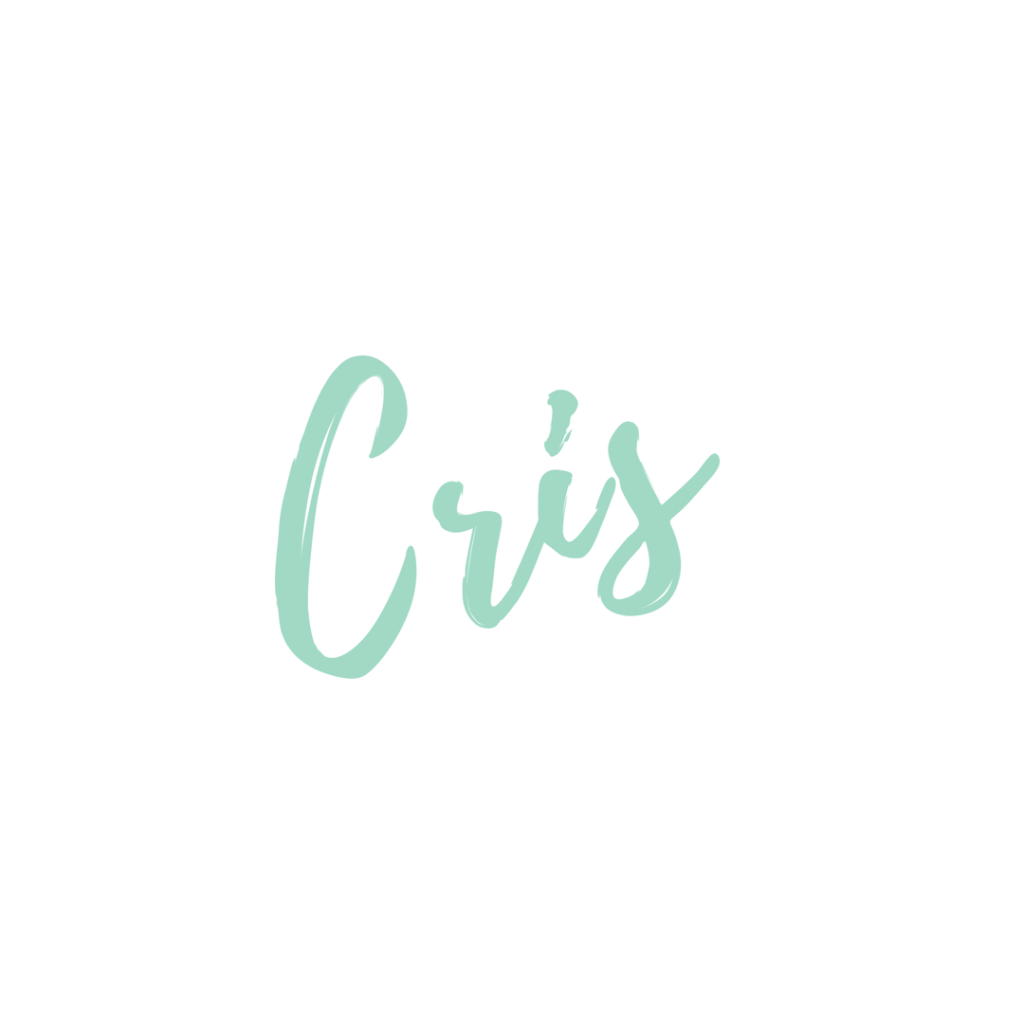 Til next time,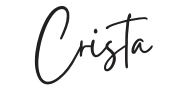 2018 miami carnival fetes
carnival review
miami carnival
miami carnival 2018
miami carnival review
miami carnival street party
revel nation carnival review