Whooooo this review has been a long time comingggggg. Last year around this time, I decided to visit London for Notting Hill Carnival 2019. I had been putting it off for a while but finally FINALLY bit the bullet. Bare with me but I'm going to go in chronological order from band launch to the actual road experience. Please note that the next Notting Hill Carnival is slated for Monday, August 30th, 2021. Unfortunately this year's NHC was cancelled due to the Corona Virus pandemic.
When: Notting Hill Carnival occurs every August bank holiday which is the last Monday in August usually. 
Where: London, United Kingdom (LHR)
Notting Hill Carnival 2019 
For years, I had been stalking Bacchanalia UK – the themes and costuming was just unlike any other band I had seen. One of my favorites to this day is this Dragon costume that gives me Khaleesi vibes. Anyways let's get into this.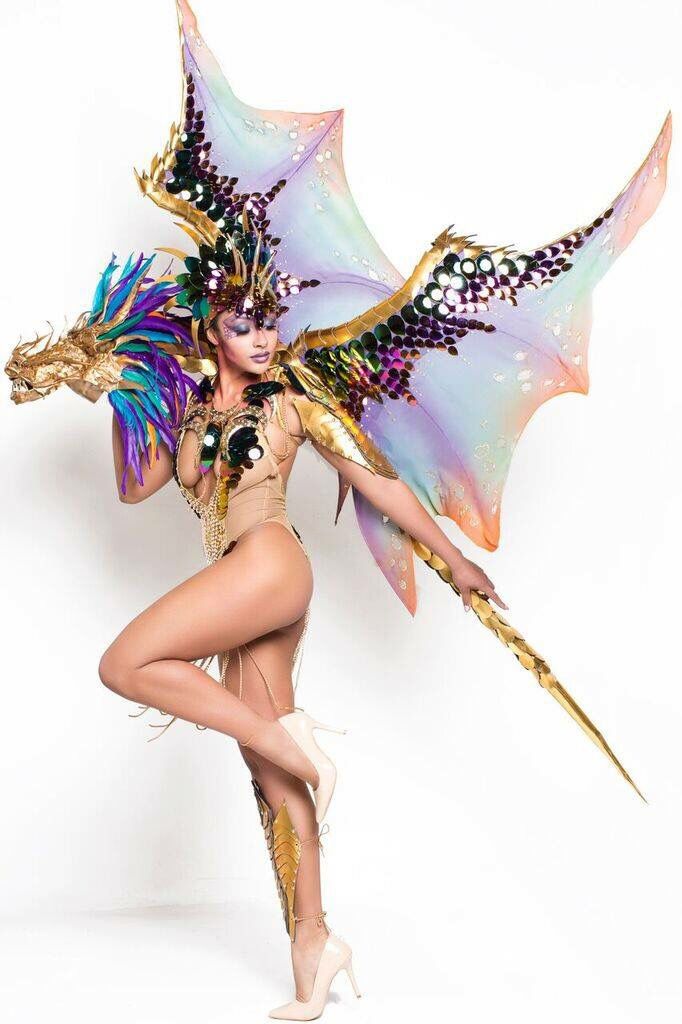 Bacchanalia launched their theme "Alpha " and I instantly fell for the Anka section and ended up registering for the backline option with collar.  
REGISTRATION
Registration was fairly easy and I was able to make my payments through their payment portal connected to PayPal (they even had a payment plan option). Email communication was swift for any issues I had and also figuring out costume pick up as I was leaving the US on a Wednesday and getting to London Thursday morning. They even connected me with an MUA (Kitty Noofah).
ARRIVAL
Getting to London was a 8 hour and change long flight from ATL to LHR.  I connected to ATL from FLL and then ATL to LHR so it was one connecting flight then the longest flight I've ever been on that cost me about 450+ USD (roundtrip). Also note, that they are 5 hours ahead of EST. I traveled from Wednesday to Wednesday and a week was good enough for a few fetes (wish I did more) and a whole lot of pubs, food and sightseeing. 
THINGS TO DO AND SEE
Some places I went to: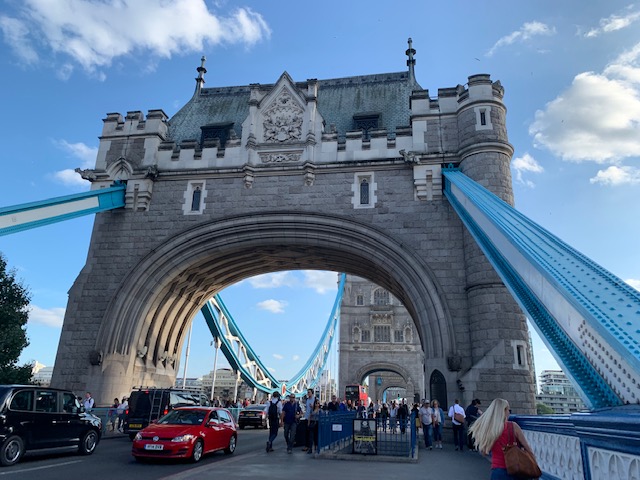 GETTING AROUND ON MY OWN
I was not used to the train system at all. It was a little confusing as a first timer; I did get used to it with the app called CityMapper. And also I think I would have opted to stay more central to the events and carnival next time. Thankfully I had some help from Londoner and carnival junkie @nskl. She was super helpful and friendly and absolutely looks like a model in person.  I purchased an Oyster card for about a week but it can be confusing so definitely ask a lot of questions before you go or opt for Ubers/cabs depending on if you're in close proximity to the events.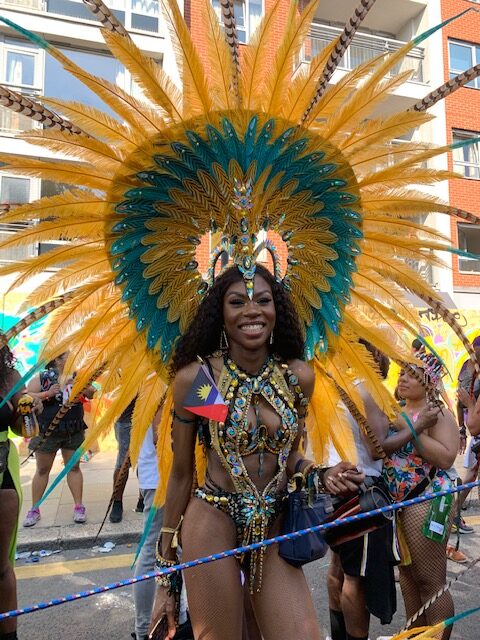 FETES
Bacchanal Friday
I wish someone had told me the dress code was sneakers because I would have worn sneakers. Instead I opted for my strappy orange heels LOL. Anyways, the crowd was definitely into the performances, DJ's. Barrie Hype, Private Ryan and others were there (I'm sorry this was a year ago -foggy memory) but the vibe in the crowd was good. The thing is it got noticeably rough and people were constantly walking back and forth especially in front of the stage so in saying that – decide what type of person you are when you go to the fete. Do you prefer to lime/dance by the bar where there's space or get on with everyone in the middle of the crowd? QTNA before you reach. Drinks initially took FOREVER to be served, however towards the end of the night – we got faster service. IF I do this event again, DEFINITELY sneakers -comfortable clothes -liming/dancing by the bar. Cost was (I believe) less than $30 USD. 
Ruk-A-Tuk
Cost was $70 USD. A food inclusive boat ride – the breakfast was YUMMY. So many options. Continental meets Caribbean. It boarded late but I feel like this is boat ride culture. Time of fete was supposed to be 8am to 3pm and we definitely was on that boat for a while. So here, the variety of music was probably 80% older soca and 20% new soca. The crowd was not stush at all and very friendly. I had fun – the crowd was HYPE to the point that the captain had to ask them to stop jumping.  I just wish they played newer soca hits at that particular time. 
Yes this is where my fete reviews end. Unfortunately I didn't even get the chance to do other ones or J'ouvert (I know very SAD) so I was a bit reluctant about putting this post out because I don't feel like I got the FULL Notting Hill Carnival experience. But here we are and I'm probably going to end up going again. 
HISTORY OF NOTTING HILL CARNIVAL 
First of all, before we get into the "wining and shaking up" and road experience – let's dive a bit into why there's a Notting Hill Carnival. According to NHCarnival.org; Notting Hill Carnival got its' beginnings as a result of the racially motivated murder of Kelso Cochrane (32 year old Antiguan carpenter and aspiring lawyer) in 1959. The article goes into detail about increasing racial tensions in the Notting Hill area between the many different nationals residing in the area (i.e. Irish, African, West Indian) (late 1950's and on). It also explains how resident activist and social worker, Rhaune Laslett organized a children's street fair to bridge the communication gap between the many nationalities living there. Claudia Jones, Trinidadian who was a human rights activist is also credited immensely for the origins of Notting Hill carnival after orchestrating an "indoor carnival" that was televised by the BBC.  1966 is when the first outdoor Notting Hill Carnival took place with elements such as steel pan and is quoted in the article as an "outdoor multi-cultural community celebration".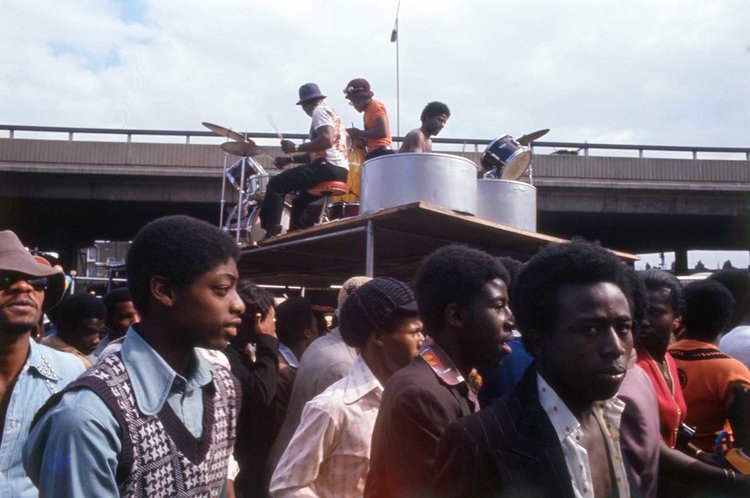 Fast forward.
Notting Hill is the second largest carnival in the world (1st is Brazil's Rio Carnival) with over a million visitors participating/spectating in the August Bank Holiday weekend events. Sound systems are a large part of this multi-cultural event and now knowing the history I understand why there's a stormer culture so to speak. According to the article, sound systems were introduced as far as 1973 (so they've been around) and many artists from different genres have performed during carnival ranging from the 90's hip hop greats to soca legends. In my mind it's the clearest explanation as to why there is a myriad of music played on the streets and why there's so many persons who may or may not understand the Caribbean carnival component- but in saying that it is very UNIQUE and I appreciate its differences. It's a very interesting read – so check it out HERE.
ROAD EXPERIENCE 
Picking up my costume was a breeze; you can see it all on my Instagram highlights here. The morning of carnival I had organized my makeup appointment EARLY and (lol) I was literally the first person there. Bacchanalia made sure to provide instructions via Facebook group and emails outlining where to meet and what time the band was leaving.  Very friendly band members from Bacchanalia UK helped me acclimate, get dressed (yes outdoors FYI) but that's optional. TIP: Put on your bodywear ahead of time to save time.  My makeup appointment was outside and thankfully it wasn't cold at all so it was actually really charming and different (from my other carnival experiences).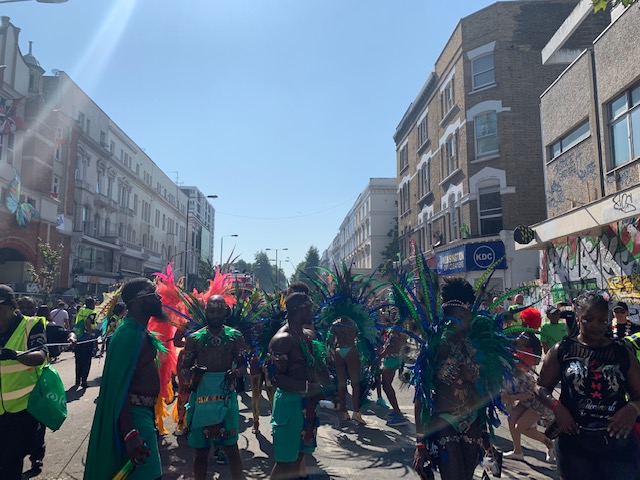 The revelers started coming in in groups and everyone looked really good in their costumes; I loved mine. The only cons were that the feathers were very stiff so it was a bit awkward holding things and as much as I loved my sequined gold leg sleeves; I had to take them off. It was really HOT; but I loved them sooo much. Bacchanalia fed us island staples such as saltfish and bakes and other items. Water was readily available and on the road they even had monogrammed coconuts. I made friends with two older masqueraders and kept up with them for the majority of the route.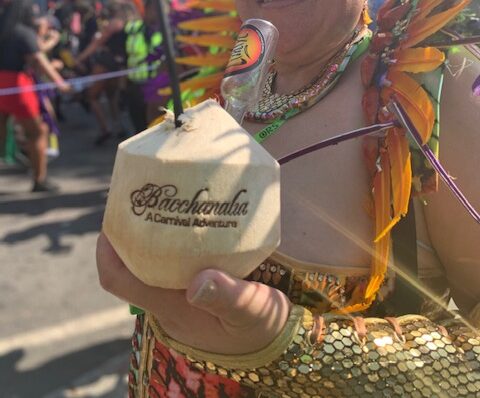 Music, for a while was just older soca that I loved but I really wanted to hear some new tunes and by the strangest of divine miracles, the MC came over with his mic and I whispered a few requests in his ear. Mind you the man quizzed me on different soca from various islands and I passed with FLYING colors. And to my surprise, he actually played the music I asked for and for a good while too I might add. But, I realized that most of the crowd did not know it. This point in the day was definitely a pro for me though. 
Amenities. Drinks were available from beginning to end of the route. At some point, they ran out of top shelf liquor and started serving a punch sort of drink. There were no mobile bathrooms so we just went in a store that was open, bought something and used their facilities. 
Stormers and Security. Now, Bacchanalia is a relatively smaller band and they definitely had ropes up and security but the AMOUNT of stormers trying to get into the ropes — they literally had no chance of keeping them out. There are stormers everywhere and I'm being objective. But I think it's important to note that as we passed along the parade route, you can see along the side streets where there are sound systems, speakers and they're blasting Afrobeats, rap, R&B, techno etc. etc. so I got how the blending of mass crowds of onlookers can interrupt the cultural aspect of carnival BUT THAT DOES NOT excuse how disrespectful some of the non masqueraders are.  Even crossing the stage, they wanted to cross the stage with the band. At times, it was really frustrating. Mind you, there is police presence but they aren't really intervening so I personally feel there's so many factors contributing to this "stormer culture" that the actual carnival bands have difficulty controlling.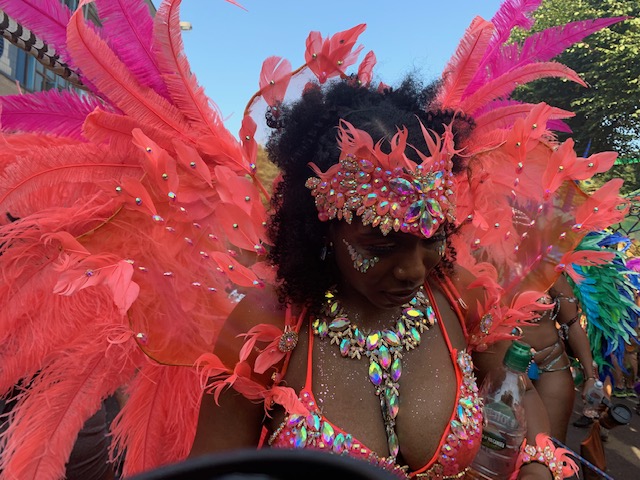 I would be lying if I said I didn't enjoy it. I did and I'm a person that just loves learning and seeing different cultures at play so it was very interesting to me. Interesting enough to say I'm definitely going to give the experience another try. I feel like a lot of people see certain things on social media and immediately cling to the "cancel culture" route and sometimes its' deserving and sometimes situations just need a closer look. But hey, to each its' own.
COST
(This is a guesstimate by the way.)
Flight (FLL)- $450+ (roundtrip)
Airbnb – $400  (if I hadn't stayed with a friend)
Fetes/J'ouvert (based on my pricing prior to arrival) $300 – but this would depend on you
Transport – depends on where you're located and if you do Tube or Uber
Costume – around $500 USD (backline) 
Makeup – $65 USD
I want to say for the bare necessities minimum of $1700-$2000 USD but that does not include spending money or an exact estimate for transport or emergency money.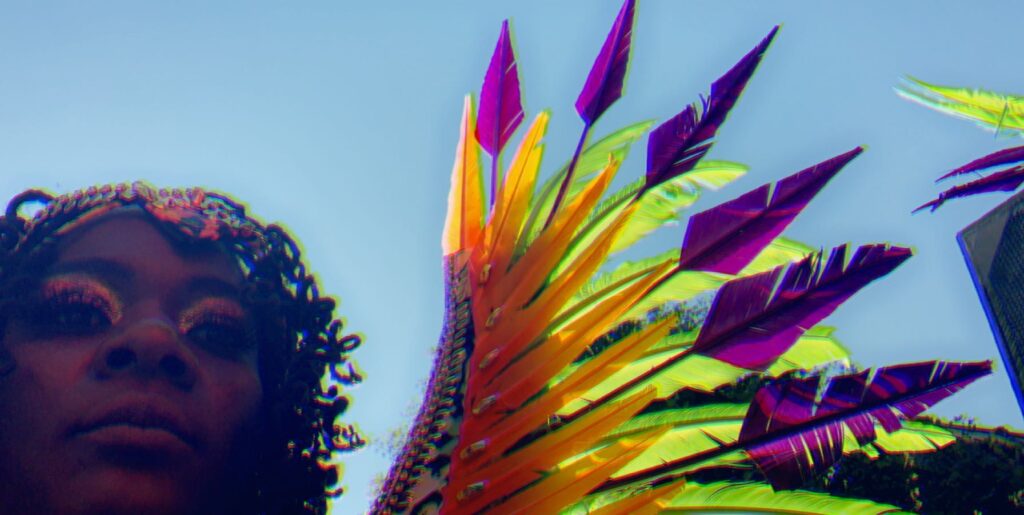 Phew, finally at the end of this review. Let me know what you think in the comments. Have you done Notting Hill Carnival before and if so -would you go again? 
Til the next pump,
Til next time,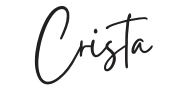 bacchanal friday
carnival 2019
carnival in london
carnival review
fetes review london
mjconsistencychallenge
mjconsistencypays
notting hill carnival
ruk a tuk review