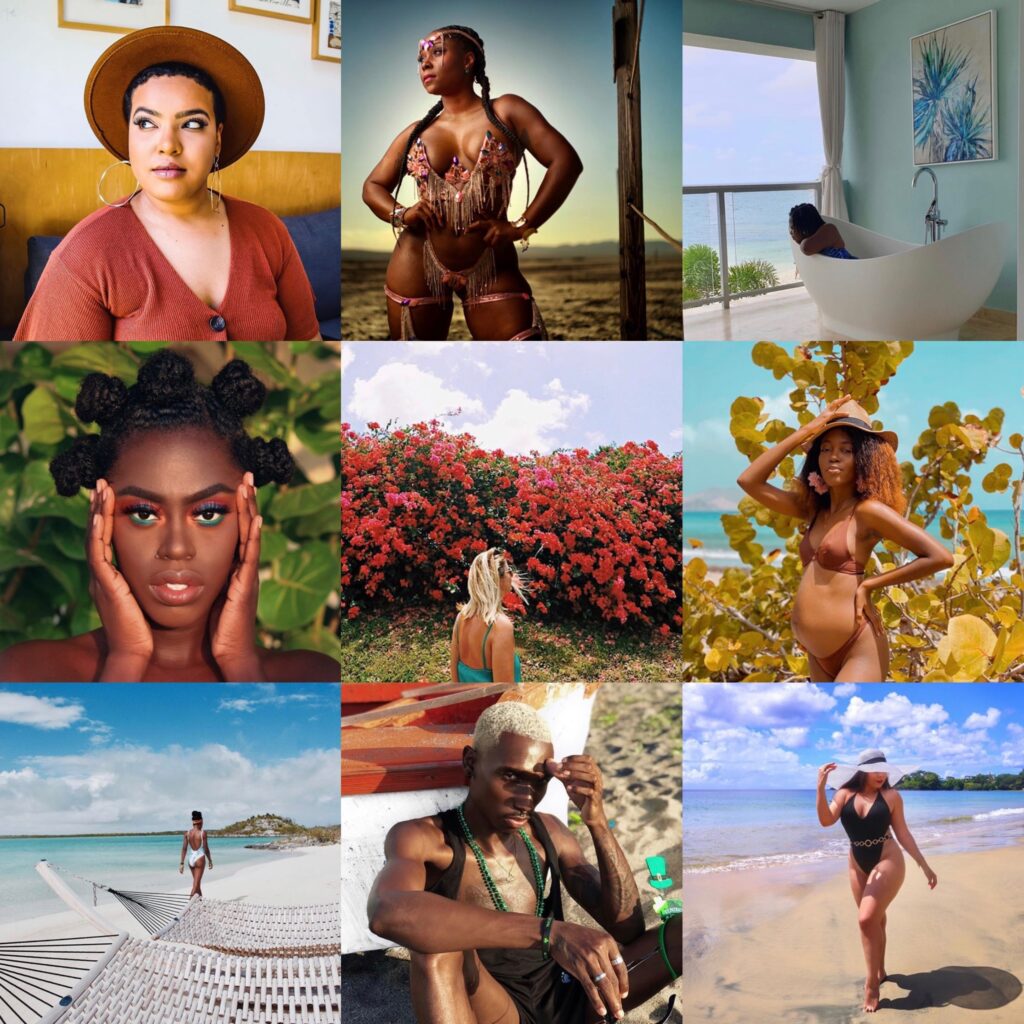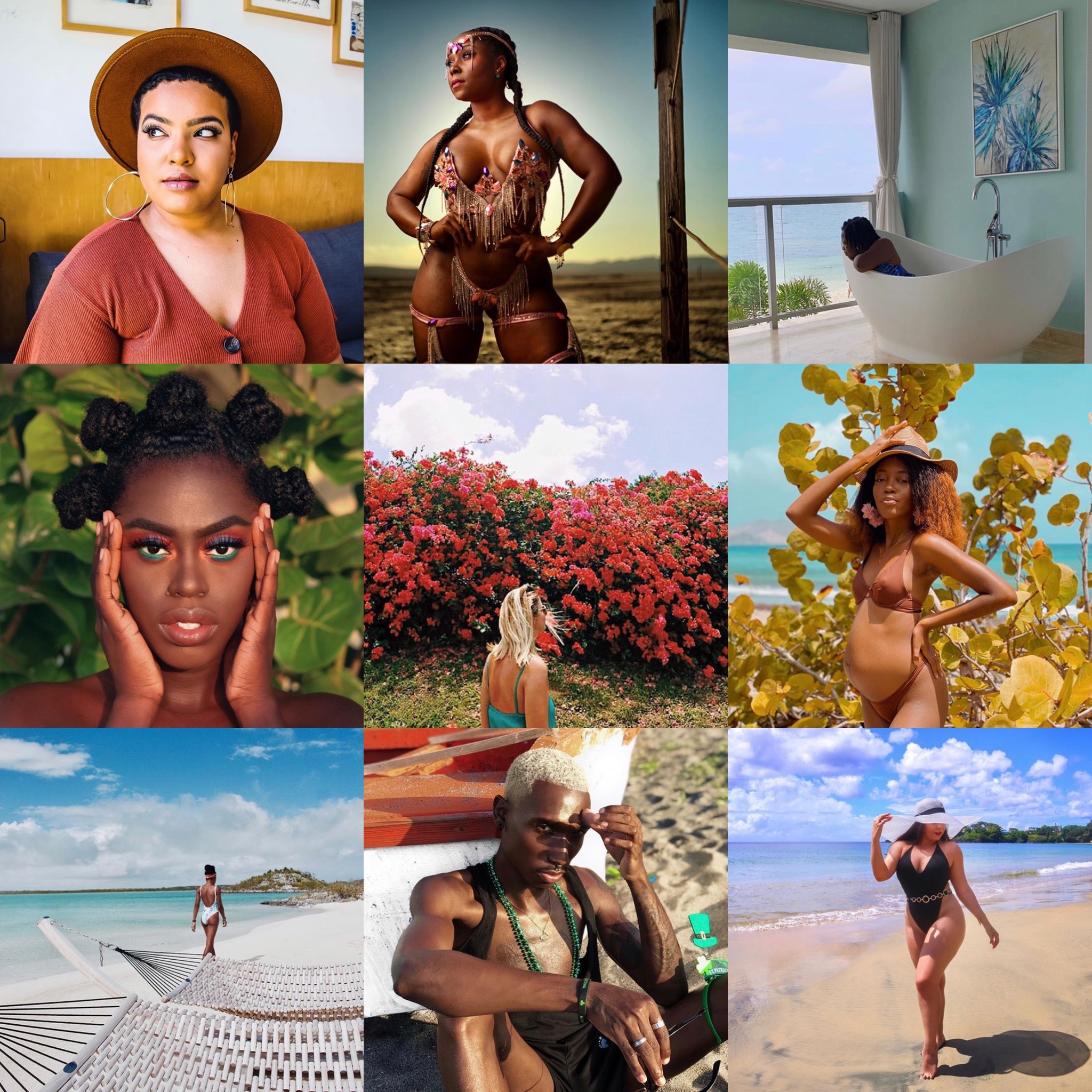 Yes, people still read blogs; here are a list of 20+ individuals whose content I've read that write about Caribbean content (you don't have to be from the Caribbean to enjoy and love the actual Caribbean just FYI). Also, I feel like I don't hear about us ENOUGH in mainstream media; so CHEERS to visibility.
Also please note, this is not an extensive list of Caribbean bloggers and if you know of any more drop them in the comments below. *please click on names and words highlighted in pink to visit their socials/websites*
Aisha is from Trinidad and literally takes some of the cleanest photos I've ever seen. Her blog is all about traveling the Caribbean as well as Trinidad and Tobago, carnival and lifestyle topics. Her storytelling and perspective is super refreshing!
Shea Powell is an award winning travel blogger and creative from Jamaica. Her travels are wanderlust-worthy and the pictures are absolutely amazing. Check out her blog here for her travels. 
Hailing from Antigua and Barbuda, Chav is the life of the party, hype man, ARTIST and mental health advocate! Chav can turn anything into a fete and can also school everybody and their mama on visuals and what you can use to create your own story.  I love this blog post where he did a whole self portrait series using just aluminum foil. 
Derencia is like your Bahamian girl next door. Her blog is all about her life in the Bahamas, travels, food and lifestyle topics. I know where to go when I get home sick or want to do some island hopping.
When I think of carnival, I think of Globey. Global Carnivalist hails from Trinidad & Tobago and is THE carnival queen giving us all the information you need to travel, prepare and enjoy the euphoria that is carnival. Check out her blog here.
Consistent. Knowledgeable. No Nonsense. and Hilarious. Mirna is based in Toronto, Ontario, Canada and is probably the most well traveled person I know. She eats, breathes, lives TRAVEL and does frequent travel itineraries on her blog to many Caribbean nations (including carnival) on her blog. 
She is the American carnival ambassador and tells her TRUTH about her experience as a masquerader and being a black woman in the military here. I love that she is all about body positivity and actually started an initiative such as Curvy Wines Matter to dispel and make aware that all types of bodies are welcome during carnival.
Rosé connoisseur,  Dawn is a Bahamian wine, travel and lifestyle blogger who can tell you the ins and outs of pairing different rosé wines with food, entertainment etc.
Frankiee is a visual storyteller, Jamaican born but hails from the British Virgin Islands. She writes and beautifully curates all things caribbean and lifestyle. One of my favorite blog posts from her is about Conch Island; a collection of old conch shells tossed in a specific spot off of Anegada.
Shania is born Dominican but lives in St. Kitts & Nevis. I had the pleasure of meeting her during Sugar Mas 48. She had the most extensive planning article I had ever seen for Sugar Mas and literally answered all my questions before I arrived. Her website is dedicated to being an island girl's paradise.
Tamara was born in Barbados but currently resides in the US. She is a style, family and lifestyle blogger who also happens to be the SEO expert. And… she sends these super motivating emails during the week – so get on her mailing list.
Ali also hails from Antigua and I had the pleasure of meeting her as well around carnival time. She is a travel, natural hair and lifestyle blogger. I really wish I had read more of her blog before I visited but now I am definitely going to check out more of Antigua when I return.
https://www.instagram.com/p/CBozUW1DgIw/
Shanese has Trinidadian and Kayak roots and is an avid carnivalist. A friend of mine actually shared a link to one of her blog posts about the complexities of being a queer masquerader and what that means for the LGBTQ community from band launch to road experience.
Ursula (I had the immense pleasure in meeting in Antigua as well) is an award winning digital creative that literally talks about things to do, where to stay and living/working information while in the Caribbean.
Wanna hails from Toronto, Canada but has Trini roots and loves carnival.  She is a story teller and culture journalist, a prominent voice in current pop culture and has features/articles and interviews upon features and articles and interviews.
https://www.instagram.com/p/B0uM0-pldmF/
Malou hails from Barbados and is passionate about Caribbean sustainable travel, mindful living and social good. I love this recent article she wrote about a local's perspective on traveling to Barbados during the pandemic.
The name says it all. Had the pleasure of meeting this Antiguan beauty when I visited Antigua. She slayeth my soul with her photographic presence, effortless style and black girl magic. SIS! She blogs about style, fashion, beauty and experiences.
Blogging sister from another mister, that's Turks and Caicos. What doesn't Shamair do? She is a designer, digital creator and even has her own podcast on top of creating blog and video content. Check her out; di tingz nice.
Anything you need to know about Jamaica and carnival from a male's perspective – here's a place to go. The Lehwego blog is a one -stop source for all things traveling to Jamaica and navigating carnival in the region. 
A mastermind publicist and digital curator-creator is Tenille Clarke, hailing from the twin island republic – Trinidad and Tobago. She has many features and is the most experienced content curator I've ever met. Check out her work here. 
If you want to know the origins of where you come from as a Caribbean national; this is the source. Founded by Saint Lucian born artist, filmmaker Fiona Compton – it is compiled of snapshots into the region's history. Her main objective is to empower and educate.
Sandra was born Cameroonian but based in the United States. She blogs ALL about her travel and carnival adventures here. One of my favorite articles of hers is her very thorough review of Lost Tribe Carnival. 
Jeaiza hails from St. Croix, USVI but is based in Arizona. She is an unapologetic and versatile digital creator that focuses on telling her authentic story via social media, blog and podcast.
Ianthia is also from the Bahamas and is a wife, mother, writer, tv host based in the Bahamas. She talks about everything and is not afraid of speaking her mind. Check out her blog for family, lifestyle, travel and creative tips.
Arrianne hails from sweet, sweet T&T. She is very relatable and real and charismatic. I personally love her video content but she also has a blog where she talks about style, beauty, lifestyle, travel and is very knowledgeable about marketing and being a Caribbean creative.
Phew, a list! Make sure to check out their websites and content- you won't be disappointed. Don't forget to check out my own blog too (well technically you're already here haha) – Bahamianista.
Also, I'm CERTAIN that there are more bloggers out there so I'm thinking to do a part two. Send me your suggestions in the comments.
Love,
Til next time,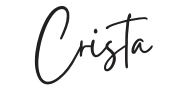 caribbean bloggers
Caribbean Girls who Blog
caribbean men who blog
caribbean people who blog
caribbean women who blog
caribbean writers
mjconsistencychallenge
mjconsistencypays