If you've been considering Miami Carnival; here's everything you need to know about Miami Carnival 2023 from events, parties, costumes and navigating carnival as a beginner or even if you just want to spectate.
What is Miami Carnival?
Miami Carnival is an annual Caribbean carnival celebration marked by cultural events, fetes/parties and culminating into a road parade that celebrates Caribbean culture. It was founded in 1984 after an influx of Caribbean people migrated to South Florida. The first parade was held in Miami Gardens on 183rd street and has evolved ever since.
When is it?
The official Miami Carnival Parade will be held on Sunday, October 8th, 2023 and the official Jouvert takes place on Saturday October 7th, 2023.
However cultural events and fetes (parties) span from as early as September peaking the week before Columbus Day weekend. Most patrons travel to Miami for the weekend (Friday to Monday).
The official Miami Carnival launch is held by the South Florida Carnival Band Leaders Association annually and sets the tone for band launches for the Miami Carnival season. Here you can view costumes as well as get a taste of Caribbean culture, music, food and drinks.
View this post on Instagram
Where is Miami Carnival?
The official J'ouvert will be held at (as of 08/16/2023 – see video)
Central Broward Park & Broward County Stadium – Northwest 11th Place, Lauderhill FL
Official carnival & parade will be held at..
Miami Dade County FairGrounds -10901 SW 24th Street, Miami FL 33165
Please note that the Miami Carnival route takes place inside the fairgrounds and not on the actual streets of Miami. For most of the parade, ONLY registered masqueraders in costume are allowed on the carnival route. Spectators are able to view and follow the bands closer to the end of the route but have to stay on the sidelines as the bands make their way to "cross the stage" which is the peak of the carnival celebration. 
Carnival bands are judged for the title of "Band of the Year" so uniformity is expected and only registered masqueraders can cross the stage and be judged.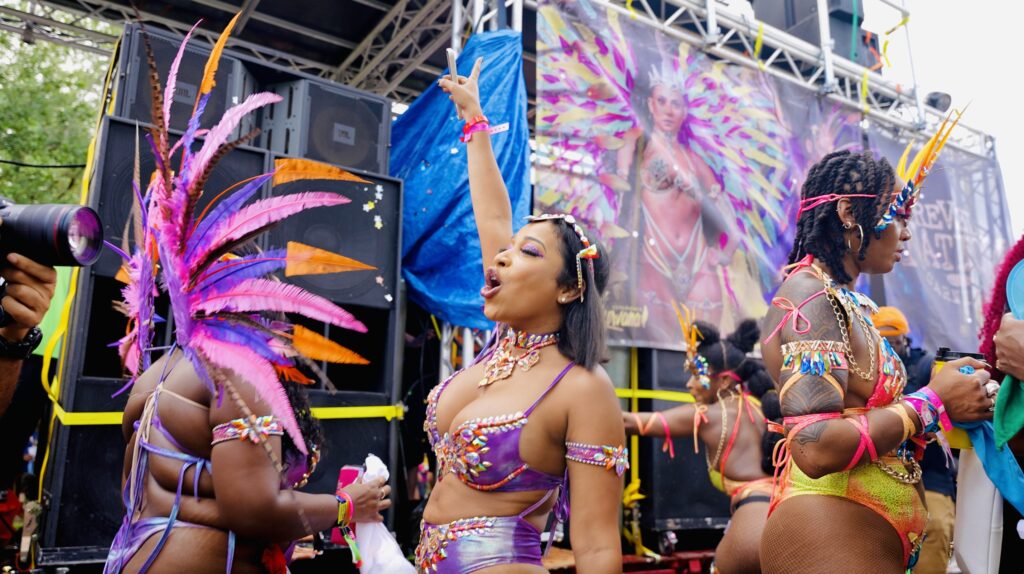 J'ouvert is a little different and a lot more "free-er" where you can actively participate as long as you purchase entrance into the park. You can purchase spectator tickets for official Miami Carnival events on the Miami Carnival Org. website.
Or if you want to play in a Jouvert band you can purchase a Jouvert package from one of the bands linked in this article.
How To Participate in Miami Carnival 2023
In order to participate with a band in a carnival costume, you need to register with one of the Miami Carnival participating bands by paying for a costume.
If you just want to spectate, you can purchase a ticket from the Miami Carnival Organization for all official carnival events or single events.
FAQ: Can I wear my own costume and participate with the bands?
Miami Carnival is a competition where bands compete for Band of the Year and one of the judging requirements is uniformity so persons who create their own costumes will not be allowed on the route or in the carnival bands because participating in a carnival band also comes at a cost and is a paid all inclusive experience. For more on costume registration and carnival in general, read HERE.
Jouvert Bands
Miami Carnival Costume Bands
Where To Stay
Just KNOW that there is a lot of driving involved during carnival time and depending on where promoters have their events can determine where you choose to stay and if you get a rental or opt for ride sharing.
Prime locations for accommodations will and can vary (mostly to driving distance) but you should start looking now. Also, anticipate traffic EVERYWHERE you go in Miami. Here are some recommended areas:
Wynwood
Coral Way
Doral
Miami Shores
Downtown Miami
Midtown Miami
Miami Design District
Brickell
North Miami/North Miami Beach
Aventura
Hallandale Beach
Hollywood
Sunny Isles Beach
Kendall
Recommended hotels based on reviews and location:
I usually find decent hotel deals on Booking.com (without pre-payment & free cancellation) or if you just want a nice Airbnb, that works perfectly too.
What Events Should I Go To?
There are many fetes that happen as early as mid September to a few days after the Miami Carnival parade has concluded. Some popular parties are Soca Brainwash Miami, Vale Vibe Miami, Endless Jam,  Suits Miami and many more. Events are typically released late summer to early fall. If you're looking for cultural events to participate in or spectate; follow the timeline below:
Timeline of Official Miami Carnival Events
Here's a list of more events that happen during Miami Carnival and recommendations on things to do while visiting Miami.
Transportation during Miami Carnival Main Events
Typically there is a shuttle service for masqueraders during the main events where there is parking provided at certain points throughout the county and shuttles run on a schedule to accommodate masqueraders. More information will be provided closer to the carnival dates. Feel free to follow MIAMI Carnival Org and SFCBLA on Instagram (linked) for more information.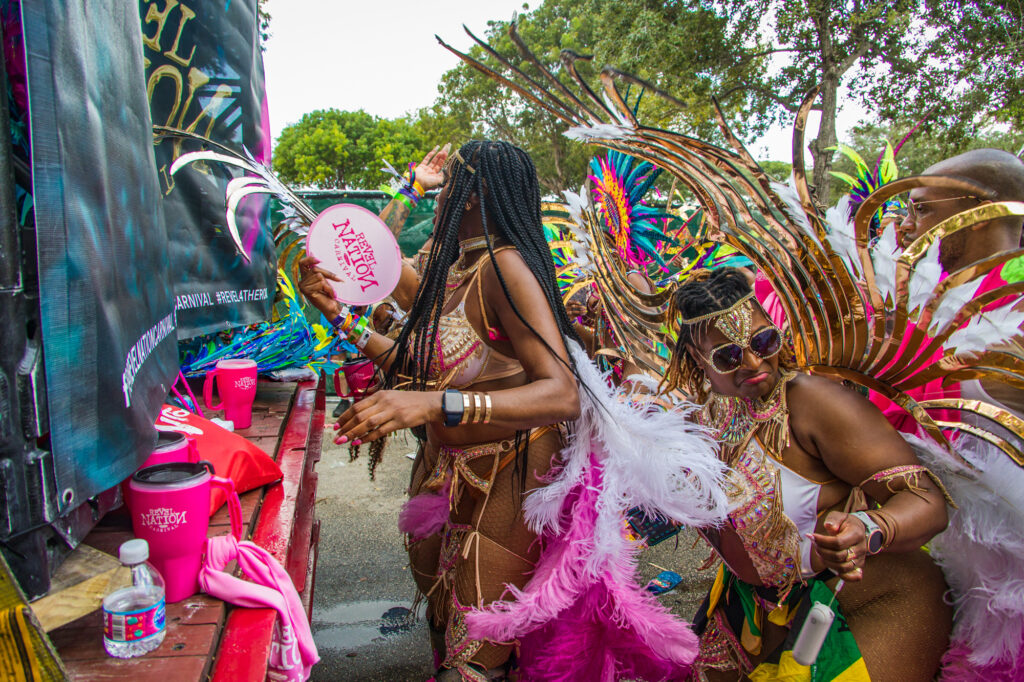 How Much Is Miami Carnival 2023?
This is a "guess-timate" because the cost of your carnival experience will depend on you.
Flights: $300+ and up roundtrip (from major US, Caribbean, Canada, UK cities)
Hotel/Airbnb: budget $150 and up per night of your trip
Rental: average $60 and up per day, gas in South Florida is an average $4 per gallon. *due to change*
Uber/Lyft: This can get really expensive depending on where you're going so buddy up with your friends. Also, keep in mind the prices will surge due to the demand and also allot extra time for waiting, traffic.  TIP: get on the app if you already know where you're staying and search the distance/prices between your hotel and fete/carnival venues to give you an idea.
Fetes:  Average starting cost $50 USD and upwards depending on type of fete, what's included etc.
Costume:  Costumes can range from about $350+ for male and $400+ for female backline, midline and other options depending on the band can vary depending on what you want. Frontline/individuals can start at $600+ depending on what band you choose. Budget $150+ for costume registration/deposits and also keep in mind online registration fees.
Miami Carnival is a great idea for carnival newbies, groups, birthday weekends and ESPECIALLY if you want to learn more and participate in Caribbean culture. If this is your first time and you need personalized Miami Carnival itineraries, feel free to fill out this form HERE or send me an email at [email protected]. Any further questions, check out this YouTube Q&A below:
Til next time,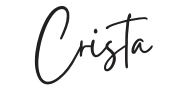 miami carnival
Miami Carnival 2023
Miami Carnival guide
planning miami carnival