So officially there's 5 days left in the misery, angst & agony that is counting down to Miami carnival. In prepping ( yes I take this very seriously) for this years' revelry and bacchanal, I joined forces with the uber -talented and innovative Junkanooer and Mas maker iWillDesigns who can boast (but doesn't really) of an extensive and impressive resume of costume design and manufacture serving customers internationally not only in the Bahamas for Junkanoo but also Trinidad carnival, Barbados' Cropover and Notting Hill Carnival to name a few.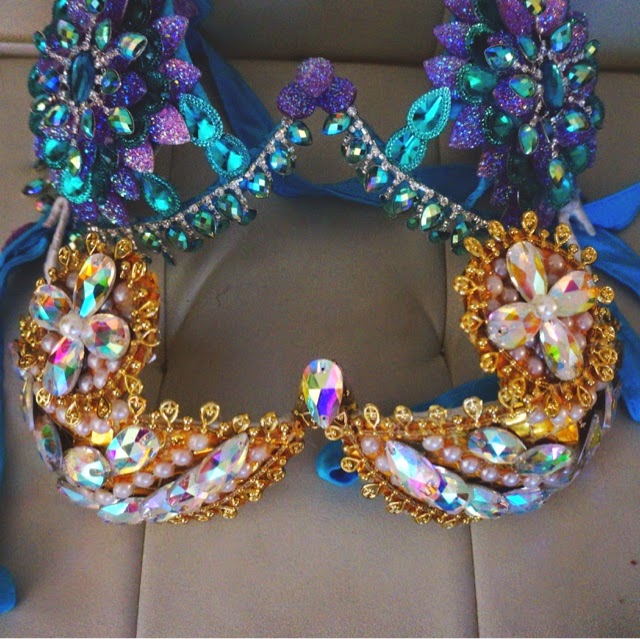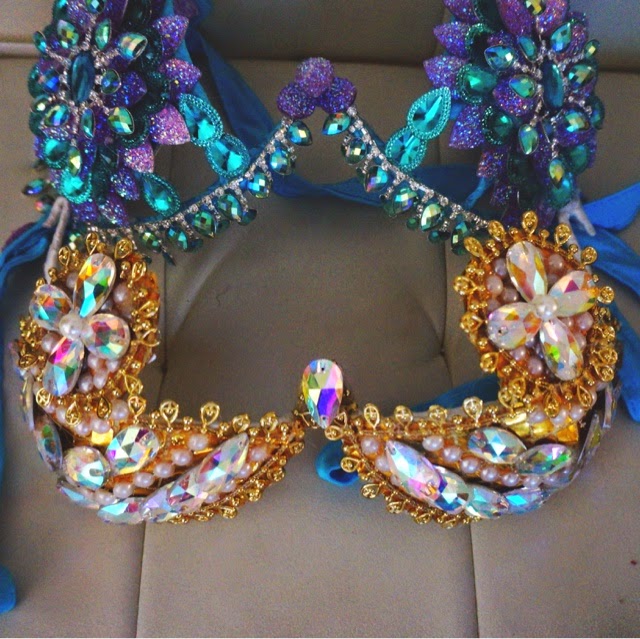 iWill Designs creations for two lucky ladies for the 2014 Miami Broward Carnival
So I approached iWill with a few overzealous ideas and with (mostly) his guidance and expertise, I am on my way to compete in the 2014 Miami Broward Carnival King & Queen Competition as an individual contender among many experienced masqueraders. Nerves on deck…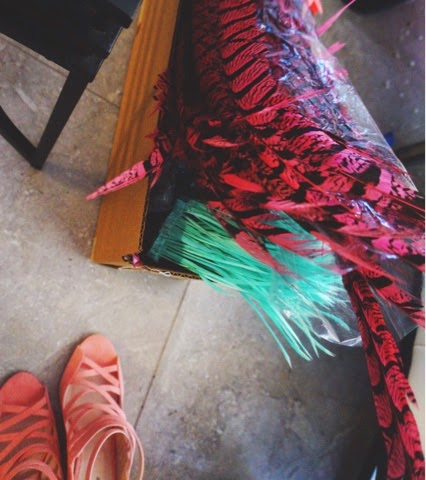 So one of the most important things in Junkanoo and Mas is PREP… This race is not for the weak the lazy or the procrastinating. After a lot of back and forth texts and calls and planning I found some spare time and made my way over to Mas HQ to help build my costume and learn a little bit about what goes into "making Mas".
B: What's the hardest thing about making mas and Junkanoo?
iW: Coming up with something that's gonna be original, unique because there's so much mas all over the place; it's hard to be unique. For me, coming up with a design that will stand out.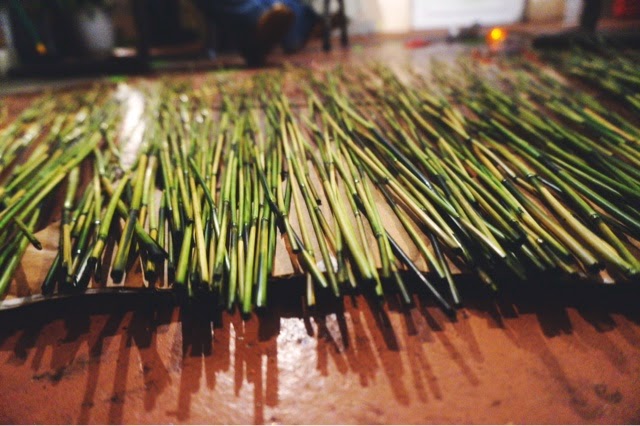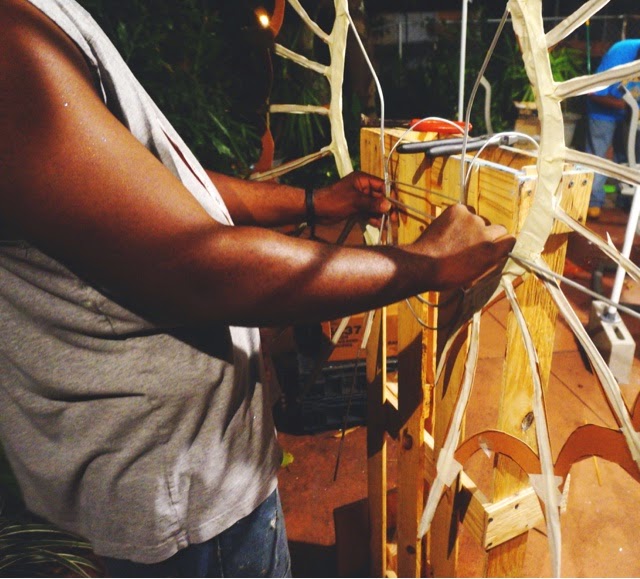 B: Why did you wanna start making mas anyway?
iW: Well, just to express my creative ability. Well, as you know I started doing Junkanoo first; I've been doing Junkanoo all my life. I saw carnival as an alternative means of expressing myself, because in carnival I'm less limited. I have full control over what I wanna do and how I wanna do it
B: And not junkanoo?
iW: In Junkanoo, you're free to express your creativity, but there's certain restrictions and guidelines you have to follow. …rules set in place to preserve the culture of Junkanoo. You're not allowed to use fabrics heavily, you have to paste your costumes, but in carnival it's pretty much whatever you want to do. I'm unrestricted and I just wanted to kind of see how good I could be and how far I could stretch my creativity.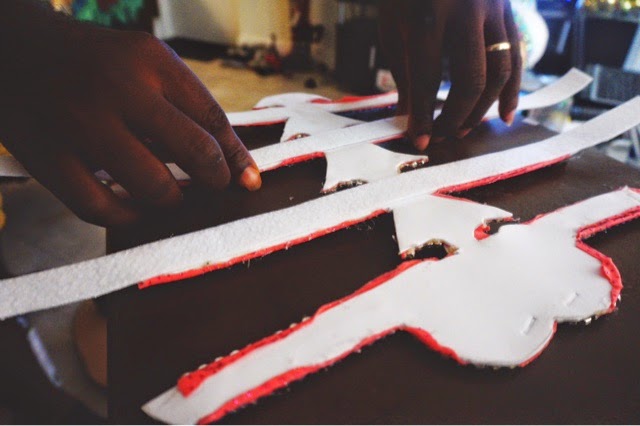 Getting fitted for my costume….
So gorgeous…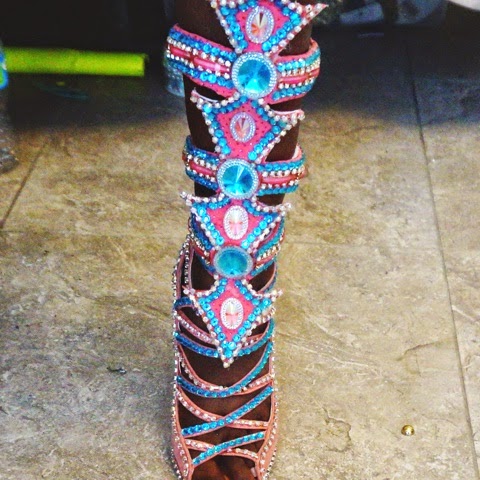 Final fitting
B: What do you think of Bahamas carnival?
iW: As a Bahamian first and a Junkanooer second and a mas man third, it's a big question mark, just because you don't know the effects that it will have on the culture of the Bahamas and as it relates to culture and Junkanoo. Junkanoo is a labor of love; most people that do Junkanoo don't see anything from it. Now, with the introduction of carnival, money is involved; it can be seen as a means of financial gain and stability. You're going to have the same people who are involved in both faced with that decision "Am I going to do this [Junkanoo] thing that I've been doing for most of my life or am I going to support my family?" So I hope that Junkanoo doesn't take a backseat [and I hope that I'm wrong"] as a negative effect with the introduction of carnival. We'll just have to see. Getting the ball rolling for the first time is always kind of tricky.
B: Yeah and you don't really know what to expect.
iW: It's just a waiting game.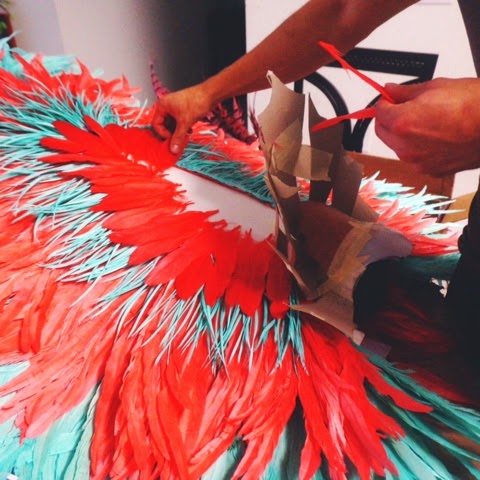 On costumes:
iW: It's just so many factors that are included in the design of a costume. One of the main things for me is security; having a costume that will be able to last on the road, making sure the masquerader is comfortable as can be. I feel like it causes some designers to play it safe and forces us inside a box. Me, I like to push the envelope as much as possible. In that, I have to get over the fear of failing, because you have to fail. A lot of great people fail on their way to success, you just have to go back to the drawing board and start over. Figure out how you can meet a resolution in all the ways you want and still meet all the necessary requirements to make a good costume.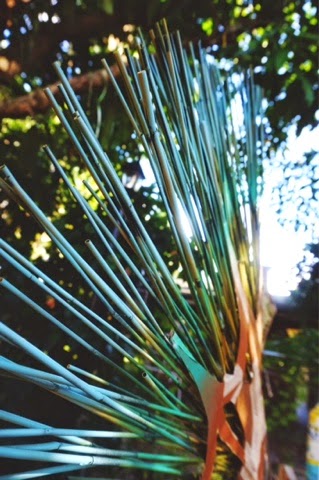 B:Where do you see iWillDesigns going? What's your ultimate goal.
iW: My ultimate goal for iWillDesigns is to be able to showcase my creative ability on a global scale [all the major carnivals and events], so the world can see what it is that I have to offer. At the same time, just being able to support myself doing something I love and that's pretty much it. It's a growing process, one that I'm looking forward to and I think I'm on the right track to get in where I want to be. I'm happy with the way things are going.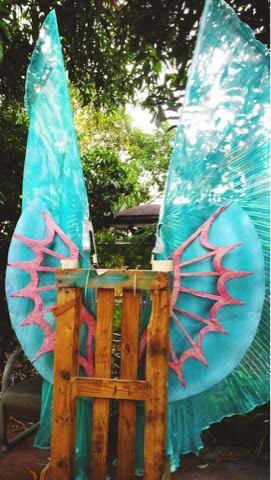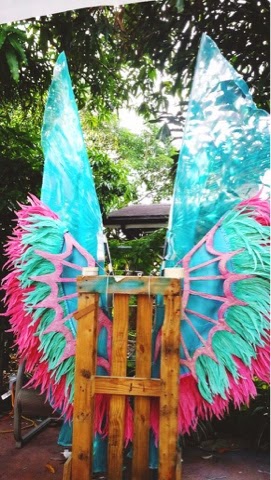 iWill Designs is not only a dear friend but potentially the future of Junkanoo and Carnival evident by his beautiful and creative designs. His "baby" or brand has been in the works for about 12 years, but making mas (for him) is still in the introductory phase. He's gotten requests from London, LA, Barbados, New York and the Bahamas among many others. I'm excited to be a part of the journey on carnival day (October 12th, 2014) and at the Miami Broward King & Queen Competition (October 10th, 2014). You can find iWillDesigns-A division of Royal Resolutions on:
Facebook: https://www.facebook.com/iWillDesigns/info
Instagram: @iwilldesigns
Google Plus: +iWill Designs – A division of Royal Resolutions
Pinterest: www.pinterest.com/iWillDesignsHub/
Flickr: @iWillDesigns
Website: www.iwilldesignsofficial.com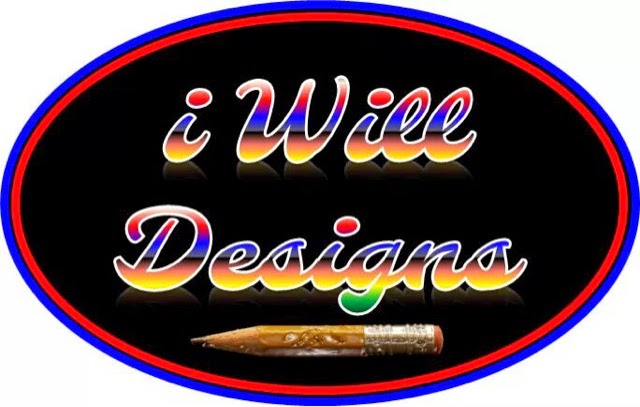 Can't wait to see you on the road!
Bahamianista <3
Til next time,