Carnival in Bermuda returned after 2 years of uncertainty due to the pandemic and after some restructuring, stakeholders formed the association entitled The Bermuda Mas Band Association (inclusive of carnival bands Party People Ent, Code Red & Nova Mas Intl).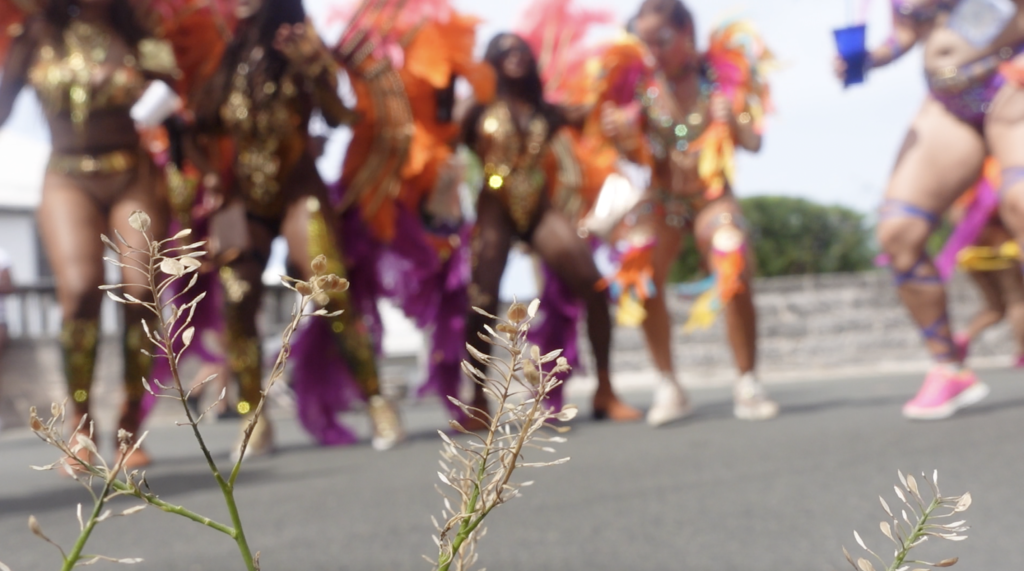 Things To Know About Bermuda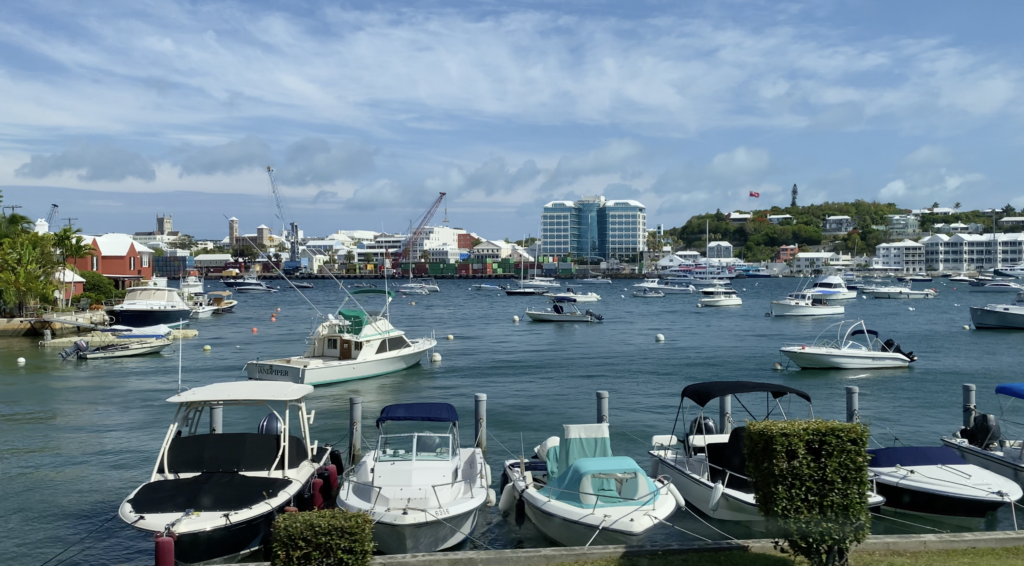 Bermuda hosted 4-5 days of jampacked events, carnival and j'ouvert for the short carnival weekend (June 17-20th). Bermuda has a population of over 62,000 people of different ethnicities and races. The dollar is one Bermudan dollar = one United States Dollar. The capital is of Bermuda is Hamilton but there are 9 parishes in total.
TIP: Even in summer months, the weather can get a bit chilly early morning and during the night so pack accordingly.  
We arrived at L. Wade International Airport (airport code BDA) and there were several checks of the travel authorization once in Bermuda, not so much at Miami Airport (who just asked for a vaccination card).  Click here for a list of covid travel requirements for carnival 2022. The flight to Bermuda was literally 2 hours and change from Miami International Airport. 
Bermuda has STUNNING views, you'll see bundles of pastel colored homes with pristine white roofs cradled by a green landscape and splashes of aquamarine and blue. Interesting fact, the homes in Bermuda have these white -washed roofs that collect rain water because there is no central water supply.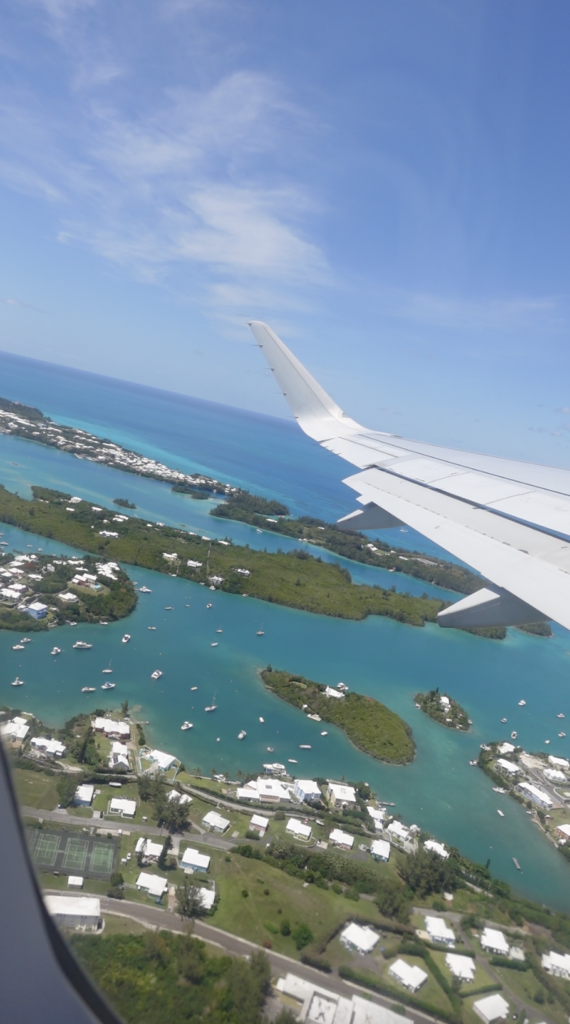 I stayed at the Newstead Belmont Hills Golf Resort & Spa in a studio deluxe suite with kitchenette, bathtub and accompanying grassy area (small yard) with outdoor furniture. 
Because my suite was facing the harbor, I made a point to take at least 5 minutes to watch the lights in the harbor at night and during the day. The one thing I did not get to experience was this glorious pool overlooking the harbor.
Carnival In Bermuda Fetes
Swizzle At Sunrise 
Our first party started in the wee morning hours at Swizzle at Sunrise. There were food and drinks for sale; I started the night with a hot chicken soup with dumplings because it was a little chilly but it warmed up quickly with the rum and dancing. Drinks were bought via a chit system but there was a complimentary Swizzle bar. Performances were by Problem Child, Elephant Man and my favorite set was by Lord Hype. The crowd definitely loved Elephant Man's performance and he brought a lot of energy but they didn't seem to be caught up with recent soca (2021-2022) but any older soca hits like Mr. Killa's Pick Up Something – the crowd was definitely moving.
Raft Up
Boats left from the Hamilton Harbor in the afternoon and sailed to a shallow area where patrons were able to swim, dance to music. Our boat was ran by Off Level BDA; they provided catered food and an open bar. People were hopping boats, jumping into the water, relaxing on floaties and we even saw turtles. It was truly vibes for this event; so much so I ended up losing my phone but I had a great time, nonetheless 🙂
Glow
All white, all inclusive party with only DJ sets from renown internationally known DJs and M.C.s such as Patrick the HypeMan, Tony X, Jester, OvaDose, Puffy and more. It rained initially at the beginning of the outdoor event but things warmed up and dried up towards nightfall. My drink of the night was Gin and ginger beer (apparently ginger beer is a local favorite) but the bar ran out after maybe two visits so we definitely ended up mixing liquors. The food was pretty good and varied; we opted for a seafood paella quinoa mix that was YUMMY. This party was my favorite because even though everyone was dressed to the 9s we had a really good time and I have to big up Tony X for putting a little variety in the music with some R&B oldies. The crowd was definitely vibing to every song.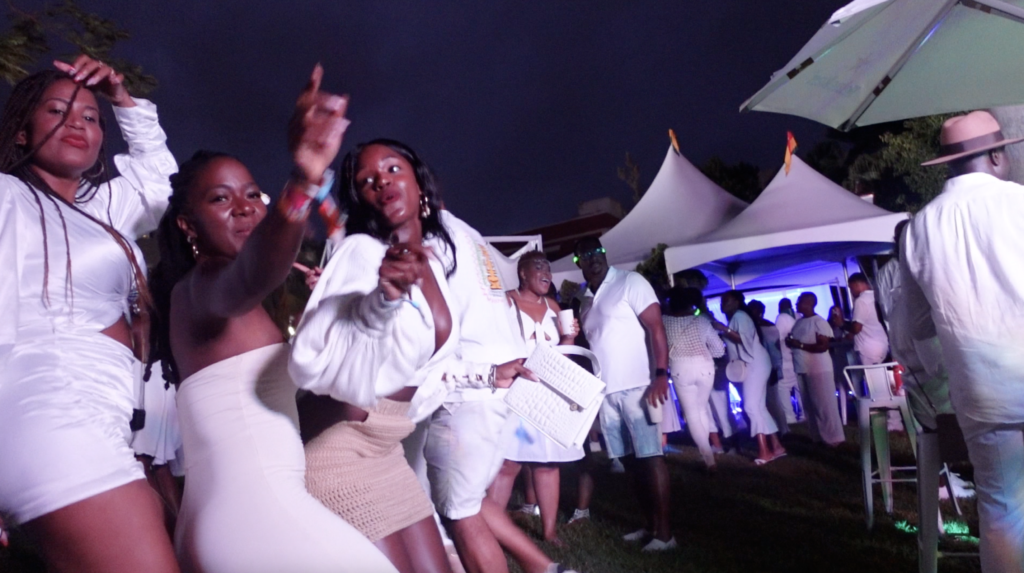 J'ouvert
We arrived at J'ouvert JAM maybe two hours before sunrise. It was definitely a "tussle" to get drinks because LOL the bartenders were taking their time. When we got on the road, JAM was RAM and the crowd/truck was constantly moving until we came to a stop where the crowd just got a little too thick for me. I think for next year, there definitely needs to be a second truck and more bartenders. However, when the truck parked along the fence and the water hose came out; it was just vibesss and mudslides. One thing about Bermudan people, they love to party – honestly just pure energy & vibes.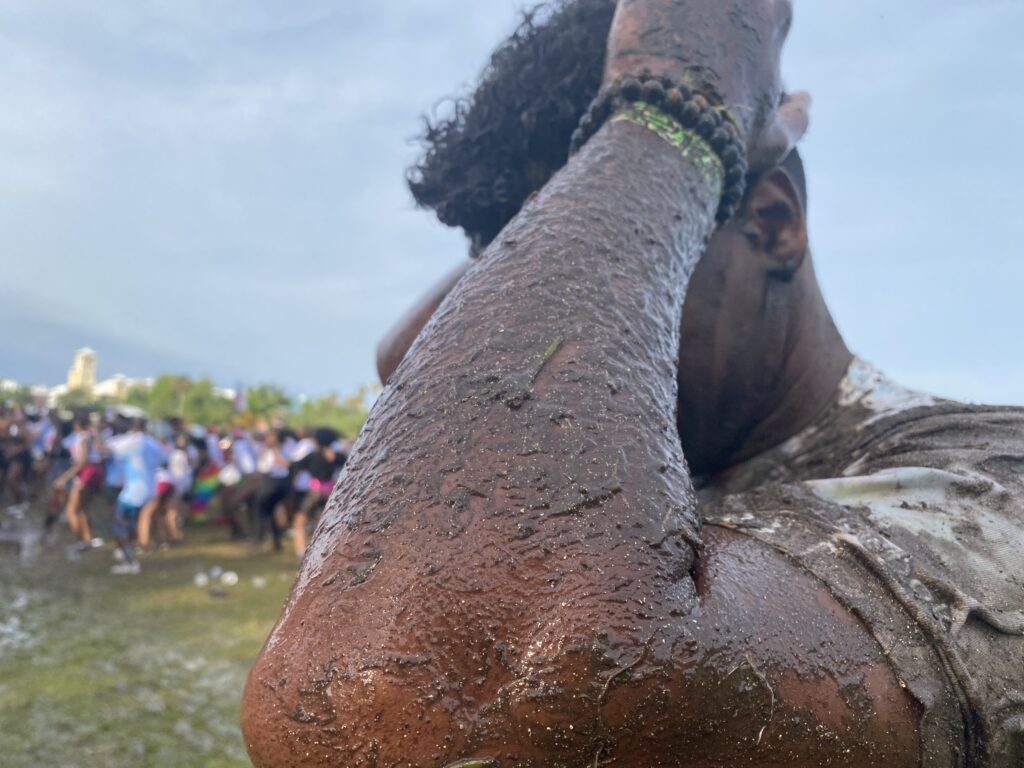 Getting Ready for The Road
Party People carried over the theme from 2020 entitled "Alter Ego". Automatically, I was drawn to Sasha Fierce and chose the frontline monokini option which was a golden bodywear with ornate neck and arm and leg pieces with a beautiful flowing feathered backpack adorned with orange, fuchsia and purple feathers. The costume package came complete with accessories and items for the road like bio-oil, lip balm, towel, feminine products, snacks and the essentials (wrist band and mug).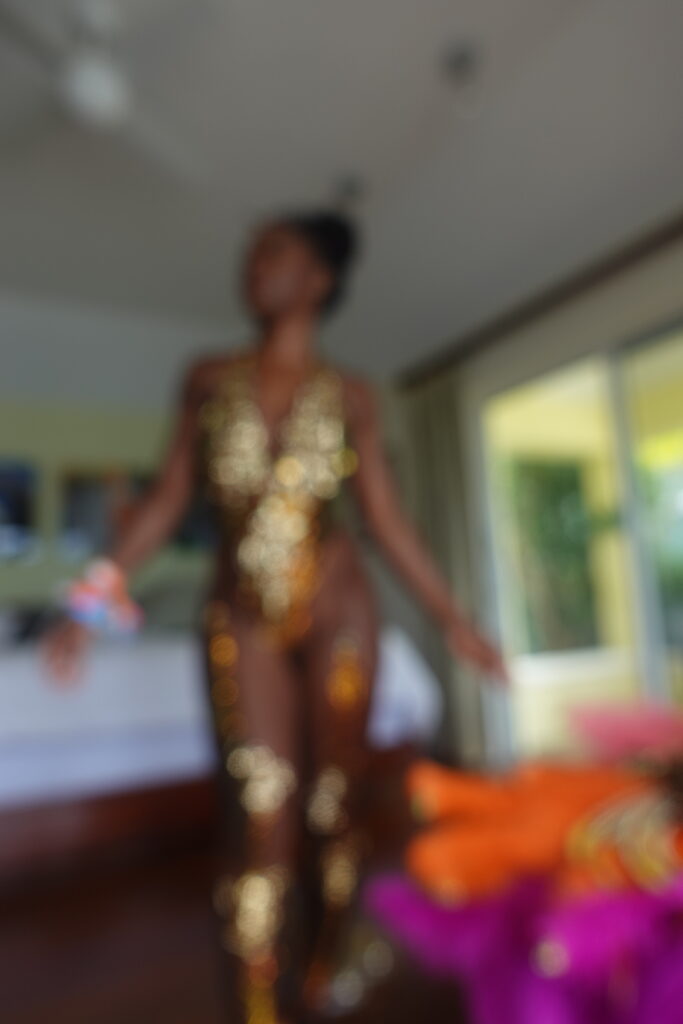 Parade of Bands 
Started at 1pm and went until night fall . We arrived on the road after a lengthy beautification and content session. Putting on this costume was a process but it was totally worth it because look at it just glistening on my skin. I'm not a huge fan of long leg pieces because I'm short but the way this was designed and the way the pieces melded into my legs was perfect. I actually kept them on all parade route and they were comfortable. 
Getting drinks from the drink truck was pretty quick and seamless and me and my 5ft 3in self could actually grab a drink without having to jump or tip toe (thank goodness). We made it into the thick crowd (remember the bands were combined this year) and while it was vibes – navigating with a large backpack made it a bit cumbersome. There was only one music truck so everyone (naturally) followed that truck. The vibes were great. We even stopped in someone's yard (Bermudan people are so hospitable) for drinks. The only thing I missed were the Gombeys (they were out but I didn't see them).
"Gombey tradition on the island goes back to at least the early 1800s – it's a vibrant blend of African, Native American, Caribbean and British cultures. In other words, it's extremely Bermudian." – source GotoBermuda.com
There was even a lunch/rest stop but I ended up sharing because they had run out of food at that particular point in the day but  towards the evening I ended up getting a really tasty chicken and rice dinner with veggies at the end of the parade.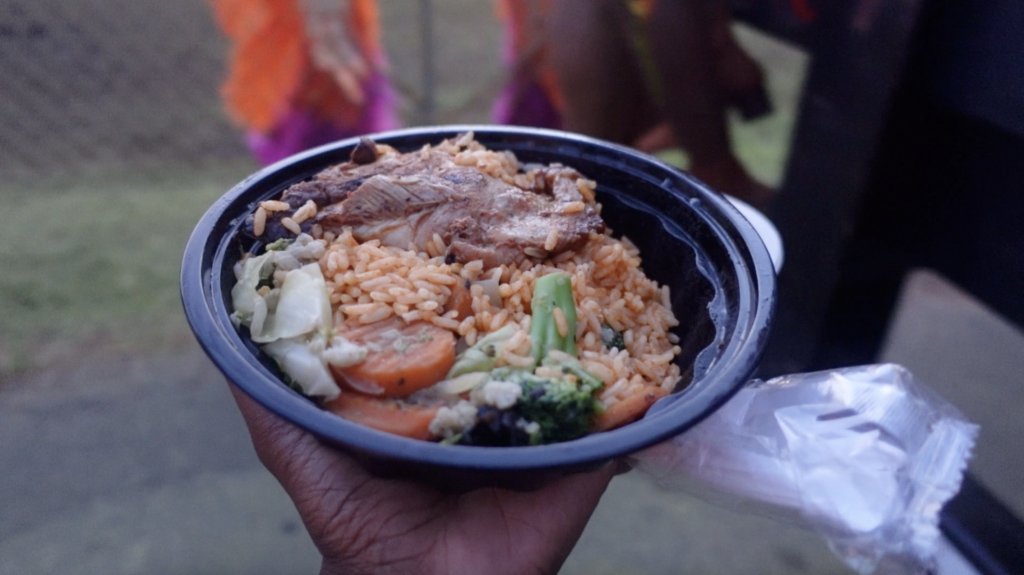 Transportation
We were transported throughout the island, to parties by beloved Bermudian Milliard. If you're looking for reliable transport, send him an email at [email protected] and tell him I sent you. Send me an email ([email protected]) if you want his phone number.
Things To Do in Bermuda
So, thanks to Bermuda Tourism Authority, we got to see a bit of the island and went on a tour to Tom Moore's Jungle (a natural preserve), Blue Hole Park, Crystal & Fantasy Caves and Ole Cafe. Our tour guide was extremely knowledgeable on plant life and history of the island. Here's a few places we went and some recommended things to do.
Horseshoe Bay (beach)
Try a Swizzle or Dark & Stormy
Eat a fish sandwich with tartar sauce and raisin bread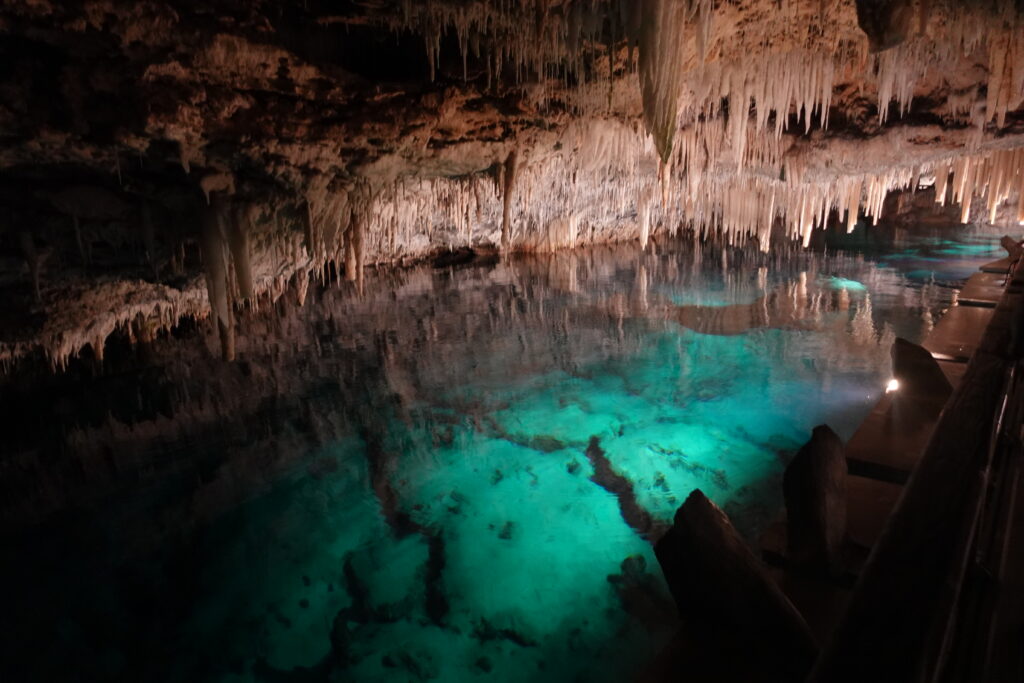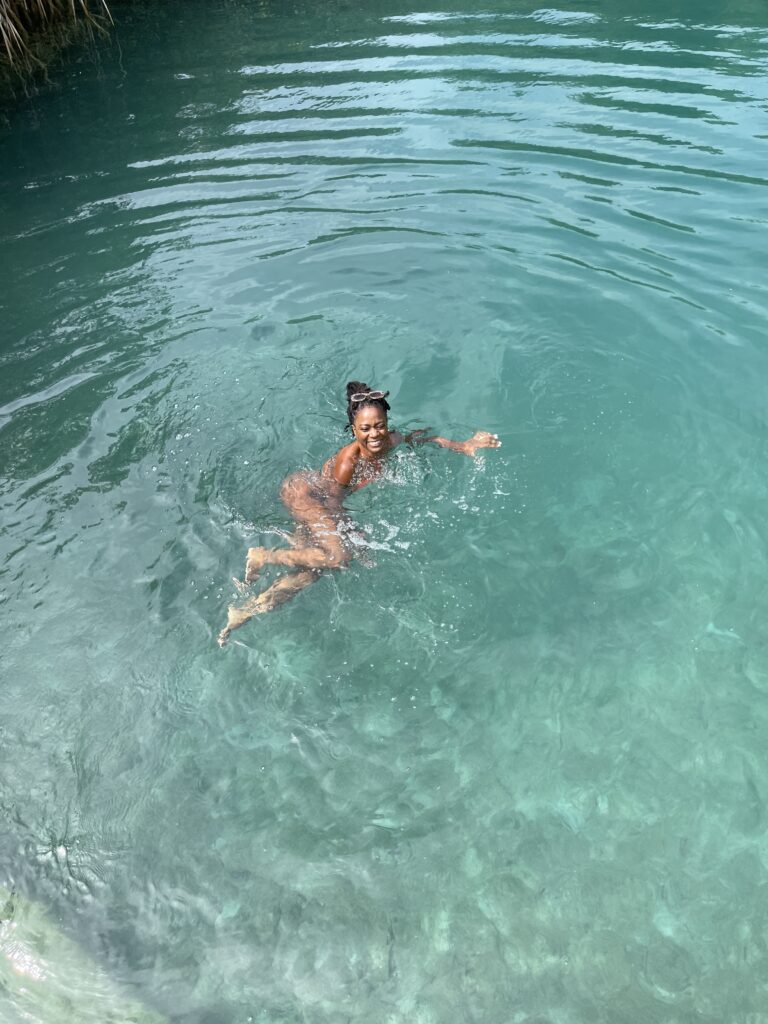 I honestly had an amazing time especially with all the hype of carnival happening around the island on top of getting to see parts of Bermuda and meeting the people. And the accents- I love! Sounds like Caribbean-British; its fascinating. Stay tuned to Carnival In Bermuda/BMBA for info on Carnival In Bermuda 2023. And a huge thank you to Party People Entertainment and Bermuda Tourism Authority for the amazing hospitality!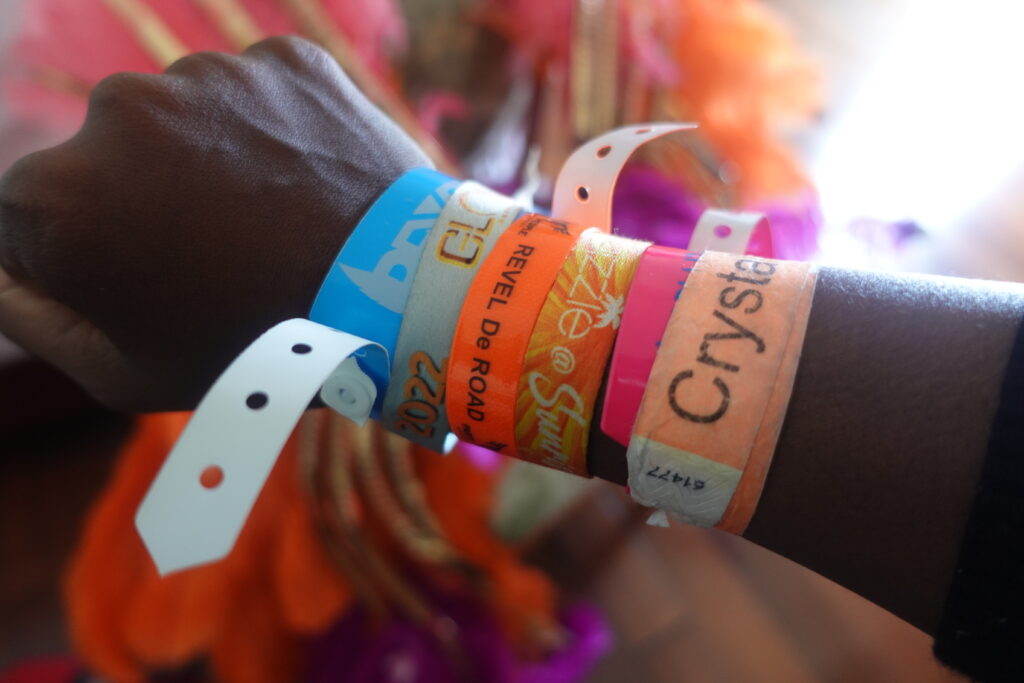 Til next time,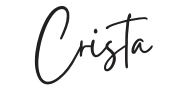 bermuda carnival
bermuda carnival 2023
bermuda carnival costumes
carnival in bermuda
carnival in bermuda 2022
carnival in bermuda 2023
nova mas international bermuda
party people entertainment bermuda