Another Miami Carnival completed and this one was particularly sweet. Here's a review of everything that went down for 2023.
REVEL NATION COSTUME PICK UP
Revel Nation Carnival was my first stop for Miami Carnival because nothing else but picking up my costume gets me so excited for the road. I went in and out in less than 30 minutes, did all the necessary paperwork (contract, waivers etc.) and the Revel Nation Carnival staff went through my costume package with careful detail. The mas camp was organized, orderly and I started to get a little costume FOMO staring at the lush feathers hanging on the wall but I loved my choice – AMRITA (designed by Humzee). I chose her mostly because of the colors and details of the design.
Here's the unboxing of this beautiful costume.
View this post on Instagram
TIMELINE OF EVENTS
After figuring out my hair and outfits, big shout out to Mielle Organics for partnering with ya girl for Miami Carnival (check out the GRWM HERE); I headed to my first event.
Saint Lucian Carnival Launch
The Saint Lucia Tourism authority put on a display of Lucian carnival costumes, music and culture as well as a great night of performances, food and drink. I think the biggest thing that stuck out to me was the way that they market their carnival as it being "more than just a festival".
Claude Desir, Just4FunCarnival designer stated that, "Mas is more than donning a costume" and honestly I felt that. Saint Lucia doubled down on the significance and importance of emphasizing the culture for Lucian Carnival and other aspects such as nature, adventure, romance and much more. Read my review on my Saint Lucia Carnival '23 experience here.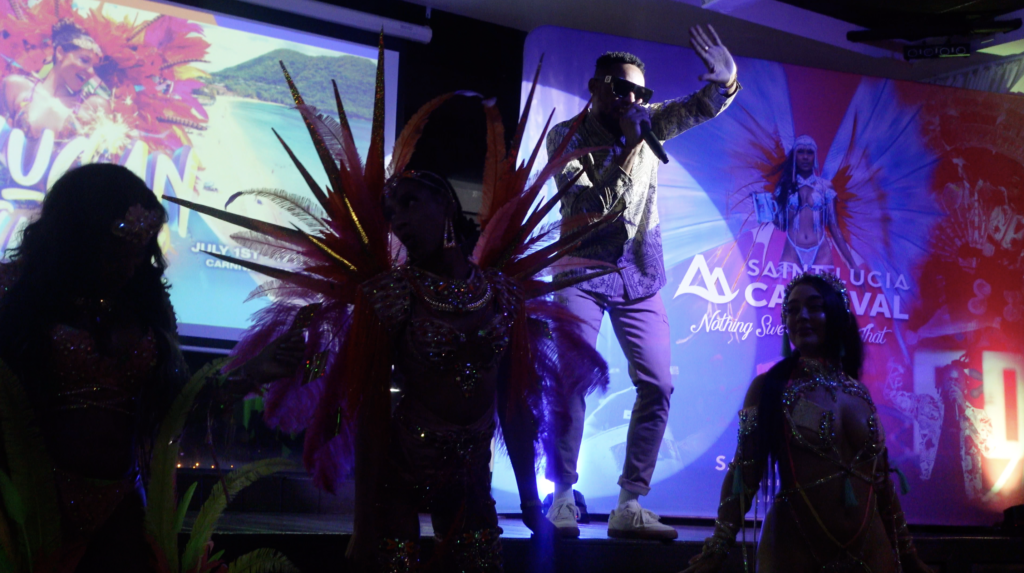 Duck Work X Big Phat Fish
Out of the Hybrid Events combo this time I made it to Duck Work and Big Phat Fish. Entice was postponed to Sunday so I couldn't make it but Duck Work was a nice warm up (got there at 7pm on Friday). Problem Child performed and we had a nice time then rushed back to change in all white for Big Phat Fish (drinks inclusive) party. We arrived at Big Phat around 12am and the vibes was pumping. There was no issues getting drinks but I didn't need much after the tequila shots from Duck Work lol.  I swear this is the unofficial Bahamian meet-up for Miami Carnival because I saw sooooo many Bahamians. They also had performances by Voice, Skinny Fabulous and Nailah Blackman. After, they started playing afro beats and plenty dancehall so we left (lol).
JOUVERT WITH DUTTY REVEL
I almost didn't make Jouvert- too much fun at Duck Work but I made it. Finding the truck was very interesting and it took me a while to figure it out but I found it. The drinks truck was a bit too crowded for me but thankfully Dutty Revel had another truck that served beers, water and snacks. They also had a dedicated paint truck where they mixed paint throughout the route. I got a snack and some water and powered through but it was still nice dutty vibes. I only lasted about 2 hours before I had to leave unfortunately but one thing I will say is that I'm so glad that Jouvert was back at Central Broward Park. Years and years of nostalgia rushed back.
Soca Brainwash ($130+USD) was definitely good. I had a time at the "Soca Baby" stage plus personally I like space to move around and less people so that was the perfect staging for me. I was still on a "Ginger Ale only tip" but definitely copped the Soca Brainwash mug. I just wish I left home early because traffic was trafficking. I got there after sunset y'all. There were food trucks, mobile restrooms and the decor was very much Mardi Gras/New Orleans inspired. Every DJ at the Soca Baby stage had my heart; I was just mad I missed Dj Jel's set on there.
ON THE ROAD WITH REVEL NATION CARNIVAL
Next morning I headed to Miami on the Brightline Train to get my makeup done from the wonderful Kai Forde.
Then got ready in my costume that honestly has to be one of my favorites ever! Definitely in my top 5! I wore Carnivalista Gliss stockings in Truffle (use code BAHAMIANISTA2023) and wore these  that matched the costume perfectly.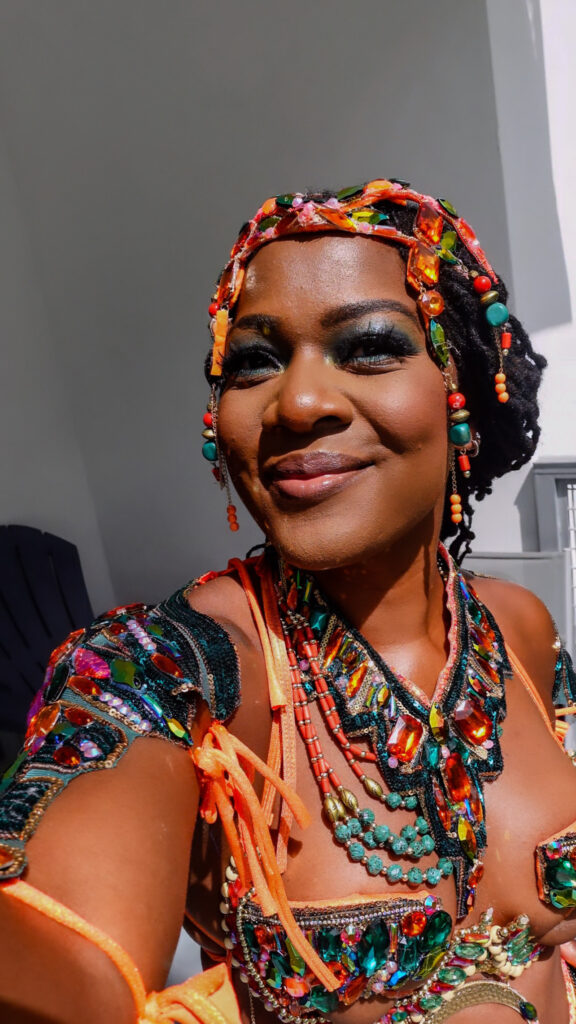 View this post on Instagram
I got to the fairgrounds around 3pm (which is very late for me) but the truck was still parked up. They were already serving drinks, snacks and people were ready for the road. Revel Nation also combined with Mascots International (who I've played with before) so the vibes were just doubly special. We got on the road to music by DJ Intl Stephen, Ovadose and more and I have to say this is my 2nd favorite year with Revel in terms of vibes on the road. It was just everything – I had a really good time- I was running in my heels until after we crossed the stage. During the road, my leg pieces kept slipping but a staff member helped me secure them. There was also a UHaul truck for backpacks so I gave them mine at the beginning of the parade and got it back before crossing the stage. The only issues we had was waiting on food but it tasted pretty good (like it was just cooked); just wished it had a couple of sides.
Here's a short video recap of the road experience:
View this post on Instagram
Events Post Carnival
Stink & Dutty ($100+USD) was 9 out of 10 out of 10. I just wish we got there earlier – it was drinks inclusive and had plenty paint and powder, water. Zero stushness. I swear don't go to this party if you don't like getting dutty. It felt like every where we walked the water hose was following us LOL. I had a really good time here though.
SSS Blue we didn't even make it – by the time we arrived at the venue (which was late)- the party shut down. *cries*
Also, can we please get more parties between Miami-Dade and Broward Counties – is that a tall ask? Lol I'm just tired of Wynwood and downtown Miami tbh.
Tips To Navigate Miami Carnival 2024
Do your homework on bands and events.
While circumstances can change every year for any band; it's best to go with the bands/promoters that consistently demonstrate that they can produce the product that you pay for. If you do run into issues particularly with costume pickup, you can fill out this form >>>> SFCBLA Masquerader Grievance Form. Make sure to read through its entirety to see what you're eligible for. Look for reviews (not only from carnival influencers) but from actual patrons; ask questions, search hashtags. Also, look for bands who do in-house sections and have a good track record of producing them (i.e Revel Nation Carnival).
Save the dates for Miami Carnival 2024; they're celebrating 40 years of Miami Carnival next year!
View this post on Instagram
If you need any help planning Miami Carnival or don't know where to start, check out my new carnival planning itinerary offer below.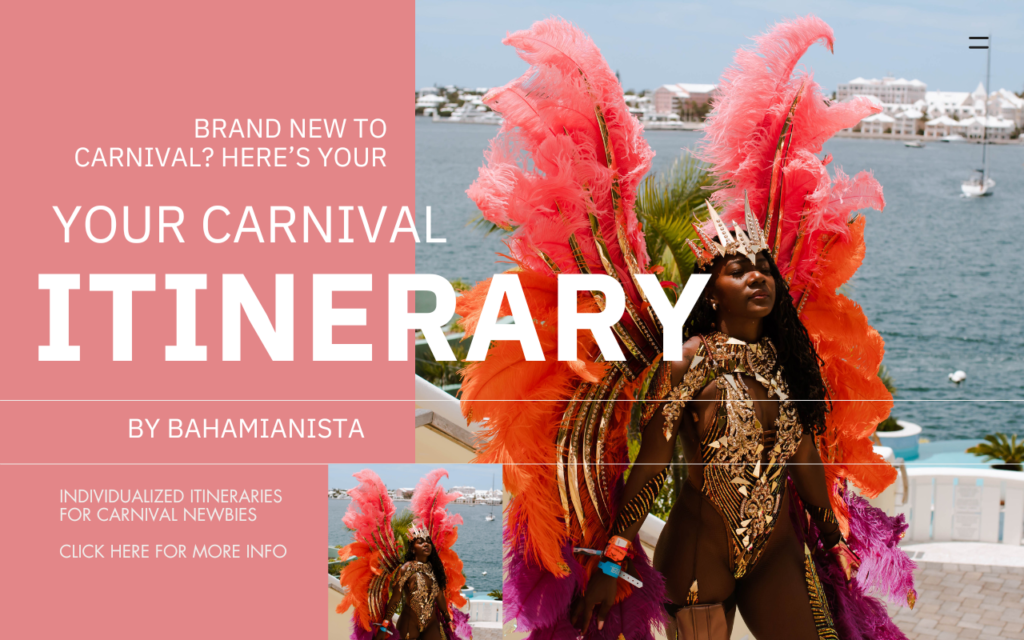 Til next time,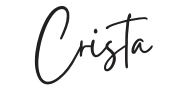 miami carnival
Miami Carnival 2024
miami carnival costumes
planning miami carnival
revel nation carnival