You know, this year I wasn't planning on Carnival In Jamaica 2019 – like AT ALL. But it literally only took one costume to change my mind.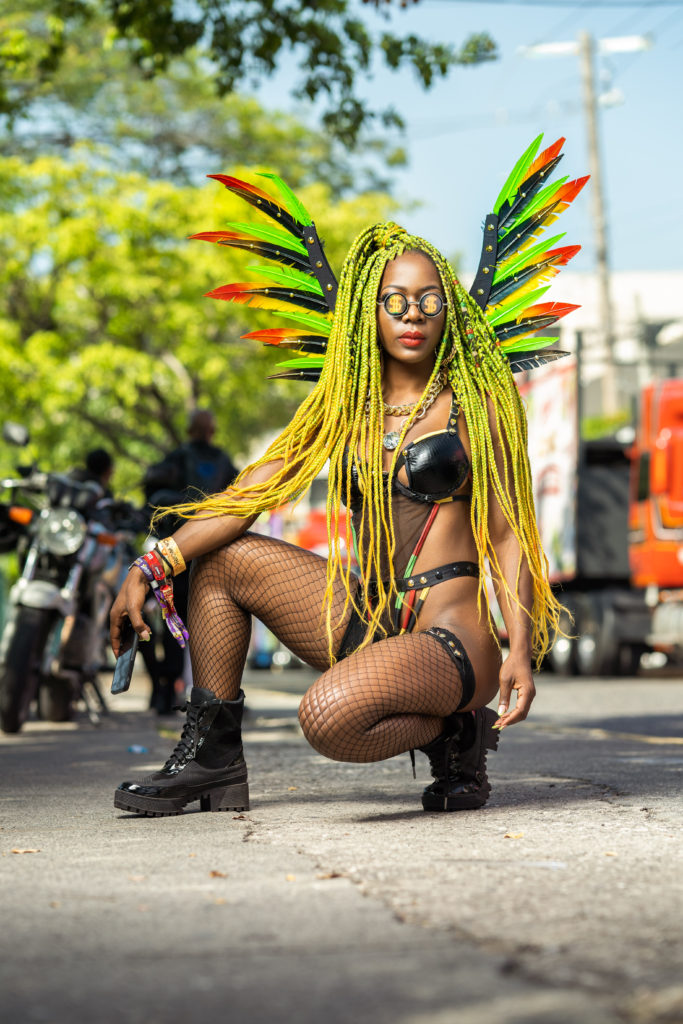 After what is probably the best band launch I've seen in years, I had to find a way to Carnival In Jamaica 2019 to be a DANCEHALL QUEEN.
Big up to the XAYMACA Family for helping make that happen. But anyway let's get into this review.
PICK UP AT XAYMACA INTERNATIONAL
This was officially my first time ever picking up a costume at Xaymaca International…and for me the process  was pretty organized. The Xaymaca reps at the camp were very helpful and communicative. My costume had literally no issues and Keisha ALS (the section designer) was present and even asked if everything was good. I waited about 10 minutes to get my costume then  moved through the other lines to get my goodie bag (really wanted the red or pink but oh well) and my wrist band. One person in my group however was missing a few pieces on her Rose backpack and thankfully we noticed so we ended up spending 30-40 minutes while she got her body wear and backpack adjusted. I personally didn't notice the time change for pick up on Friday because I got in after 3pm on Friday and my first fete started at 5pm.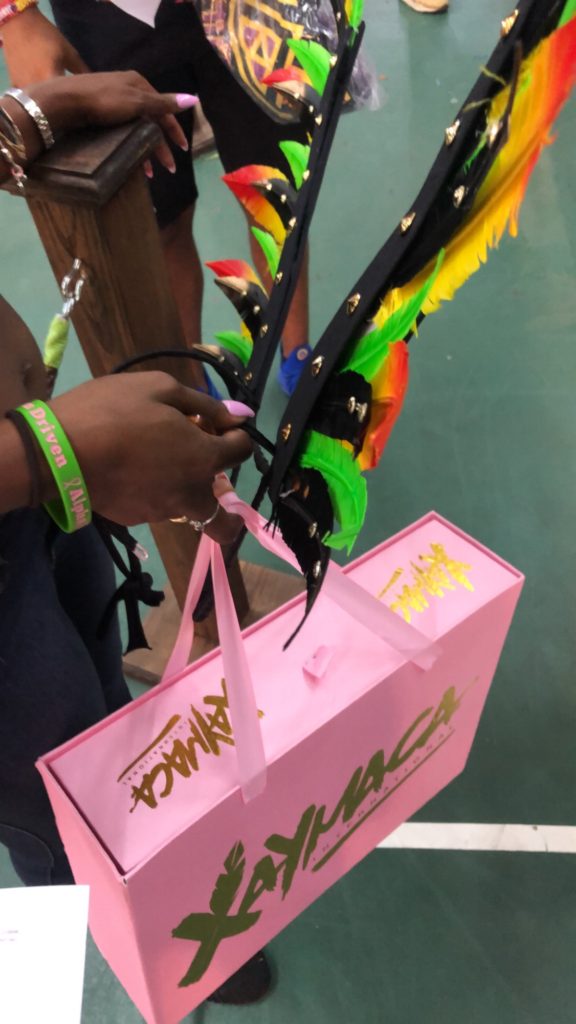 I do wish and this is generally speaking that carnival bands can figure out a way of releasing pick up dates and times at least 2 weeks before hand. I know costuming, shipping, customs etc. can play a role but from a masquerader's POV – we plan basically months to a year for carnival so changing times and days last minute can be a HUGE monkey wrench in our plans.
FETES
_uck work ($69.55)
We got to Duck Work later than usual and I hadn't been since my first time to Carnival In Jamaica in 2015, so honestly I didn't know what to expect. I heard that they had lost their generator for an hour and change so thankfully we came much later. Cooler fete vibes, my favorite DJ/emcee was on the stage Kevin Crowne and Machel/Skinny Fabulous performed. It was a really good start to my short #carnivalinjamaica weekend. The crowd energy (especially at the front of the stage) was good and this one of the few fetes that played a lot of different music and one of my favorite tunes for the year Pandemonium.
Caesar's Army AM BUSH ($108 USD)
I had no idea if I was getting into this fete or not- the process can be arguably better. I see the need for committee members but then I also understand the plight of the masquerader that has no connections (hoping CA makes improvements moving forward).
Before AM BUSH…. I was already tired so I insisted on taking a nap which resulted in us getting to AM Bush around 4am and thankfully because it appeared to be just starting (they were still handing out cups and letting people into the venue). My first concern was there wasn't any shuttles and I couldn't remember if there were the first time I went to Bush in Jamaica BUT it wasn't a horrible walk to get to the trucks. So upon arriving, we walked up past one truck that was basically "out of commission" with no power/music and then proceeded to walk a little faster to catch the ONE truck playing music. I personally have a love/hate relationship with crowds but that crowd around that first truck was just packed and it wasn't moving slowly so you had to continually chip and keep up with the truck while trying to find a space to attempt to wine. However, if you stopped to wine…you kinda got left. There was a porta potty truck so no one had to go in the prickly "BUSH" but afterwards finding a spot near the music truck was exhausting. Thankfully when the sun came up, reinforcements came in and there were multiple music trucks so we made the best of it. Best part was the water truck at the end of the road … Afterwards we got food like corn soup, escovitch fish – there were no water slides, no foam pit – it was just waiting in the pure heat and humidity for our taxi driver.
BUSH was disappointing to say the least – especially value for money. Thankfully it wasn't my first time at the event in the Caribbean or Jamaica so I know the standard of the CA product but for a first timer – I can only imagine that it didn't live up to the hype and there was a lot of hype. Big up to Caesar's Army for recognizing that this event was below standard and issuing an email apology.
Sunrise Breakfast Party ($144.85 USD)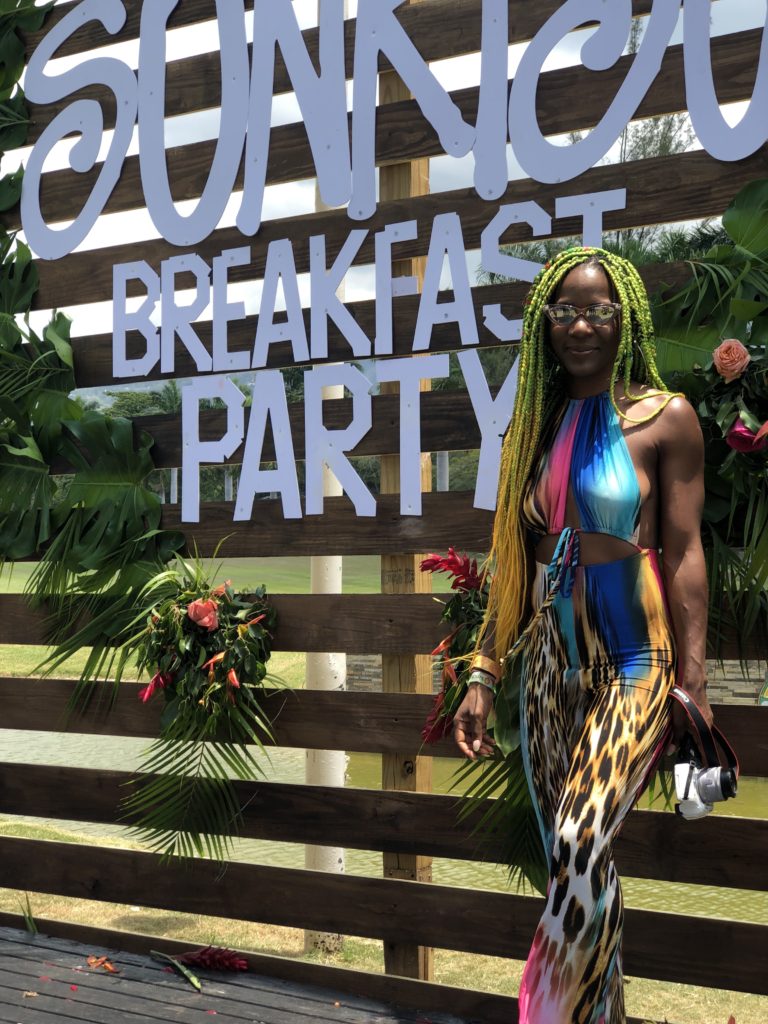 So the heat in Jamaica on this day – wow just wow. I wish I had worn a top and shorts but Sunrise Breakfast party is one of your more dressed up parties so… had to put on clothes. We got there with maybe a few hours to go. I loved the decor, swing set – this fete is always so well decorated.
The food was really good – we took advantage of the Jamaican breakfast tents and I had some SPICY curry goat and white rice  (so good and hot) and then I literally opted from drinking alcohol (because well – HOT) but had this yummy pine and ginger iced tea several times.
After eating we meandered our way to the front of the stage. Thank God for my Bahamian crew because if it wasn't for them I would not have had fun at this party – the heat was just simply overbearing and yes no one can predict the weather but I just don't know if I can personally do liquor + minimal sleep + heat (at that level) for almost $150 USD.  There was a cooling system in the middle of the party and shaded areas but by the time we got there – they were just too crowded for the entire crew to fit.  I think a good idea would be to add a beach/pool element for next year – something new and cooler for the folks who can't handle the the heat – just my 5 cents.
Suits (dry-docked) ($58.85 USD)
LOL… I paid for this fete and slept straight through it. Welp.
PM Fete ($65.41 USD)
This was one of my favorite fetes that I was looking forward to. The previous year was so much fun and I love THEMES so when the Red Light District theme came out – this was a no-brainer. Kudos to having this event in the night time – so much cooler and comfortable. So literally, as I stepped into the PM Fete – the decor! Red light special indeed – from the lighting to the bathrooms – you could see the effort to execute this theme.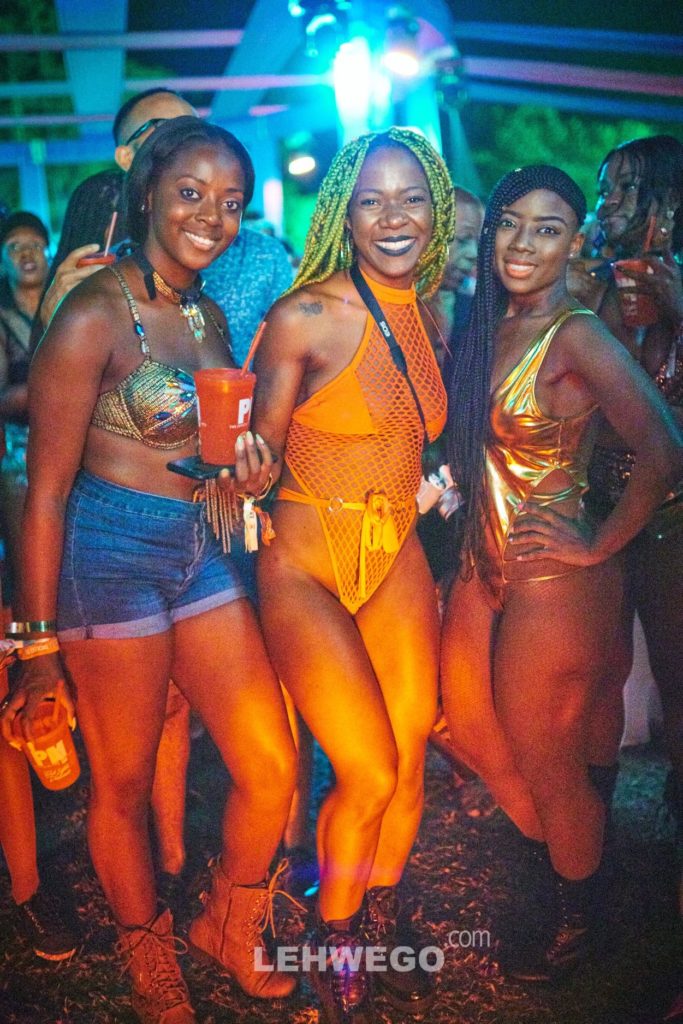 And the women (sorry guys), came to PLAY. From red leather, stockings, netted, pasties – this is one party where everyone followed dress code to a tee. The music was way more varied than the majority of the fetes I went to which was also a GOOD surprise. Bar service was quick -no complaints except they didn't have gin but they did have Campari so I was good. Would definitely do this fete again and can't wait for next year's theme.
See video for fetes below.
ON THE ROAD WITH XAYMACA INTERNATIONAL
Finally Road March Day, got my makeup done at 2am (10/10 would not recommend), but leave it to me and my makeup would be melting down my face within the hour. Got some sleep (praise God), put on my costume with no issues and headed "out ah road".
We met the band EARLY for breakfast which was an option of porridge and a huge bake with sailfish in it and fruits on the side. It was, again HOT but we found a place to settle in the shade and the talented Courtney Chen was out taking photographs of the beautiful masqueraders so ya'll know me I had to get in my little photo opp. 🙂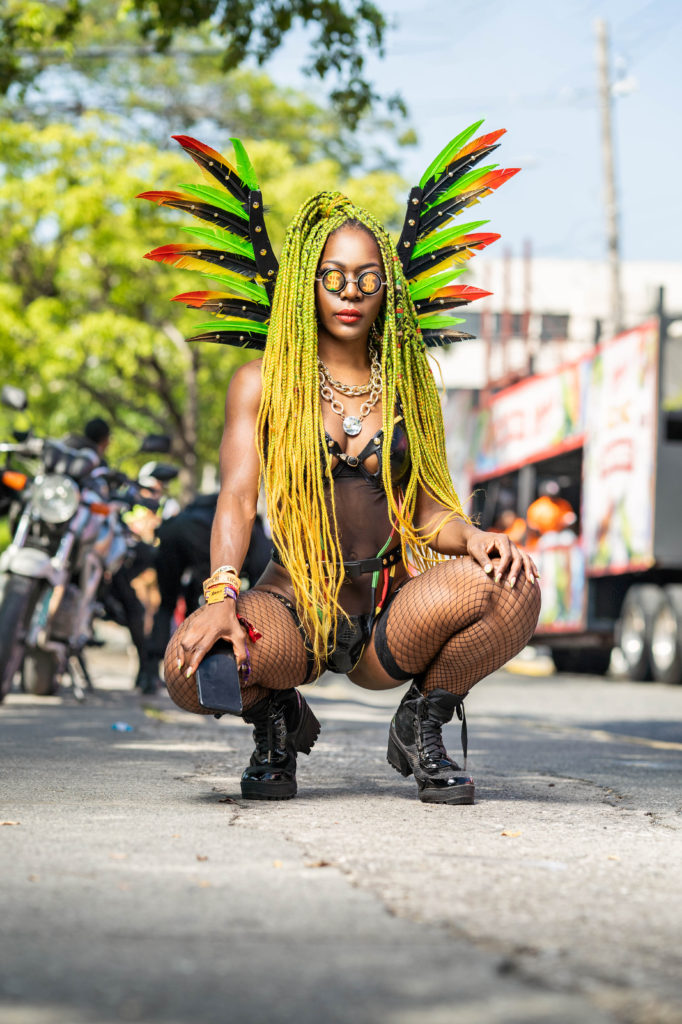 So after photos, my first move was to get a drink however the hole in my Xaymaca mug was way too big so my straw kept falling out. I tried for 30 minutes to unscrew the cap and drink but it was just so annoying I just threw the whole mug away and opted for regular cups. When the band initially started to move and for the first (I wanna say) hour or so, we were moving at a very fast pace dodging drink carts and trying to keep up with the truck. If you stopped to take a wine, you definitely got left behind or lost your crew and the sheer size of the entire Xaymaca band had grown exponentially – like think Tribe in Trinidad.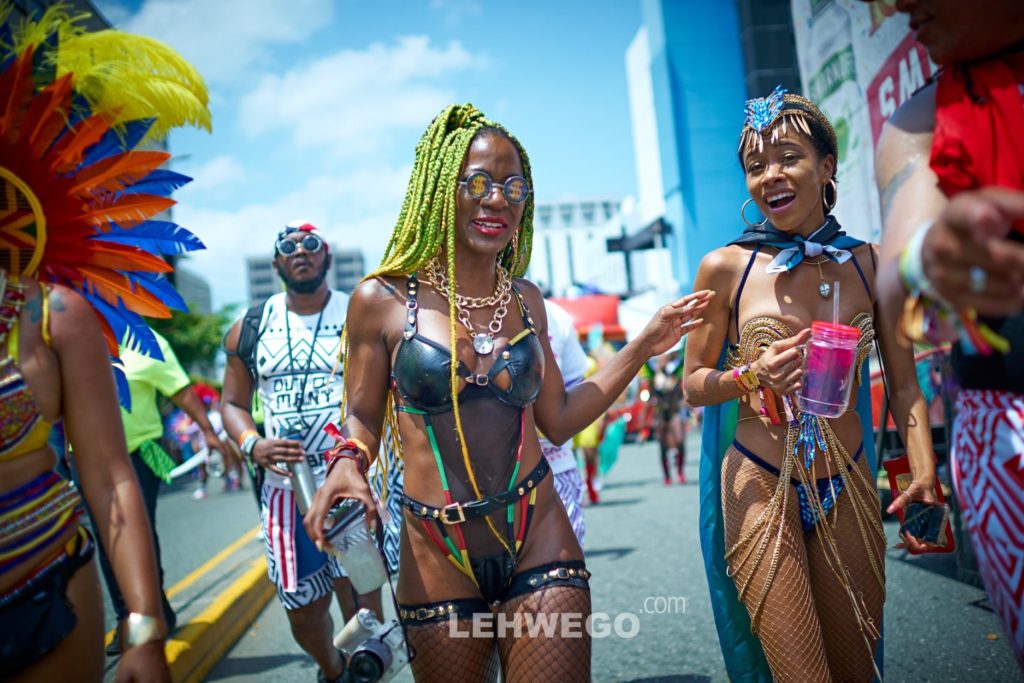 At a certain point the trucks stopped and we were able to get into a nice little groove of chipping, wining – in fact the stops were the best part of the morning because then was when I felt I could actually enjoy the experience and navigate the band without issues. Trucks 1 (Lurbz) and 3 (Milo Myles/Tony X) were my favorites because they played a little more varied music than the others. Although, it felt like a lot of the top 5 from Trinidad Carnival was repeated over and over and over again and to this day I cannot understand why I only heard Pandemonium 3x for the entire trip ( I wish I was exaggerating).  I also wish I heard more "dancehall queen -ish" tunes; definitely heard UpTop Boss maybe once or twice but heard Lucy several times. 🙁
I also have to give credit to Xaymaca International for combining drink and music trucks – which was a really good idea from the previous year where it was really crowded.
LUNCH/REST STOP
My crew decided to walk up to the lunch stop; we got there earlier than most. The Campari reps gave me a towel and a new mug (yay!) and then we went over to the various meal tents where there was chicken, vegan, fish and meat options. I opted for the escovitch fish. Afterwards, my face was melting (makeup) so I went into the air conditioned VANITY tent where there were makeup touch up services and massages.  In all honesty, I preferred last year's rest stop over this grassy area but I could only imagine the logistics in terms of route and size of band. It was definitely adequate; bar service was quick- there were shaded areas to sit; even a cute little prop area to take Dancehall Queen photos.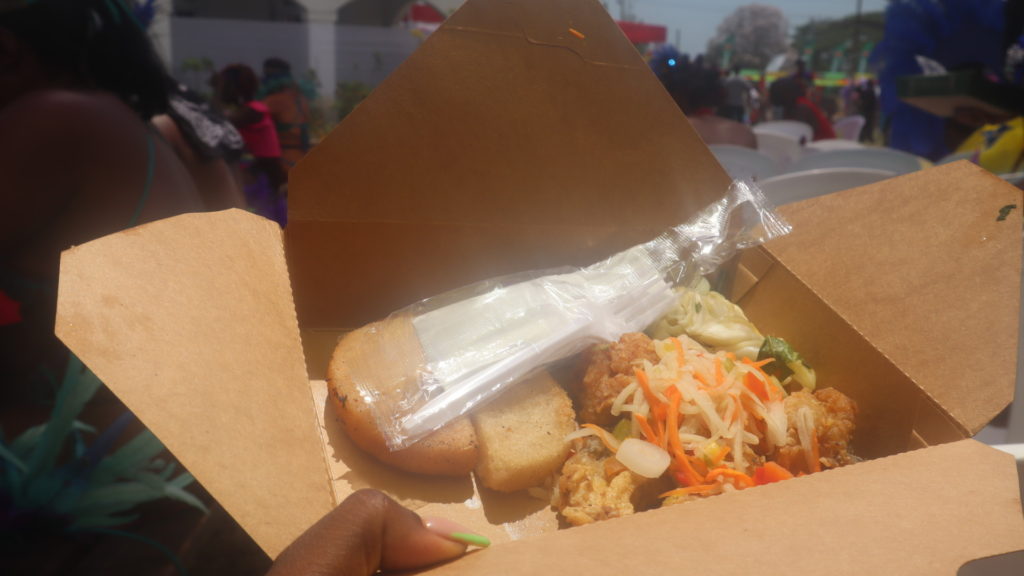 After the lunch stop, we headed back on the road. The sheer size of this band and the amount of people in it just gave me Trinidad vibes. Carnival in Jamaica has grown so much; it's insane. Post lunch stop, used the Porta Potty truck- minimal lines but porta potties are LEGIT sweat traps – thank goodness my costume wasn't uber complicated to put on and take off.
The trucks ran slower and I was able to keep up with some friends – I caught Ding Dong Raver's performance and Xaymaca made a few more stops before heading to the DINNER/REST STOP. This portion of the road was my favorite – we were able to dance with room listening to dancehall and soca tunes. It was such a vibe towards the end of the day. I even attempted the plank wine lol.
Again, my group walked up early to the dinner stop and just KFC was being served but this was the original stop from last year so we sat inside for a bit in the air condition and Xaymaca had a bit of an after party with one of the trucks parked up and playing tunes. If I had to rate this year's experience compared to last year's road experience with Xaymaca – I have to say it was so much better than the previous year. Definitely kinks to work out for sure but the road experience was probably my favorite for the entire trip. See video below.
SightSeeing & Food
So, I had promised myself to see at least a little bit of Jamaica and not just do road. The crew and I were able to go see Devon House (House built by one of Jamaica's first millionaires) and savor some patties, ice cream and drinks from the Coco Raw store. We also stopped at Usain Bolt's Tracks & Records for some food but I was pretty full. Then headed to Fort Clarence Beach for the Xaymaca Beach Fete/Lyme.
Xaymaca Beach Fete/Lyme
I'm going to be honest. Last year I did not have fun at this party so I was bewildered every time someone said this was the best part of Carnival In Jamaica 2018. But we all have our opinions. It took us a good while to get there – our taxi driver had to navigate a lot of traffic so I fell asleep on the way. 10/10 – I recommend cat naps in the taxi. We get there and because we are Xaymaca masqueraders – we get in FREE. Initially we walked around, said hello to persons and finally found a spot on the left side of the stage.
Sekon Sta came on initially and his performance was just ok – I was hoping to hear X Rated with Beenie Man but no Beenie Man. Then Ding Dong Ravers came on  which was definitely a crowd pleaser and my favorite. But let me tell y'all how Xaymaca snatched my edges when the general, Bounty Killa came on. Listen, Xaymaca Beach Fete is officially now my top 2 fetes of Carnival In Jamaica. I am probably in the 20% of masqueraders that want to hear more Jamaican soca/dancehall vs. old soca music and Bounty Killa almost made my neon braids unravel from my scalp. The icing on the cake was when he and Skinny Fabolous did a nice performance of Famalay together. See video below.
CARNIVAL IN JAMAICA 2020?
Now would I do Carnival in Jamaica again next year? YES. I always have a good time in Jamaica and its so refreshing hearing newer music and dancehall on the road and this year for me rivals the first year I did it in 2015 so without a doubt I would go again. I would probably try newer fetes or go from Easter weekend but that is to be determined.
Would I do Xaymaca again? I would because comparing 2018 to 2019 – this is a band that takes critique and make improvements so I can only expect great things from them for 2020.
My only thing is the cost for fetes/costume are starting to go UP UP and hopefully it doesn't get much more expensive for a 1-day carnival. Either way, its a vibe. Anyways here's a bit of a budget breakdown for the people planning to go next year.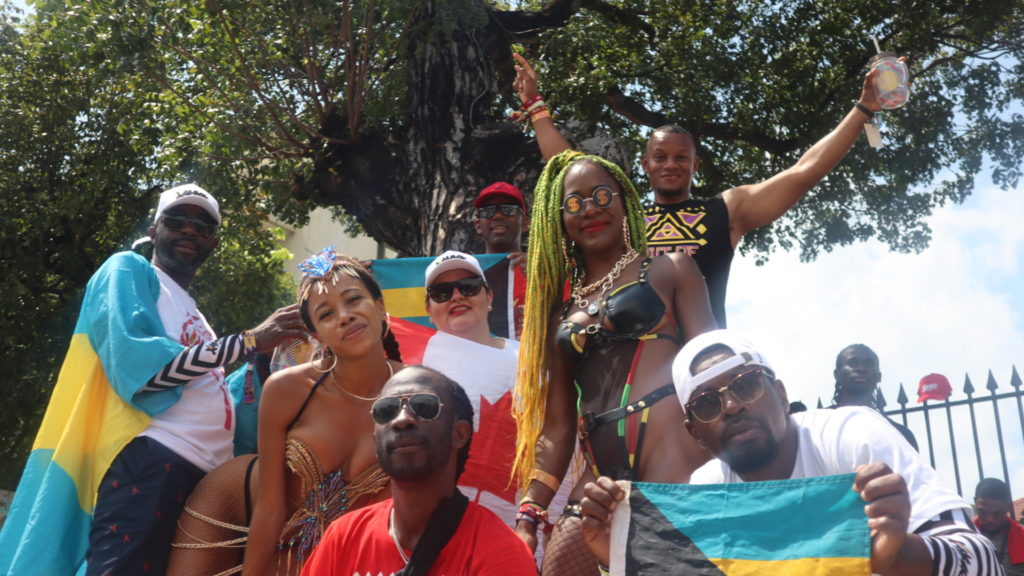 Cost
Dates – Sunday April 19th ( go from Tues/Wed/Thu – Tuesday or from Easter weekend to Tuesday April 21st)
Flight (NAS to KIN) – $600 RT
Fetes – $450
Accommodations – $500
Costume – $600
Taxi – $250-$300
Spending money – $75-$100 a day (for food, emergencies, souvenirs etc.)
For four nights = average about $2500+

Money Saving Tips:
Travel with bigger groups
Plan ahead and catch early bird sales of fete tickets
Ask band for group discounts
Save it and forget it when you start saving with the Qapital app (US accounts only). Use my code kk38f3rw to get your first $5 dollars for FREE.
Don't do every fete and end up wasting money like yours truly
So what about you?
Did you do Carnival in Jamaica this year? Are you planning on going? Let me know in the comments below.
Til next time,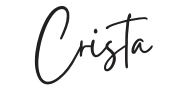 carnival in jamaica
carnival in jamaica 2019
carnival in jamaica review
duck work jamaica review 2019
jamaica carnival
jamaica carnival review
sunrise breakfast party 2019