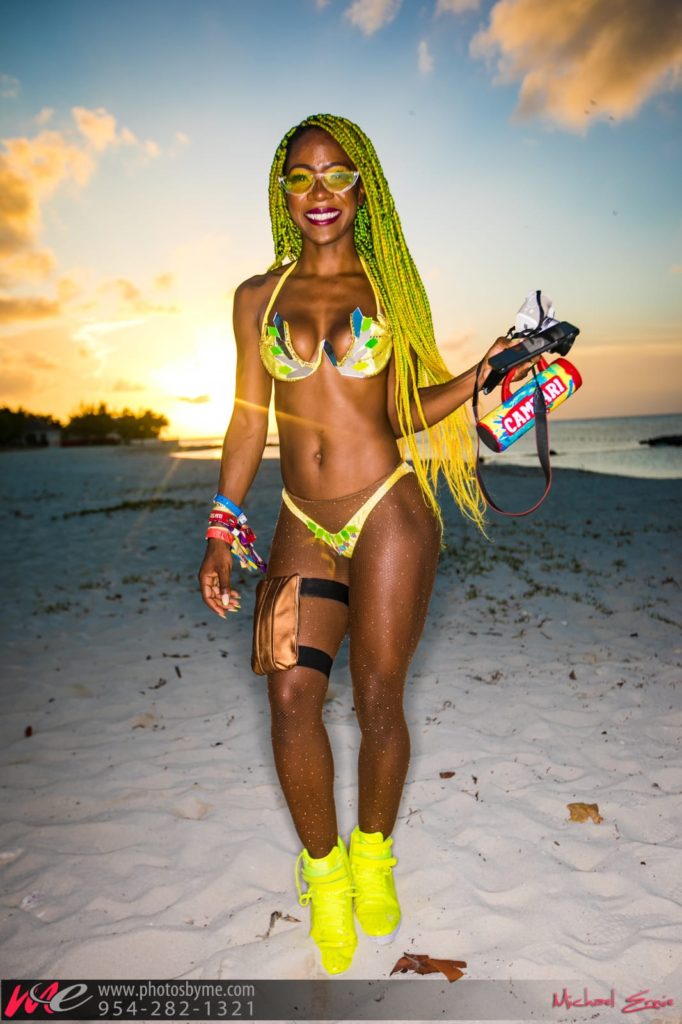 So the 5th Bahamas Carnival concluded with some highs, some lows but overall I have to say it's grown so much since the initial years. (press play for VLOG)
I'm still really excited for what's to come. There were so much more events this year…  I couldn't do all but I tried my best especially after spending the previous weekend in Jamaica for carnival.
Anywhoo, lets get into this review.  
The WARM UP ($30)
The first official pump for Bahamas Carnival. I partnered with Janaee of the Last Mermaid to do a carnival fitness event for Bahamas Carnival and while the weather was a little shaky, there was a pretty good turn out and it was a lot of fun. Peep the video. 🙂
Avenger's Jouvert ($59.98 Early Bird)
My first J'ouvert experience in Nassau was with Avenger's J'ouvert. First of all, if I say I love a theme one more time, I should get paid for it. (ha) The theme was Avengers and yours truly is still trying to figure out how to snap the Thanos' glove.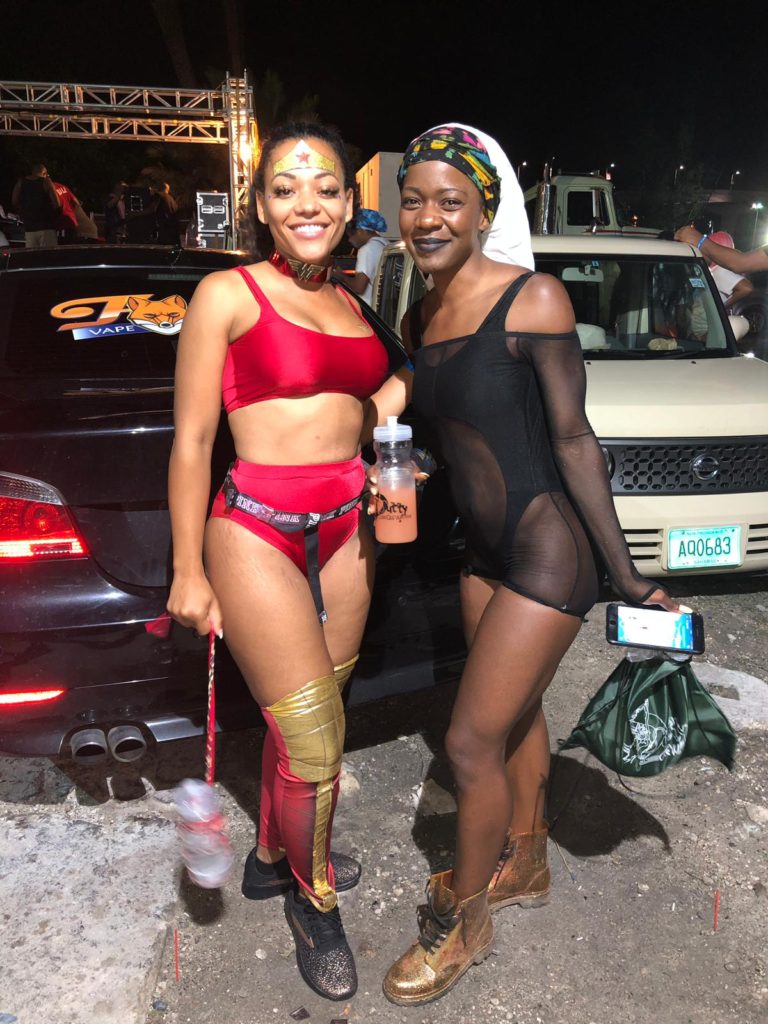 Pick up for my J'ouvert package earlier in the day was seamless, literally less than 5 minutes. Goodie bag included a drawstring bag, a Dutty crew water bottle for drinks, my wrist band with food/drink chits and a t-shirt.
Arrived for the pre- party, a little late but whatever. PEOPLE came in COSTUME!
They were a little behind but often Caribbean people are. Bartenders served from the top of a truck and had gin(yass) – got a Sex on the Beach sans the vodka and plenty gin. THen the vibes started. We made our way down Bay Street; and made a little U- turn around again and stopped by the beach where the J'ouvert band had a water truck conveniently placed in the parking lot. Security was TIGHT, they made sure everyone stayed inside the ropes but you were free to roam on the left side where the truck and patrons were moving- some outsiders on the sidelines but I hardly saw any stormers.  Now because of the sheer size of the bottle I received, it literally almost lasted me almost the entire night and the drinks were strong strong (count 2 bar trips).
The only con I experienced with Avenger's Jouvert was the fact that they had this creepy texturey mud that made my skin crawl but that could just be me and my sensory issues (lol). My favorite DJ's of the night were Close Connections, LJ 242 and Tony X. They even played some Bahamian rake n scrape music towards the end of the party. ALSO that chicken souse and Johnny cake saved my life 10x over (Patrice voice) – I don't think I ever enjoyed eating souse that much ever in life. Check the IG video below.
La Vie ($55 Early bird) 
I got to La Vie dead late – like late late, so didn't spend too much time but when I got to Botanical Gardens I was pleasantly surprised at the open space and the set up. After greeting many friends, I had some refreshing flavored water and then  I sat down for some food (I think pork) and baked macaroni – which was really good. Bar was not crowded at all and got a drink within minutes. In my opinion, La Vie was a perfect blend of authentic Bahamian vibes and carnival spirit.
Close Connections, Dr. Esan and Tony X was who I was able to catch in the short time I was there and they did not disappoint. It was a seamless all inclusive with so many variations of dishes, Johnny Walker Lounge and I have to say for it being the FIRST (in my mind) official all inclusive party for Bahamas carnival – it definitely met my expectations. Next time, Im going to completely clear my schedule, cut my phone off, get ready and head to La Vie early for Bahamas Carnival 2020.
Lagoon Fete ($75+)
So after experiencing my first Lagoon Fete (cooler fete edition) late last year, I couldn't miss the carnival edition. We got to Prince George Wharf after catching a ride from La Vie and got there in the nick of time to board the 9pm boat. It was a bit of a spooky dark 20-30 minute ride to Pearl Island but seeing it all lit up on the dark waters definitely got me excited. We made our way over from the boat to the food stall and then to the bar. Those bartenders were generous – I've never had someone pour me more than half a cup of gin in my tumbler til that very night.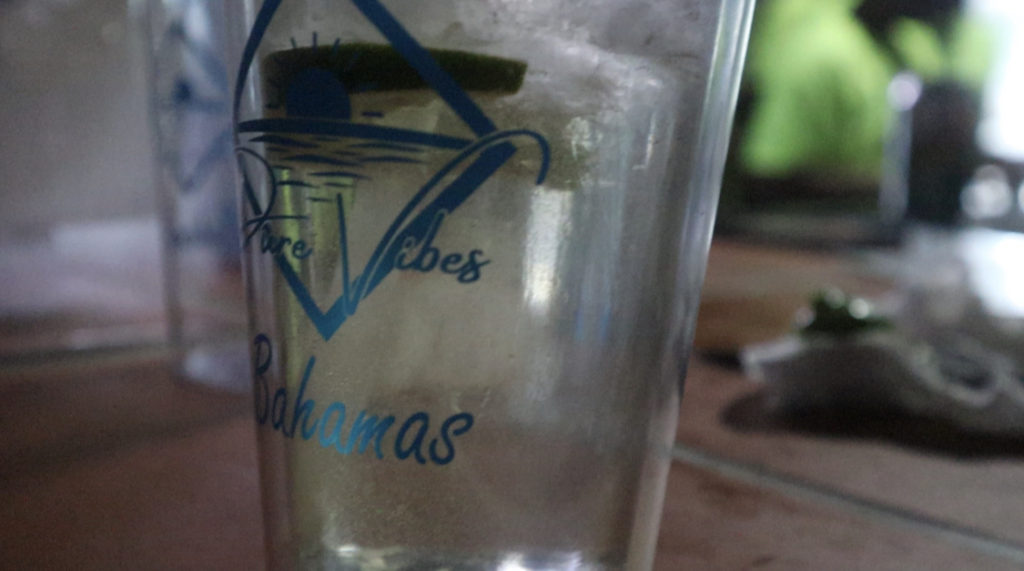 The set up was nice. Cabanas in the back, sandy beach area in the middle with stairs walking out to the crystal clear neon lit waters. I was so mad I didn't have time to change into a swimsuit – but it is what it is. The vibes were good, literally no stush to be encountered (in my opinion). There were fire dancers who served as entertainment – I think what could have made Lagoon Fete much better was if the music wasn't all over the place. Like there would be one good set and I don't know if the DJ changed or not but then whoever it was switched to a whole other genre and it didn't flow well enough for me. I also think not being able to spend as much time at the fete as I wanted played a toll but I just have to figure out better time management between La Vie and Lagoon. But I am definitely there for Lagoon Fete 2020. And I'll be in a swimsuit.
Road w/ Hypnotic Mas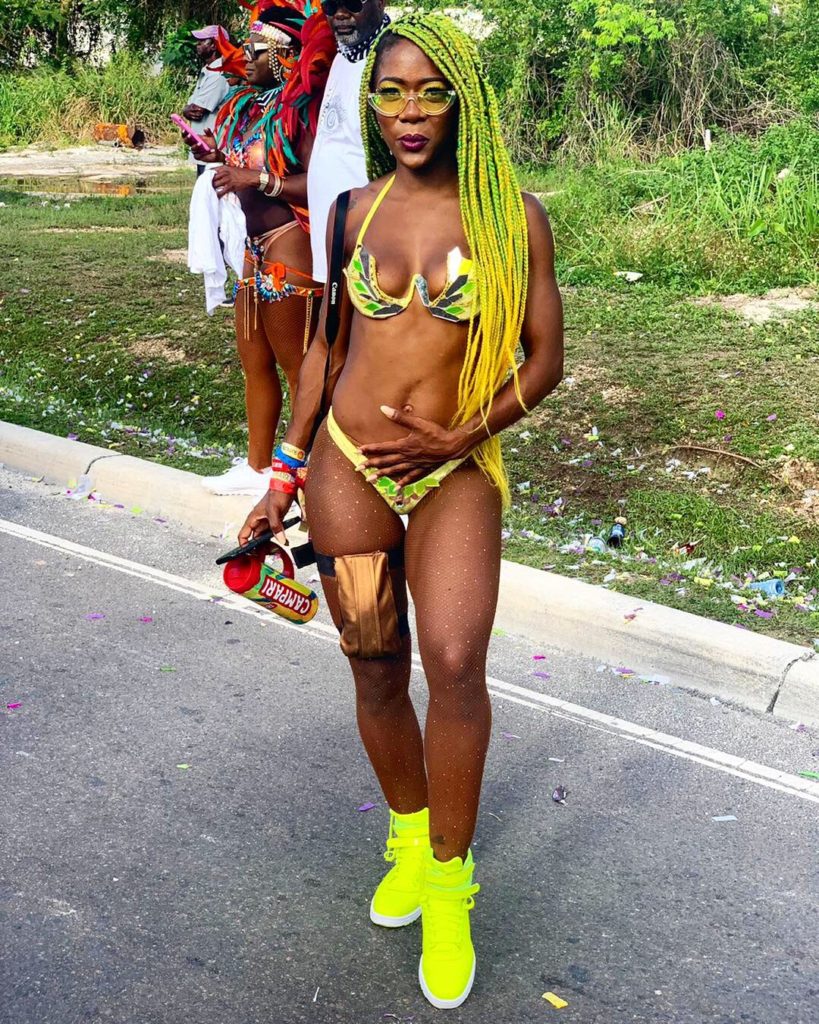 As a carnival enthusiast/advocate and having recommended the band to several persons; I just want to apologize. I dont think anyone foresaw what was about to happen with the overall distribution/road march experience from Hypnotic Mas Band. I know there were delays with persons who got costumes and others who didn't get anything at all. And to top it off, people debated whether to miss events (that were planned for months ahead in advance) to wait for a probable costume that either was ready, came hours later or didn't come at all. At a point, the band then began posting apologies via social media about the cause for delayed distribution but a lot of masqueraders were just irate, which I totally get- carnival only comes one time a year. I played in LIT and with the time constraints the section leader did the best she could in terms of getting persons into costumes and on the road or issuing refunds. Towards the road march, Hypnotic Mas Band were allowing revelers to participate whether they received a refund or not which seemed to be a fair gesture for those who travelled for the carnival.
Road Experience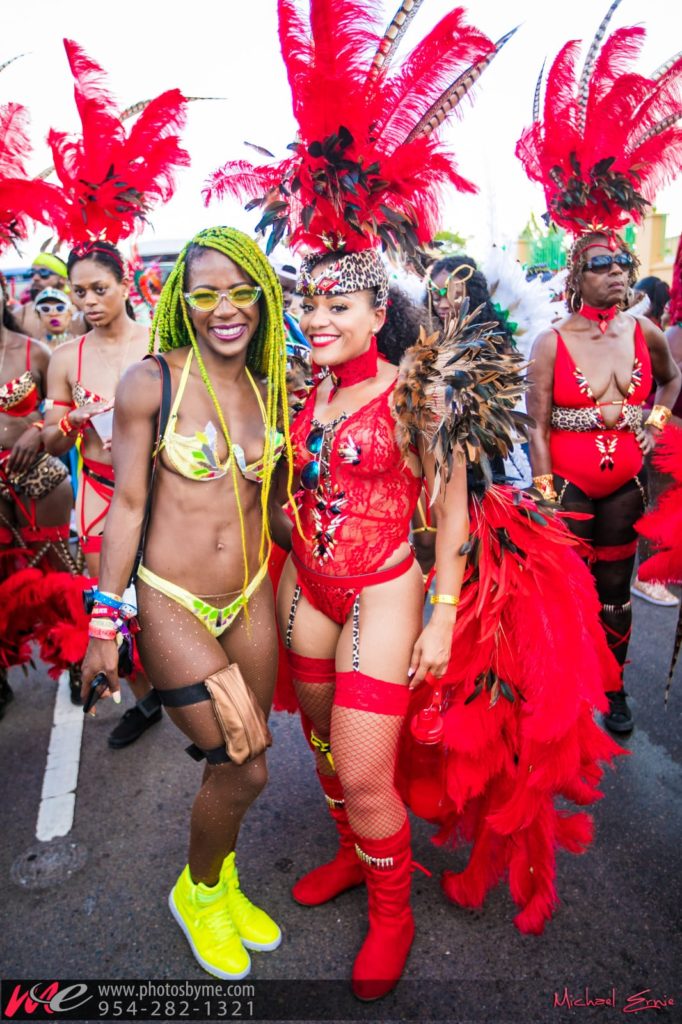 I arrived on the road a little before 4pm or so and the vibes were decent. Getting a drink from the drinks truck was a bit annoying. It was constructed wayyy too high especially for my 5ft 3" self so often I had to shout or move around to the opening to get someone's attention. I brought my Campari mug with me because it hadn't failed me from JA and one of the female bartenders actually took it from me, gave me a regular cup and I had to pester until she gave me back my Campari mug. (LOL only in the Bahamas) We made our way through the route and the vibes were GOOD, I was starting to enjoy it until a fight broke out and yours truly got hit in the back with a bottle (and I wasn't the only one). Security was minimal in the band and there were no ropes. One pro about Hypnotic Mas was that they did send around staff carrying snacks like patties and twists (pastries).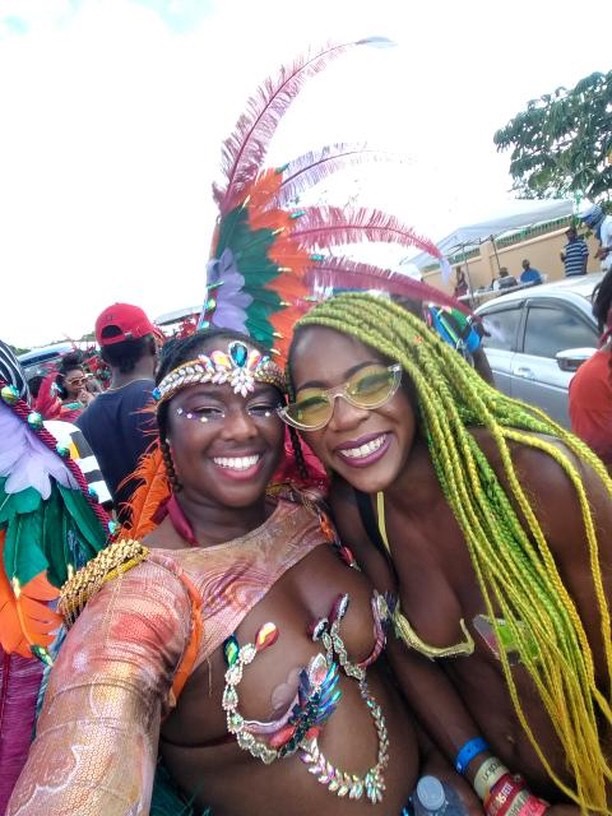 Parade continued and the traffic started to get a little congested. I understand police cars and ambulances but there shouldn't ever be ATVs/motorcycles moving through a carnival band for an extended period. Some masqueraders were visibly upset. I even told one of the men riding that yes it's fun but he knew he was not supposed to be there but there was minimal to no crowd control. I even heard someone was burnt by the exhaust of the motorcycles.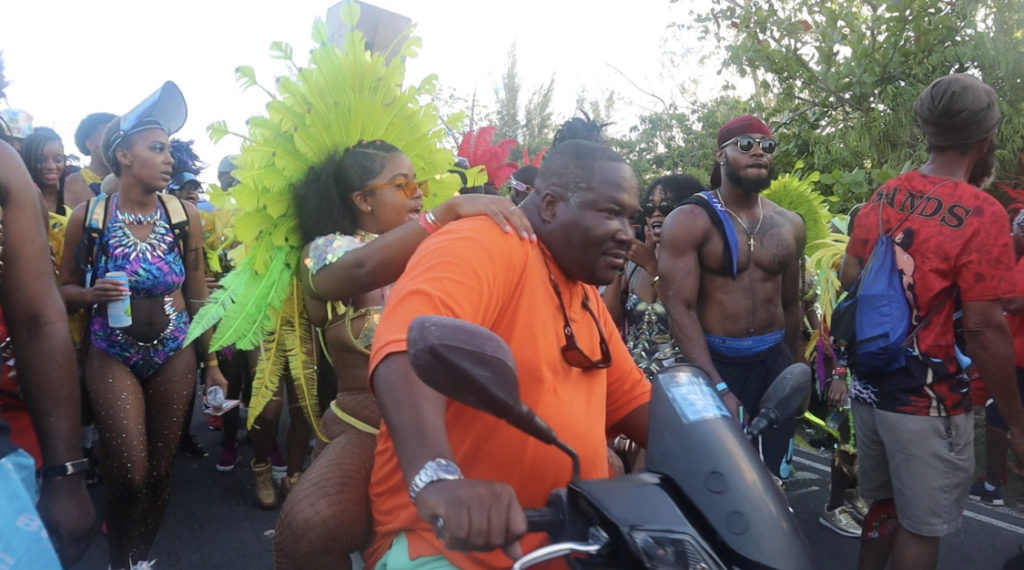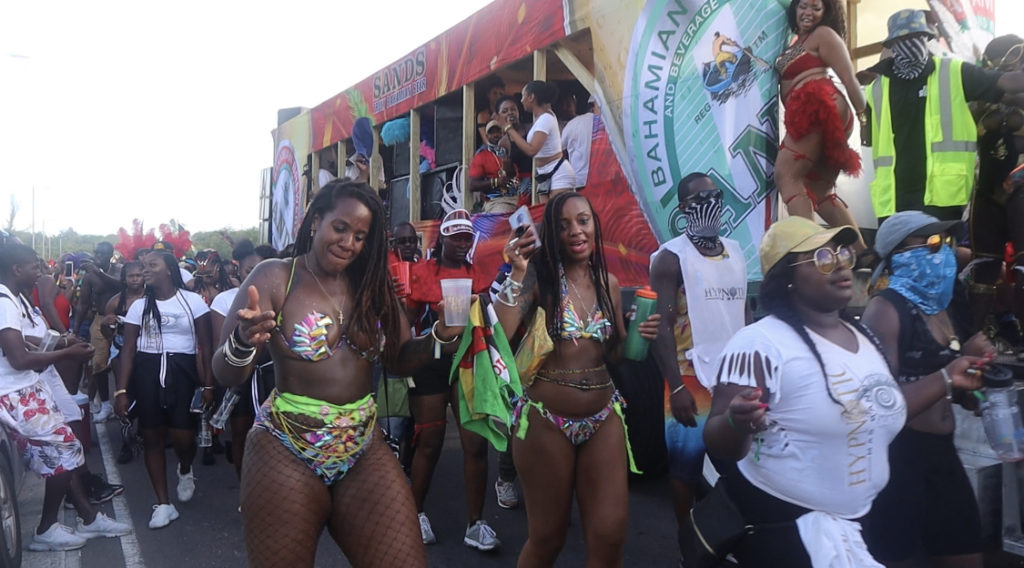 Now when we rounded the last roundabout onto Bay Street (my favorite part of the route) where the sun sets and you can go on the beach with your costume – more and more stormers started to come into the band which was a pro and a con. The vibes definitely went up but safety wise it wasn't a good look especially with people who don't get that a wine is just a wine. I heard crowd control issues from other groups as well.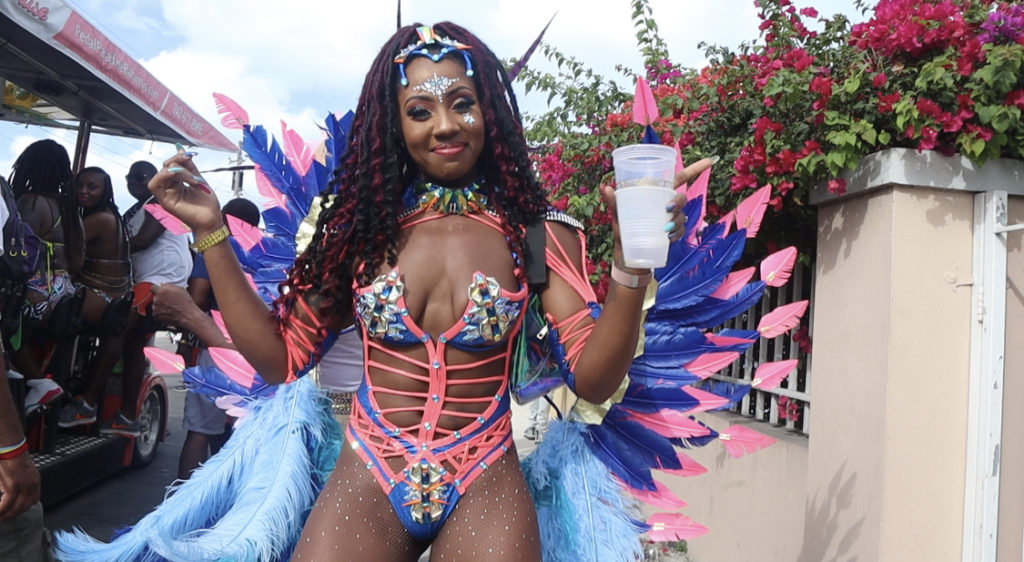 The road march continues well into the night usually making a stop at around Arawak Cay/Clifford Park where the bands stop for food. Luckily we were told to walk to Botanical Gardens, because I definitely didn't hear an announcement from the Hypnotic Mas trucks or DJ's. When we got to the main entrance of the gardens – the fences were closed and luckily a staff member (who was leaving) told us to walk further down to the back entrance. We got to our destination and Hypnotic Mas had a really good dinner spread laid out for the masqueraders, however when we asked the caterers for water/drinks… They informed us that the drinks were on the truck. We sat down and every so often looked to see if anyone got water or some sort of beverage but everyone (at the time we were seated) was complaining about there being no drinks. So we left.
Hopefully moving forward the band can learn from it's mistakes and improve in the future. As for if I'll play with them again – personally I don't think so until they've proven they can deliver an adequate carnival experience. Just my honest 5 cents.
Bahamas Carnival Experience (Saturday)
After the road, I took a much needed nap and was still tired however I did not want to miss Bahamas Carnival Experience this year. Machel Montano was the headliner and I had always wanted to see him do a rendition of our rake n scrape music and I was not disappointed in the least.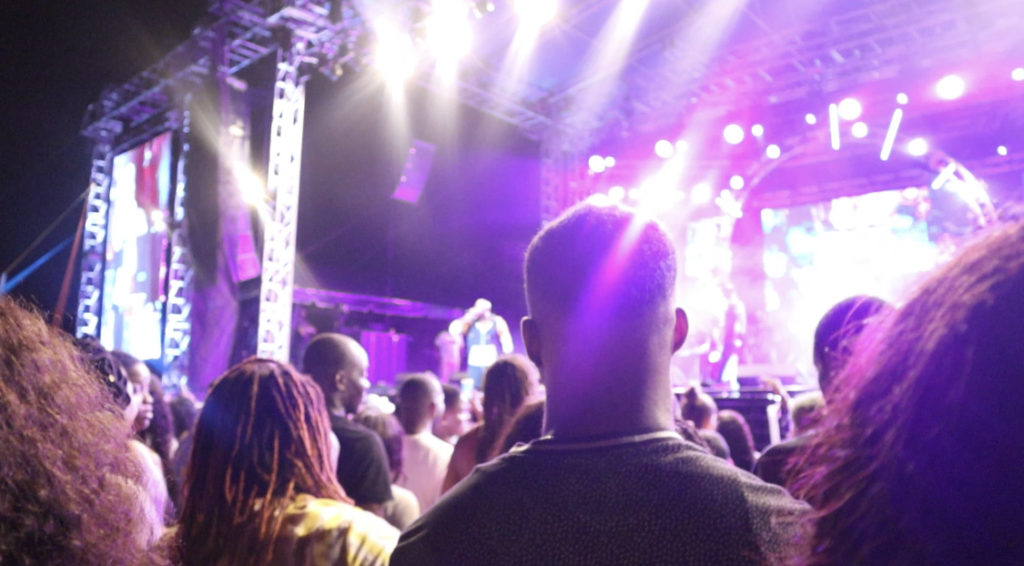 What I thought was really interesting about Bahamas Carnival Experience was that it was literally 2 concerts in 1. The main stage had the major performances like Farmer Nappy, Shal Marshall and Machel but on the other side of Clifford park they had a wet zone. I'm talking foam pit, water slides, powder – it was like literally stepping into another event. I'm going to admit the crowd was a bit younger in the wet zone but listen they was having the MOST fun – I had to go back twice. DJ Ovadose was spinning while they projected the performances on another screen for anyone who wanted to see.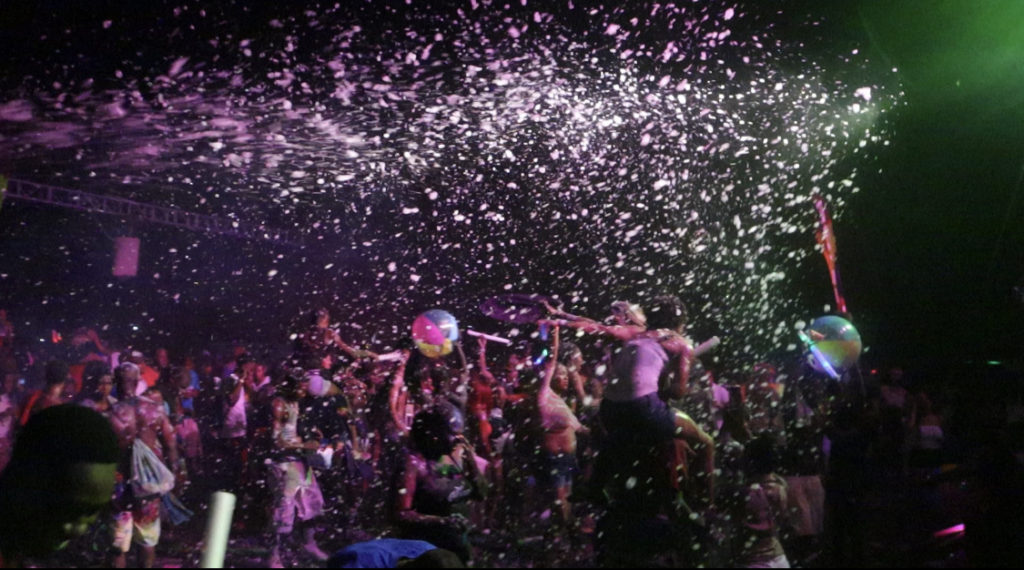 There was a food village with Bahamian delicacies between the wet and dry zone. I walked back to the VIP/Media area for Machel's performance and he did not disappoint with a short rendition of "Mama don't like no rake n scraping in here". Bar service at the event was generous and quick – lol I had a couple bartender friends. I'm going to leave this mini review of the concerts saying you have to include at least one night in your carnival experience for 2020.
Suits Bahamas ($58.85)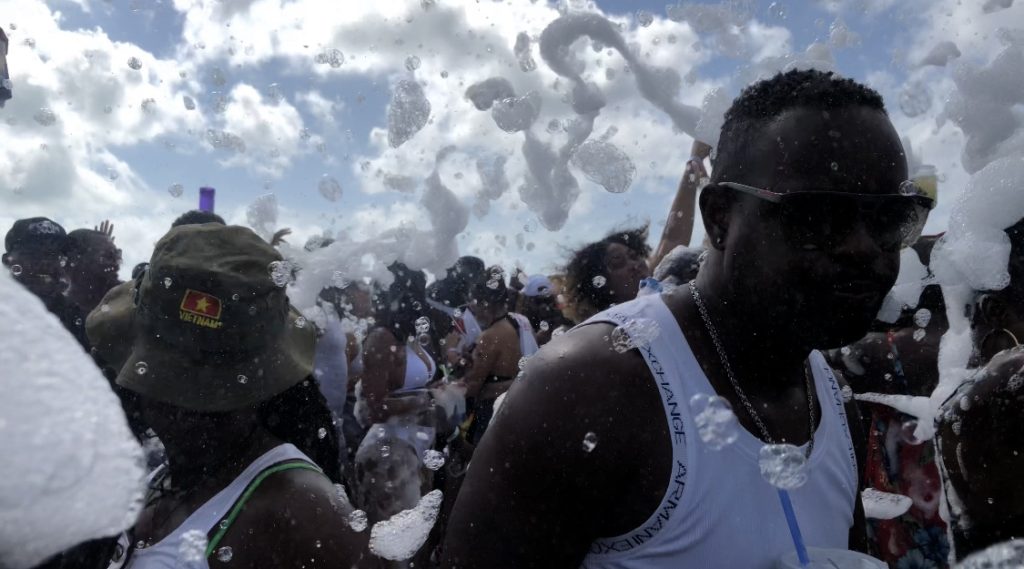 So, if you didn't know already – the pump continues after road march. After a nice little breakfast at The Cricket Club; we made our way over to Potter's Cay Dock for Suits Bahamas (THE J'OUVERT cooler cruise). Boarded and received a Suits cup and found a nice spot on the barge. The music took a little while to get started and it was HOT lol. Then they started up the foam machine, which I thought was a nice and newer touch to make things a little more unique. The music on the boat was completely varied from dancehall favorites, rap (rolls eyes), and a lot of SOCA music including one of my favorites – PANDEMONIUM -that is hardly played in carnival circles for only God knows why.
https://www.instagram.com/p/BxlmXKDgH7G/?igshid=vxpe9b8jxwly
Amenities included portal-potties/wash stations at the back of the barge. They even had an ice cream truck which wasn't included in the ticket price and guess who had no cash schmoney on them but someone gave me a bite of their ice cream sandwich anyway (yay). With plenty of powder and the signature salt- water hose, I have to say Suits was definitely better this year than last year and honestly every year I always say I want to try something different but I end up back on Suits. I'm really excited to see what's in store for Bahamas Carnival 2020.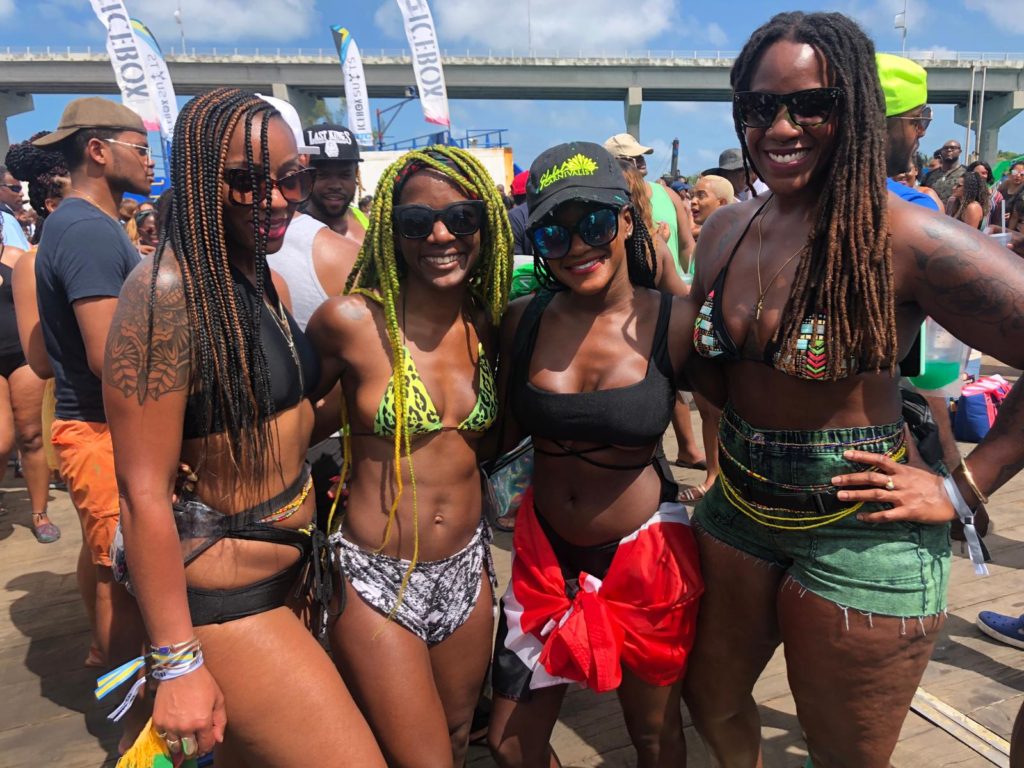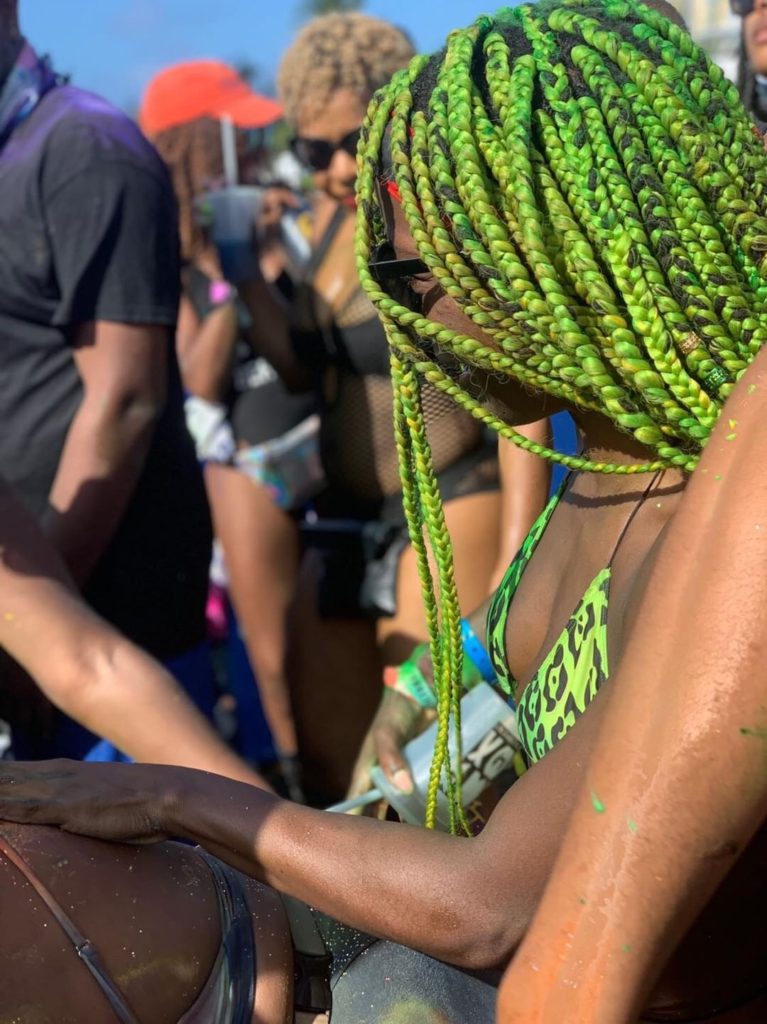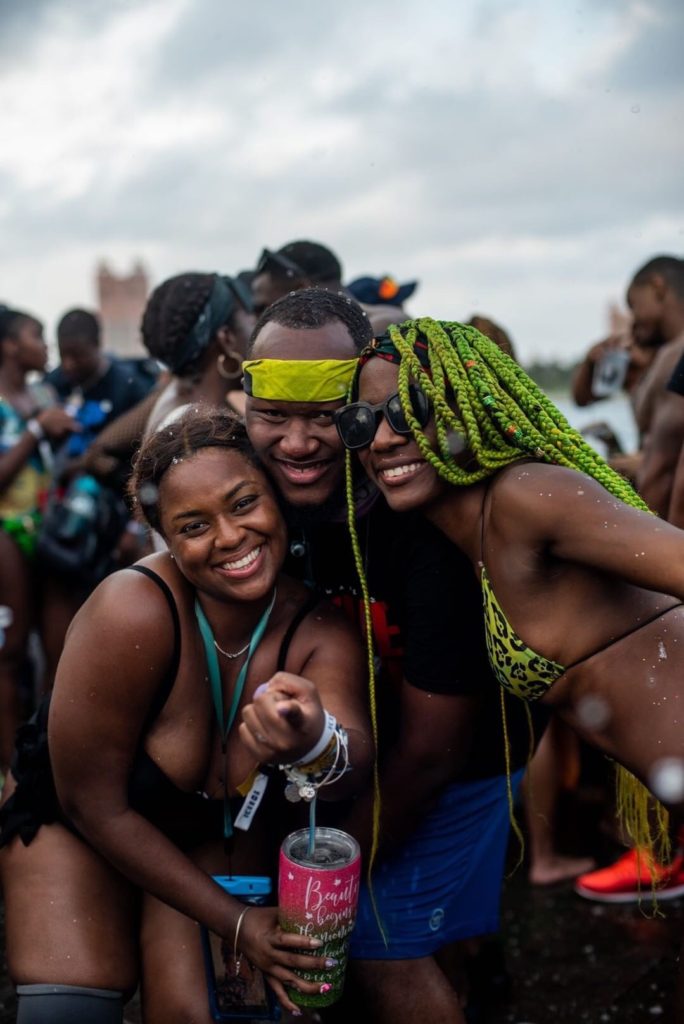 HERE'S SOME THINGS YOU NEED TO KNOW FOR 2020

Dates
Bahamas Carnival road march is set for Saturday, May 2nd, 2020. I recommend flying in either the Wednesday (April 29th, 2020) or Thursday (April 30th, 2020) prior to and leaving Monday (May 4th, 2020) or Tuesday (May 5th, 2020) because well J'ouvert is on Thursday night and there are a lot of events (and more to come) on Friday or earlier dates. Also, make some time to see the Bahamas, try the food – there's a lot of history and things to do besides relaxing on the beach – but hey I'm with that too if you just need a beach day. Adding an extra day can definitely add to your experience. 
Budget
Here's a rough guesstimation of budget for next year (due to change secondary to demand). I intentionally booked an Airbnb in the St. Alban's/Arawak Cay area and honestly its probably one of the best areas to stay in if you are limited on transportation. Other recommendations – Bay Street Downtown Hotels like the Marriott, the Hilton also further west on Bay Street is the Melia, BahaMar, Breezes hotels. You can also opt to stay over Paradise Island but I will stress this – include in your budget for a car rental or a reputable taxi driver or make a friend in the Bahamas because we have no reputable Uber like service and taxi drivers can be a hit or miss if you don't book them ahead of time (like 24 hours ahead). Plus the prices can be a bit unreasonable at times.
Flight – $350 RT
Costume – $300+ (male or female depending on tier of costume) 
Accommodations – 3 nights in Airbnb ($400)
Transport – average about $20-25 one way 
Fetes/Events – average $350 for 6 events
Spending Money – $100 a day
TOTAL= $1500 – $1700 USD (BSD is 1:1)
TIPS:
Rent a car. Taxis can be expensive if you are traveling solo or in small groups. Just note gas is between $4-5 dollars a gallon on the island. I was able to get around in my sister's car using Google Maps and WhatsApp Live Location.
Get the early bird tickets for fetes. You will save so much more money. Keep your eye out for Suits Bahamas to launch because it often sells out quickly. (It is a committee member selection process.)
There is no official rest/lunch stop for Bahamas Carnival – the route is LONG especially if you're used to rest stops so start working on that stamina ASAP.
Bands launch usually December – January or sometimes even later (Bahamian time)
Other Reviews (because my POV isn't the only one that matters) 
"My road experience for Bahamas Carnival was good! The vibes with Hypnotic Band was definitely there! I loved the beach scenery combined with soca and chipping on the road! That was the highlight for me! Little changes need to be made to make it a great experience would be security ropes, one or two artists.
Now, costume situation was rough! However, I am sure there was more than what meets the eye for me as a reveller. Regardless, the situation was amended as best as it could have based on time constraints to be on the road. I made the best of it!!" – Anonymous
"Overall my experience was "ok". I would give it a 7 or 7.5 out of 10. The vibes were nice the entire parade. Everyone was in a 'let's have a good time' kind of mood. I was with Masqueraders, but throughout the parade, we had several revellers from other bands floating through and wukin-up with us. There was a catch-22 with that, however, because crowd control was piss-poor. As we got nearer to the areas more populated with spectators, there were more and more people jumping in the line from the side of the streets and getting in the way. My group had some security there, but it wasn't enough. And it wasn't just the drunk men on the side of the road that you had to look out for. I was on 'protect the booty' patrol for one of my homegirls. I was so busy making sure none of the drunk fellas came at her, that I missed this random woman that walked up behind her and slapped my homegirl on her bongie (butt) then kept walking.
Although the 'vibes' were good, the music really was lacking. I wish the DJs were better prepared with their music selections. I barely heard more than 6 2019 songs; and the rest were soca songs from the 2000s with a sprinkle of 2016 and 2017. With Bahamas Carnival being so late in the Carnival season, there was already a ton of music available.
The costumes were of good quality for the price point. Compared to what I have seen at other carnivals, I think Bahamas Carnival costume prices are definitely on the more affordable end. However, I really wish some of the groups kept to keeping the 'excessive feathers' on costumes strictly to the females. I have numerous cuts and scrapes on me from the fellas feathers every time I tried to sneak pass them to thief a wine from they gal.
The route needs to be reconsidered to possibly help with the crowd control I believe. I think ending with a view of the pretty blue waters of The Bahamas should be a staple for Bahamas Carnival, but perhaps getting to the beach should take a different route." – Paul Frazier
"ILOVESOCA JAMAICA (7pm-1am)
This event was cancelled due to inclimate weather. However, they apologized immediately and issued refunds promptly. This fete was in conjunction with the Bahamas Masqueraders Band, so instead they hosted a lyme at their camp. They provided drinks free of charge which was great. Of course vibes was nice and V'ghn (Trouble in the Morning) was there to hangout with us as well. It was a nice warm up 🙂 .
LA VIE (VIE PROMOTIONS) (2pm-8pm)
OMG, this fete surpassed all of my expectations. From the moment I walked through the entrance, my mouth was ajar. Firstly, the hosts and hostesses were very nicely dressed, hospitable, and pleasant. Getting in was a breeze. As soon as I walked in, I was banned and was able to get a drink at the entrance. Of course La Vie cups were included. The set-up of this event was spot on. Absolutely gorgeous! The greenery of the garden in conjunction with the brightly colored decorations used just set a whole mood! Food and drinks were included, the food was delicious and getting a drink was easy peasy. This was one of the smaller, more "boujee" fetes but boy let me tell you, VIBES! The music was ON POINT! The entire atmosphere was absolutely perfect. Next year, this fete is a MUST. I am sure there will be a much larger crowd next year because this fete was EPIC. La Vie was definitely one of my TOP two favorite fetes for entire Bahamas Carnival 2019. See y'all there!
LAGOON FETE (6pm-12am)
I arrived to Lagoon fete ( Pearl Island) after 10pm which left a little less than 2 hours before it was over. The ferry ride was about 10-15 minutes. Short and sweet. As soon as I walked off of the ferry I could immediately feel the soca vibes. I went to the bar, and asked for vodka and sprite…. It was just vodka with a splash of sprite. I could NOT drink that, so I threw it out and went on my merry way toward the bad behavior :). The set up was nice, which I expected. There were even cabanas that people rented out. There was a lot of people at this fete. Most people gathered in front of the Dj booth, which was a sandy area. In my opinion the area was a bit
crowded. I could not comfortable buss a wine, or take jab jab without accidentally bumping into someone; but vibes right? The most comfortable place for me was the open area by seaside where the sand was a bit more firm. There I was able to bend over and carry on bad until my hearts content; which is exactly what I did! All night long! In all, I would definitely attend this fete again next year. I did enjoy myself very much spit not being able to get a proper drink or food (my fault for being late). I would recommend getting there earlier so that you can have the optimal Lagoon Fete experience.
BAHAMAS CARNIVAL 2019 PARADE (11am-8pm)
THE BAND
Oh, this disappointment. I'm sure you all know that there was some controversy regarding costumes for some of the sections for Hypnotic Mas Band. Unfortunately, I was apart of one of the sections who were unable to get their costumes on the morning of the parade. There was absolutely no clarity in regards to this situation until the morning of the parade. The band just kept pushing back distribution times which was bizarre in my opinion. It took them a while to send out an official apology which was annoying to say the least. At the very last minute they sent an email with a vague apology and an ultimatum. 1) Full Refund or 2) Provide access to the T-shirt section at No cost. By this time I was already frustrated so I opted for a full refund. This was a very disappointing experience for me especially because it was my first time playing mas. I was really looking forward to playing mas at my home carnival. Hopefully the band learns from this major upset and plans accordingly going forward.
THE ROAD
Despite not getting my costume, there was NOTHING that was going to stop me from going on the road. After all, that is what I came to do! PLAY MAS, and mas I did play! First things first, y'all it was HOT! Geesh! The parade was supposed to start at 11am (Sike). It started closer to 1pm. Luckily, I had a few friends from the Bahamas Masqueraders Band that knew the situation with my band, and they welcomed me with open arms to play with them. Once we got on the road it was instantly LIT! The music was banging. One of my favorite new Djs was featured in this band (Dj Ovadose). He was responsible for every leg cramp that I caught on the road LOL! I can't give a proper review of the band because I was not apart of the band proper; maybe next year.
The route was way too long in my opinion. Like, LONNNNGGGGG. I'm an athlete and it was still too long for me. In addition to the heat and constant long stops, it was a challenge to consistently enjoy myself. You can say I enjoyed myself in spurts. Even though I was not able to fully immerse myself in the road march, I was still able to have a lot of fun. I plan on doing more thorough and in depth research in terms of which band to play with for next year. I am still very much looking forward to the road next year!
BTC BAHAMAS CARNIVAL EXPERIENCE (AMNESIA) SATURDAY (7pm-until)
I strongly considered not going to this concert because my feet felt like they were going to drop off of my body after the Road March. But, I HAD to see Machel. I just had to, right? We got done with the road after 8pm. I went home, showered, and got dressed. I arrived to the concert at
around 11pm just in time to catch D-Mac's performance. I was too proud to be a Bahamian chal! He did an awesome job. He was followed by a few popular Soca artists like, Problem Child, Swappi, Farmer Nappy, Shal Marshall, Teddyson John, and Lyrikal. Of course Machel's performance was the most anticipated of the night, and they sure did an awesome job of building the energy for him. When Machel finally came on the stage, of course the crowd exploded with excitement. Machel's performance was SPOT ON! EPIC! LIFE CHANGING! He even included some Bahamian flare to his performance which made me super happy! Overall, I think that BTC did a great job putting this event together. I really like how they gave to consumer different options in terms of which concert they wanted to go to. If they do the event like this next year, I would definitely attend.
SUITS (ICE BOX ENTERTAINMENT) (1:30pm-7pm)
DRUM ROLL PLEASE! GEEZUZ! I have been hearing about this cooler fete and how amazing it was last year. And boy did it live up to its reputation. This was the perfect end to my "fetescapade". Once we arrived at Potters Cay Dock, embarking the boat was pretty easy, those who had tickets , we waited in line with our coolers, got our bands and cups and on we went. From the moment I walked on, I knew that I was about to mash up di party! Of course Dj Ovadose was on the 1s and 2s= inevitable leg cramp LOL! There was NEVER a dull moment. All of the Djs did an amazing job at reading the crowd and keeping the energy high.The size of the crowd was perfect. There was enough space for me to tek jab jab without interfering with anyone else's jab LOL. After about 30 minutes or so, they brought out the foam machine. LOVED IT! Then shortly after the powder and water came. The entire boat ride was PURE VIBES! I am still on a high from this fete. If you were to go to any fete, buy tickets for this one first! The tickets for this fete sold out in a snap. This was my all time favorite fete. This is one fete that I am not missing next year, PERIOD! I had the time of my life and it was unforgettable. I HIGHLY recommend this fete to anyone who wants to attend Bahamas Carnival 2020 and its festivities." –@unruly_coonie
So…
Tell me did you go to Bahamas Carnival and would you go next year? If it was up to me – lol YES come!
See you in 2020!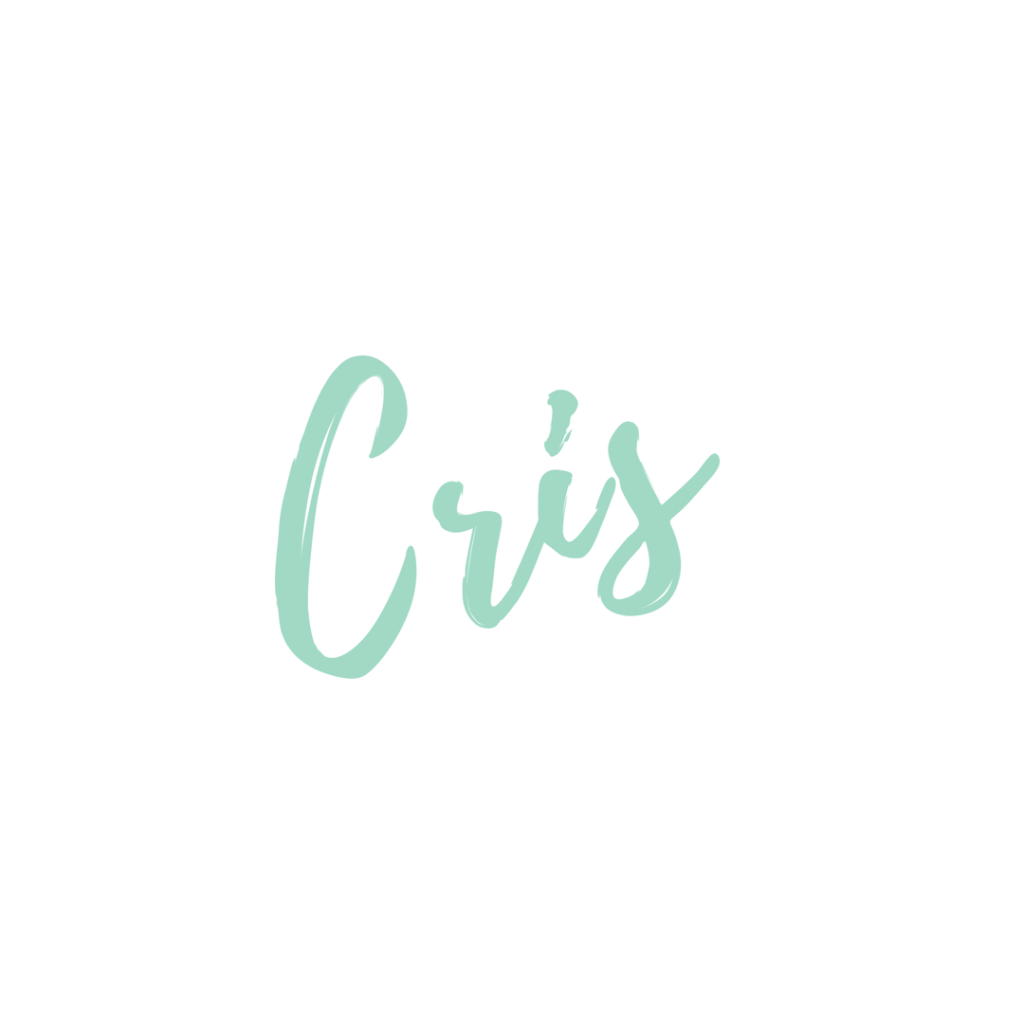 Til next time,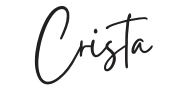 Bahamas carnival 2019 review
carnival in the Bahamas 2020
how to go to carnival in Bahamas 2020
planning for Bahamas carnival 2020