What kind of shoes should I wear to carnival?
Also…where can I buy carnival shoes from? 
Whether it's your first or hundredth time attending carnival; it's so important to find the right type of footwear to wear. If you don't have a clue where to buy carnival shoes, keep reading…
**please note that this blog post contains affiliate links of which I earn a commission from with no cost to the buyer**
TYPES OF CARNIVAL SHOES
Boots
This is the majority of carnival goers' first choice for carnival shoes when it comes to carnival. Boots are probably the most practical, comfortable and easiest choice to make when purchasing footwear for carnival.
Pros -come in variety of styles, most times comfortable, great for walking, dancing long distances, can be found easily in a variety of colors, textures etc.
Cons – "fit to leg" style may be a problem for some, feet/legs will get hot–depends on tolerance level
I've linked some of my favorite carnival boot styles below.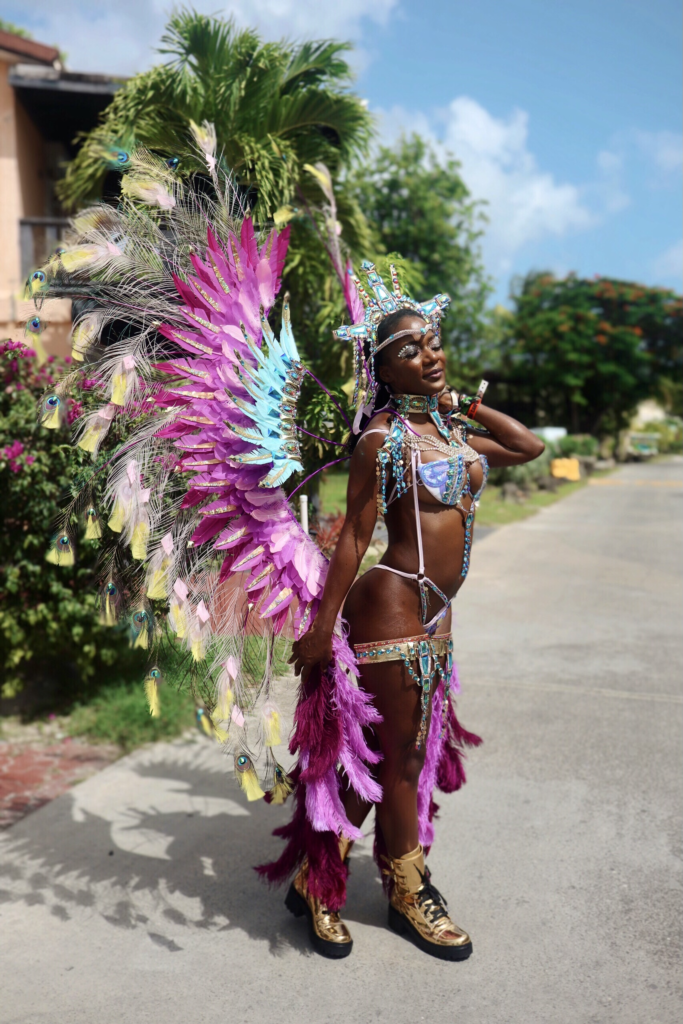 Sneakers
Sneakers are a great go -to and there are a lot of places that offer them in great colors and styles
Pros – definitely comfortable, comes in variety of colors, styles, a durable option for most
Cons – may or may not be the most dressiest/stylish option depending on personal taste
Shop some carnival sneakers I found on a few of my favorite websites below: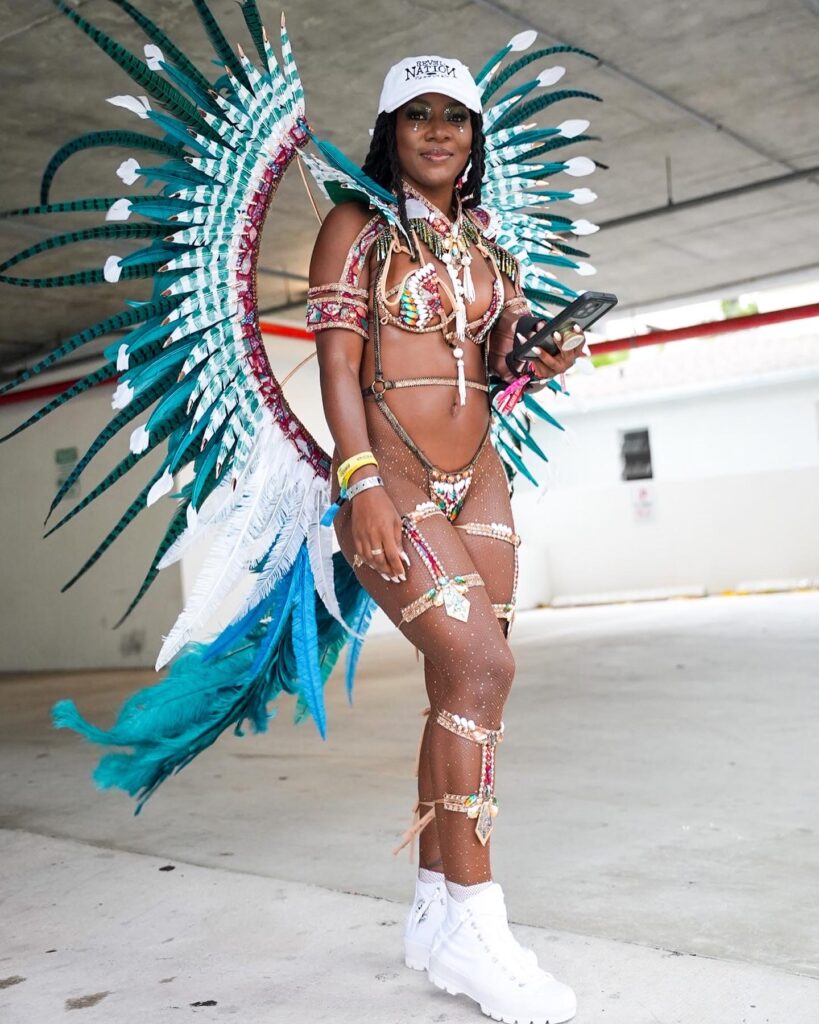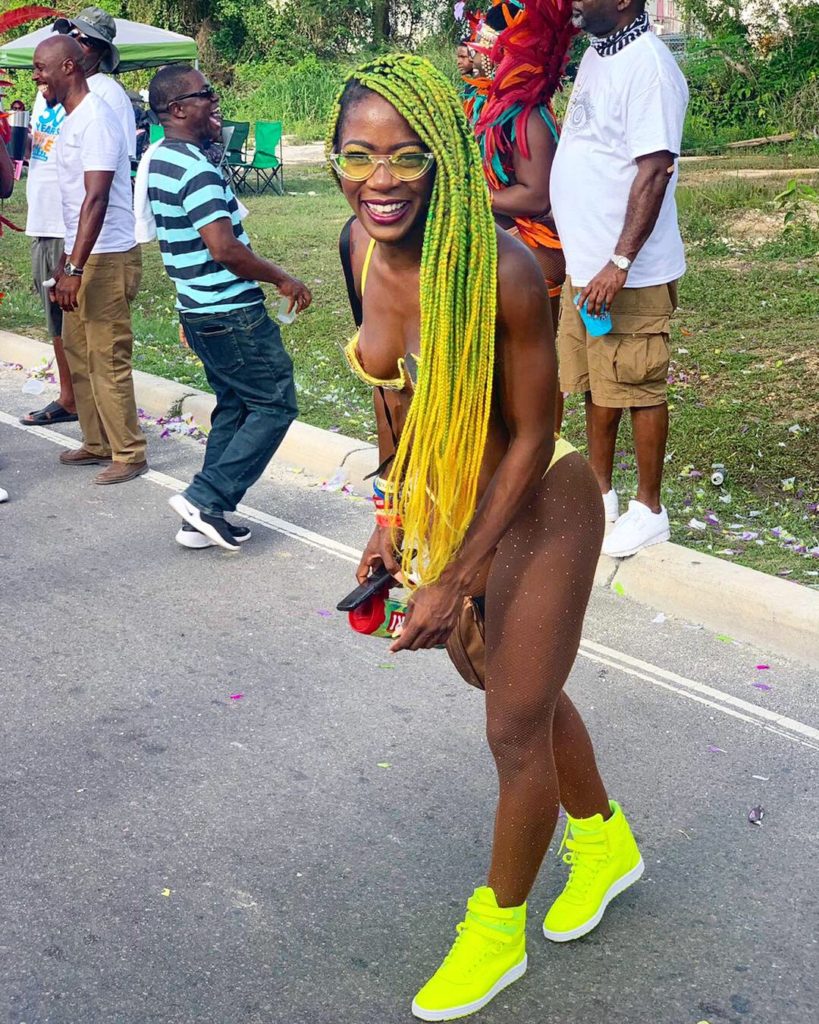 Wedges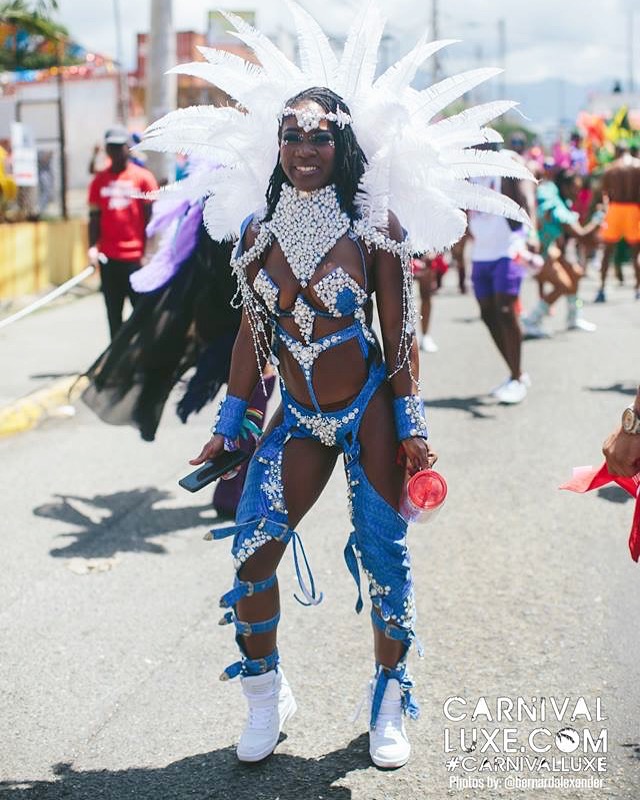 Commonly worn in various styles (i.e. sneaker wedge, boot wedge).
Pros: Gives a little lift to the butt, emphasizes the legs but a more comfortable option than a high heel.
Cons: Depending on arch, height of wedge can be tiresome to walk in. Easiest way to solve is to buy a lower wedge heel or inserts, gel cushions.
Heels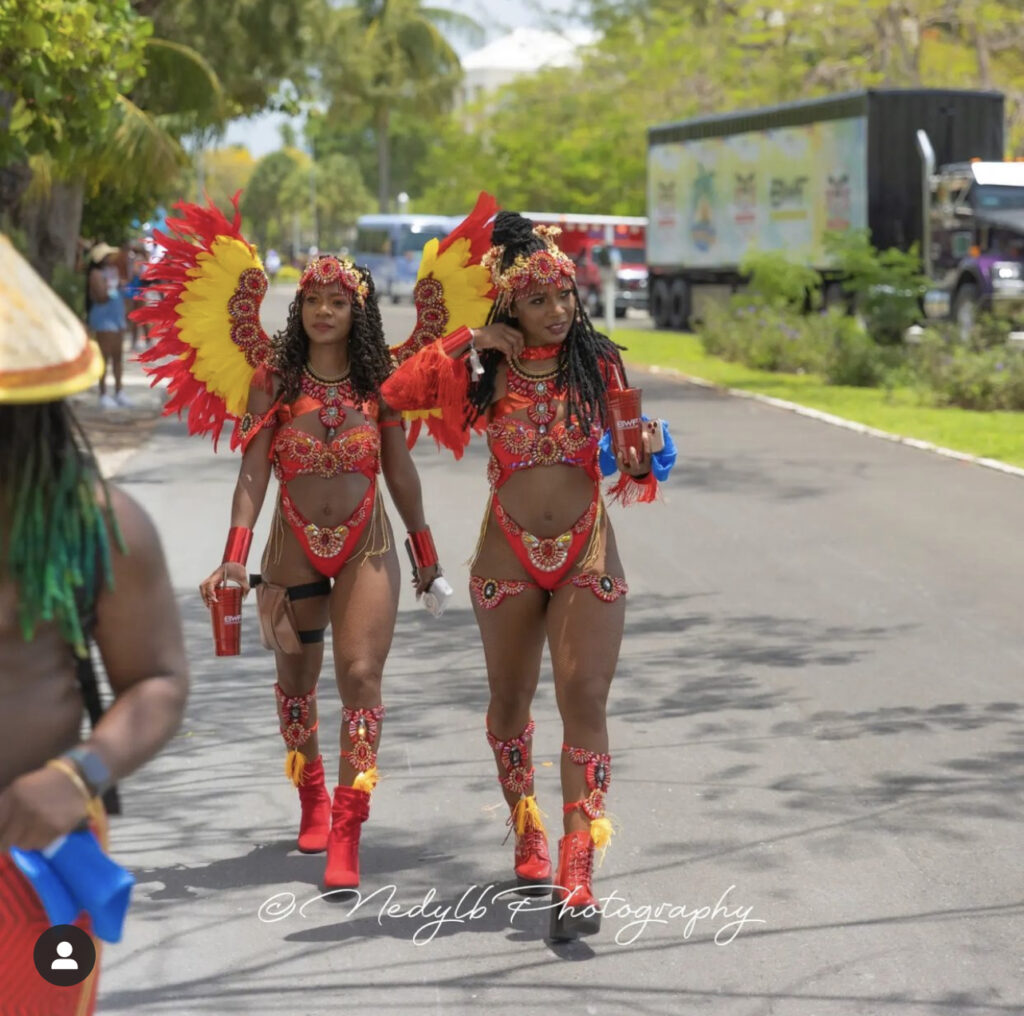 Can be done in various styles, but mostly seen with boots. In some cases, stilettos or platform heels.
Pros: A guaranteed lift to the butt and emphasis on legs
Cons: walking, chipping, dancing for long periods may prove painful
Here are some examples:

If you are definitely dedicated to chipping in heels, platform heels can definitely make a difference in level of comfort. If you're a novice, break them in. Get used to them. If you're a pro- then hats off to you!
Picking Carnival Shoes By Costume
I do this every so often depending on time but here's a few examples of carnival shoes I've picked for varying costume types. You can click the shoppable widget below if you're interested in any of those options:




Carnival Shoes For Men
And of course, the men need carnival shoes too. Check out some carnival inspo below and check out this carnival footwear list for men here. I've typically seen men go for a comfy sneaker but here are some colorful options to really spice up your carnival look.

WHERE TO BUY CARNIVAL SHOES ONLINE
Here's a few stores I love and recommend when you are looking for carnival shoes online:
Where To Buy Custom Carnival  Shoes
I've done custom carnival shoes ONE time and with VVGlitz & Glam.
It was a really good experience and very organized and my shoes matched my costume perfectly for Trinidad Carnival 2019.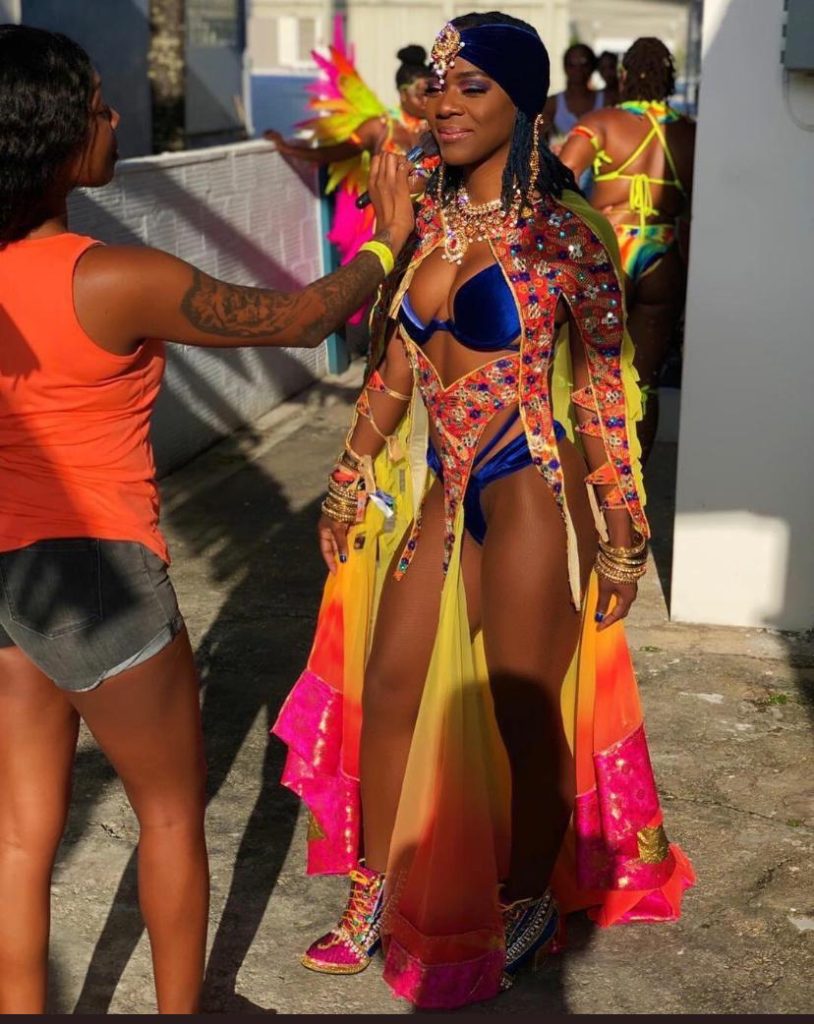 TIP 1: BUY WHAT YOU LIKE
There's no "unwritten rule" that says you have to buy a certain pair of footwear specifically for carnival–multiple carnivals have showcased the women and men of carnival wearing sneakers to boots to heels and EVEN sandals on the road.
HOWEVER, there are a few things you should keep in mind while sticking to your personal sense of style.
Know your limitations and pain threshold. So you know how some women love certain pairs of shoes and no matter how much discomfort or pain they go through–those shoes are not coming off simply for the sake of looking cute (guilty!). For me, I have a pain threshold that lasts maybe an hour or two  SO I already know (for me); I cannot do super skinny heels on the road, much less a fete or Jouvert. My point in describing my own personal pain is if you know you end up barefoot at the end of the night at the club for only several hours; don't do it to yourself for an all day affair like carnival day.
Choose comfort first. Cramped toes, numb feet can make or break a carnival experience; trust me on this. No one wants to sit on a curb watching the band chip and dance further and further away because they can't stand the pain of literally standing on their two feet.
Wear what makes you feel/look good. Think about it, why do gravitate to certain styles of clothes, shoes for our particular body type? Because it say it with meACCENTUATES your body. So why wouldn't it be the same for carnival day. I already know I'm short so super long boots on my petite athletic legs + feathered leg pieces + a feathered backpack would be too much for my frame. I typically go for ankle length, mid calf length boots, sneakers or shoes because they tend to elongate my frame.
TIP 2: BREAK THEM IN
No one likes sore, red and blistered feet at the beginning of carnival day. So, make sure you purchase your carnival foot wear way ahead of time in order to wear them a few times before the road. ESPECIALLY, if you tend to order your carnival shoes online (factor in shipping and handling times).
Wear them SEVERAL times before carnival day. Several meaning more than once or twice.  Wear your carnival shoes on a night out, at work (if possible), to the gym—wherever SO you can get an idea and most importantly a feel of HOW they wear.
Do they chafe or rub any parts of your feet? Can you withstand a whole day or 6 hours or more of functional wear without pain or irritation? Do you notice any numbness, swelling or redness after wear?
Get a 1/2 size up (TCD). Ladies and gents, let's not fool ourselves or our feet. To ensure you're comfortable, get your size or at least a half size bigger because your feet will swell. (Credit: Trinidad Carnival Diary) If you haven't read this already, here's the BIBLE on do's & do not's for carnival shoes. http://www.trinidadcarnivaldiary.com/faqs/the-carnival-virgins-survivor-guide

If you have any preexisting issues such as hip or knee pain, bunions, blistered feet, corns etc. Cover your footsies with inserts, gel cushions, non-skid sole pads. Example, if a shoe is too flat take out the cushion from a pair of comfortable shoes and put it inside your Carnival shoes, definitely gives more support and lessens the impact to your joints. All of these can be found at your local convenience store like Target or shoe stores.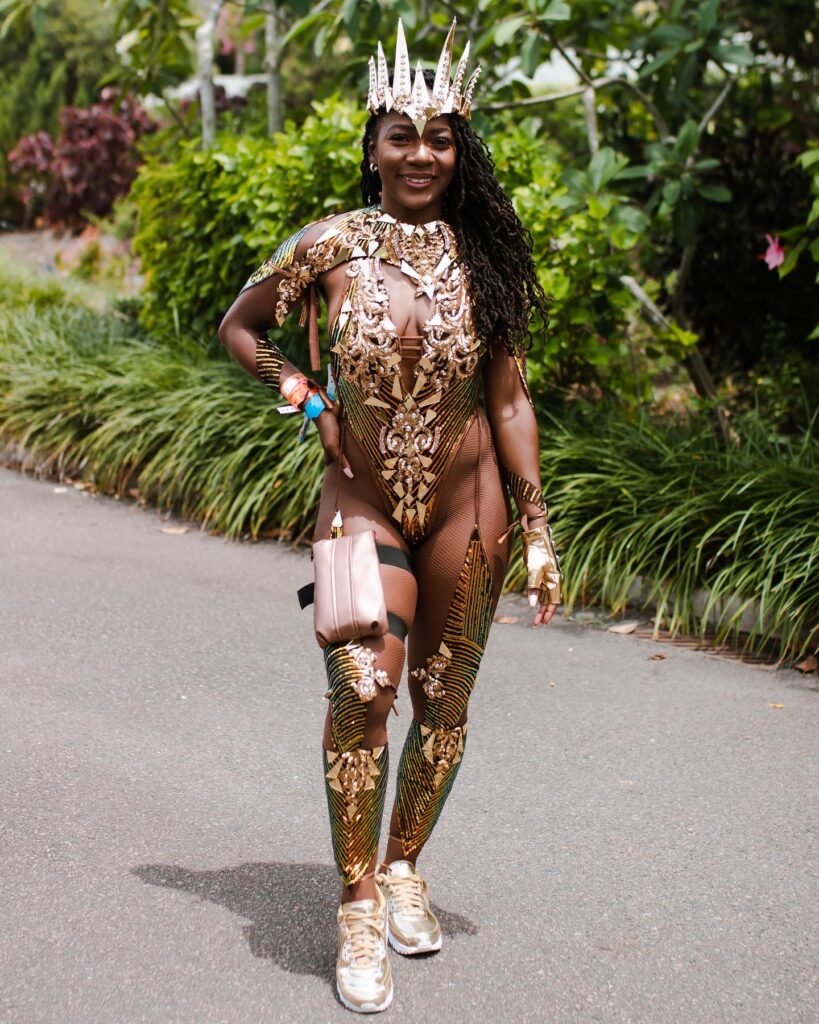 TIP 3: DRESS THEM UP
Carnival is the time to be EXTRA and there's no minimum or maximum amount of extra–
Make sure your carnival shoes compliment the costume. To some this is a no-brainer but for others who have no idea about carnival costumes and looking your best on the road. The shoes tie in your entire look.
For those that have difficulty with color coordination and matching, another choice would be a flesh toned pair of carnival shoes. Carnivalista sells sneaker wedges called 'Steps' that come in two flavors, Sugar & Spice that flawlessly match any skin tone and let the costume speak for itself.
Get your carnivalista Steps here.
TIP 4: Bring another pair of  carnival shoes
However if you are determined to rule the road in teetering high heels, just pack a pair of flats when/if the fatigue kicks in. I've seen super frontline divas cross the stage in high heels only to swap them out for wedges or flats to endure the rest of the road and rightfully so.
Til next time,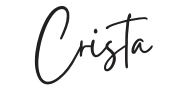 bahamas carnival
carnival 2021
carnival accessories
carnival footwear
carnival shoes
miami carnival
trinidad carnival
what to wear to a soca party
what to wear to carnival
where to buy carnival shoes