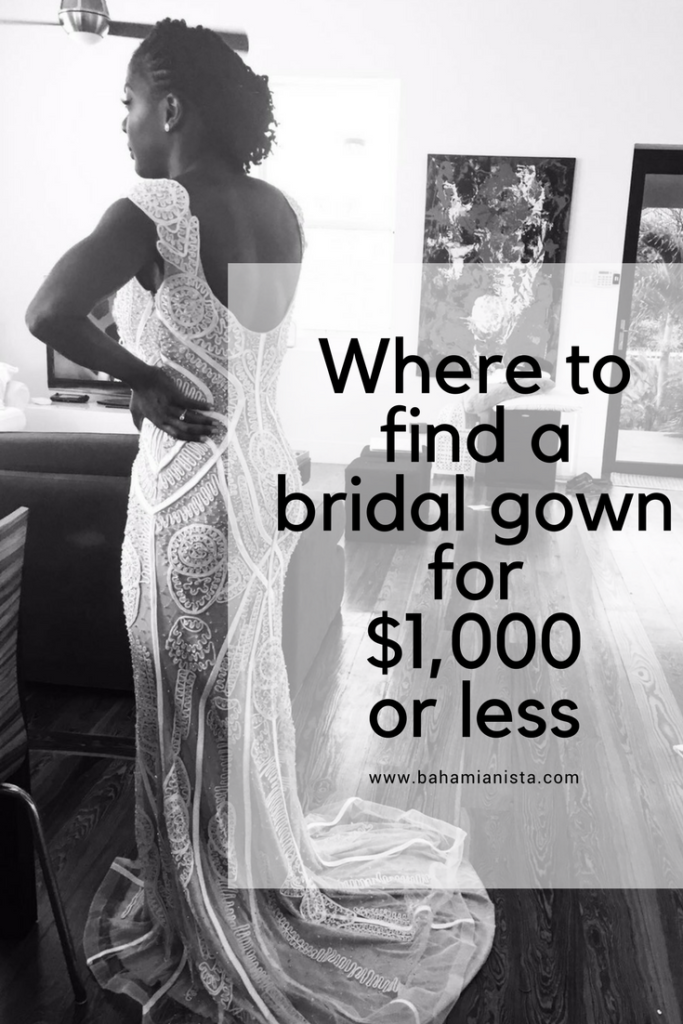 Where To Find A Bridal Gown Under $1,000 or Less– yes you read that right. The thought seems almost impossible in a time where the bigger, the more expensive, the more flashier, the better… especially for our social-media crazy generation. But I can't blame the masses when weddings are a time for celebrating your favorite couple in real life or on the gram.
So in the midst of planning my elopement/wedding, (and even before)– I always had this notion in my head that my dress had to be the most expensive item for the big day. Because more money meant more details, more bling, embellishments, more WOW FACTOR, right?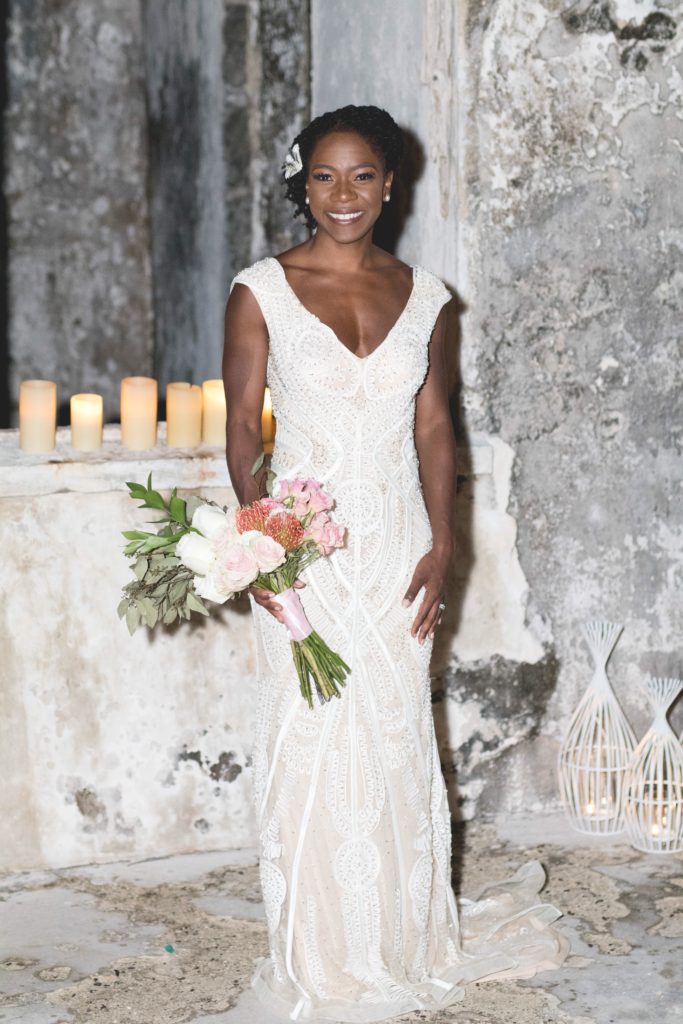 True story:
I almost didn't try on my wedding dress. It was literally 3 feet away from me hanging in a slightly concealed garment bag and at first sight it was looking more like a pageant or prom dress than any wedding gown I had ever seen. My thoughts were already hooked on a designer dress in Barbados that I would rent for the day–because when else would I wear this dress again?
It was literally 2 or 3 weeks before the big day that we had actually solidified that we were getting married and I still did not have a dress. I had options, plenty of options but none that screamed "say yes to the dress". The other dilemma was I didn't have the WOW FACTOR money to purchase my dream dress with such little time and so many other details to tie up. So where to find a bridal gown under $1,000 dollars or less…
I sank into panicked research mode and literally pored over every dress that was 1k or less in the days leading up to the actual day. Time hurried by and my options became fewer and fewer til I finally gave in to a friend's advice to go to a prom dress store and check out a few dresses. After flipping through every prom, pageant catalog in the store and being talked to death by the saleswoman, I just caught myself not so eagerly checking out these "suspect" gowns she brought out that were definitely in my budget. I was ready to leave but something told me to just try on one gown in particular that looked interesting.
So with literally 15-20 minutes before having to go back to work, I put the dress on and after maybe a minute of processing what was happening, the goosebumps came, my heart skipped a beat and "I knew". Seriously, I knew. It wasn't crazy sexy or super WOW factor, but I felt right there in that moment that the dress was made for me. I turned and twisted in the mirror with a mixed look of shock and awe on my face at how well this dress fit me without any alterations, the sparkles reflected in the mirror from all my subtle movements–it was literally everything I wanted and more. Then the tears came…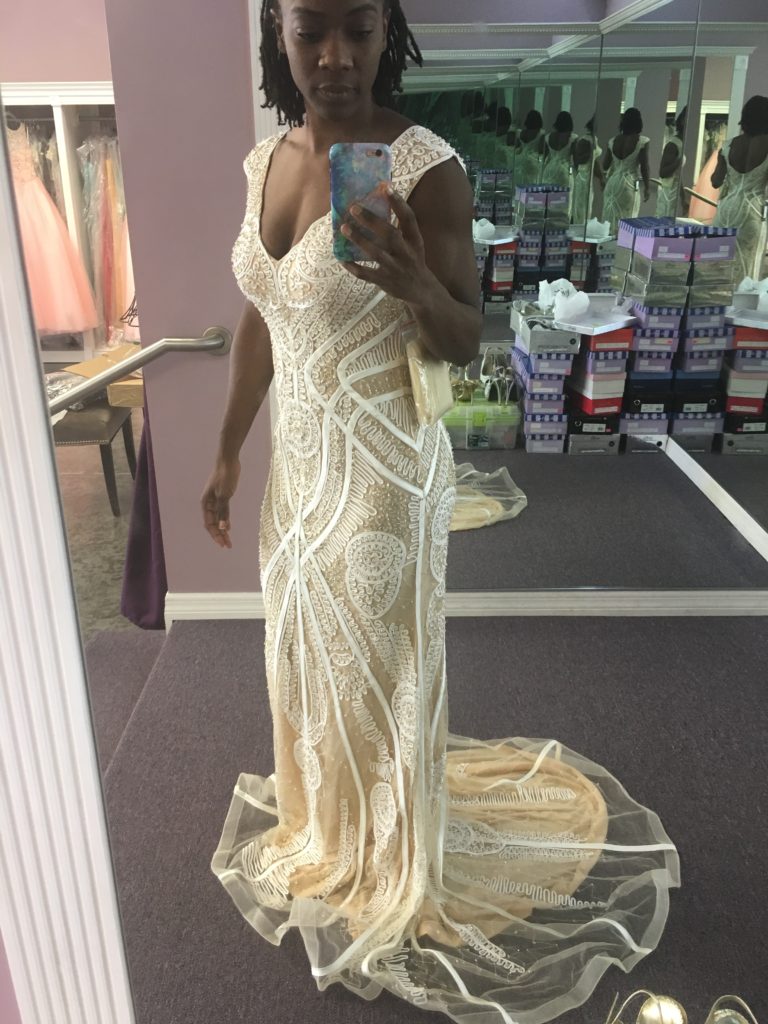 I'm sharing this in hopes that it will inspire another bride hopeful or bride-to-be that you can find something beautiful, something timeless, something that screams YOU and not overspend or spend out of your budget. Here's a few wedding dress no-fuss boutiques places I was led to, found and a few finds that almost made the cut with all beautiful, unique and affordable dresses that I hope will help you figure out where to find a bridal gown under $1,000 or less.
Online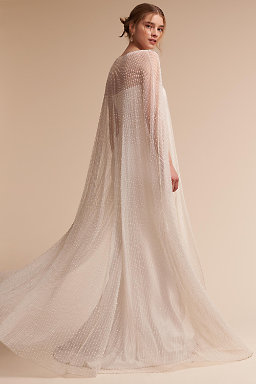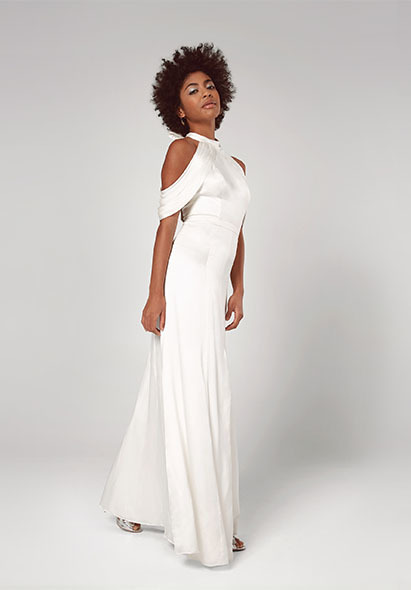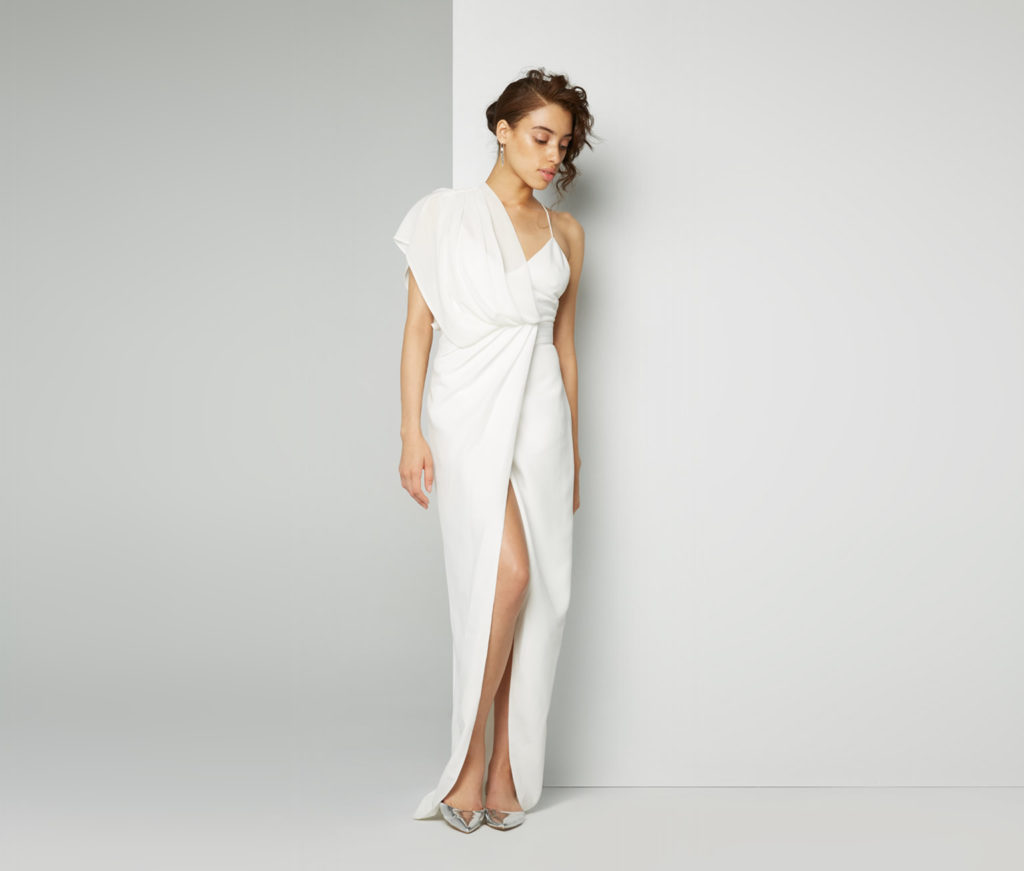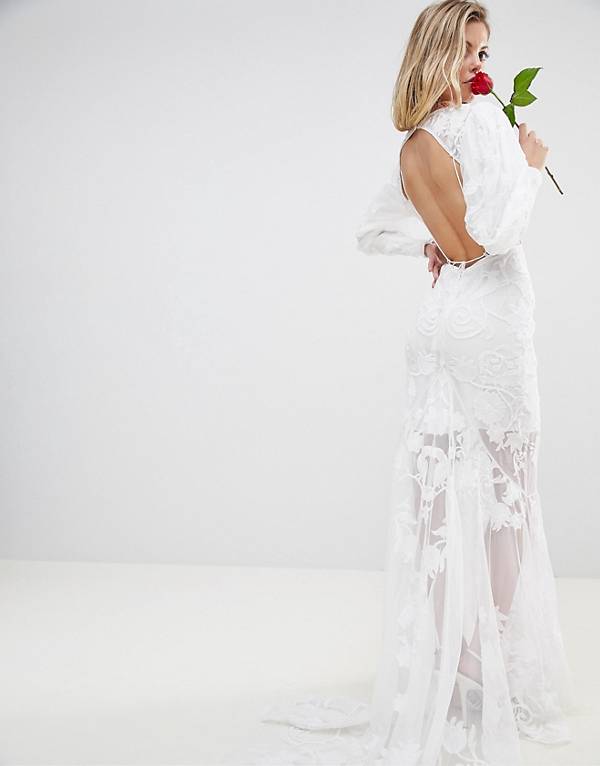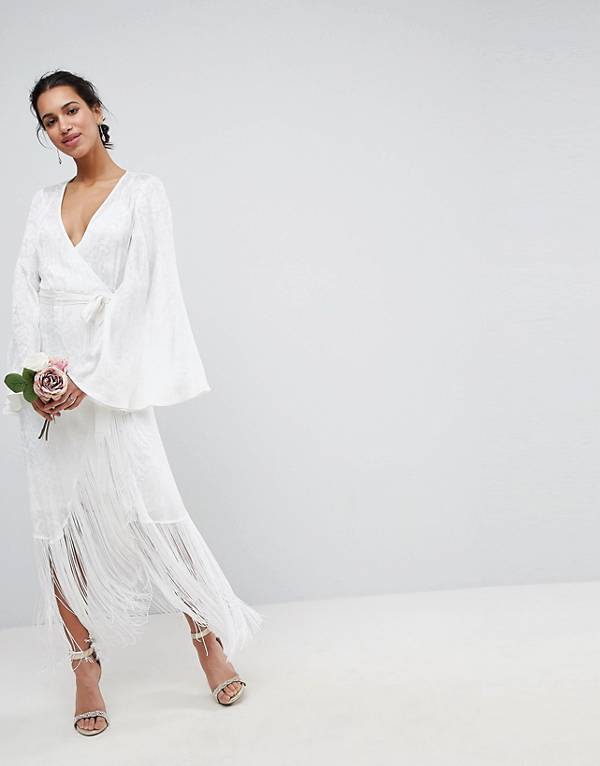 Stores (online & in person)
Tips
Here's some advice I found EXTREMELY helpful on my search for my bridal gown; I thought it only right to share HOW & WHERE to find a bridal gown for $1,000 or less.
Try a pageant or prom dress store. 
Try looking in stores you wouldn't normally suspect finding a bridal gown. Earlier in the post, I mentioned I found my dress at a prom dress store on a friend's recommendation on where to find a bridal gown for $1,000 or less. It was literally a 5 minute drive away and when I walked in I already had it in my head that I was not walking out of this store with anything. Moral of the story: Don't judge a book by its' cover.
Try renting or buying a sample gown from a designer.
Shop around at bridal boutiques during sample sales. 
Take advantage of trunk shows which offer significant discounts. 
Try resale sites like preownedweddingdresses.com
Be wary of attendants that are just trying to make a sale.
I met some good ones and I met some that really took advantage of my 'unique' situation. Remember its your day and you want to feel good about what you've chosen.
Figure out what you like and what you don't like as a process of elimination. Also, don't get roped into making a purchase right away.  I learned this lesson from my mother who counseled me many a time on dresses I was just ready to "jump the gun" on.
And most importantly, enjoy the process. Although important, a dress doesn't have to make or break your experience; just make sure you do what suits you for your special day. <3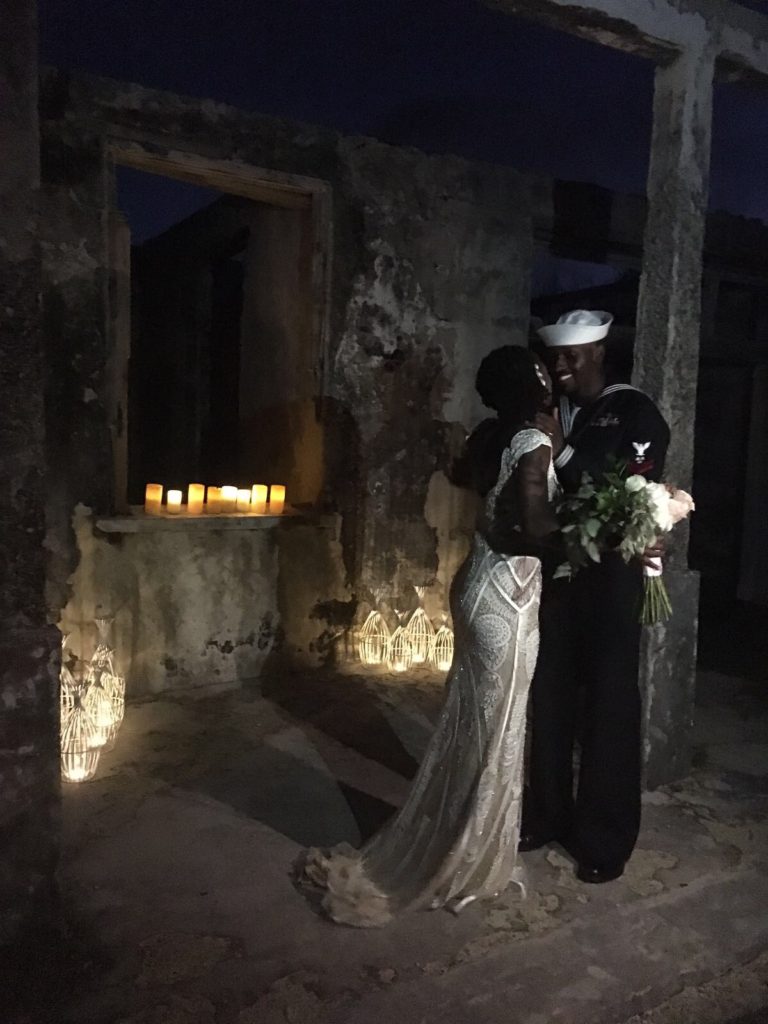 With love,
Cris
Til next time,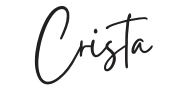 000 or less
2018 bridal gowns
affordable bridal gowns
asos bridal
asos bride
bhldn bridal
bridal dresses under 1K
bridal gown dress shopping tips
bridal gown shopping tips
bridal gowns
bridal tips for newly engaged woman
Dillards bridal
fame and partners custom bridal
how to pick a bridal gown
just engaged
Nordstrom bridal
wedding planning tips
where to buy a bridal gown online
where to find a bridal gown for $1