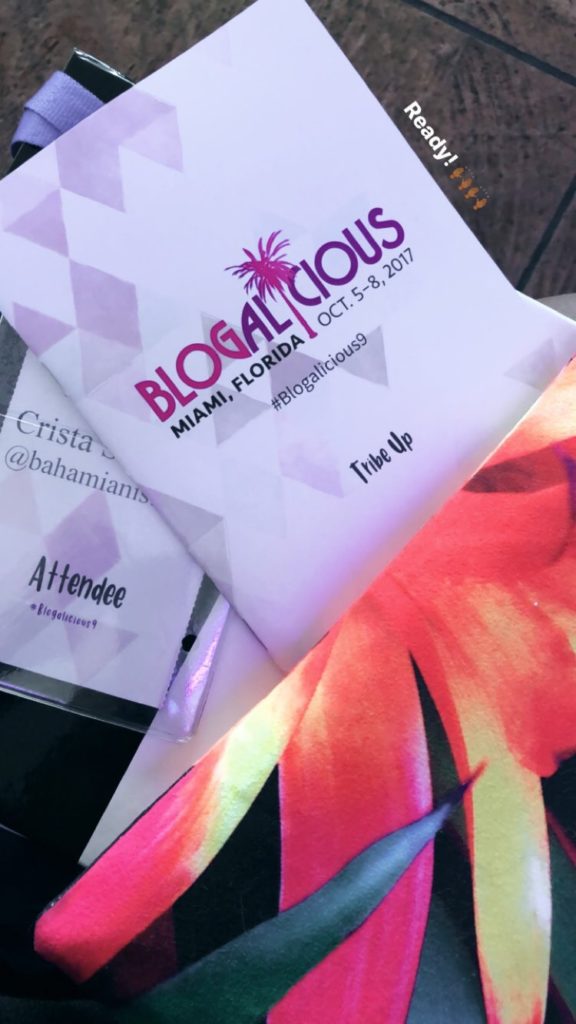 Blogalicious 9 was officially my first in-person blogger conference EVER. So as a blogger, I've only taken online courses or I'm constantly googling , reading other blogs, articles , listening to podcasts, & YouTube to get this thing done right. Just a little background, I've been at this for more than 5 years as a hobby to actually making money from freelancing, products and sponsored content. A personal goal of mine has always been to take my blogging full time in the various niches I actually write about. BUT …I've always kind of been the girl behind the screen, very little blogger connections, in real life personal relationships, blogger besties etc.
So when Blogalicious opened up ticket sales for Blogalicious 9 in Miami, Florida, it was literally a NO BRAINER! I had to attend.

"Blogalicious is a vibrant online community and IRL annual conference experience that elevates women multicultural social media influencers, creatives and entrepreneurs."
IRL means "in real life", so for those bloggers that need to find a community or real live blogger friends, start with going to a blogger conference.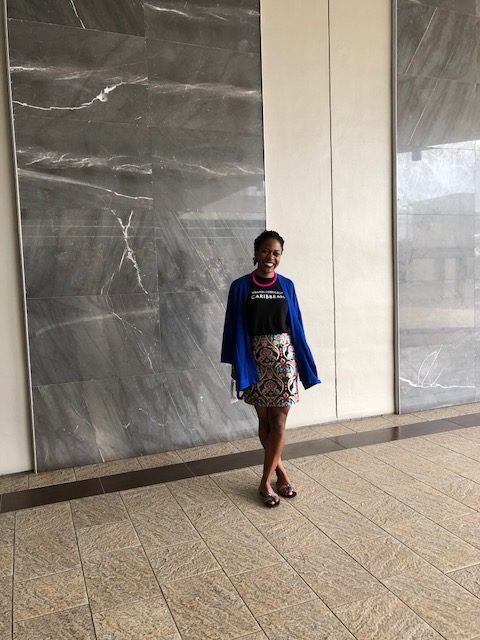 Cost, Dates & Location:
This year's blogger conference was held in beautiful Miami, Florida Oct 5-8th around the same time as Miami Carnival; click here for the carnival recap.
I paid $307.47 for a general ticket that spanned over 4 days of workshops, keynote speakers, brand suites, invitations to special brand sponsored events and did a TON of networking with fellow bloggers, vloggers and entrepreneurs.
My accommodations were 400+ for a shared Airbnb which was a 5 minute Uber or Lyft away to the Hilton Miami Downtown where the conference was held. I took a bus down from Tampa, FL which was basically 10 dollar round trip ride.
Flight varies from where you're flying in but from most major cities (depending on proximity); Id say budget at least $200 for flight a few months in advance.
Transport was fairly cheap at 5 dollars a pop to and from the conference venue but keep in mind my Airbnb was relatively close. Blogalicious did offer specials on hotel stay at the Hilton as well.
Now to the nitty-gritty…
After purchasing my blogger conference ticket, I was seriously SERIOUSLY anxious about attending. ALL OF THE "what if" and "what do I bring" questions started to fill my head. Trust me when I say I had no idea what to do, what to wear, what to bring and what to expect from my first blogger conference.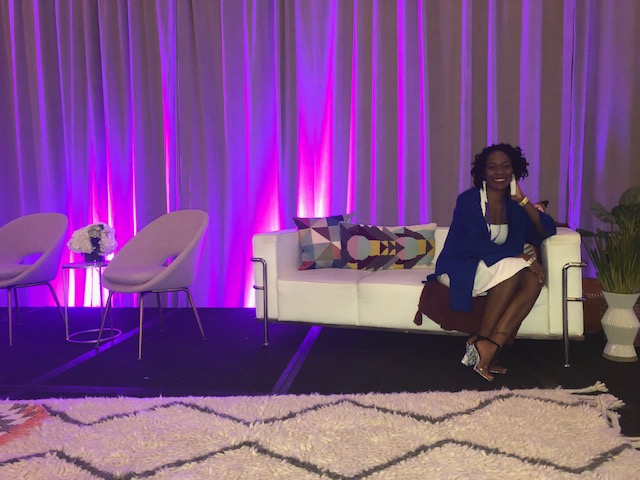 PERKS
Blogalicious began a closed Facebook group (attendees only) pre and post conference for support with questions on packing, what to wear, where to stay etc. There was also a networking app with updates for scheduled events, LOTS & LOTS of goodies during registration and the actual conference and most importantly the GEMS that every blogger should know if they want to take their blog or business to the next level in this industry. Brands had social suites set up so you had the opportunity to network with PR persons, representatives get emails and make a good first in-person impression. It is an experience I would recommend to any blogger at any level.
So, with that said,  for all my budding bloggers, first time bloggers or bloggers that tend to hide behind a computer or mobile screen, here's some tidbits of advice from my perspective/experience as a blogger on what you need to bring with you and take away from your first blogger conference.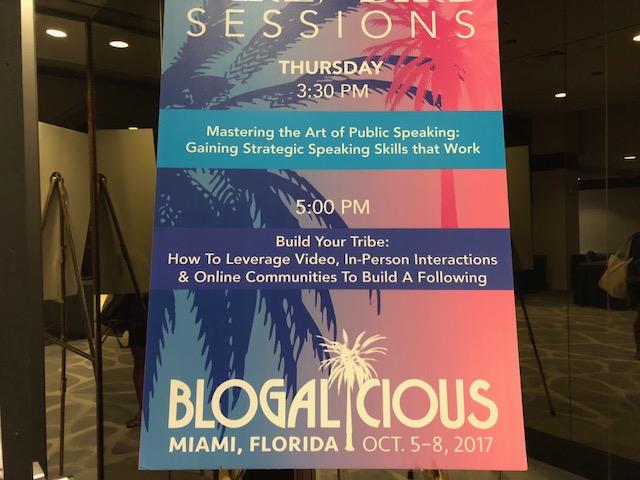 NECESSARY
1. Something to take Notes.
Whether you choose pen and paper, an app on your phone or your laptop is on you. There's a lot of information shared during the blogger conference so try to keep abreast of important points or gems that can help in your own blogging journey.
2. Comfortable, professional, stylish clothing.
Whatever your personal style is… add professionalism to it, but don't lose who you are or what your blog represents. I think the important things to remember at a blogger conference is while making a good first impression, be true to your own sense of style but don't overdo it to the point that you feel out of place.
3. A camera.
This is non negotiable. You will definitely need to selfie or feel the urge for a photo pop or two with other bloggers you meet or your FAVES. For example, one of the people I look up to in this social media/blogging world is Myliek Teele — getting a photo with her was non-negotiable for me.
4. Portable charger.
Bring something to charge your electronics & a back up charger just in case an outlet is taken already. I opted for a cheap portable charging phone case from Amazon to make sure to catch all the information and moments for social media.
5. Business cards/media kit
When you think of a blogger conference, think NETWORKING. You definitely need a form of professional contact as well as a readily available portfolio of your work (i.e. media kit). During my research of what to bring to a blogger conference, I noted that you can actually have a digital copy of your media kit (or link) readily available because often times paper can get lost. You definitely, definitely need business cards–DEFINITELY!
6. A clear statement about your blog and it's purpose.
If you're not clear on who you are and what your blog represents or who it serves–then its time to do research on yourself. Look at your analytics, your niches and come up with a 2-3 liner of your name, website's name, what kind of content you create as well as who you're serving with said content. This will help in the long run with pitching to companies you want to work with as well.
YEAH. YOU NEED THAT.
1. A big empty bag for conference goodies.
Before you arrive to any blogger conference, get you a huge bag to tote around because with every workshop, brand suite, brand invite comes a goody bag. Make sure you leave extra room in your suitcase or you will be giving items away. Check out the videos below to see all the items I scored from Blogalicious 9.
2. Your laptop/tablet.
It's a good idea to bring to a blogger conference if you need it to work on as well as take notes on. However, this is optional if you don't want to carry it around all the time. I opted for pen and paper and use of my phone; but to each it's own.
3. Compact mirror
Every woman should have one of these but if you don't, bathroom mirrors work just as well. I think I did more bathroom trips to check my makeup just because the lighting in the hotel's bathroom was amazing.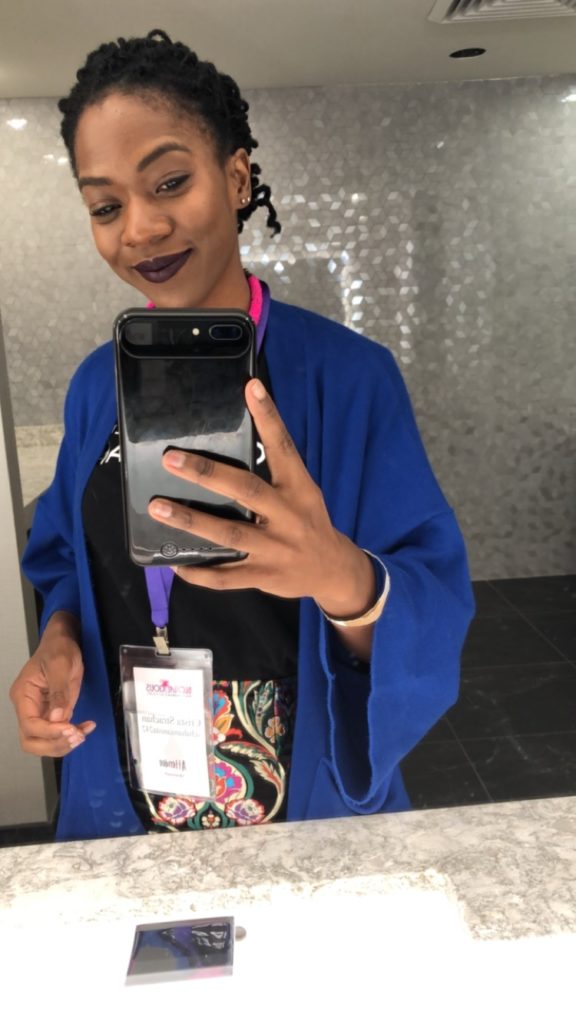 4. Know who's going to be there and who it is you want to meet, connect with.
Before I actually got to Miami, I checked the timeline and schedule for each day of the blogger conference and narrowed down what workshops I wanted to attend and which Keynote Speakers I was really interested in seeing. I made sure that I made it to Myliek Teele's keynote because she is often dropping gems for us black girl entrepreneurs. If there's someone who you "fan-girl" over or want to work with or just want a picture with; make sure you analyze the schedule and MEET them.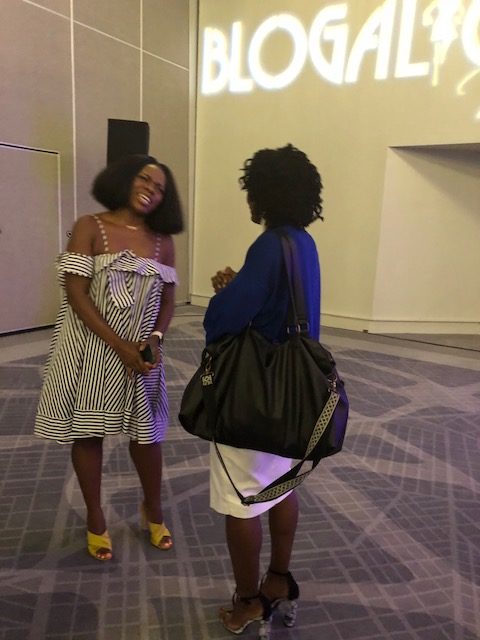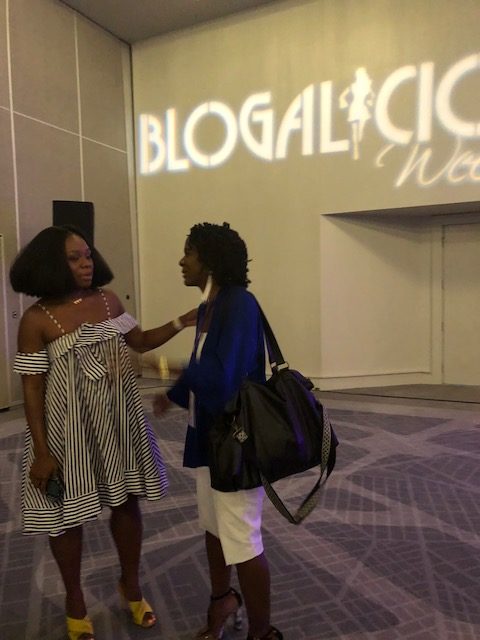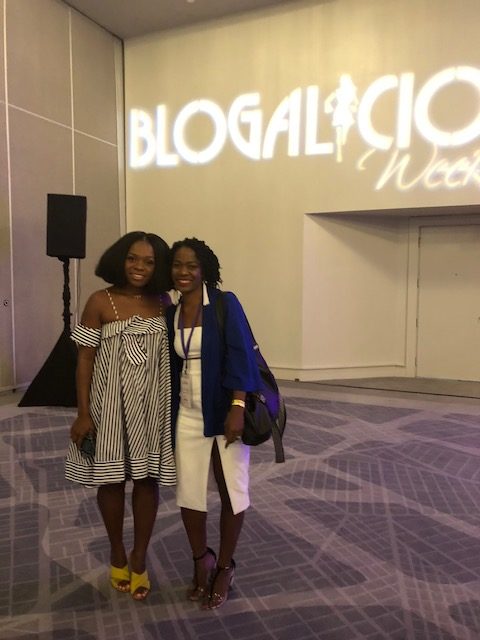 EHH OPTIONAL
1. Super High Heels
Trust me on this one. Only if you are highly trained in the art of walking in high heels for hours on end without looking like a crippled mess then by all means go ahead. However, I am not and at the end of the last day, I was wishing I had bought shoes that were a little more comfortable and cuter. Oh, well you live and you learn for the next blogger conference.
2. A DSLR camera
I love a good photo, but I opted not to bring my professional camera only because I didn't want having to worry about taking it out and making sure it was secure when I could just snap a just as great photo with my iPhone. But, that doesn't mean you don't have to as long as your comfortable with doing so.
3. Obligation to be the life of the party and everyone's friend.
The point is to network and learn and cultivate relationships at a blogger conference; but you won't vibe with everyone and everyone doesn't have something to give to you and that's ok. If someone didn't follow you back or follow up after you had the longest conversation about blog analytics and working together; that's ok too.
In conclusion these are the BIGGEST takeaways anyone attending a blogger conference for the first time should be paying attention to:
IRL (in real life) connections are important!
You cannot expect to build without cultivating and creating in person relationships. If your'e an introvert like me, a conference is a great way to start jumping over the hurdle of being shy and awkward.
Consistency is key. – @themattiejames
Be consistently good at your craft, your content and the work you create. So, when you do get to opportunities that require face to face interaction, introducing yourself and your blog/work is easy as 1-2-3!
Don't be afraid to ask for what you want.
Know your worth when going into collaborations or approaching brands; just because a friendly smiling face with a business card is giving you an opportunity remember it is at the end of the day business and you want to advance in this business. 
Go into everything with a plan.
When you do get the emails and the brands reaching out to you, have an idea ready (with specific details) on how your new relationship would be beneficial to each other. My grandmother would say "Don't go in there with your hands swinging! ( hands empty, nothing to contribute)". Definitely have a plan in place.
Build a tribe at a blogger conference.
Make new friends, relationships & connections. THAT IS THE POINT or you would have wasted all that money and time. Don't be fearful, growth always has some sort of fear factor attached to it. Your mission is to CONNECT.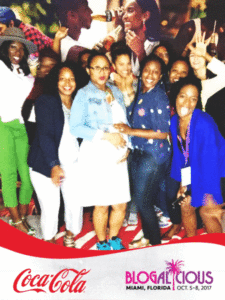 Follow Up
After it's all said and done and you say good bye to your new blogging besties, do your best to follow up and keep the networking going. I joined many Facebook groups of like-minded women that are on the same crash course to success; it's always good to be apart of these online communities or find a mentor that can help you figure out issues from blog analytics to how to pitch a company or even get your foot in the door to reaching your blogging goals. The power is in the follow up. Don't take it for granted.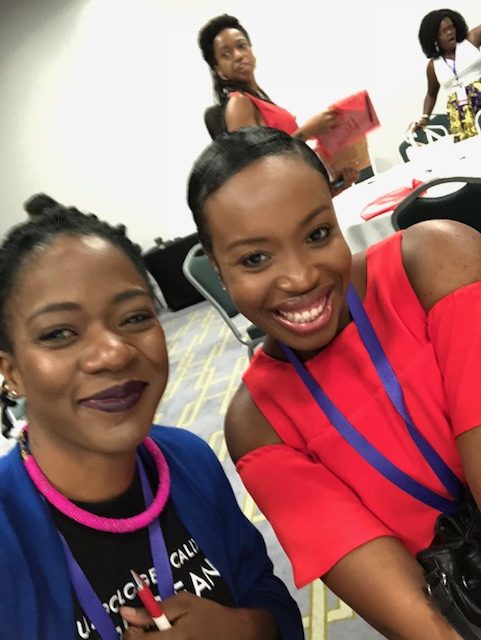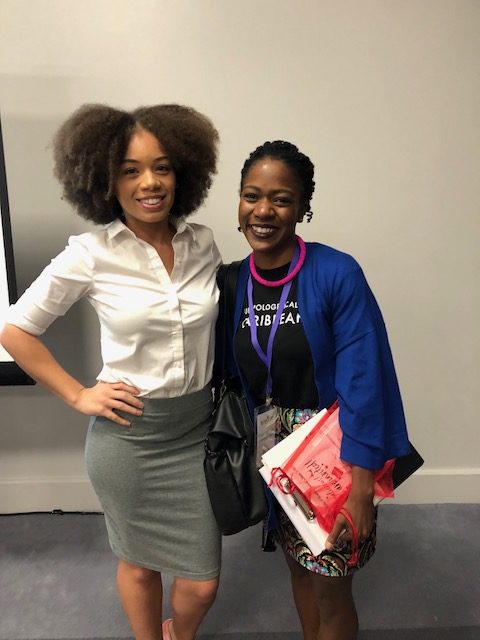 Here's vlogs from day 1-3 of my Blogalicious 9 blogger conference experience; let me know what you think and if you'd ever attend a blogger conference and why.
Videos
If you are interested in attending any other blogger conferences/summits; I've rallied up a few related to my own personal interests but still definitely something worth looking into:
For even more specific conferences depending on niche check out this post by EfficientBlogging.com.
Note these are 2017 conferences, check individual sites for 2018 info.
I'm definitely looking forward to attending more blogger conferences and just getting better at this thing I love called blogging. Comment below if you've ever done a blogging conference or summit or have any specific questions about this post. Oh and one more thing! If you ever do go, make sure to have FUN!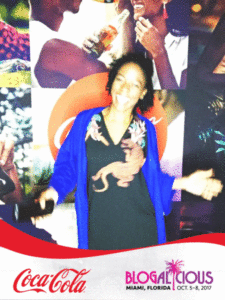 Til the next post,
Cris
Til next time,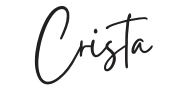 blogalicious 2018
blogger 2018
blogger conference 2018
blogger conference for black bloggers
blogger conference for caribbean bloggers
blogger conferences 2018
blogger conferences in LA
blogger conferences in miami
create and cultivate 2018
first blogger conference
how much for blogger conference
list of blogger conferences for women
planning a blogger conference
what do you need for blogger conference